Wearing all white might seem tricky, but it's easier than you think and can make you look confident and stylish. Use this brief instruction to get it right. All-white outfits can be a bit challenging, but in the right place and at the right time, they can boost your style. While it's not the best choice for fashion beginners, there are benefits to wearing all white. It keeps you cool in the sun because white reflects heat naturally. Plus, it's perfect for vacations, whether you're by the pool, at a bar, or in a restaurant. So, if you want to look chic and stylish, consider trying an all-white outfit.
Look Smart in this White Shirt, a White Pant and a White Shoe!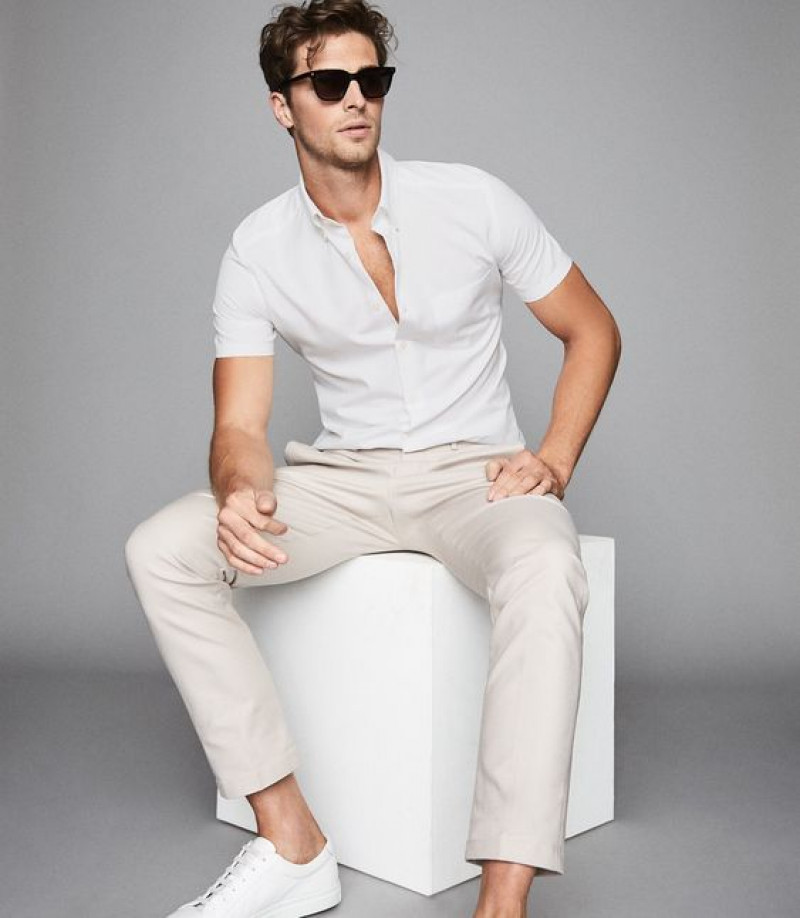 White silk slim-fit trousers with a white cotton short-sleeved shirt for a stylish outfit. Finish the look with white low-top textile sneakers and sunglasses. Add a belt for a more polished touch.
White Silk Hoodies with Long Sleeves-Paired with White Cotton Sports Trousers and Low White Trainers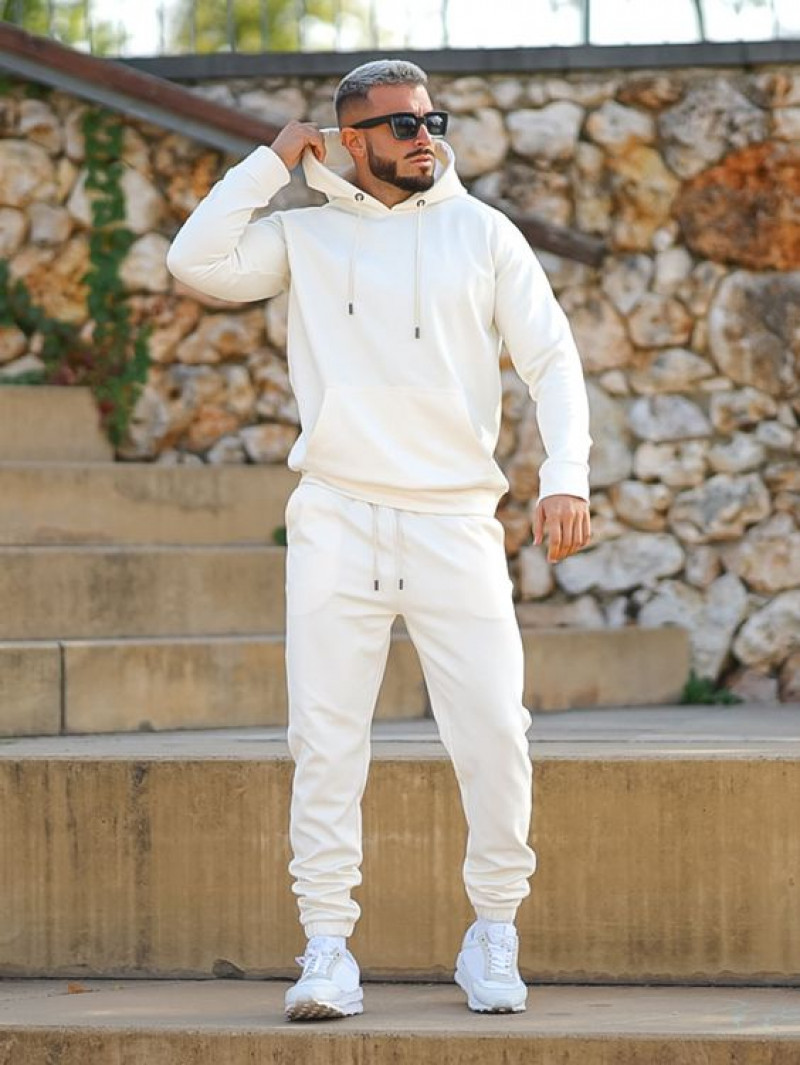 To get a sporty look, Style a white silk hoodie with white cotton trousers and low white trainers. Finish up the outfit with sunglasses for a trendy touch.
White Shirt with Collar - Perfect Matching with Short Beach Pants!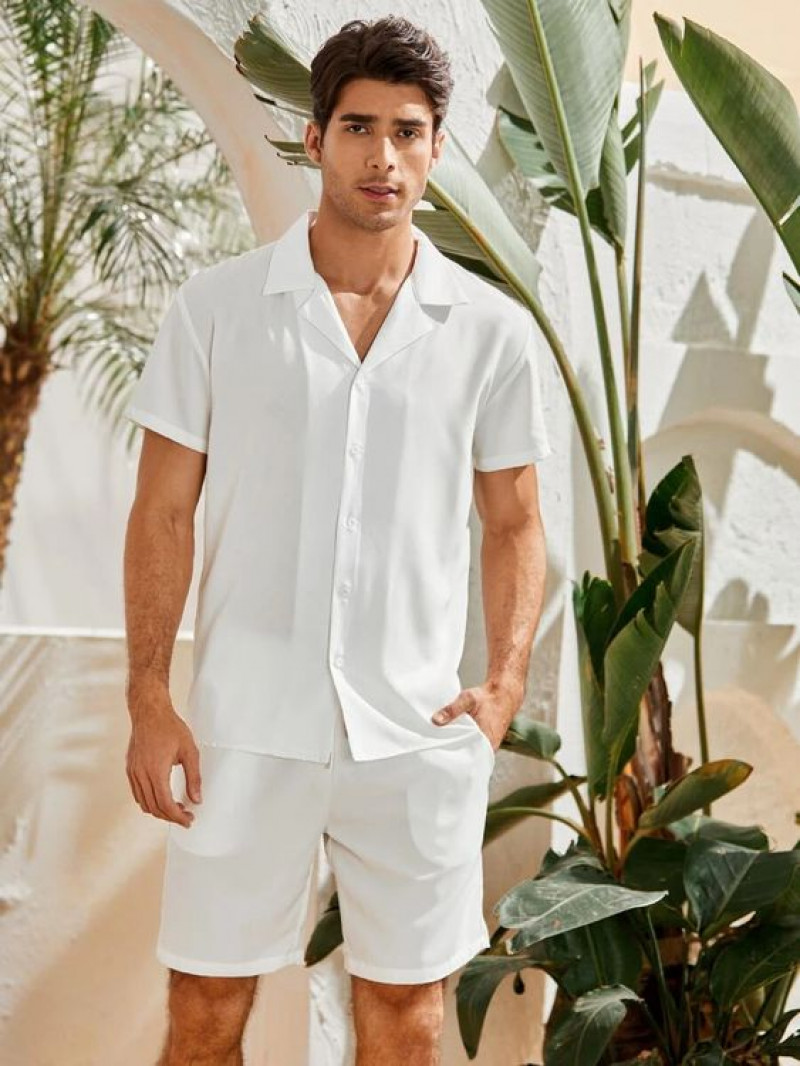 The white shirts have a short cut, collar neckline and short sleeves. They are made of silk and have a style for adults. The shirts with full closures and buttons. Similarly, the beach pants are white in color and have a style. These short-length pants are Comfortable and have a plain design.
Get ready for a stylish night out with our elegant white suit jackets and tuxedos-Complete the look with slim-fit suit trousers and comfortable white sneakers!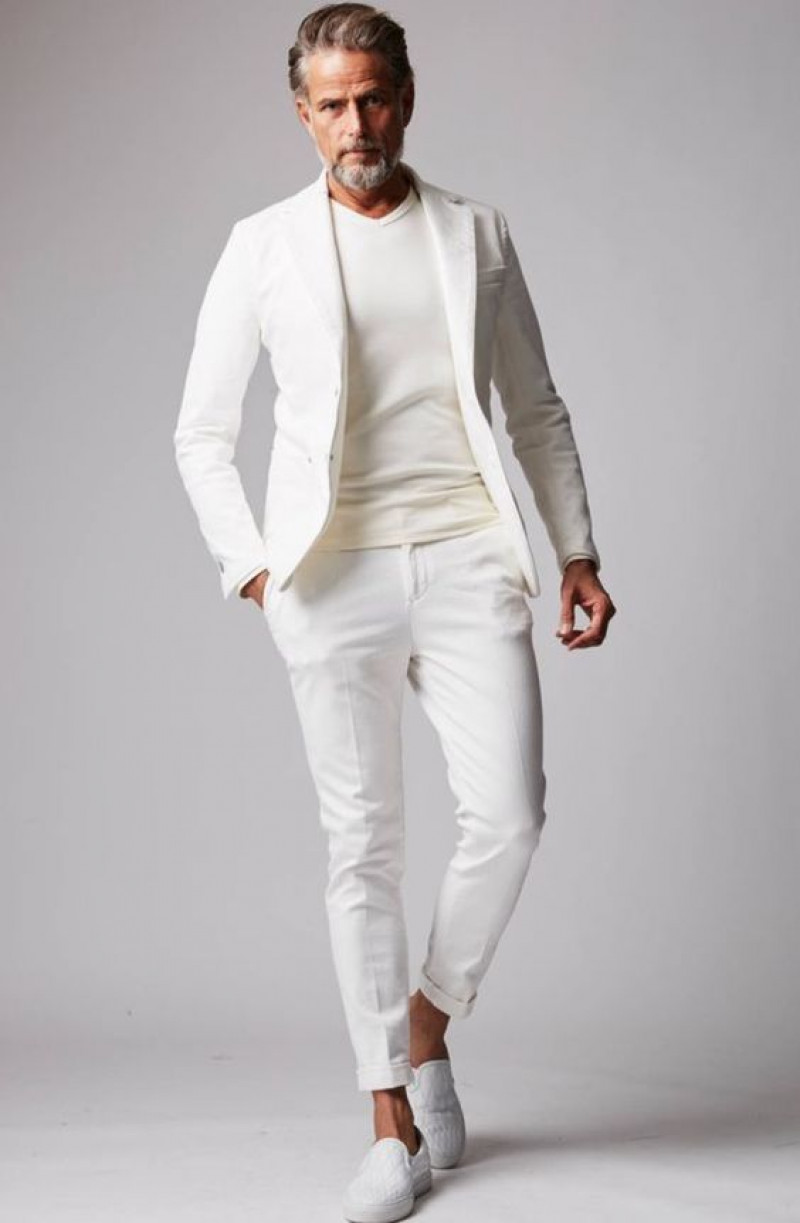 Lovely! A white short suit jacket and tuxedo with plain white cotton suit trousers are an Amazing Combo. Style the look with white leather sneakers for a sporty touch.
White Denim Jeans with Shirt and Brown Leather Free Time Shoes- Style the look with a Silver Steel Watch for a fashionable vibe!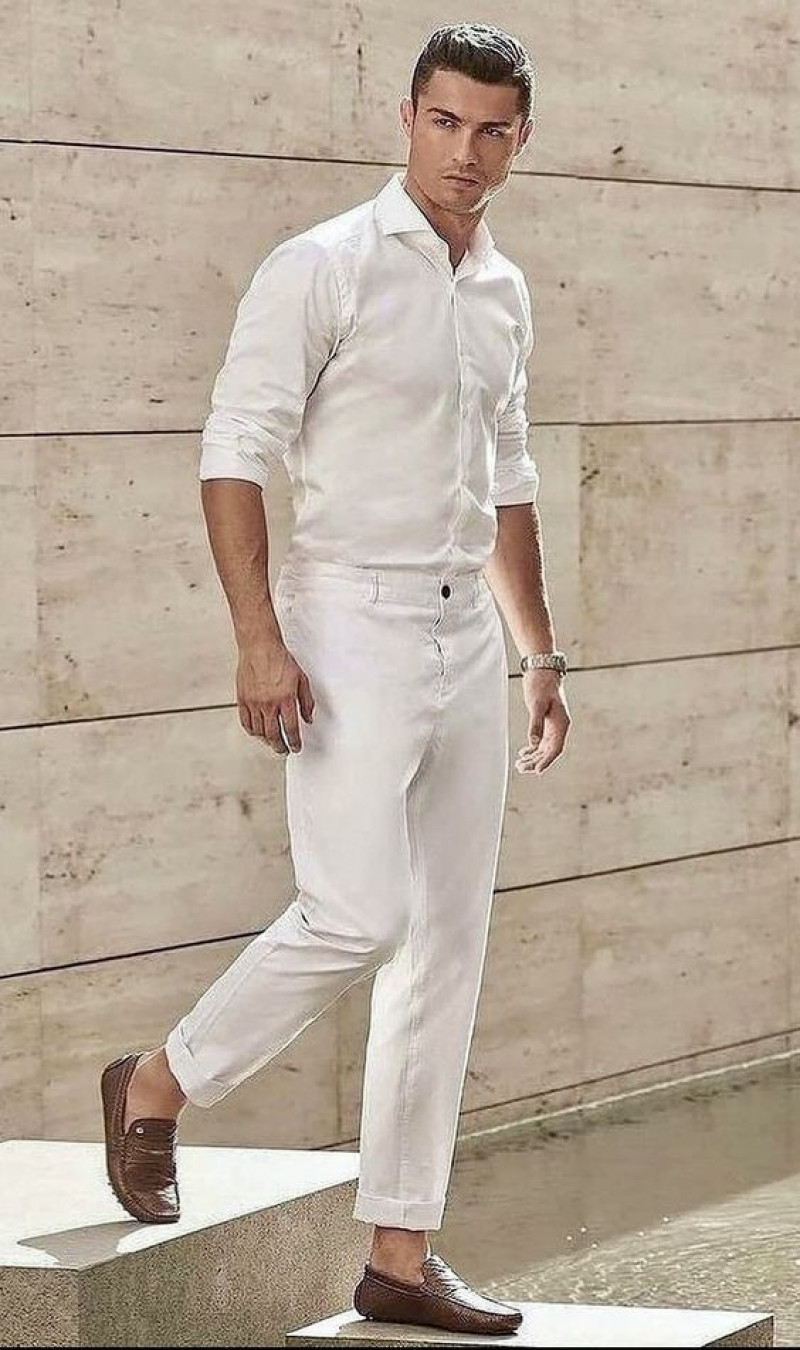 Go out with these white denim trousers and a plain white shirt with brown leather low shoes. Match the look with a silver watch with a white dial and a metal strap for a stylish outfit.
Look cool with this white denim Harrington jacket- Perfect for Men!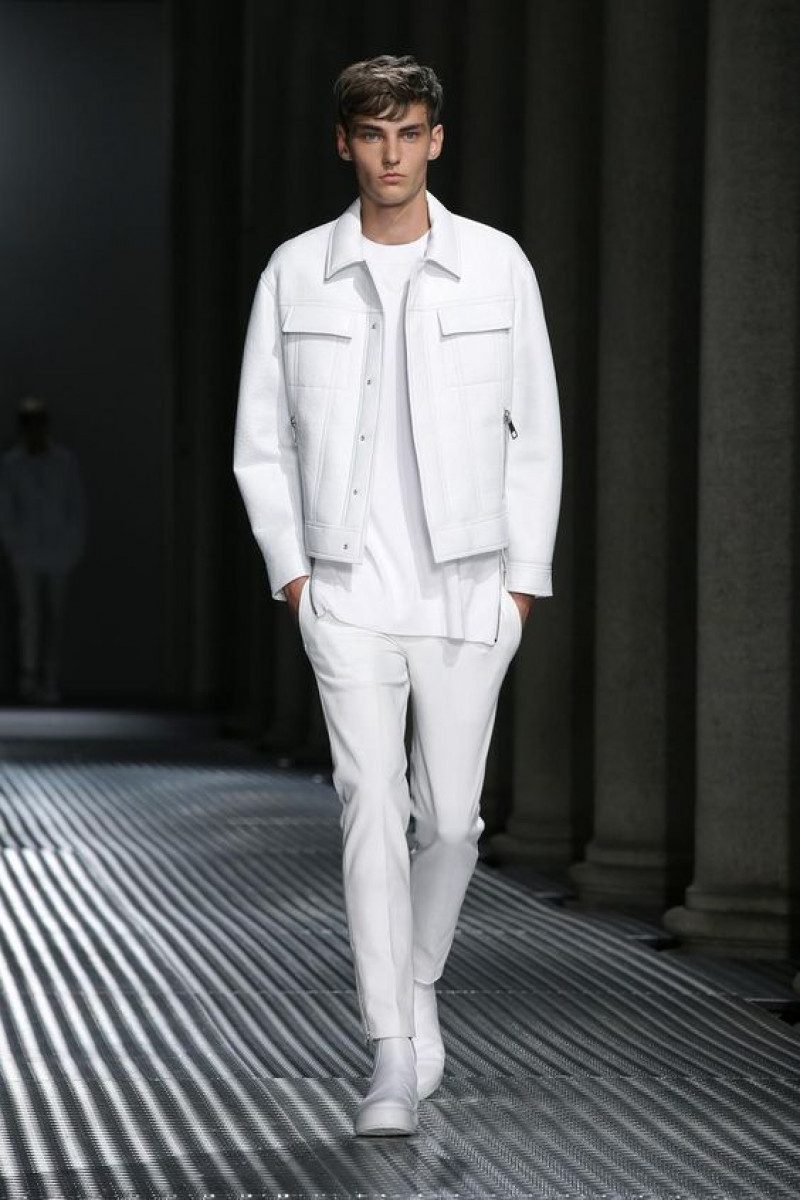 The white denim Harrington jacket is a short, style with a full closure and button fastening. Match it with a plain, white cotton Jacket with long sleeves for a trendy and comfortable look. Finish up the outfit with white leather ankle boots for a chic and effortless style.
White Cotton Plain Shirt with Collar and Short Sleeves- Style it with White Pants and Loafers!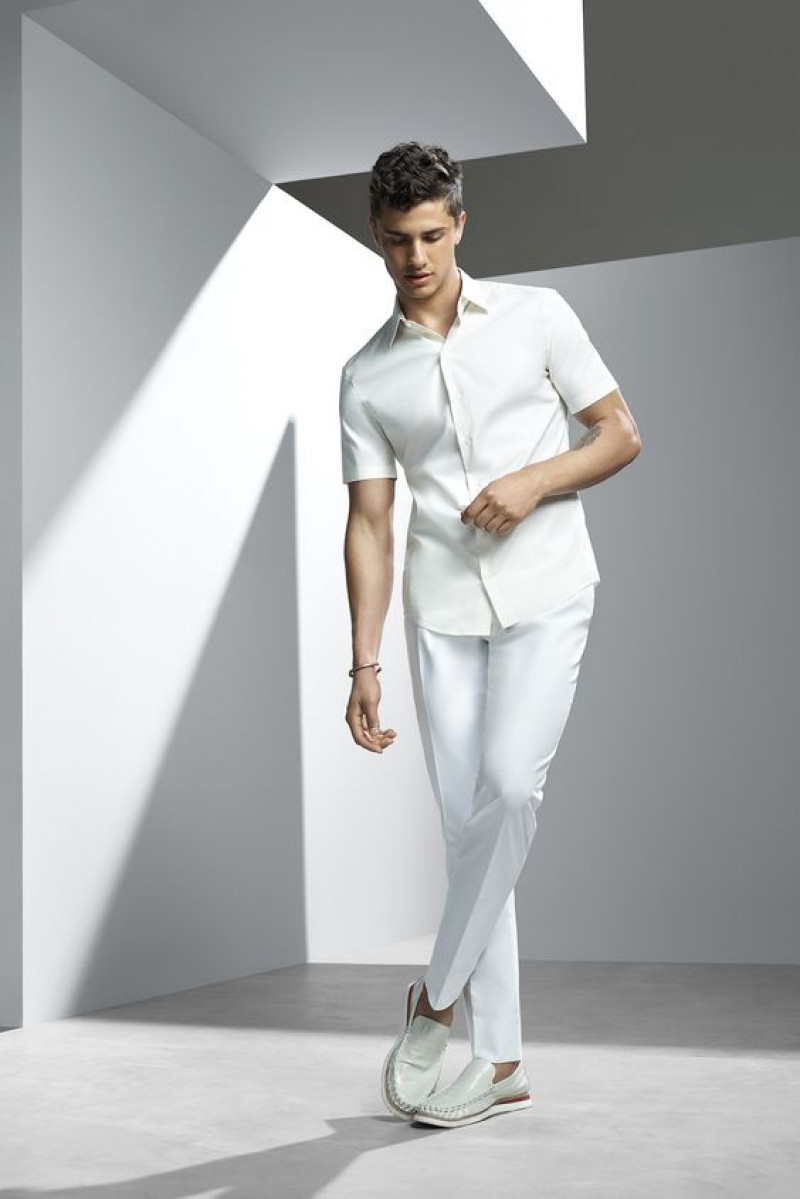 The white shirts and formal trousers have a plain design, perfect for a smart look. The trainers are sporty with a low height, while the rose gold bracelets are simple and elegant.
White Short Synthetic Puffer Jackets for Men with Full Closure and Zipper Fastening!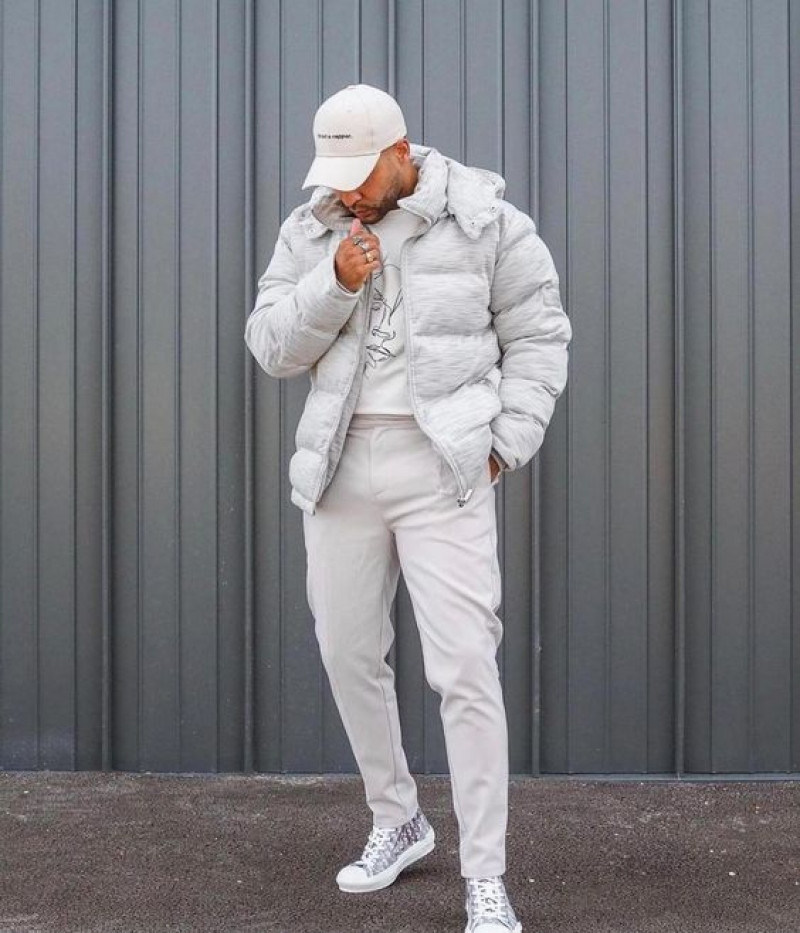 The puffer jackets, suit trousers, baseball caps, sneakers and boots are all made of different materials such as synthetic for the puffer jackets, cotton for the suit trousers and textile for the sneakers and boots. The pattern details are not provided in the given information.
A white Plain T-shirt with White Pants- A dashing Choice for Men!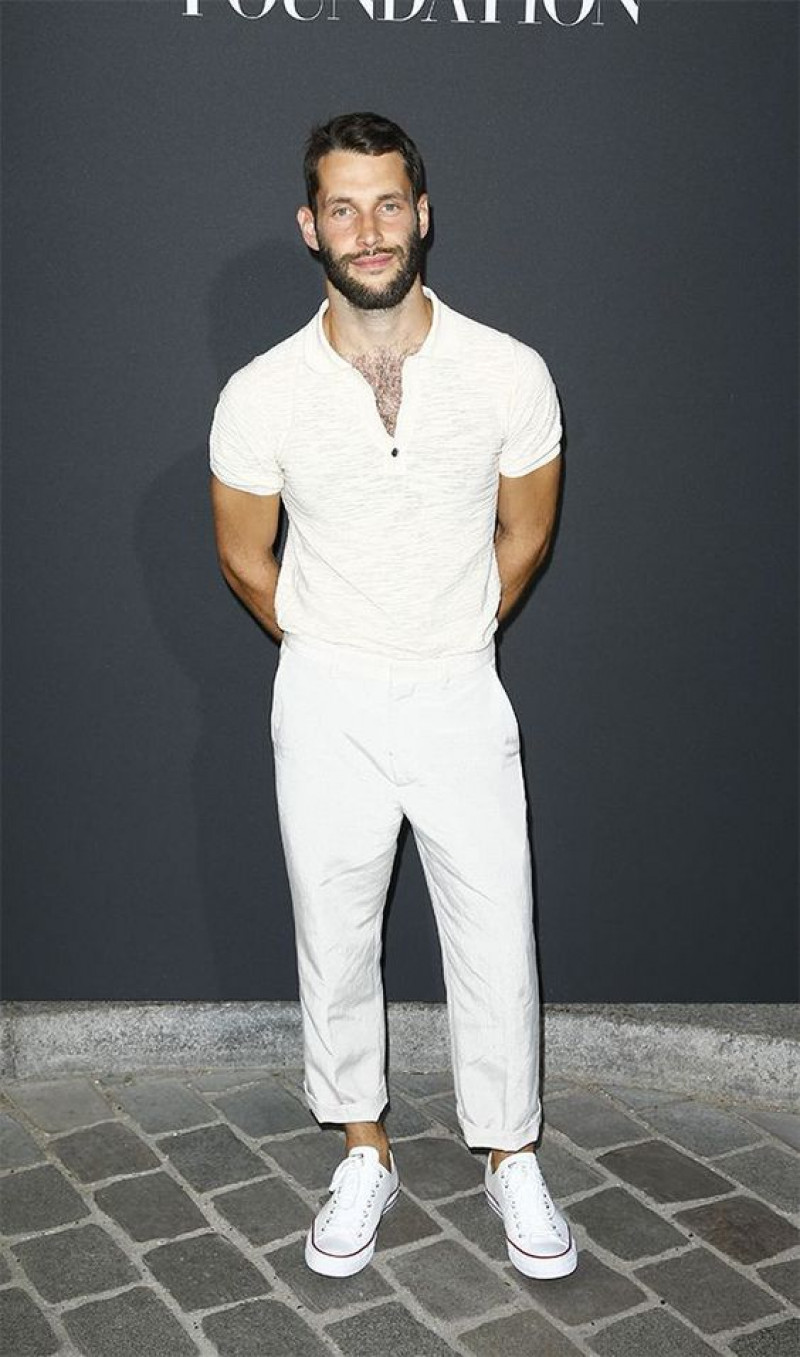 White cotton sweatpants with a white melange polo shirt with short sleeves and a collar. Match the look with white leather low sneakers for a yet smart style.
Go out with this White Cotton Shirt with a Collar- Great choice to style it with White sneakers!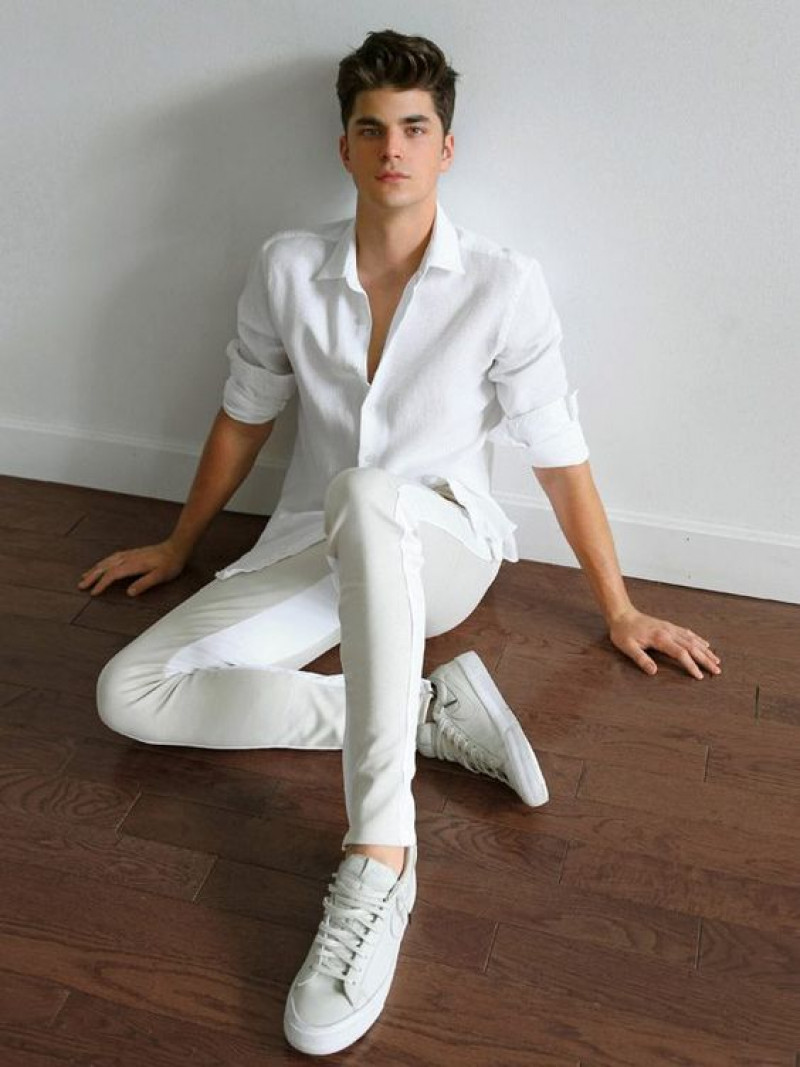 For an elegant adult look, a white cotton shirt with a collar neckline and full-closure buttons. Add white leather sneakers with a sporty style and flatform heel shape.
Latest Styles: White Textile Trench Coats, Beige Cotton Sweat Pants, Black Leather Boots and More!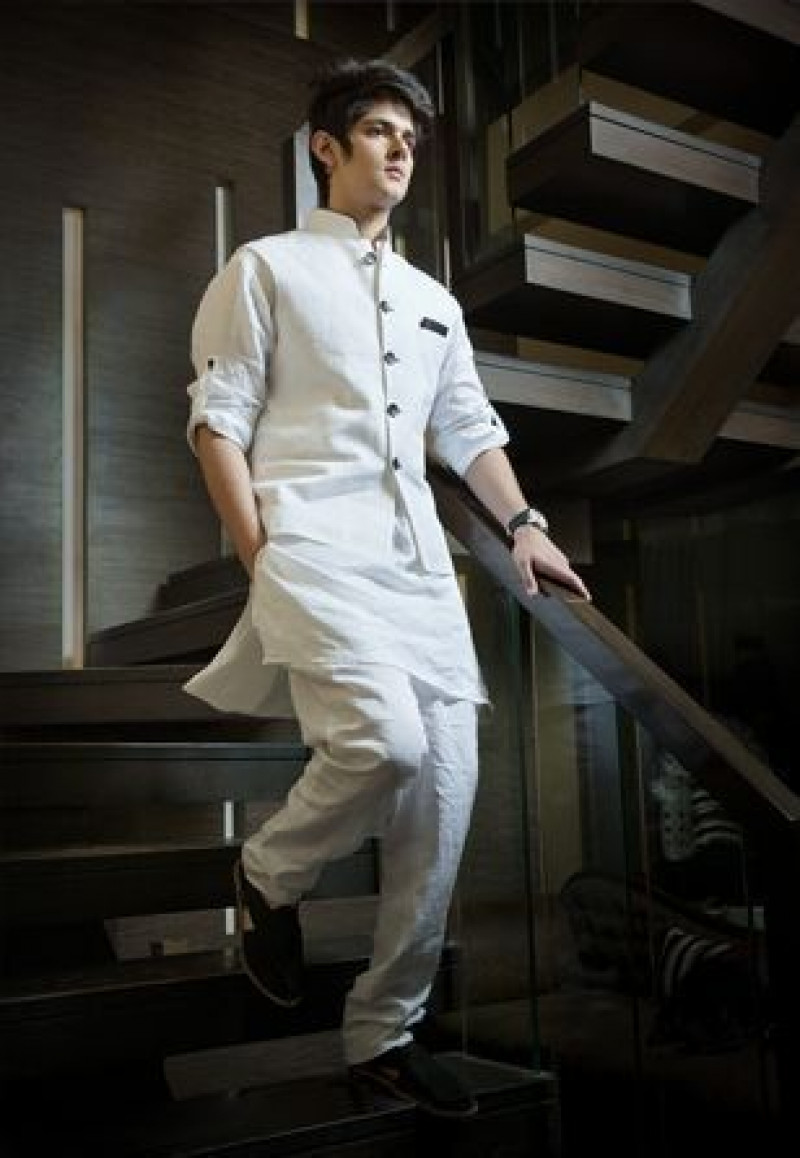 To look cool, wear a white trench coat made of textile material with full button closure and a single-breasted lining. Style it with beige cotton sweat pants for a style. Match the look with black suede free time shoes and a silver analogue watch with a white dial and black leather strap.
Stylish sweatpantsWhite Silk Sport Trousers with White Hoodies and White Sneakers!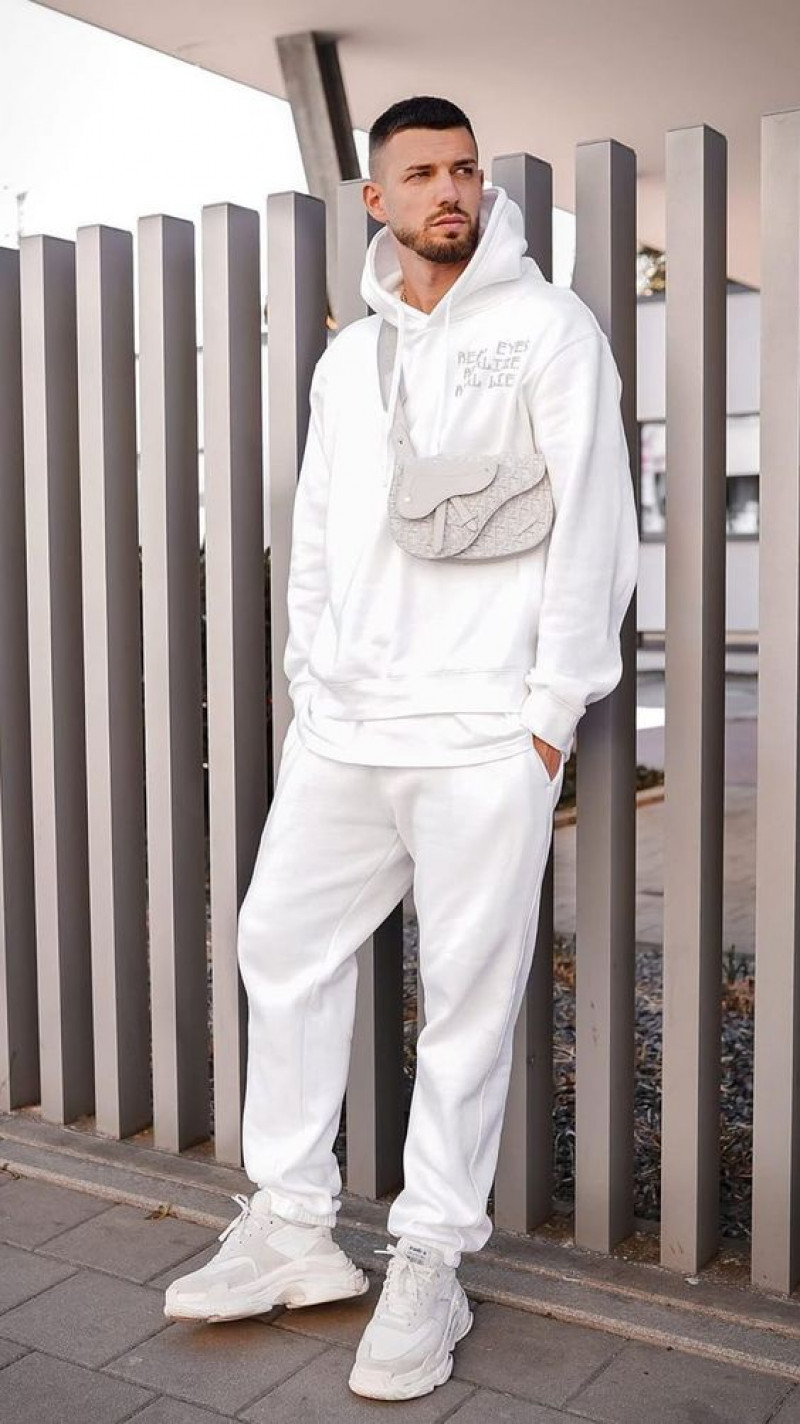 White silk long trousers with a plain wide-leg fit. With a white cotton hooded top with long sleeves and text design- Complete the look with white leather low trainers as footwear.
Another Outfit to Rock! All White Outfit Combo- Looks Perfect with Black Sunglasses!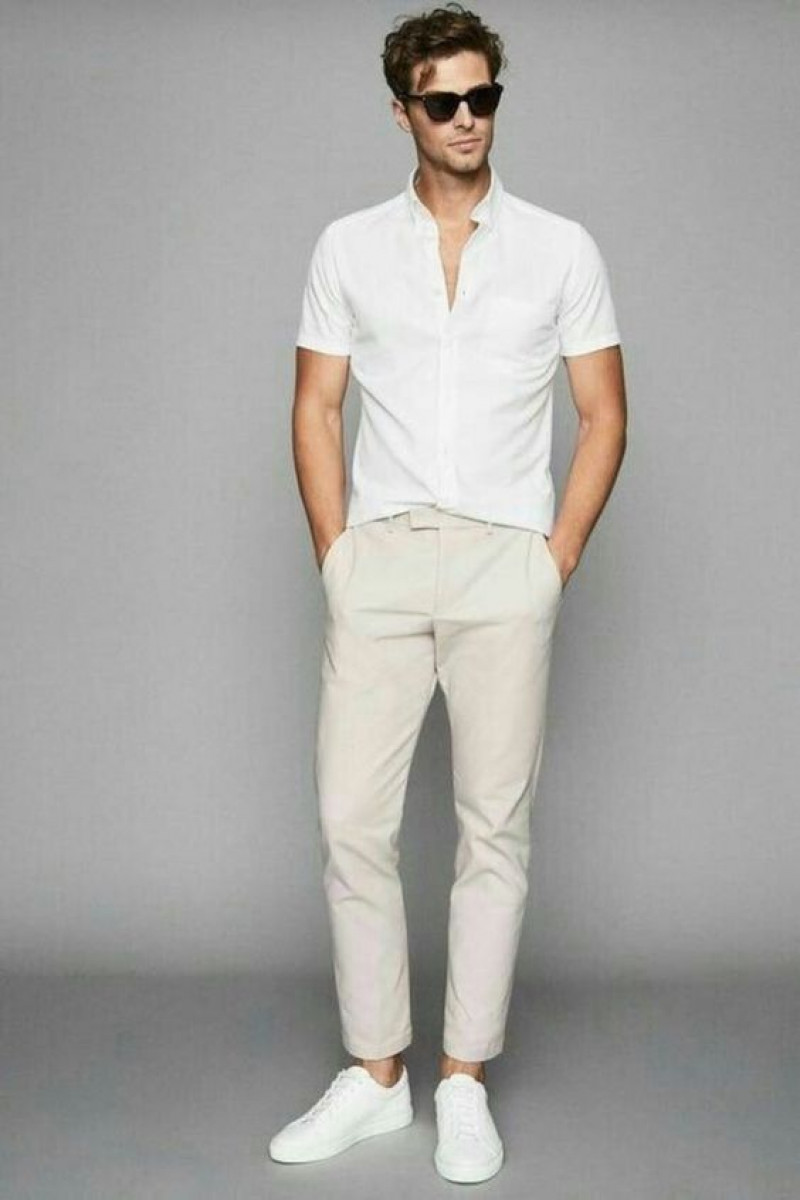 To look cool, wear beige cotton sweat pants with a slim fit. Match them with a white shorted collar shirt in a smart style. Complete the look with white leather sneakers and sunglasses.
White Collar Cotton Shirt with a Trouser for a Smart Look!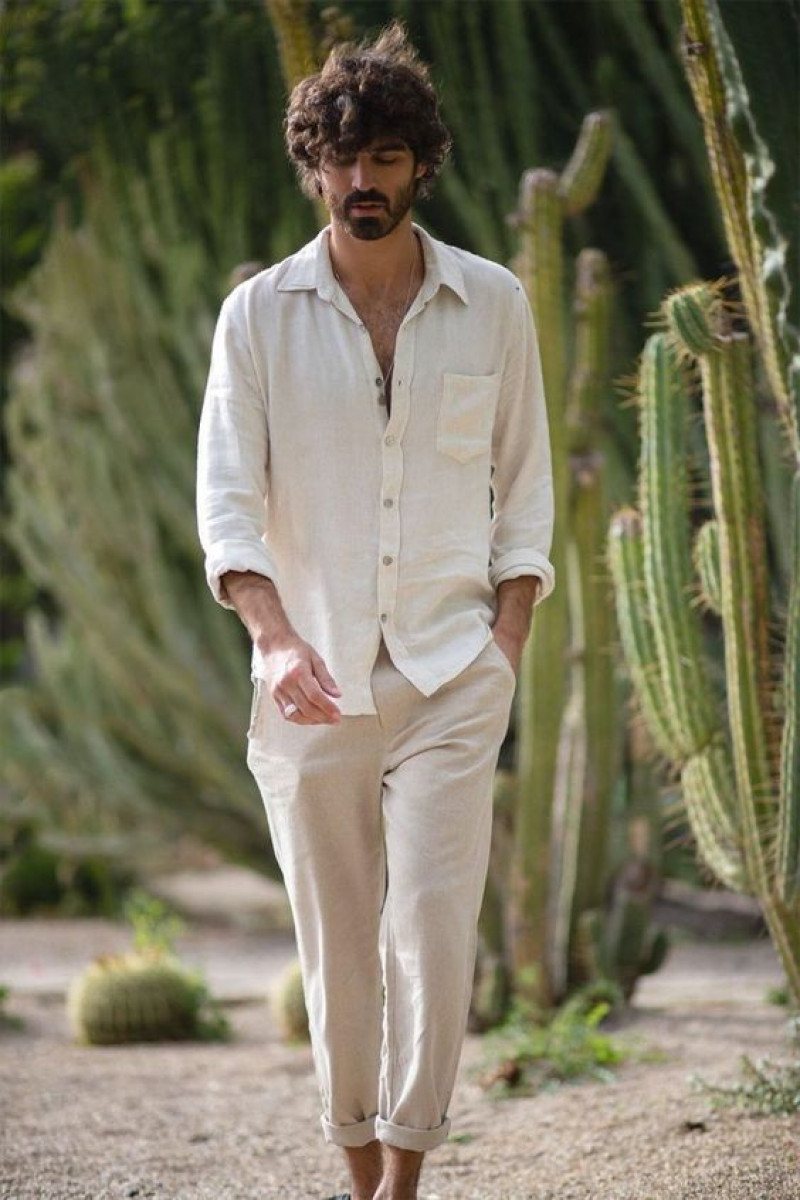 Smart white shirt with a collar is made of cotton. It features a full closure with buttons. Try with beige trousers, made of cotton, with a straight fit, creates a stylish and comfortable outfit for adults.
Rock the Concert- Complete the ensemble with a White Suit jacket and tuxedo- Comfortable with white sneakers.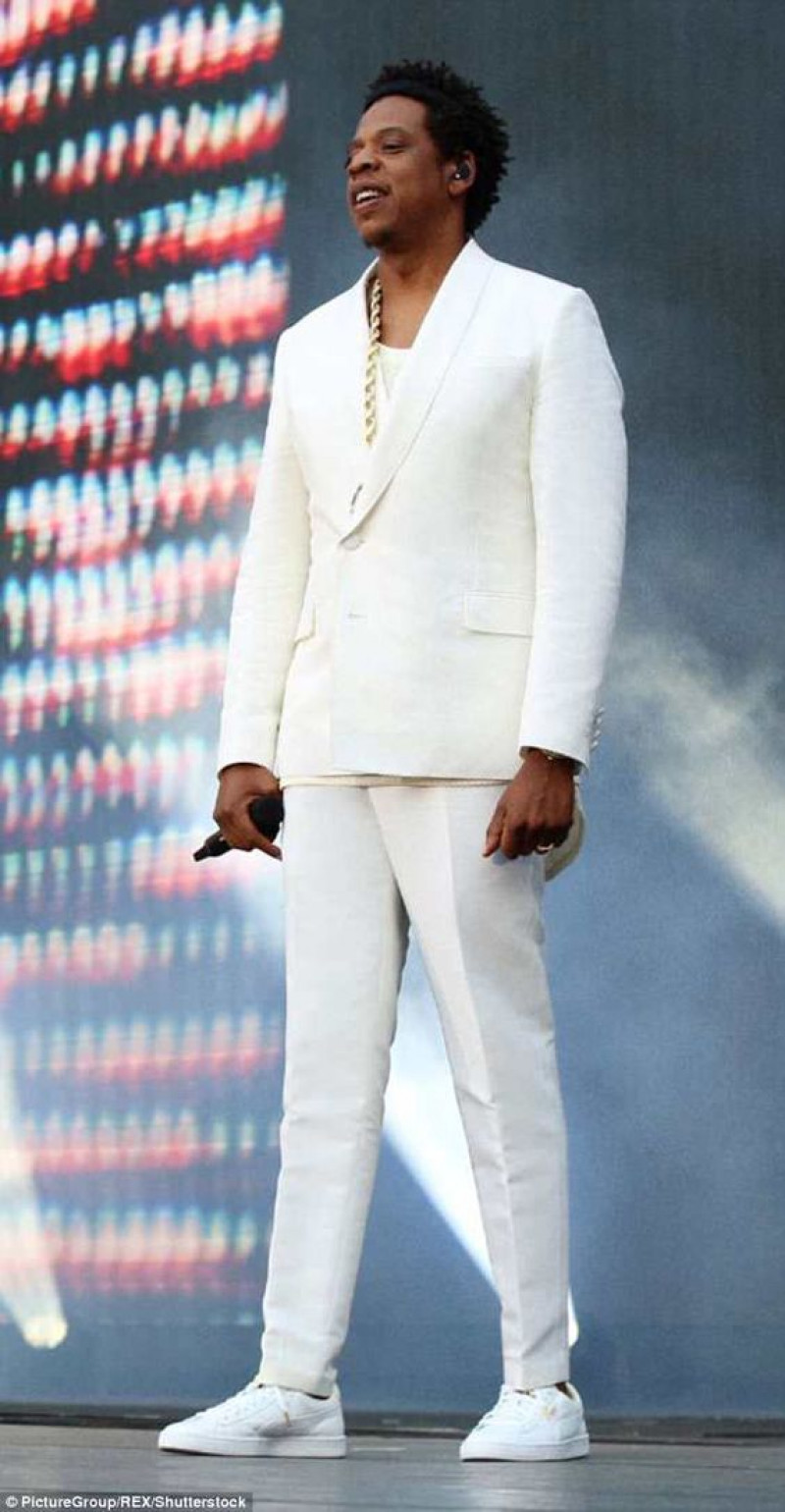 The white suit jacket and tuxedo, made of elegant textile material, are perfect for adult men. The suit trousers, made of cotton, have a style and a straight fit. The sneakers, made of textile material, are low shoes with a flatform heel shape.
Don't Miss to Style your Look with a Smart Watch and a Silver Chain!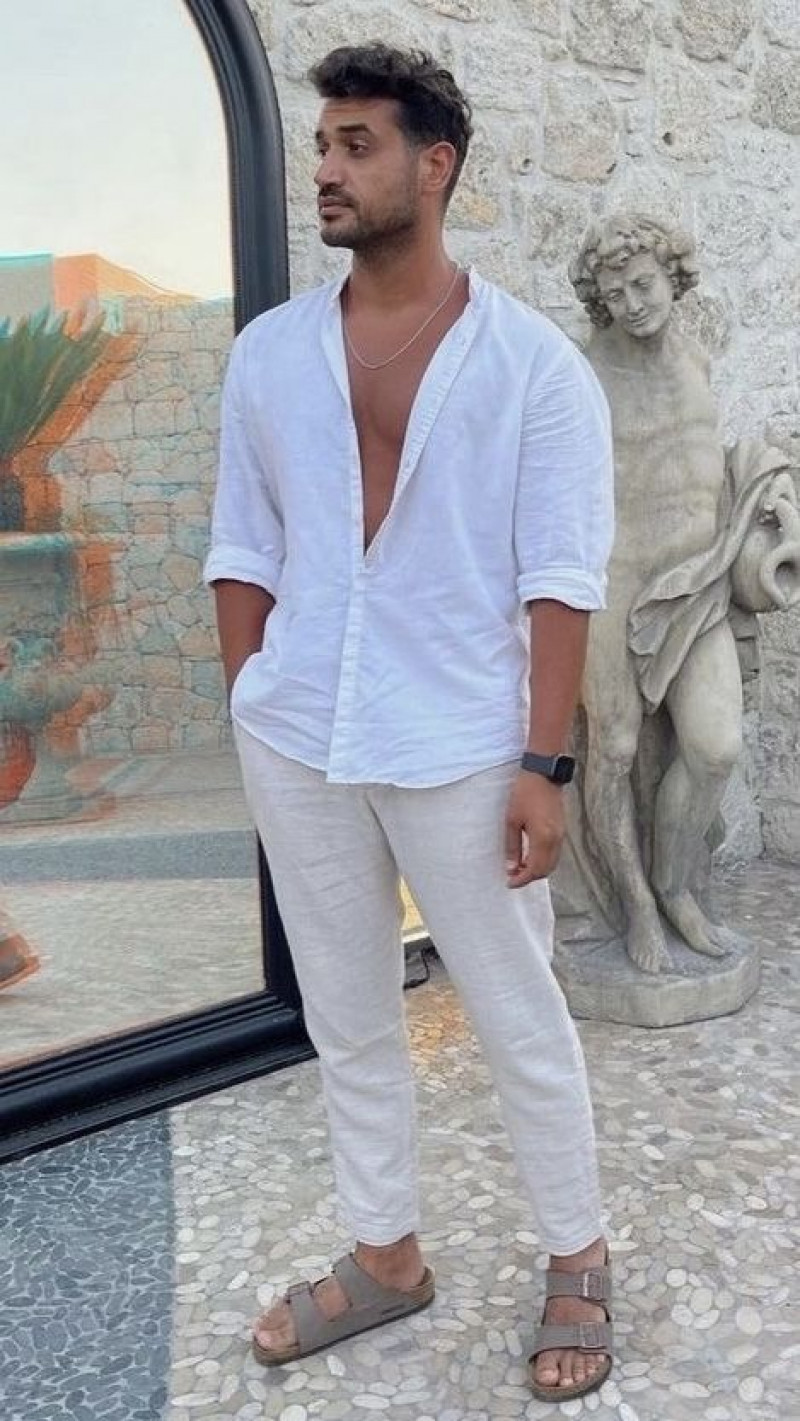 For a stylish look, pair a white v-neck denim shirt with slim-fit cotton trousers. Style the outfit with beige flatform sandals and accessorize with a yellow gold necklace. This ensemble is perfect for outings, brunches, or gatherings.
Stay cool and stylish with this smart white polo shirt featuring a linen material. Style it with white jeans for a laid-back look.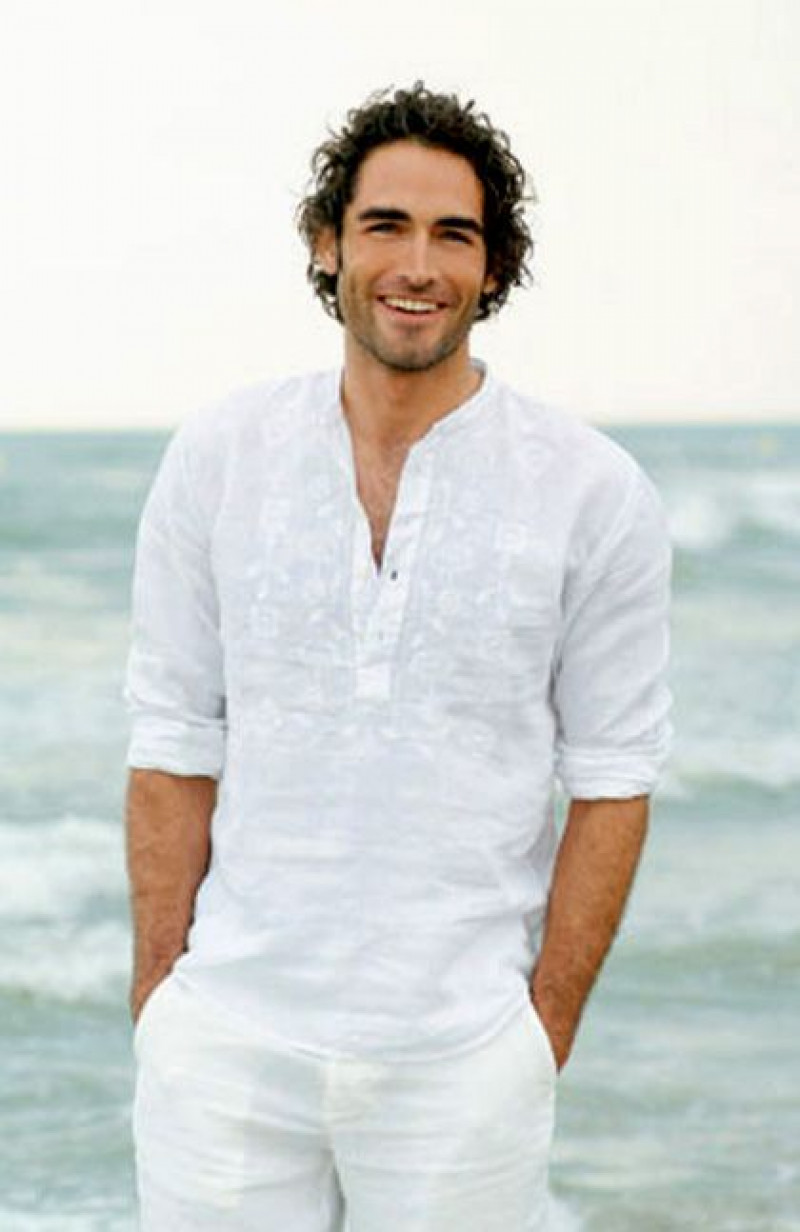 Pair a white linen polo shirt with a collar for a smart look. Try the outfit with plain white jeans made of cotton for a amazing style. Add some accessories like a leather belt and sneakers to complement the ensemble.
Stylish White Long Slim Fit Suit Trousers with Design for Adults - Perfect for Any Occasion!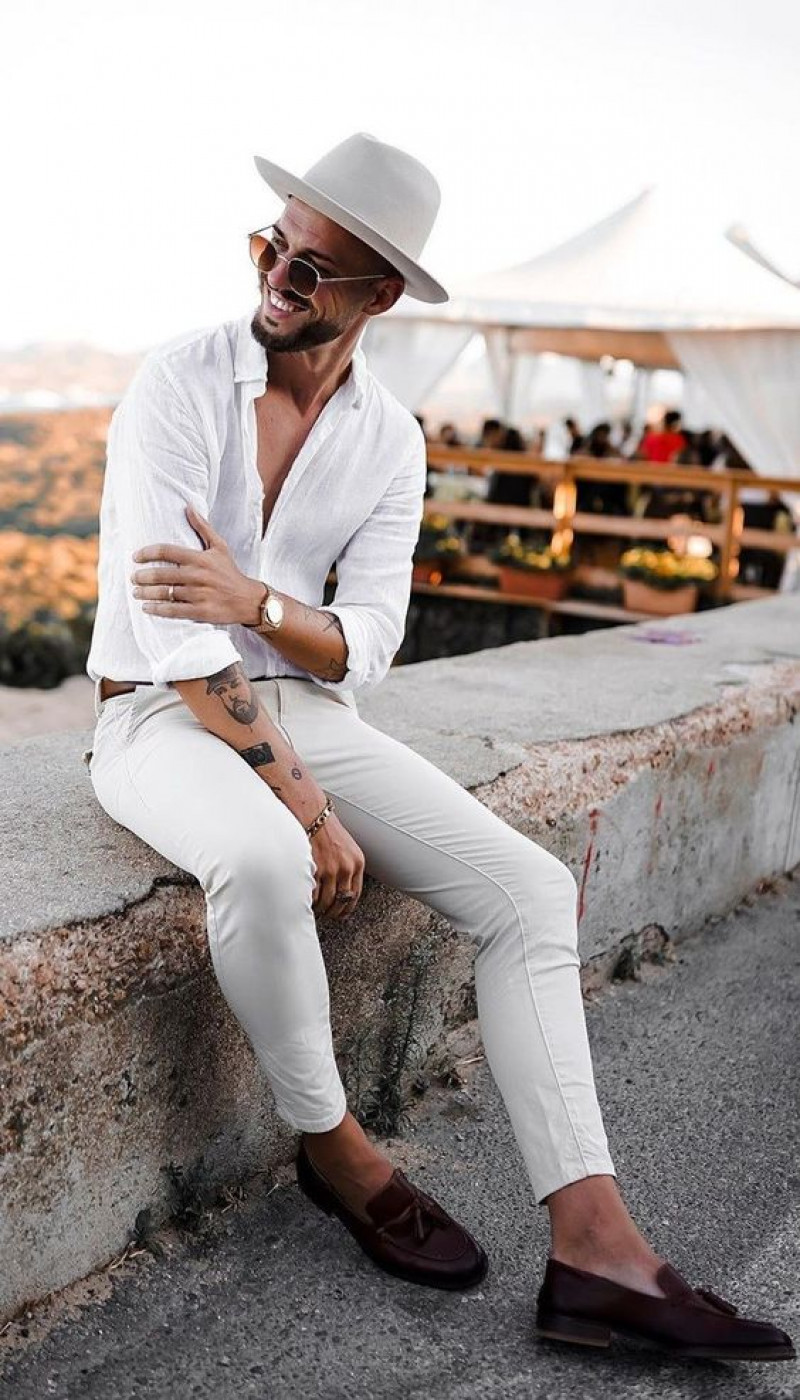 To style this outfit, pair the white suit trousers with a plain white linen shirt. Add a classic hat, black leather shoes and sunglasses for a cool and look. End up the ensemble with a golden watch and silver metal bracelets for added flair.
Get this sporty look!- With White Shorts and White Hoodies!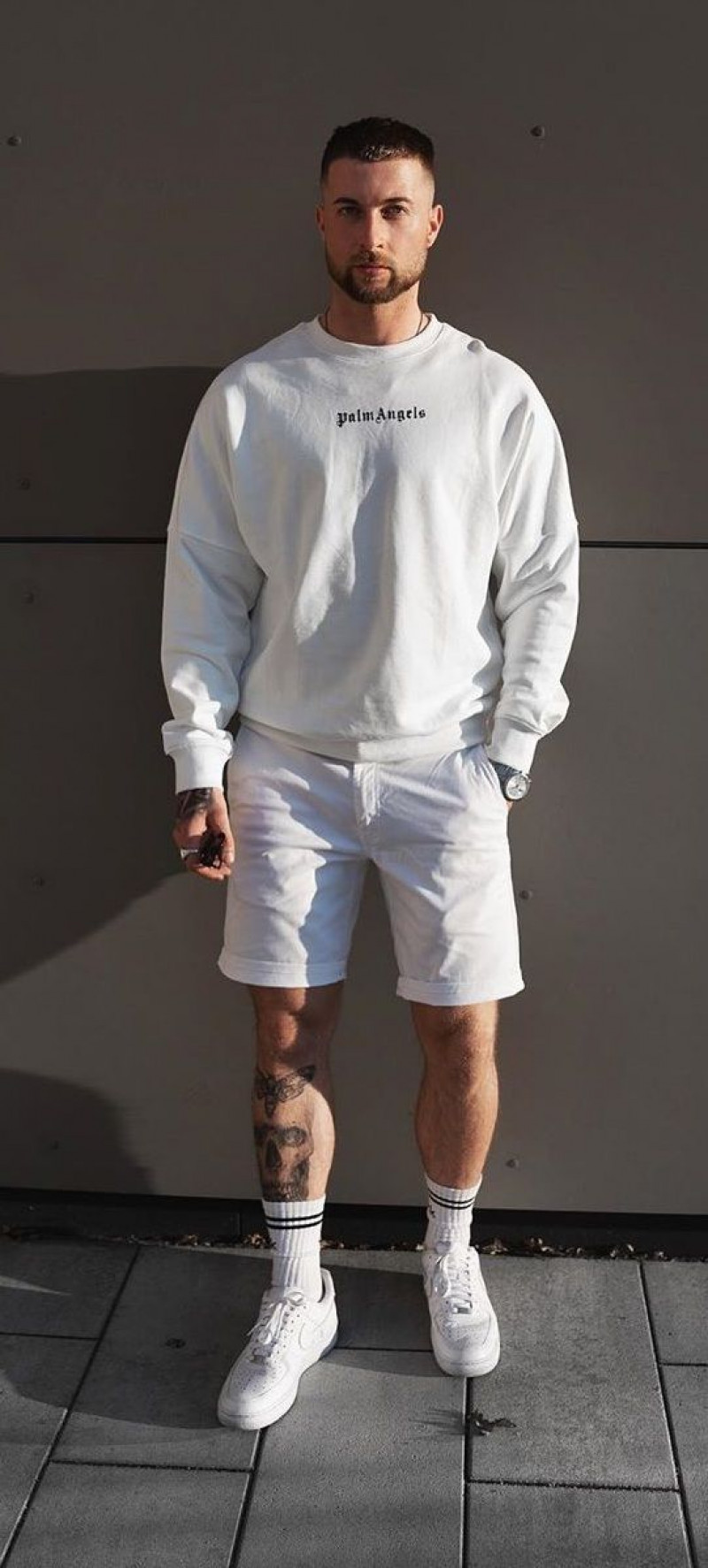 Favorite One! Pair the white sweatshirt with denim shorts and classic white trainers. Add a stylish touch with a silver watch and black leather strap.
Planning for your summer trip to the beach? - This Outfit would be Perfect!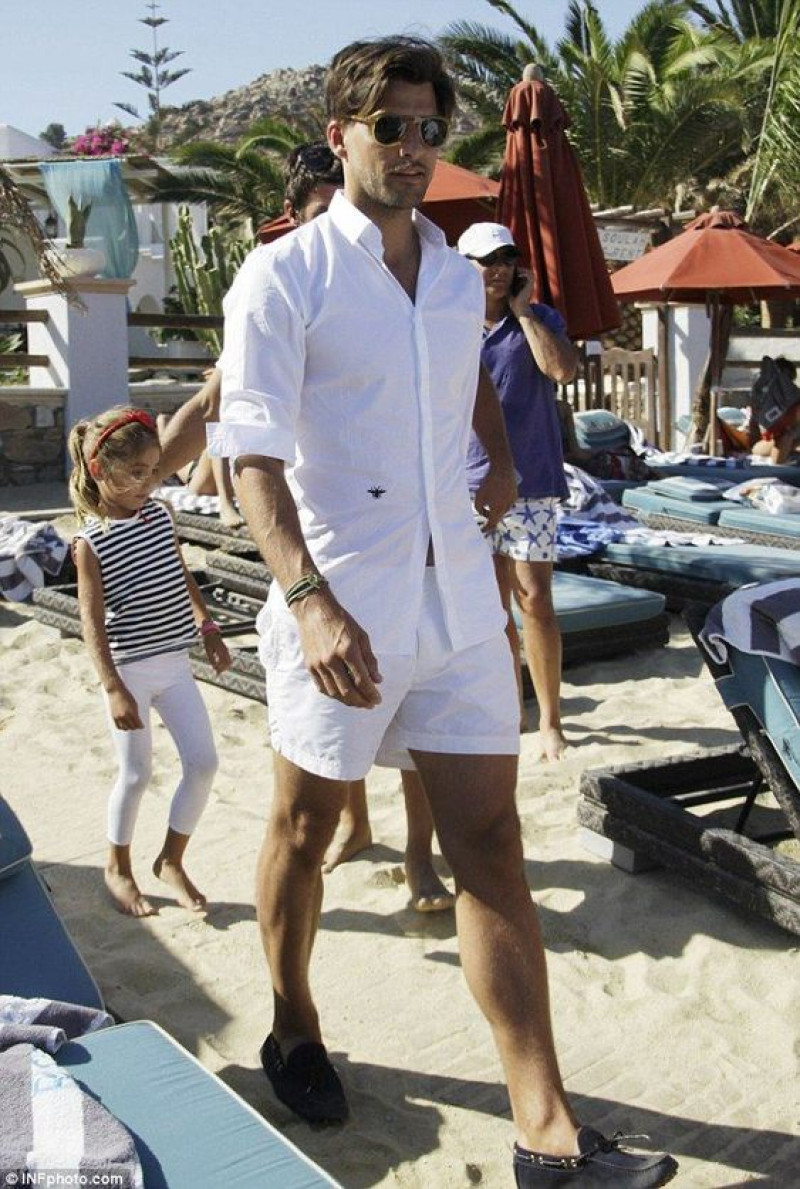 Rock a Beach with top and some white denim shorts and black leather mules. Looks Perfect with sleek black sunglasses for a badass vibe.
Stylish White Cotton Slim Fit Casual Trousers for Working Mens with Low Rise Design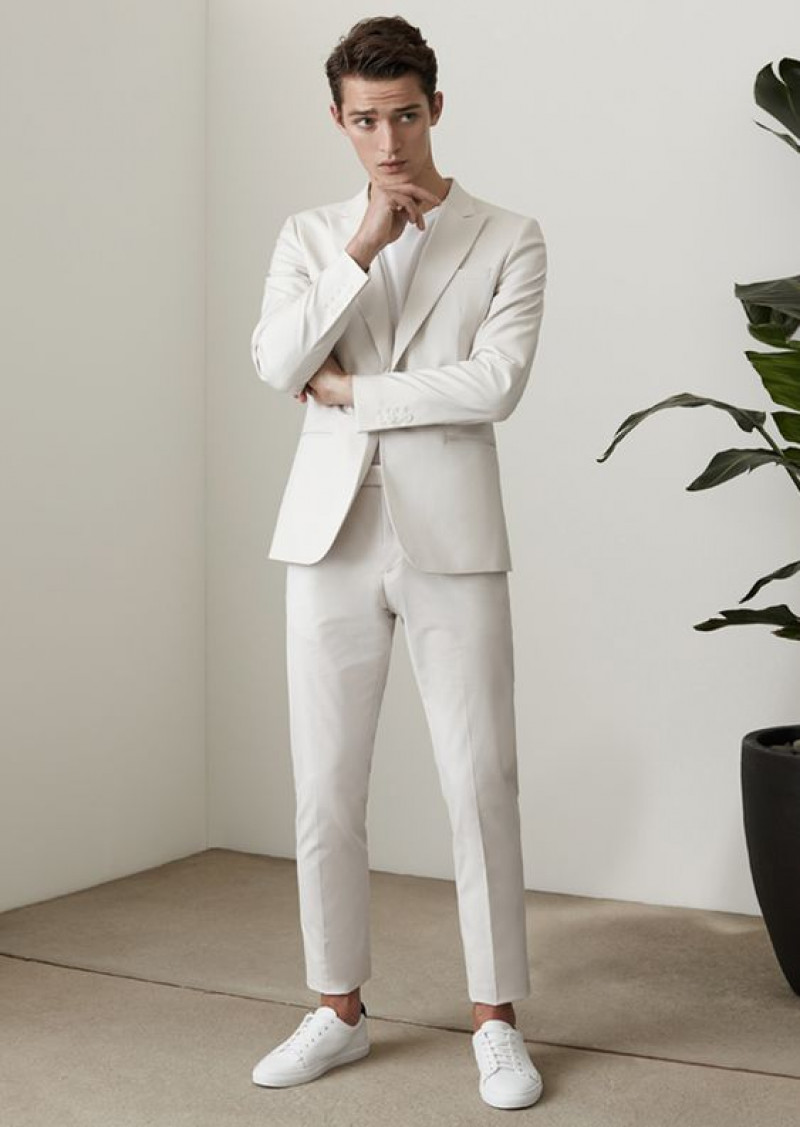 Try out this white cotton slim-fit trousers with a beige short-suit jacket. Add the white textile sneakers for a sporty touch.
Get ready for any occasion with our stylish white suit jackets and tuxedos!- And don't forget to step out in style with our brown low shoes made from durable textile material!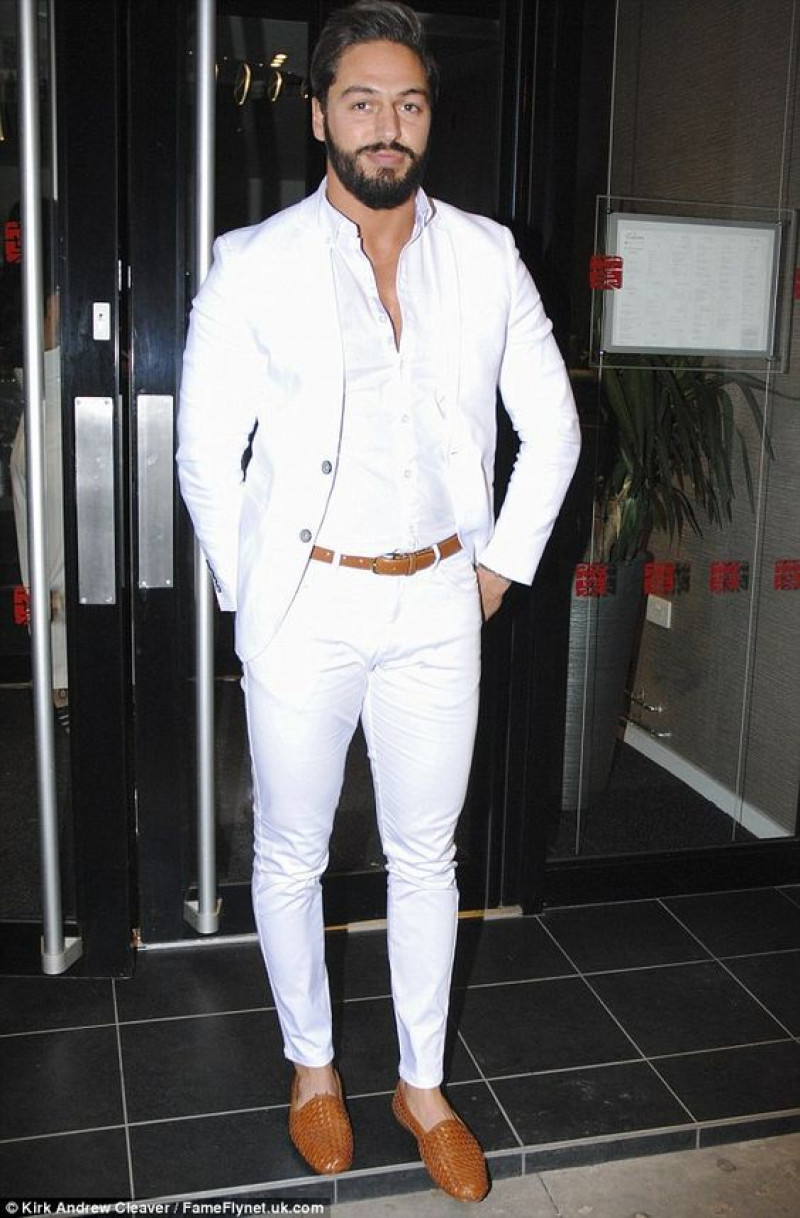 Perfect for Formal Look!- Pair a white suit jacket and tuxedo with slim-fit white cotton trousers. Try the outfit with brown low shoes. Perfect for weddings or formal events.
Stay comfortable and stylish with these white cotton sweatpants!- Complete your outfit with brown suede or a chunky heel and closed toe for added comfort.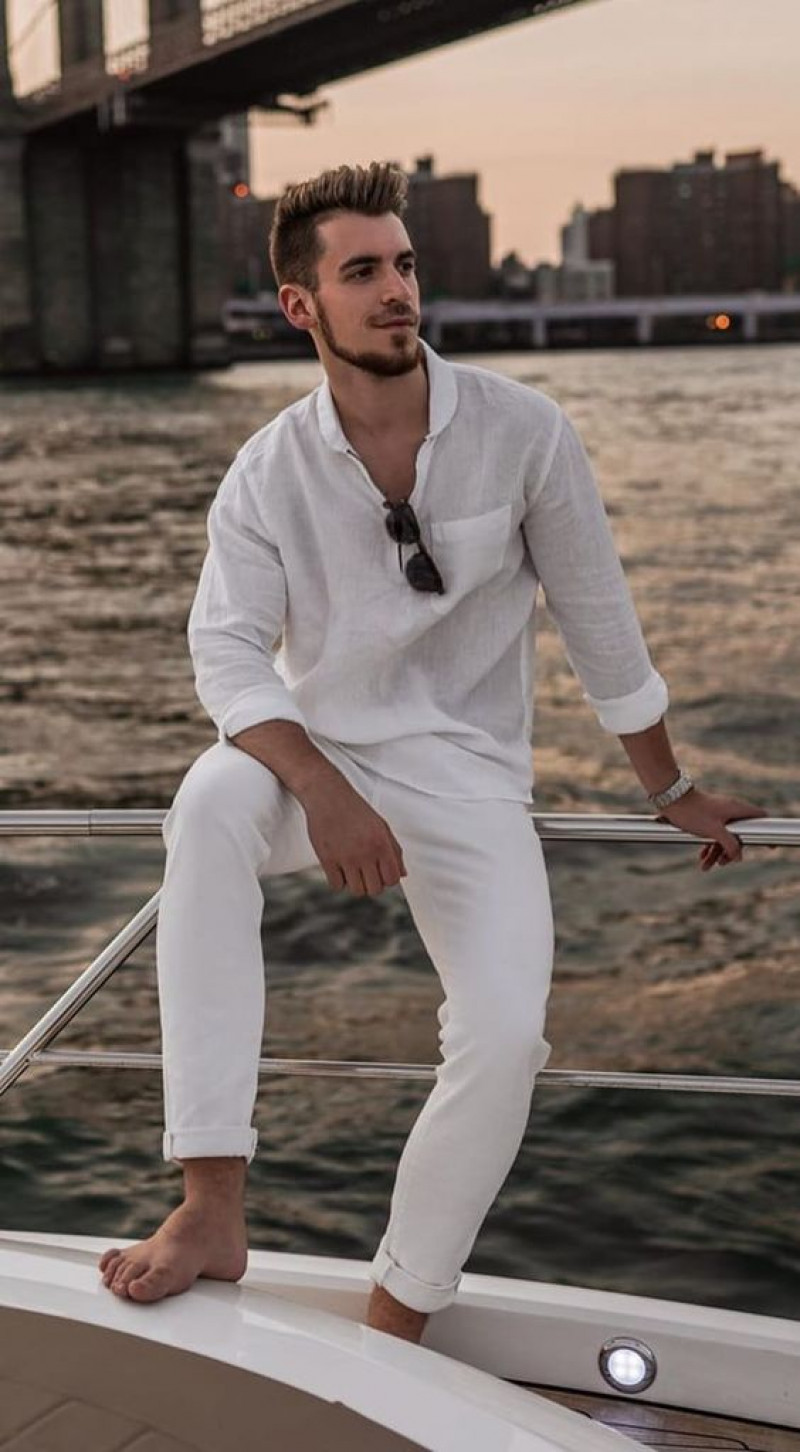 For a casual and comfortable outfit, pair white sweatpants with a plain white shirt. Finish the look with brown suede pumps for a stylish touch.