Getting ready for a concert in 2023 is an act in itself, much like seeing the actual show. Dressing the part is essential whether you're soaking up the raging sounds of Metallica or moving to the rhythms of A$AP Rocky. At times, embracing a theme can enhance the fun, while on other occasions, you have the freedom to experiment with your style. If the question of what to wear to a concert has you puzzled, don't worry – we're here to guide you. Regardless of the venue or the season, we've compiled the ultimate concert outfit ideas for men. So, get ready to rock not only to the music but also to your fashion game.
Style Black Graphic T-shirt with Cargo Pants- Match it with Black and White Shoes!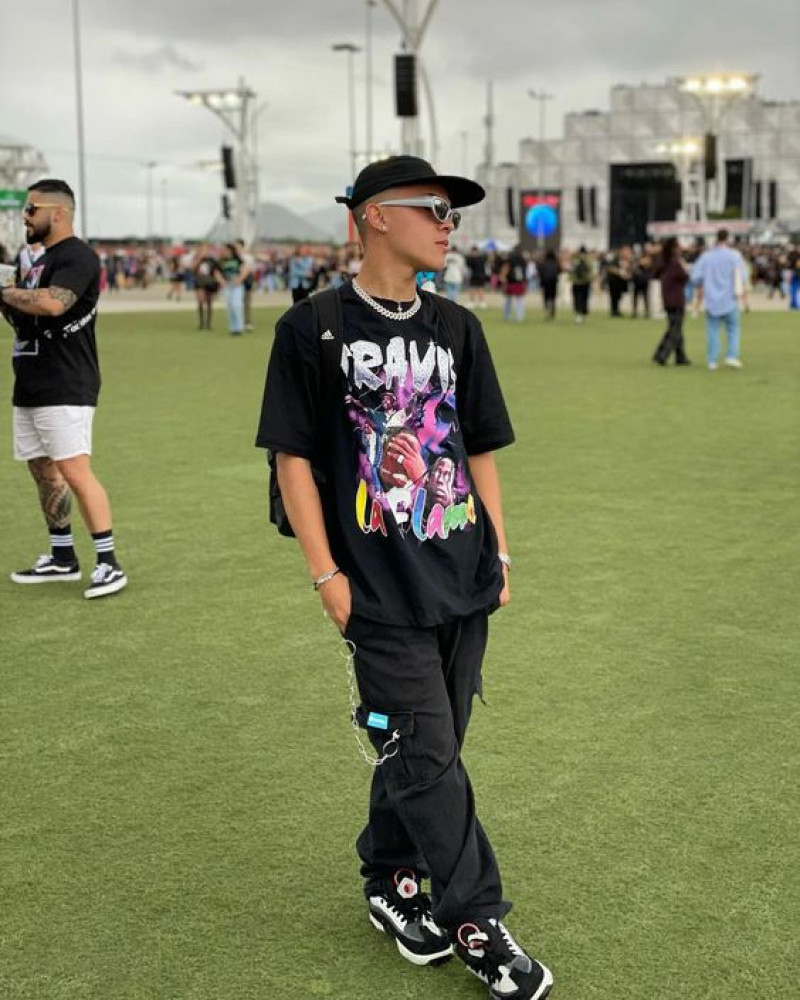 Outfit Ideas for Men to Wear at Concerts can be this black t-shirt with wide-leg denim trousers and Black and White leather trainers. Style the outfit with silver sunglasses, a metal necklace and gemstone bracelets. Perfect for outdoor events or Concerts.
Stay Comfy with Navy Blue Pants and Jacket- Perfect for Concert Wear!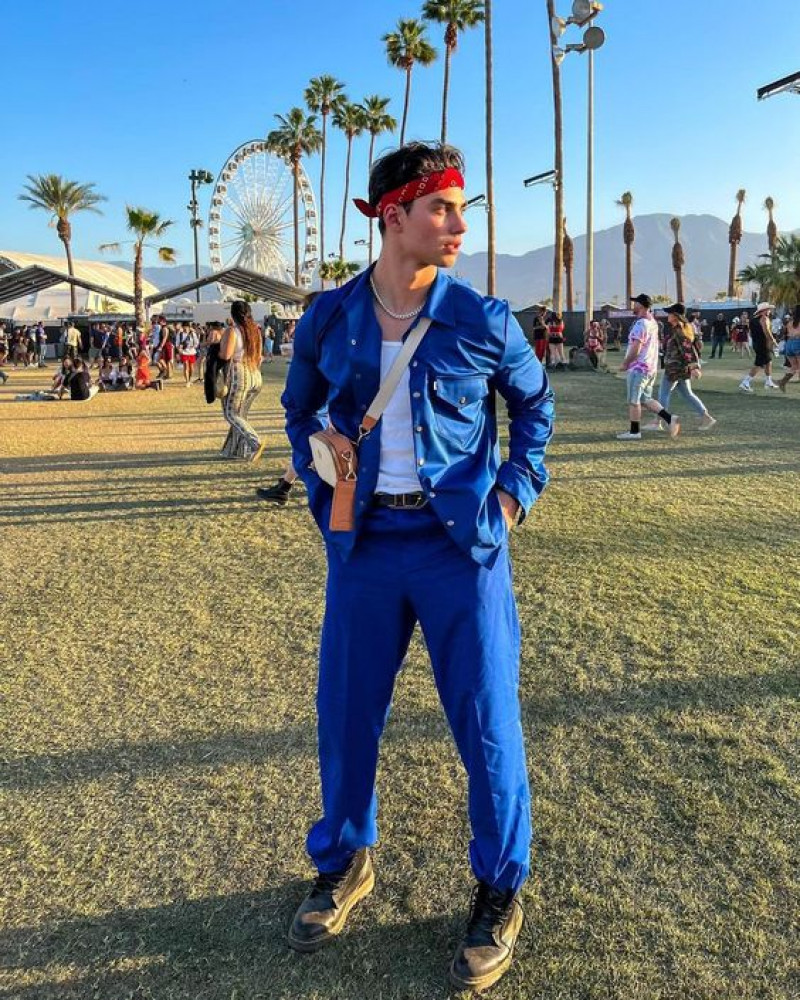 Try out this dark blue pants with a plain cotton T-shirt and Blue Jacket with a long-sleeve perfect for a comfortable look. You may try it with yellow Desert Boots for a pop of color.
Stay Stylish with Grey Denim Long Cargo Trousers with Dark Blue Hooded Short-Sleeved Sweatshirt- Style it with Black Leather Casual Boots and Silver Metal Necklaces!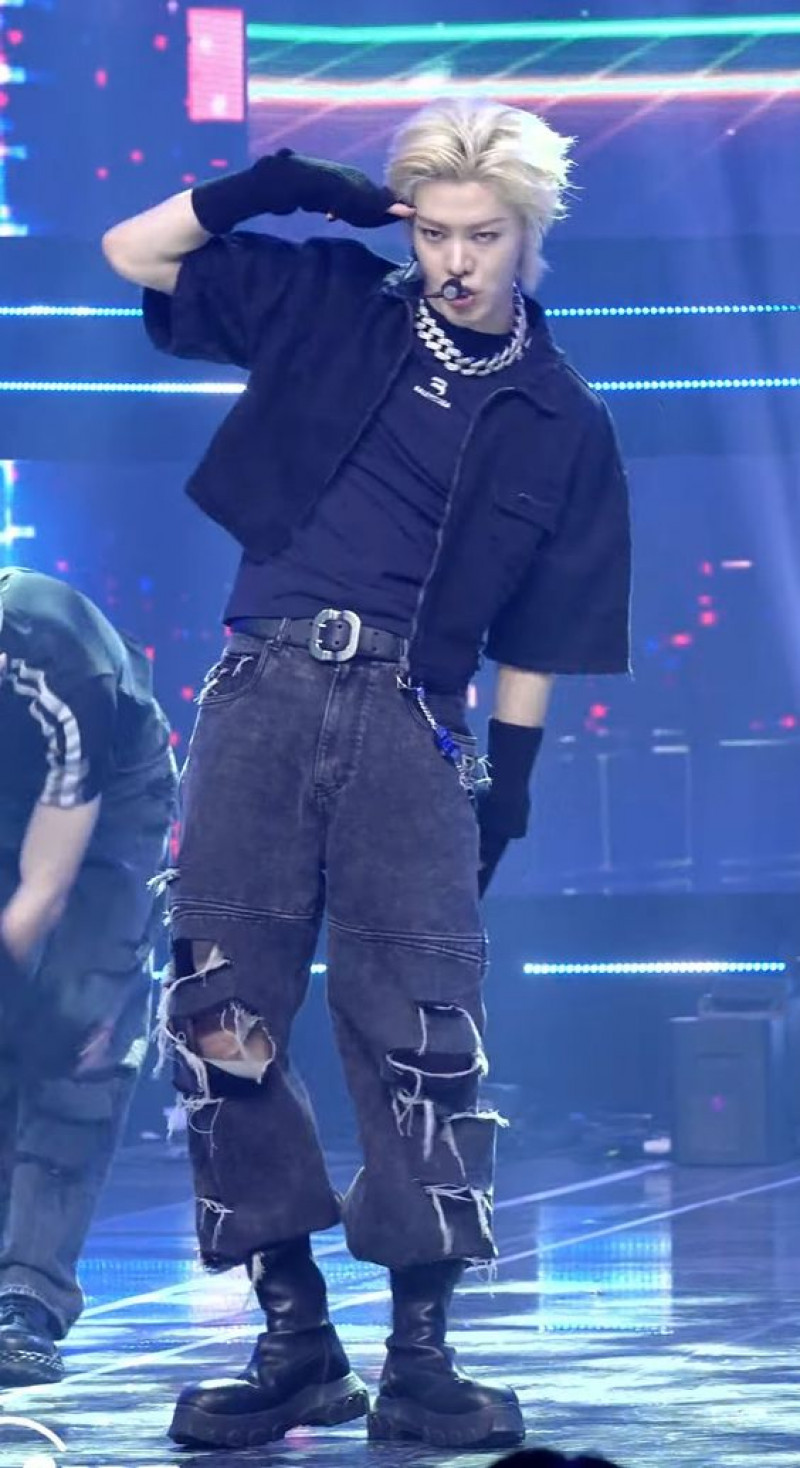 Get this stylish look with, grey denim trousers, a dark blue hoodie and black ankle boots. Match the outfit with a silver necklace and Black Gloves.
Stylish Pink Collar Shirt with Black Casual Trousers- Looks Perfect with White Sneakers and Silver Bracelets!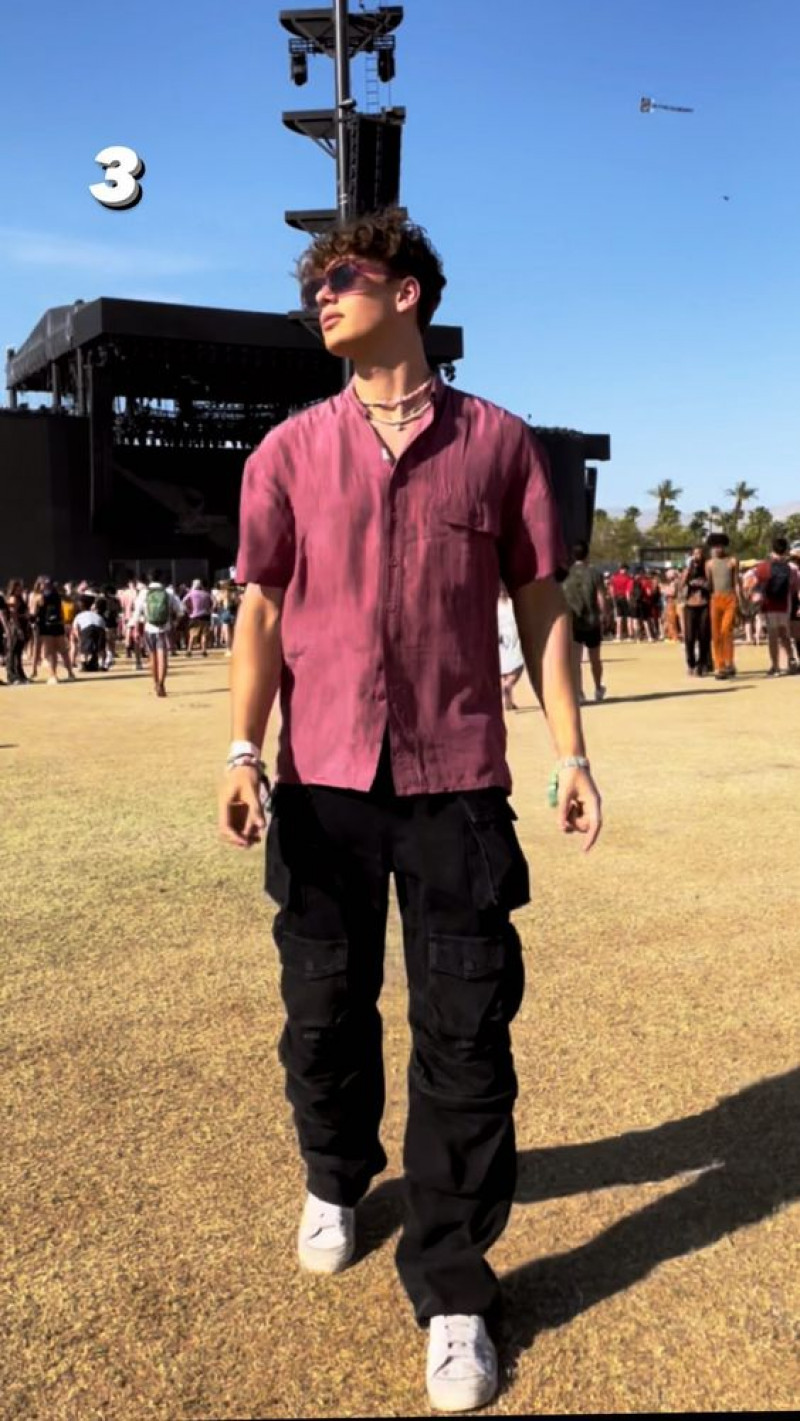 To Look smart go for these pink collar shirt with black leather trousers. End up with the white sneakers and accessorize with a yellow gold necklace and a silver bracelet.
Get Ready for Concert with Casual Trousers and Stylish Floral Jacket in Purple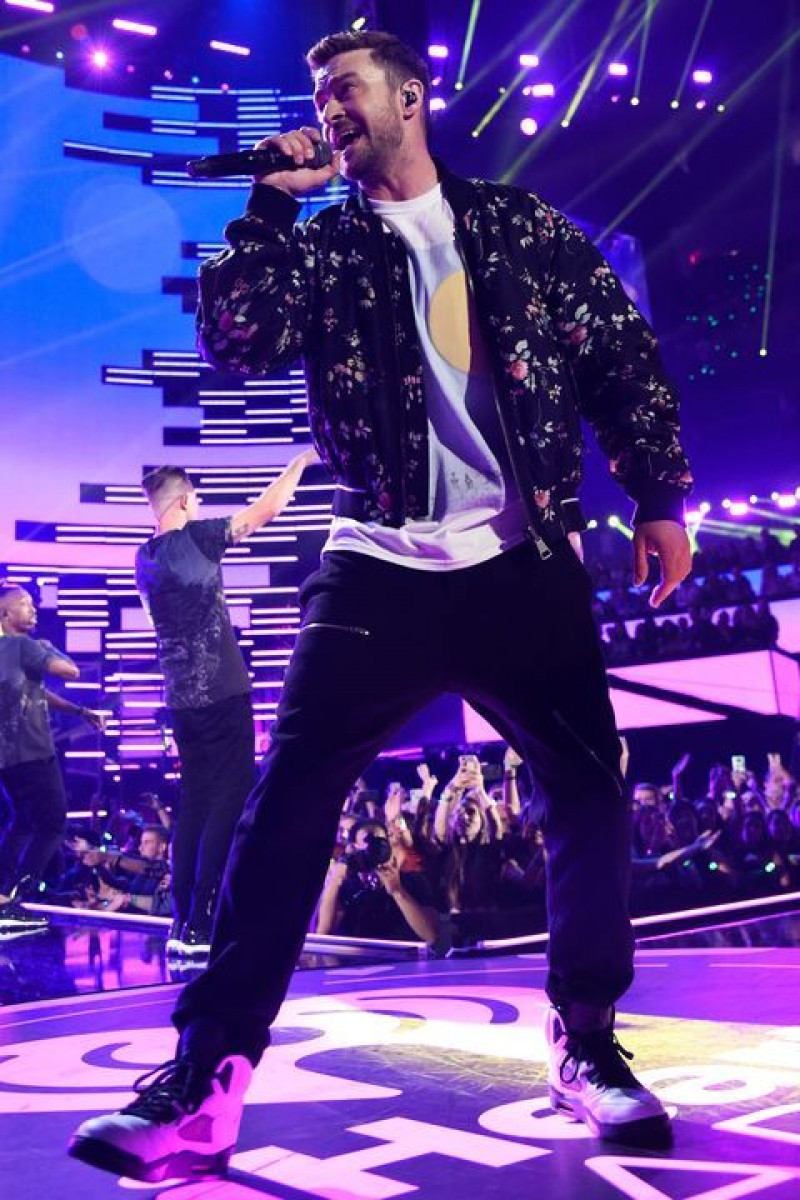 Try out this suit jackets and tuxedos in dark blue and navy with a floral pattern, elegant boots in purple and violet would be a stylish choice.
Men's Wardrobe Selections for Live Shows- Black Jacket with Denim Jeans!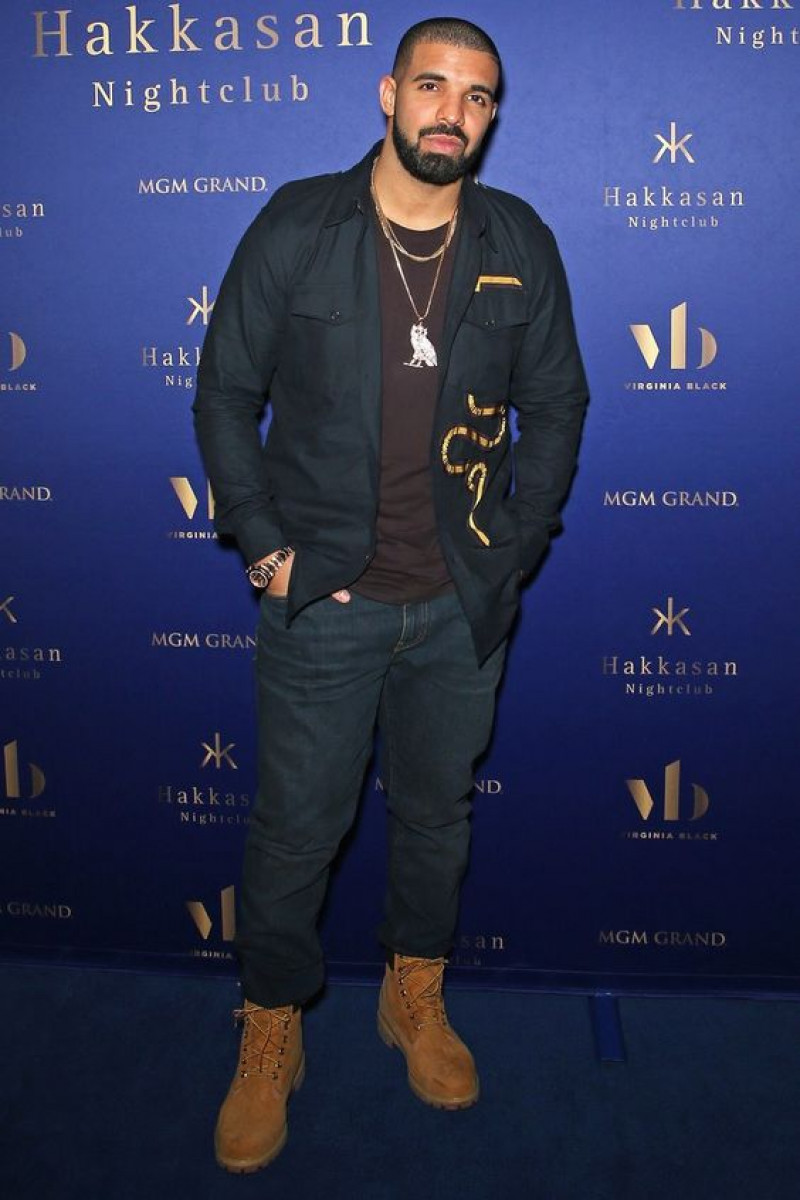 A perfect Fashion Ensemble for Guys Attending Concerts with a black short synthetic jacket and Black Denim trousers. Finish the look with brown suede ankle boots and a silver metal necklace. Add a sporty touch with a silver watch with a golden dial and black leather strap.
Brown Patterned Short Synthetic Jacket with Black Hat- A Perfect Stylish Garb for Men at Musical Events!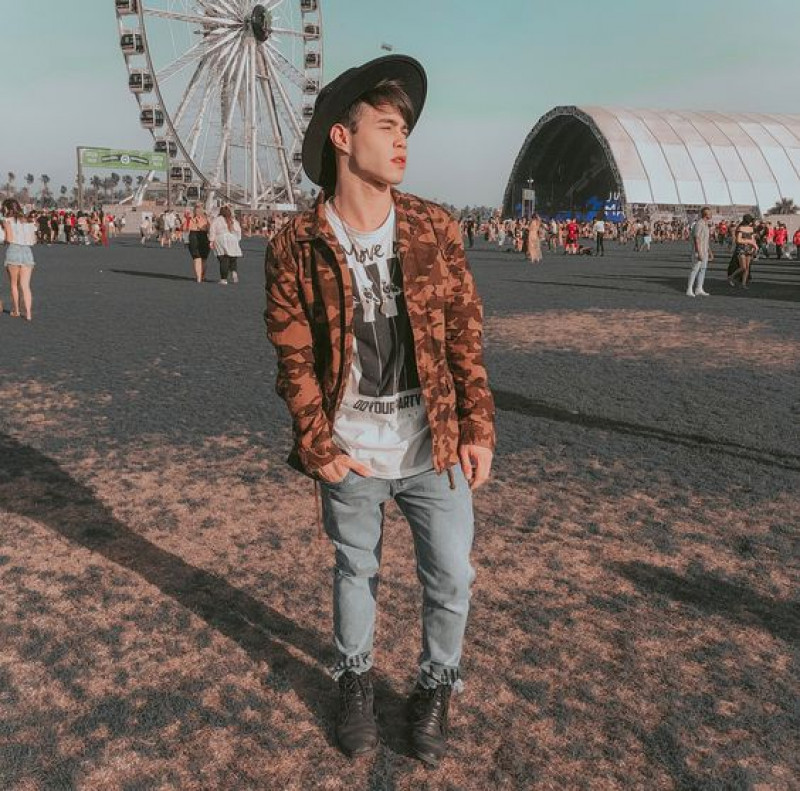 Pair this Brown patterned camouflage jacket with grey cotton trousers. End up the look with a beret and either grey or black ankle boots.
Try this Lovely Lime Punk Pants with Plain Black Tee- Don't Forget to style it with Black Jacket!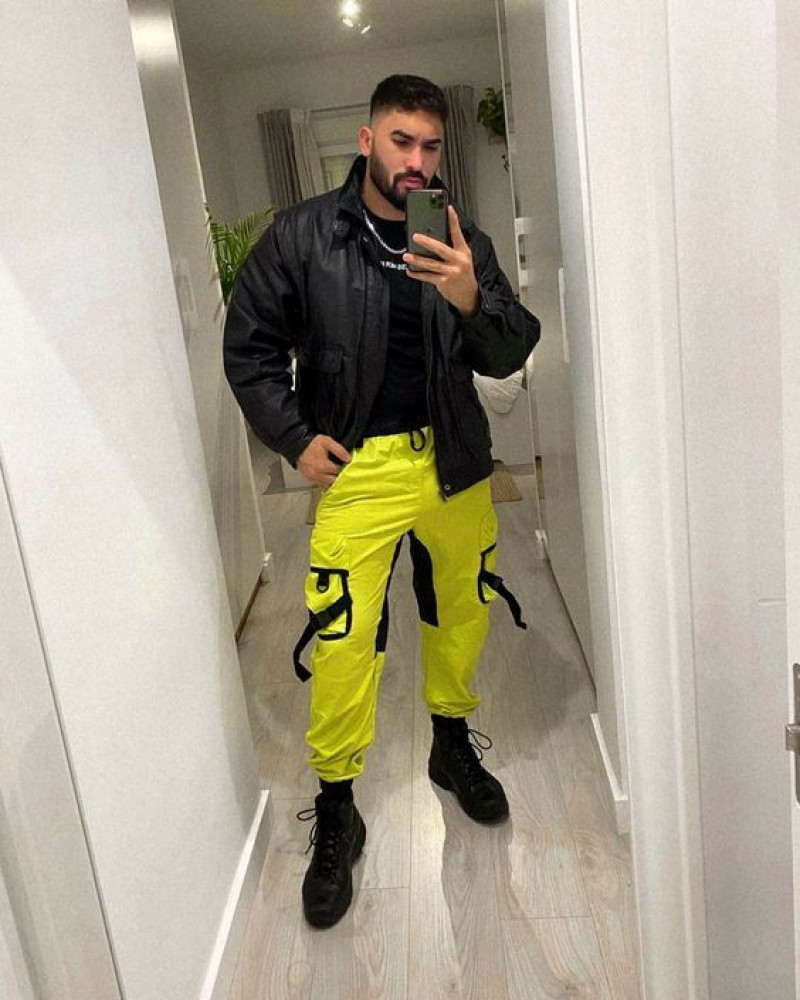 This one is Personally Mine Favorite one! A black short synthetic jacket with a full closure and zipper fastening is perfect for adult outfits. Match it with yellow sweatpants and black leather ankle boots for an elegant look. Additional colors for the outfit could include white, gray, or navy blue.
Stylish Black Denim Jeans with Shining Red Shirt: Pair it with a Necklace and Silver Metal Bracelets!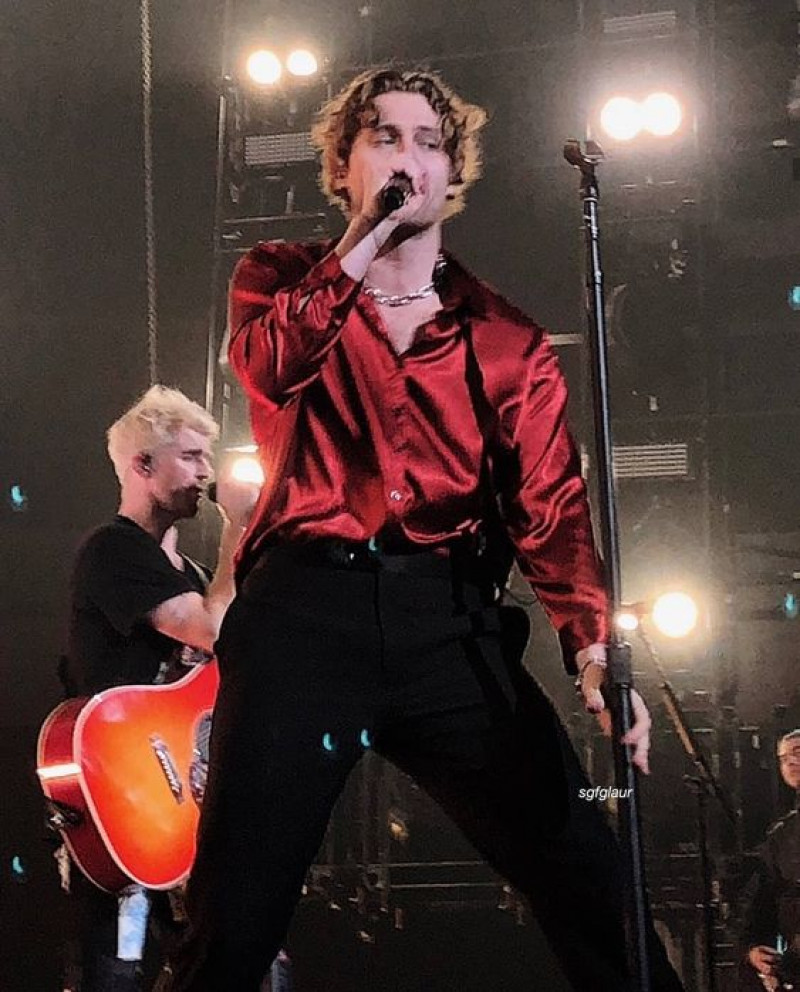 Black jeans paired with a red short winter jacket create a stylish and trendy look. Add silver metal bracelets for an extra touch of glam. Additional colors for outfits could include white, navy blue, or olive green. You Can Also Gift this to your Loved ones!
Try out this Black Leather Biker Jacket for Upcoming Concert!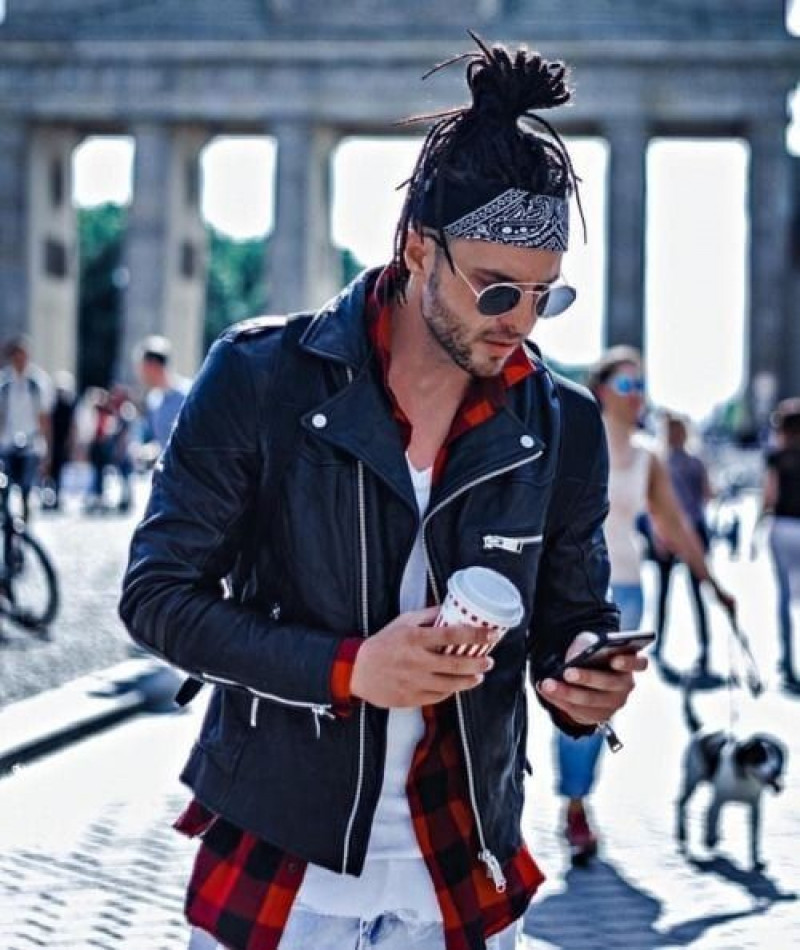 The biker jacket in black is a short, casual style made of leather and suede. It features a plain design with stripe patterns and a full-closure zipper. The outfit can only be completed with sunglasses.
Try out this Grey Plaid Pant with a white T-shirt and Leather Jacket!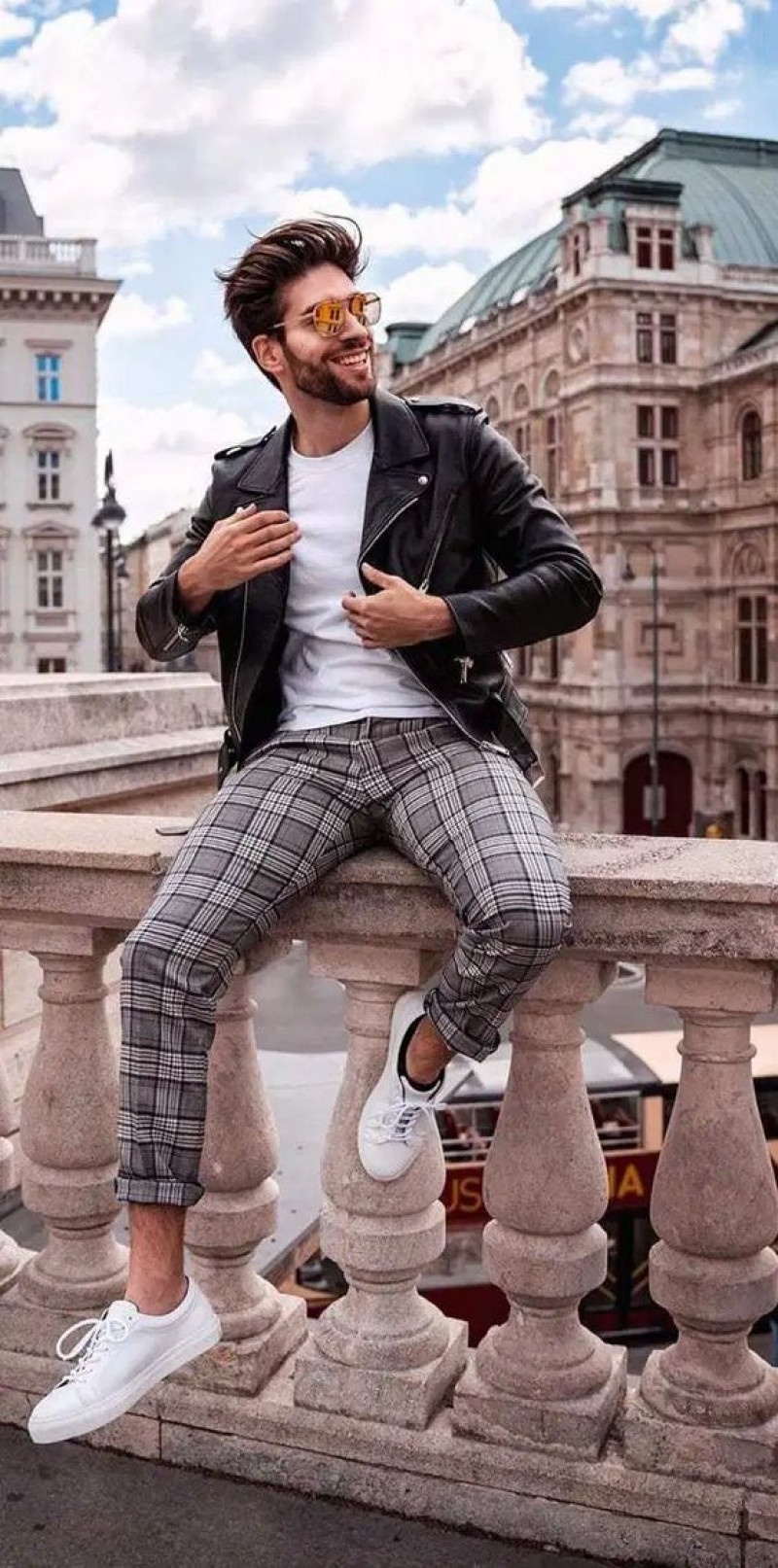 For a trendy look, try grey patterned Plaid trousers with a black leather biker jacket. Style it with white low-top sneakers and sunglasses.
Rock with these black leather trousers, a brown pilot jacket, white sneakers and stylish sunglasses-Complete the outfit with a sleek silver watch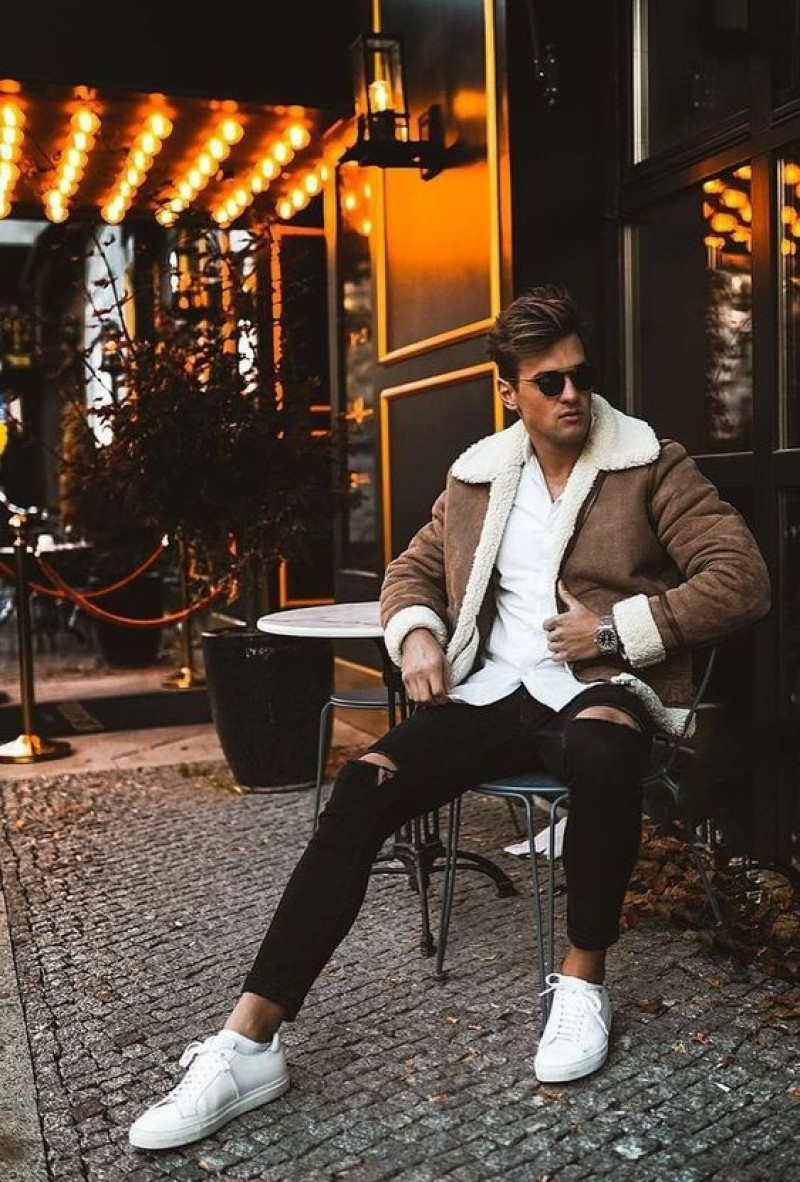 The adult black leather trousers are slim fit. They are made of plain leather material and have a casual style. The pilot jacket is brown in color, short in length and made of leather & suede material. It has a full closure with a zipper fastening. The sneakers are white, low shoes with a flat-form heel shape. The sunglasses are of Black in Color and the watch is an analogue watch with a silver case and strap. The watch dial is black with Roman numerals and the strap is made of leather.
Black Denim Trousers with a Matching T-Shirt- White Leather Sneakers & Blue Dial Casual Watch!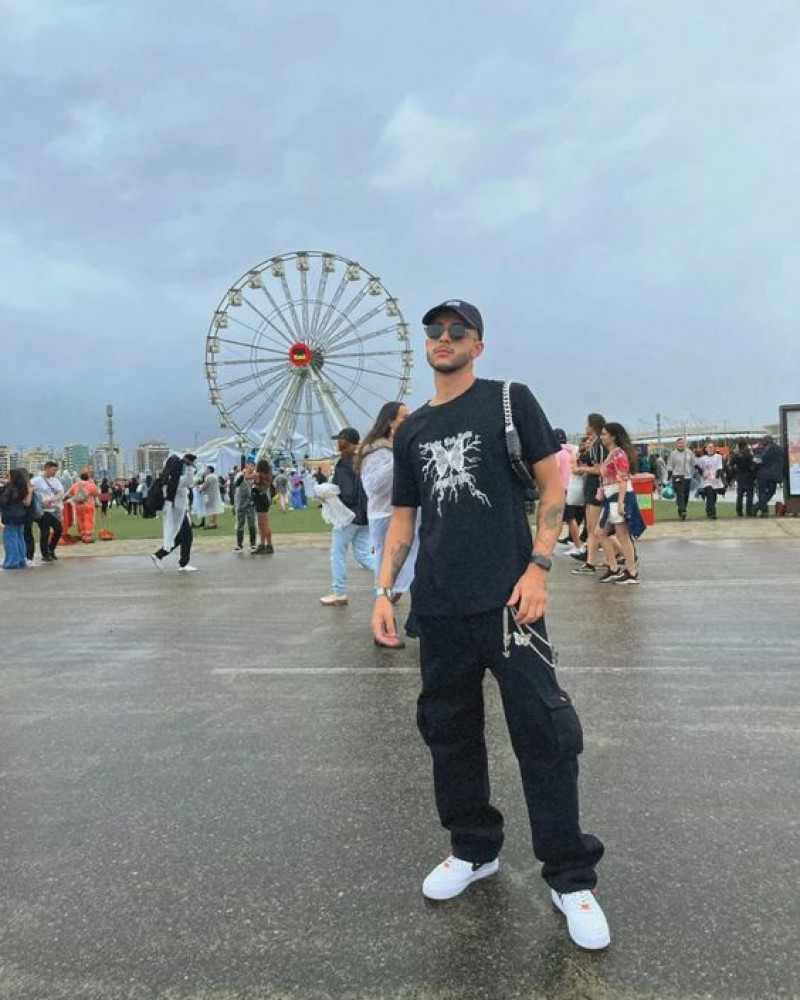 The Cargo trousers in black are a long, elegant style made of denim. The T-shirt is grey with a crew neckline and short sleeves, made of denim material. It has a casual design with text on it. The sneakers are white leather low shoes. The watch has a silver case color, blue dial color and a silver strap. It is a casual analog watch with a leather strap material.
Black Denim Suit Jackets: Styled with Black Denim Jeans and Boots!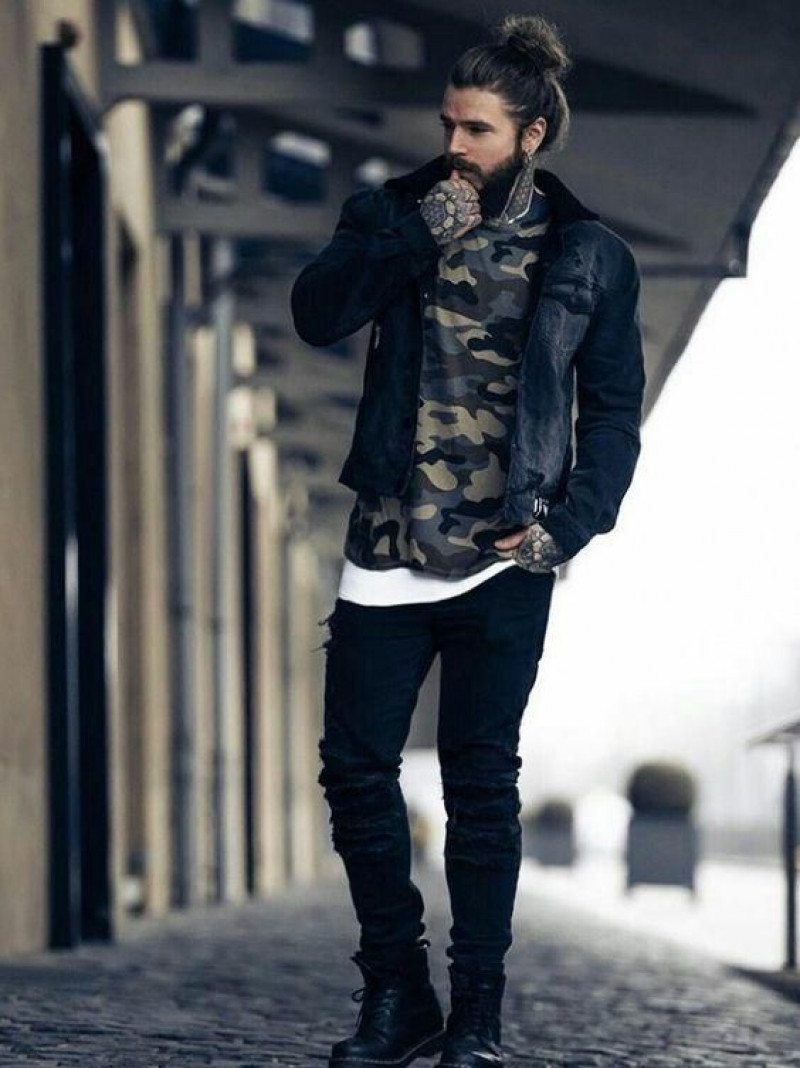 Get Out with this Trendy look in a black denim short suit jacket with dark blue slim-fit jeans. Match the outfit with black leather Chelsea boots for a trendy and comfortable ensemble. Add a plain t-shirt or button-down shirt for a versatile outfit option.
Try out this Black T-shirt with Black Pants- Don't Forget to style it with Black Sunglasses!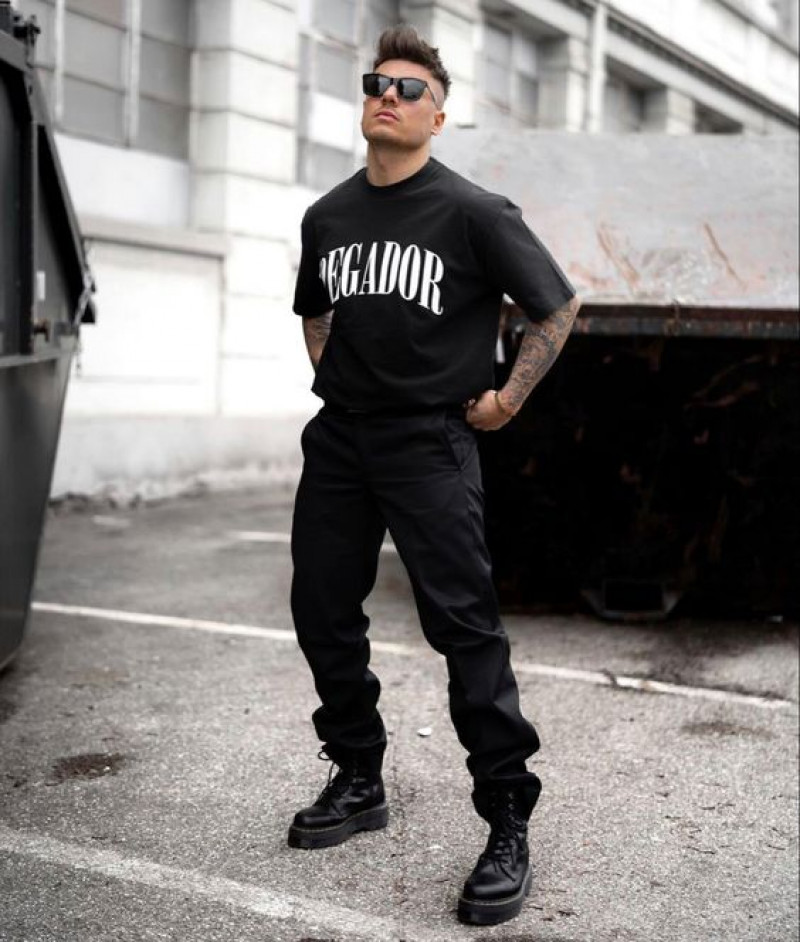 Pair black cotton long straight-fit trousers with a plain black t-shirt featuring a text design for a stylish look. Must go with black leather Chelsea ankle boots and sunglasses for a trendy touch.
Stay sporty and stylish with these grey long sweatpants featuring a slim fit and a logo design.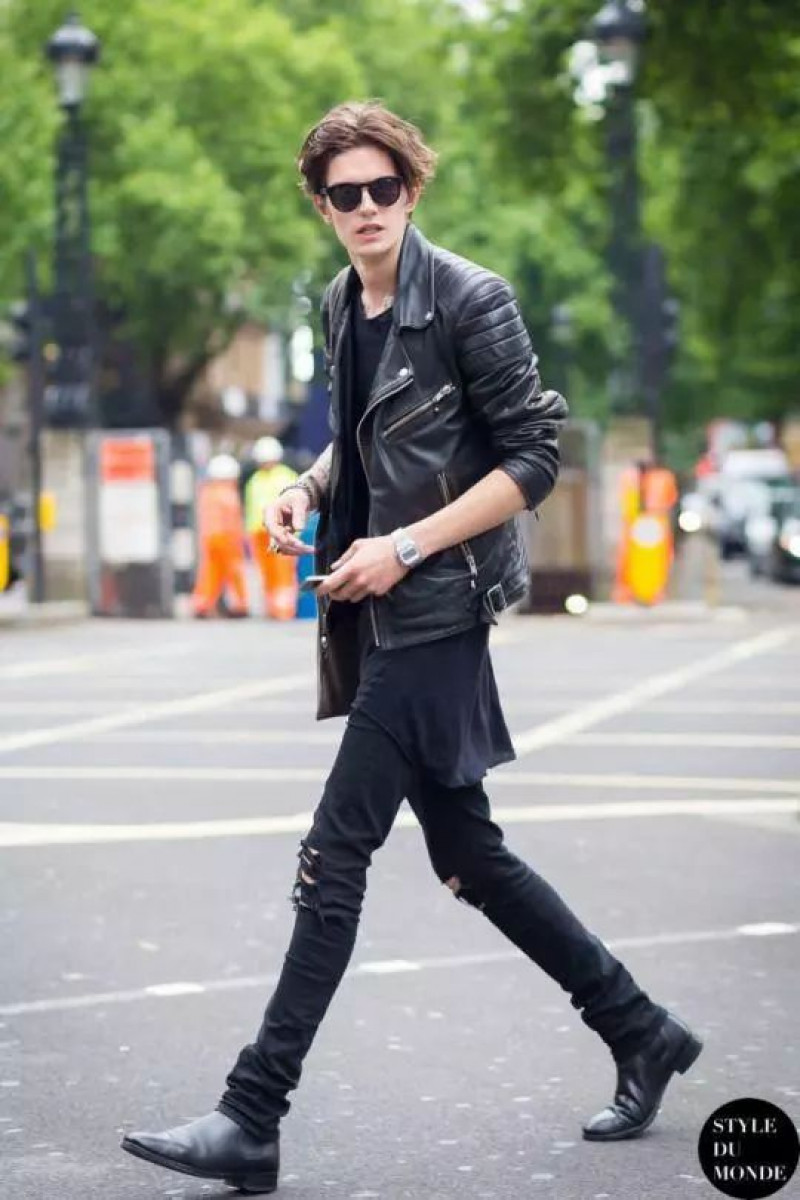 Rock in the concert with these grey, long, slim-fit sweatpants with a sporty logo design and a low rise. Styled it up with a black biker jacket featuring a short length and a casual plain design. Finish the look with black leather Chelsea boots and some killer shades. And oh, don't forget my sleek silver watch with a white dial for that extra swag!
Male Clothing Choices for Concerts-Style this Biker Jacket with Blue Jeans and White T-shirt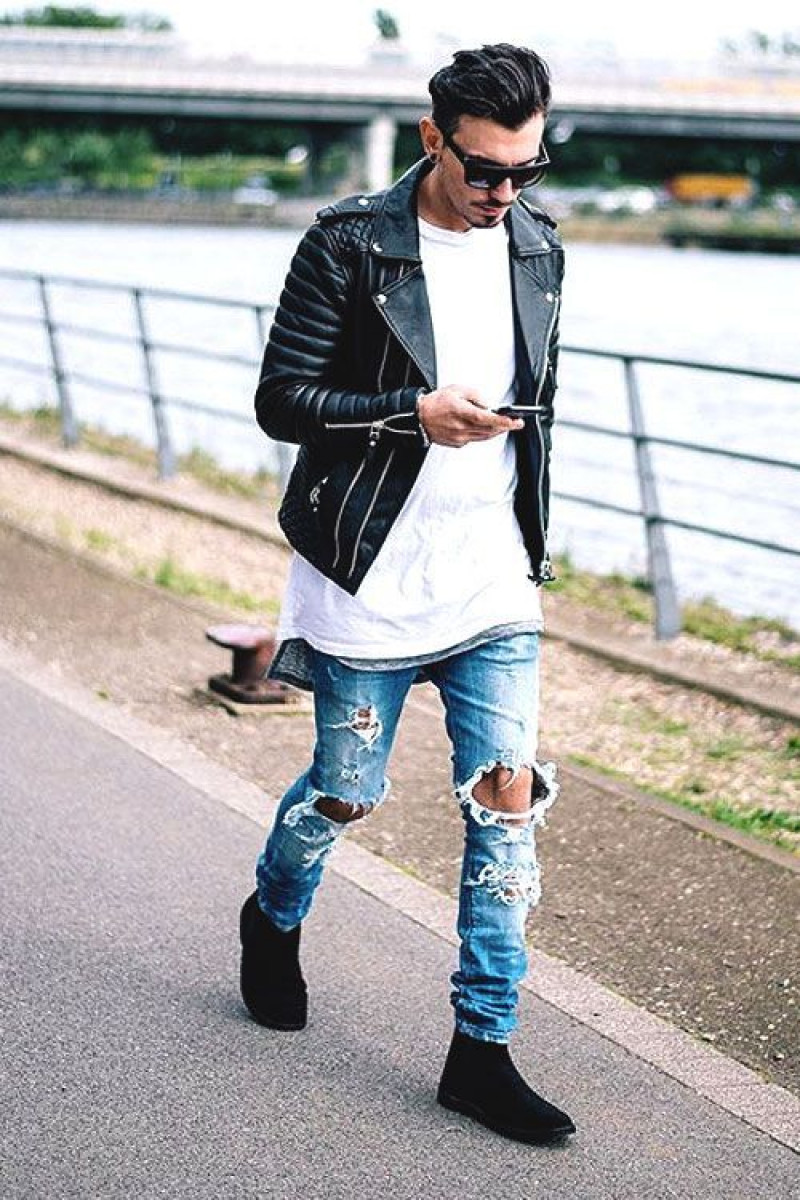 "Complete your look with a black leather and suede biker jacket, paired with light blue skinny jeans. Add elegance with low black ankle boots and finish off the outfit with stylish sunglasses."
Black Shirt with light blue denim Jeans and white trainers- Dress Code Suggestions for Male Concert Going!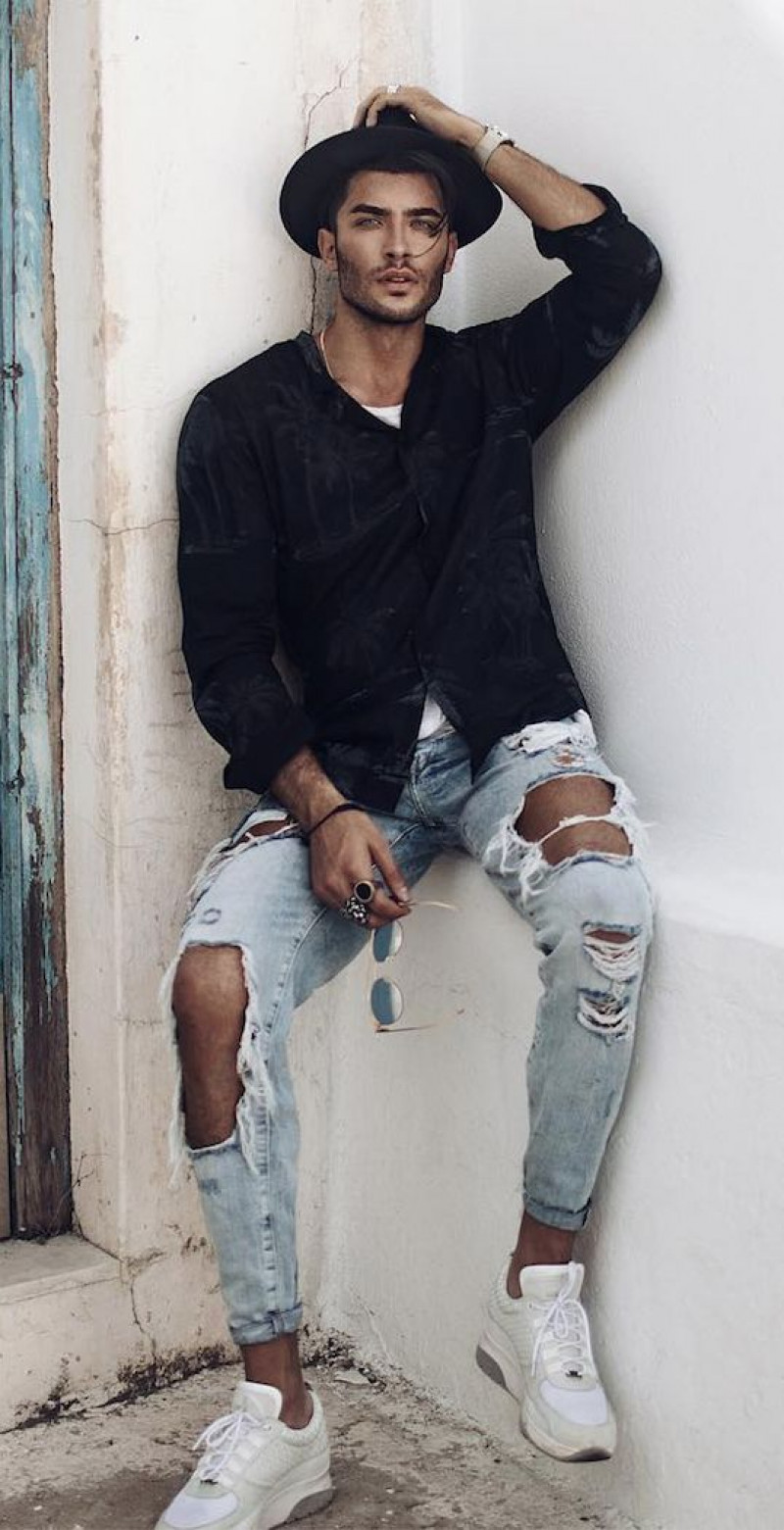 Look smart black leather sweater with long sleeves is perfect for adults. It features a full-closure zipper and a plain design. Pair it with light blue denim casual trousers and white trainers for a stylish look. Additional colors for the outfit could include gray or navy blue.
Must Have this Beige Colored Jacket- Styled with White T-shirt and Black Jeans!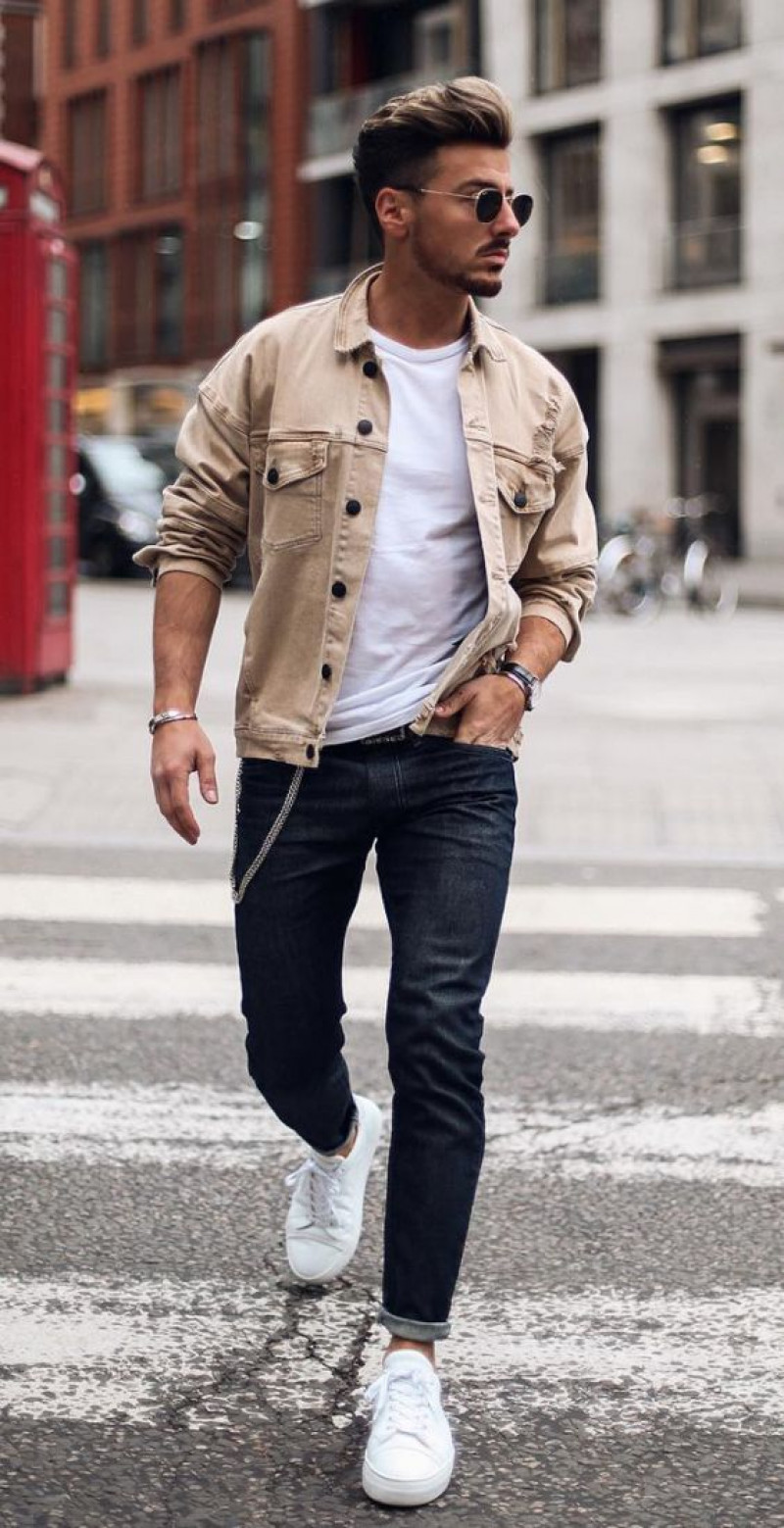 Get this Lovely beige denim short casual jacket with a full closure and button fastening. It is a plain design with no belt. Match it with black casual trousers, in a straight fit. Finish the look with white leather sneakers and sunglasses.
Check out this Black Printed Shirt and Black Jeans with Sunglasses and Silver Chain!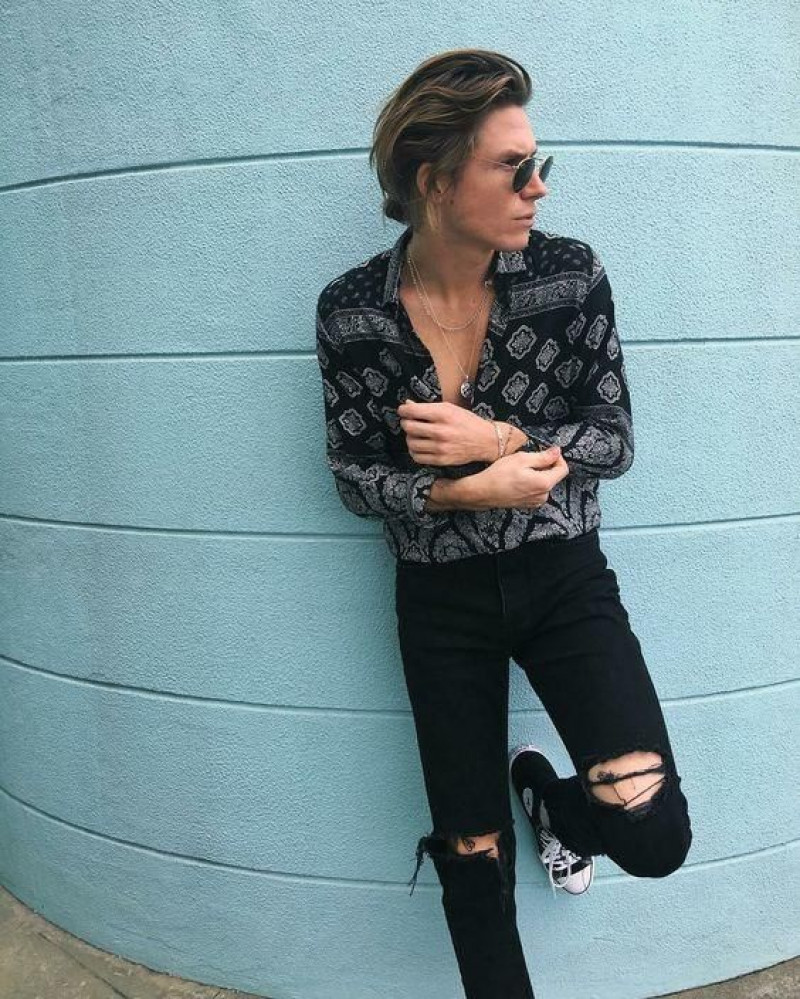 Black printed shirt with Denim Jeans. They feature a geometric and abstract pattern and have a full closure with buttons. The jeans are also black and have a casual style, while the elegant boots in Chelsea and Ankle boots are made of suede material and have a low heel height. The Pumps, Sneakers, Necklaces, Pendants and Chains, sunglasses and Bracelets all come in silver color.
Black Leather & Suede Short Casual Biker Jacket with Matching Hat- Perfect Attire for Men at Music Performances!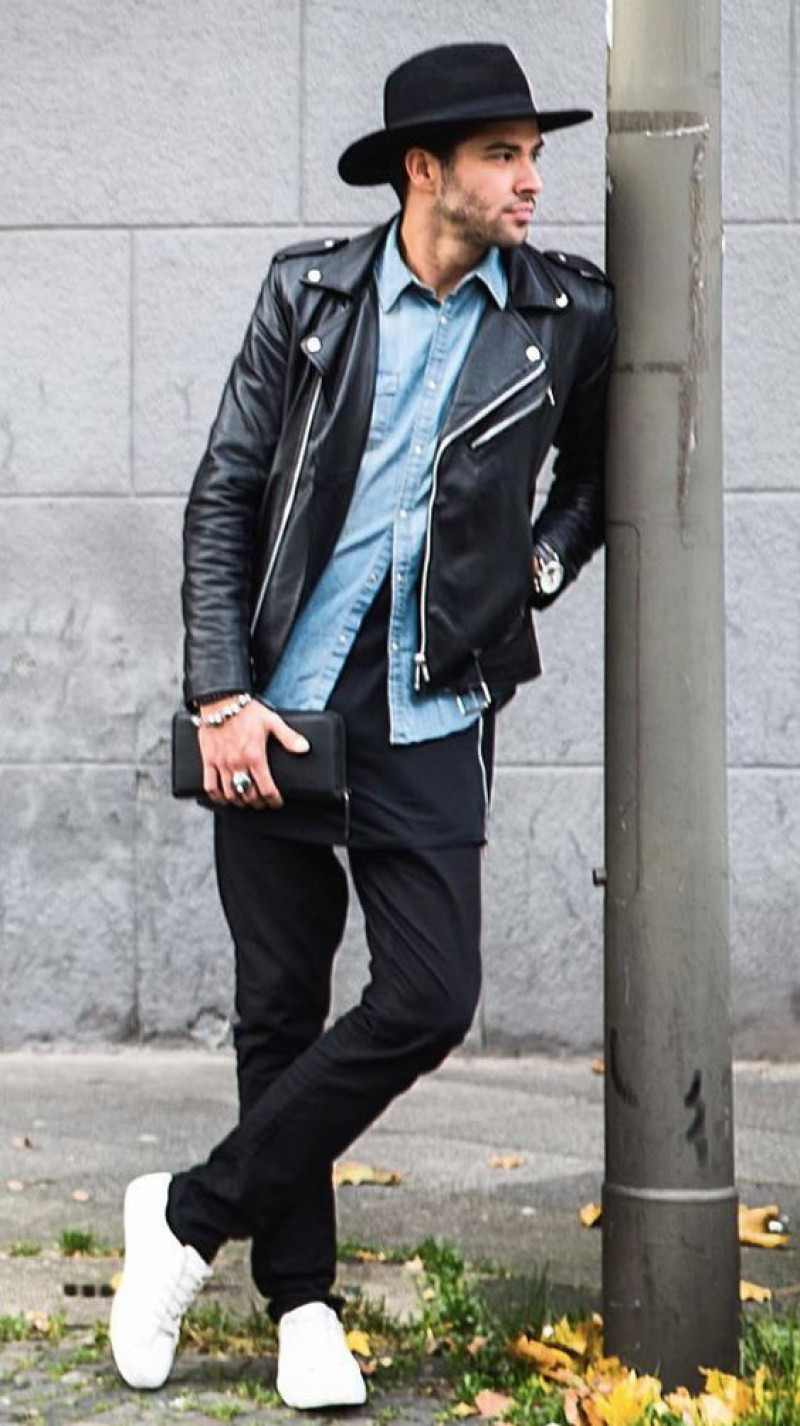 Amazing! biker jacket in black, made of leather and suede, is a short, casual style with a full zipper closure. The trousers are slim-fit black cotton pants. Pair them with classic hats and floppy hats for a stylish look. Style the look with white textile sneakers in a low height for a trendy finish.
Lovely Red Checked Shirt styled with Black Jeans and Sunglasses !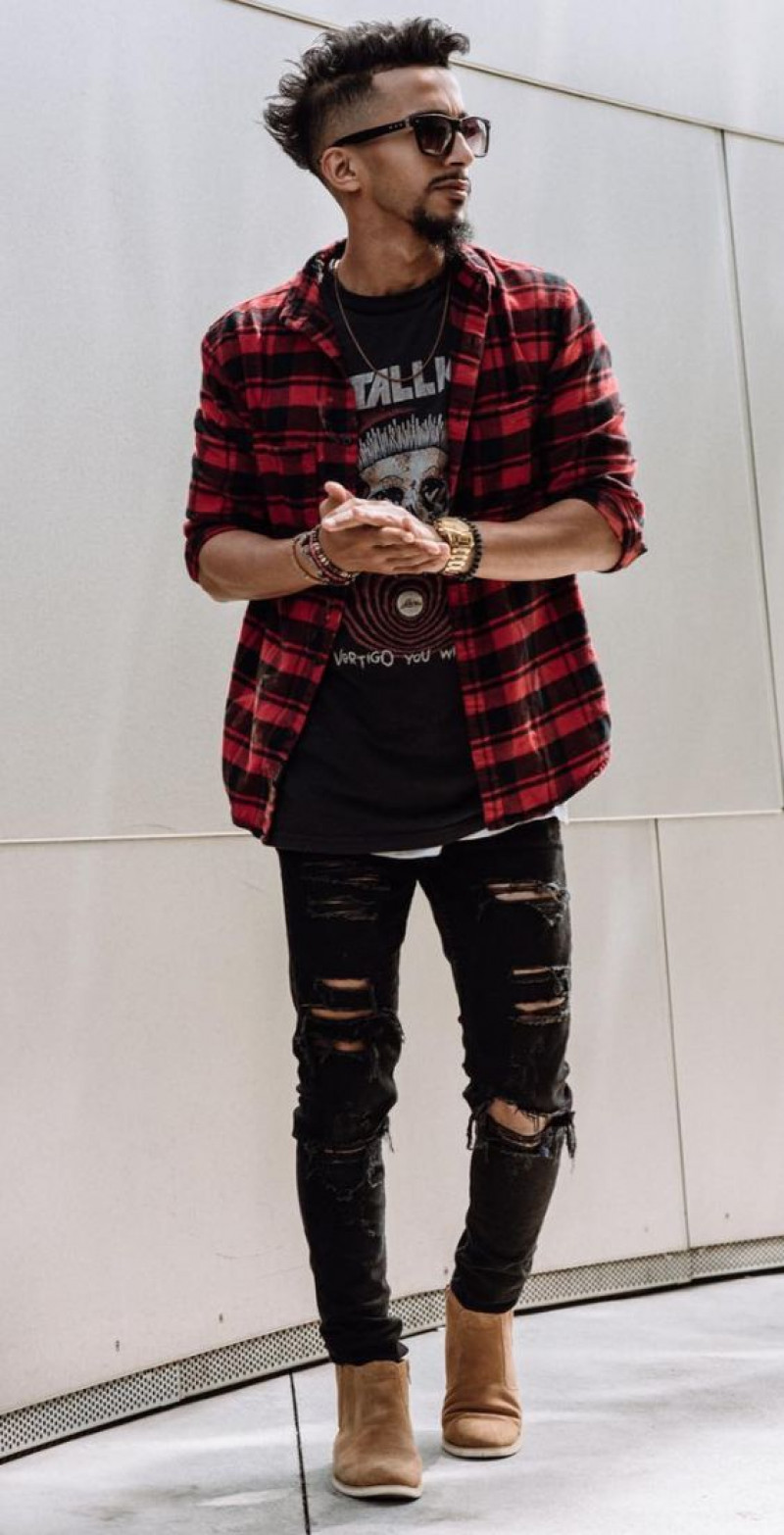 Get out with this lovely Red Checked shirt and black slim jeans. Match the Look with beige elegant ankle boots and sunglasses for a chic touch.
I hope you Liked it all! And surely going to give it a try!