So, the next outfit collection is specially for Pink Lovers! We have some best Outfit ideas, which you can Pair with your pink Jeans. Which Color suits on pink jeans? • Women can add dark pink or magenta pink jeans with a classic white shirt. • You can style with a simple white shirt or a shirt with fancy sleeves. • Pair it with Long Shrugs or a Leather Jacket. • Try adding pink jeans with different colors such as, green or black tops.
Get the Perfect Look with Pink Jeans and this Violet Silk shirt and Comfy Pink Leather Pumps!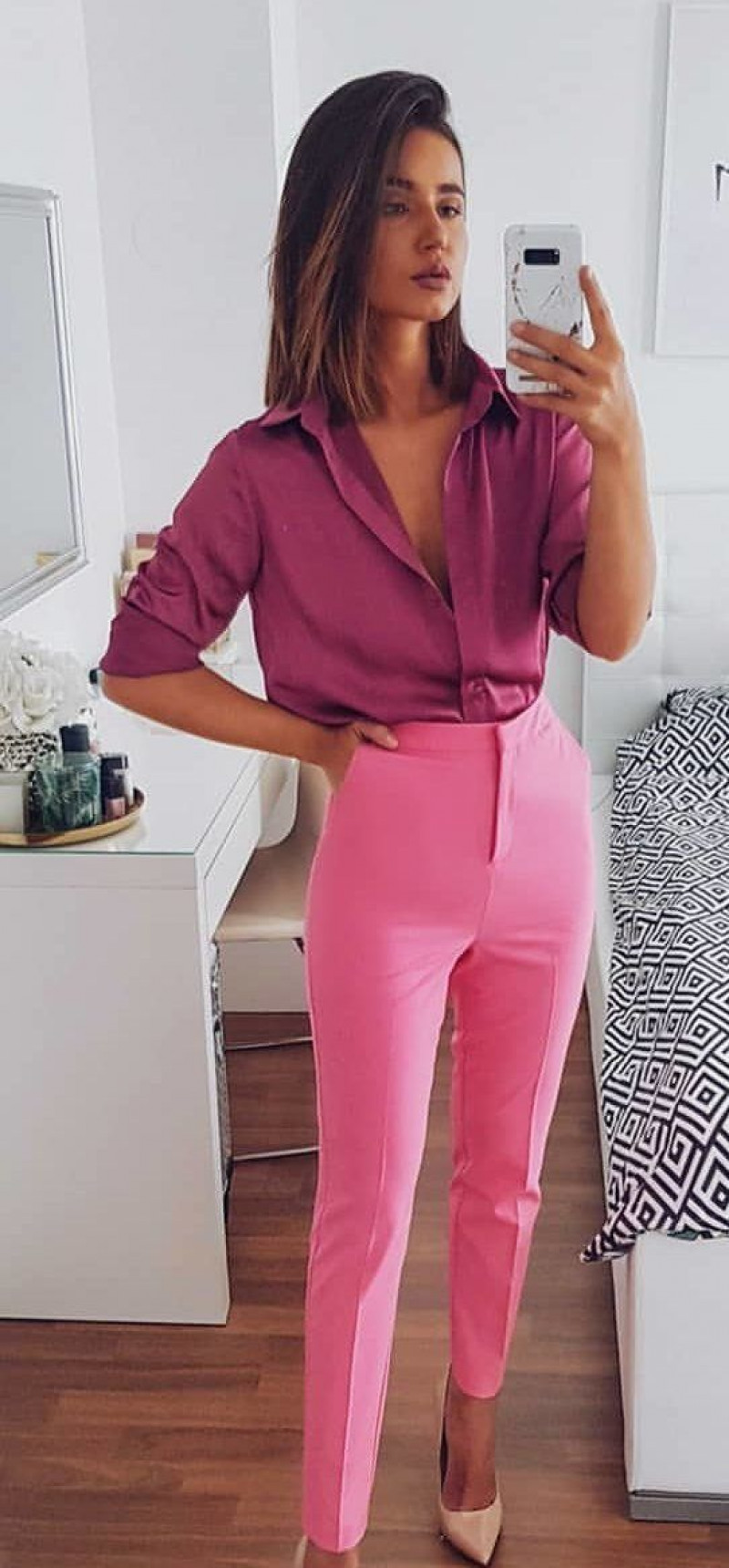 I'm totally feeling this pink Jeans with a shirt in purple and violet silk, completed with low flatform closed toe pumps. So chic and on-trend!
Pink Trousers and Black Crop Top Combo- Putting Together a Pink Jeans Outfit!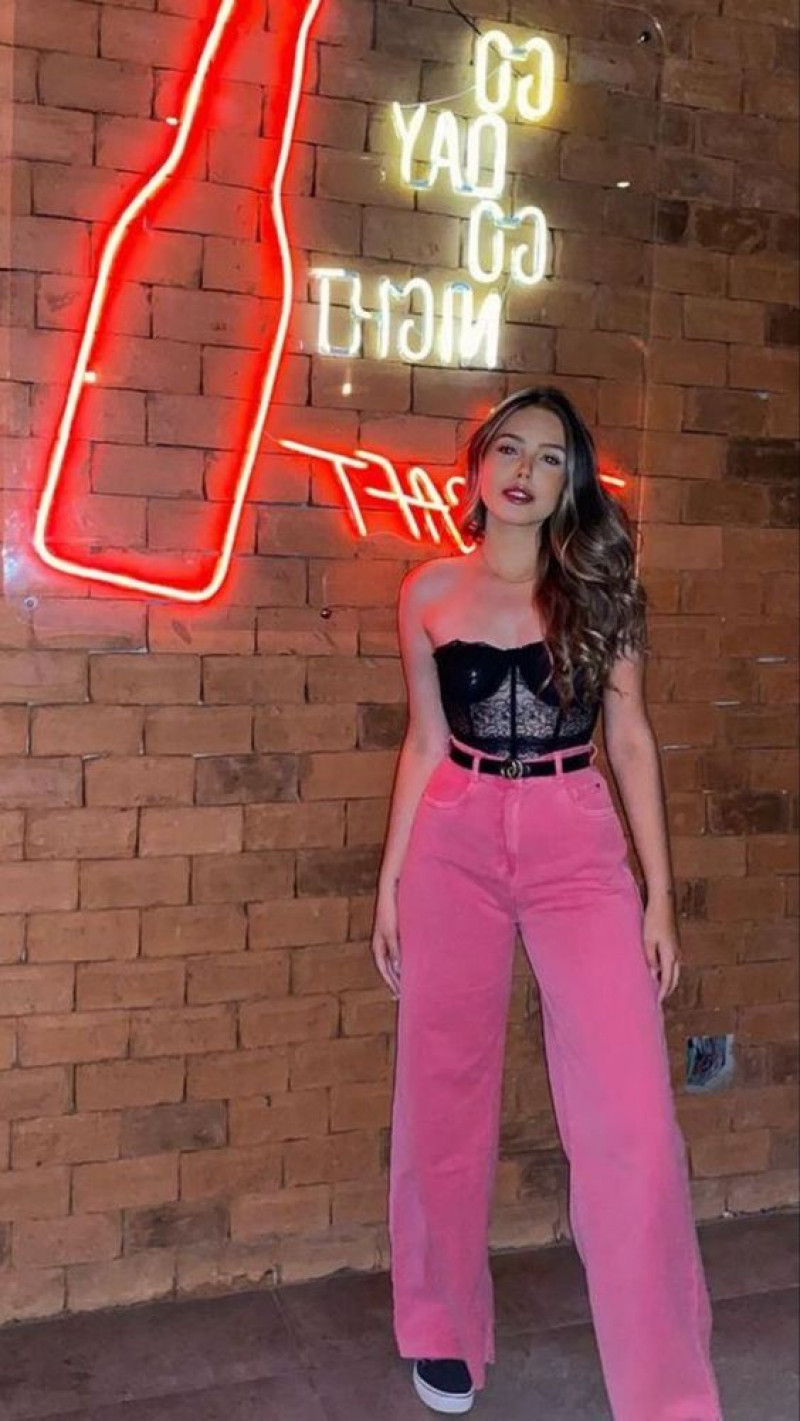 Try out these pink silk casual trousers with a matching square-necked leather crop top. The long straight fit of the trousers and elegant lace design of the crop top create a sophisticated outfit perfect for an evening out. Add some statement jewelry and heels to make the final look.
Pretty in Pink : Pink Trousers styled with Bow Pink Neckline Top and Fur Clutch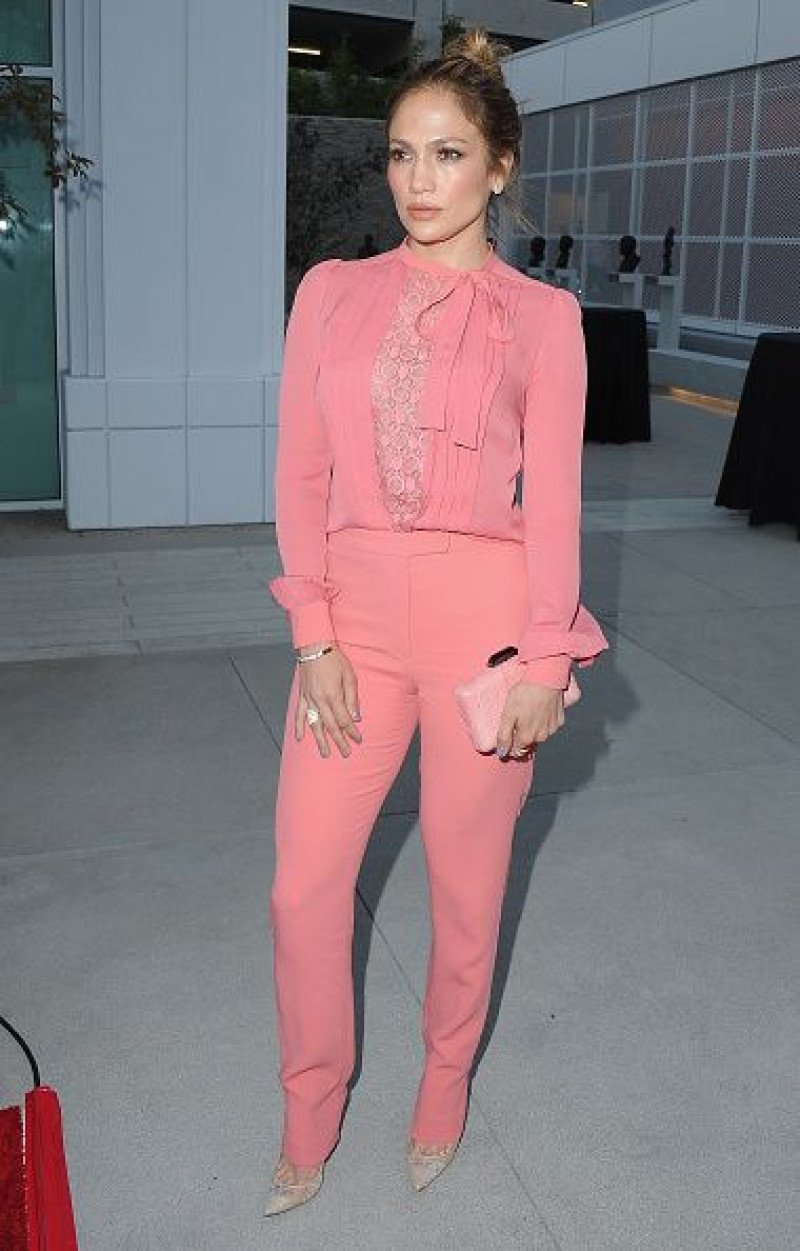 Style the look with beige fur clutches and wristlets, stiletto-heeled beige leather pumps and silver metal bracelets. A pink slim fit cotton suit trousers with a bow neckline Top of long sleeves. To elevate the outfit further, add a statement necklace or earrings.
Pink Trousers with Blue and White Patterned Shirt and a black Pumps with Eyewear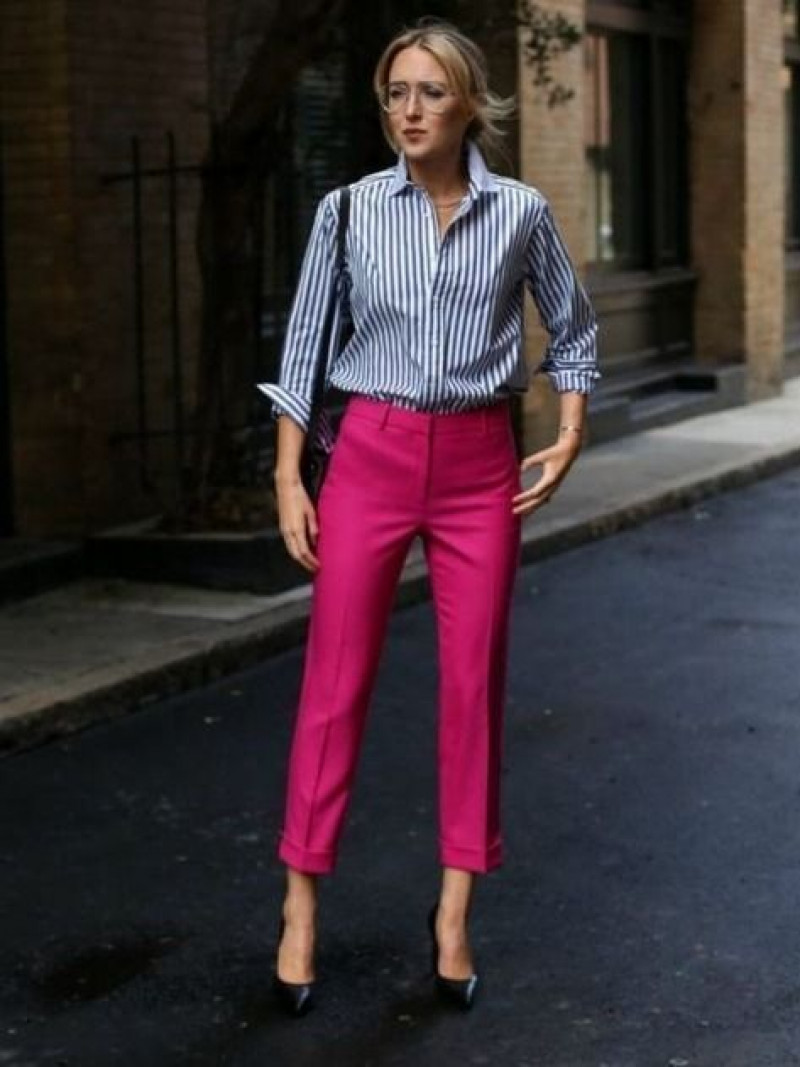 Lovely Outfit! A pink Jeans with a patterned short-sleeved shirt featuring a collar and partial button closure. Must try the outfit with black leather pumps and glasses. I personally tried this Outfits for Office wear.
A wide leg pink jeans paired with a dark blue sleeveless denim crop top-Style the outfit with leather bags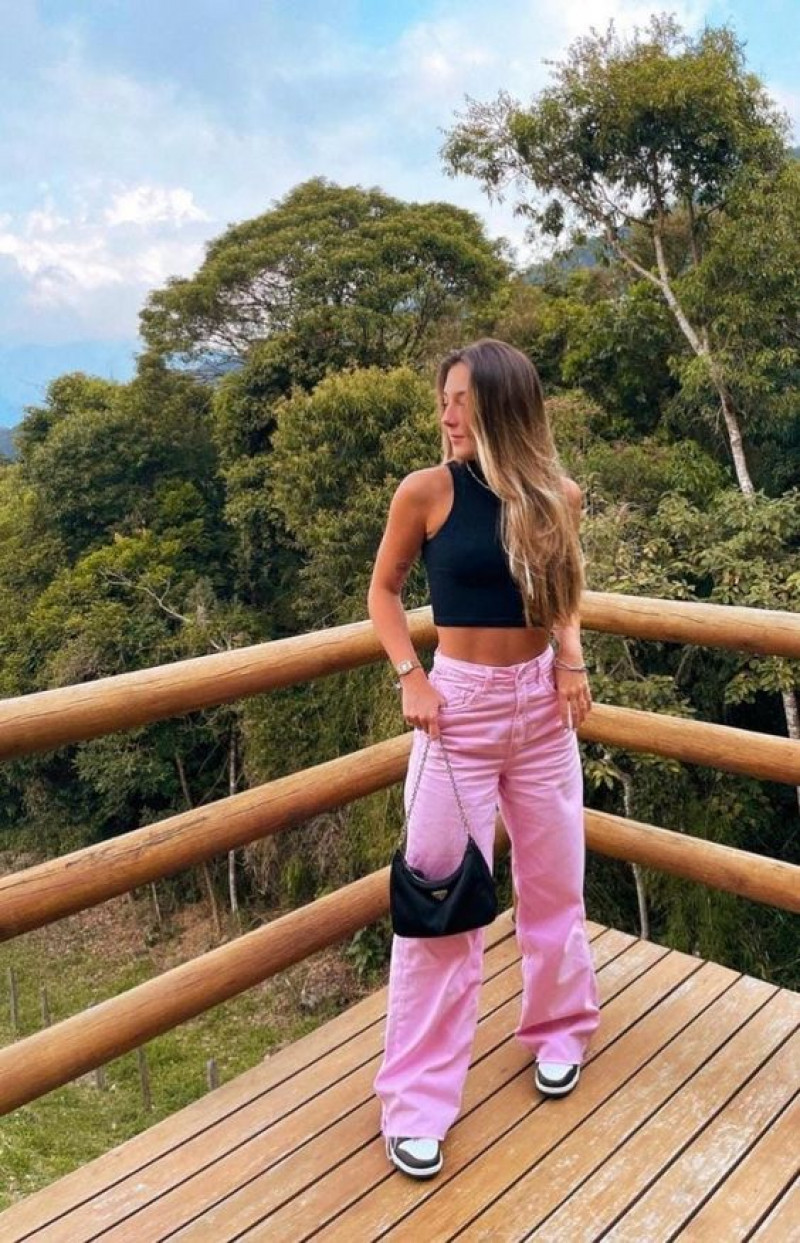 These pink silk wide-leg jeans with a low-rise fit are perfect for adult women who want a casual yet stylish look. Try them with a black leather hobo bag, dark blue denim crop top and silver leather trainers for a sporty vibe. Add some sparkle to your outfit with silver metal rings featuring gemstones.
White Shirt with Pink Jeans and a Leather Handle Bag-Creating a Flawless Pink Jeans Look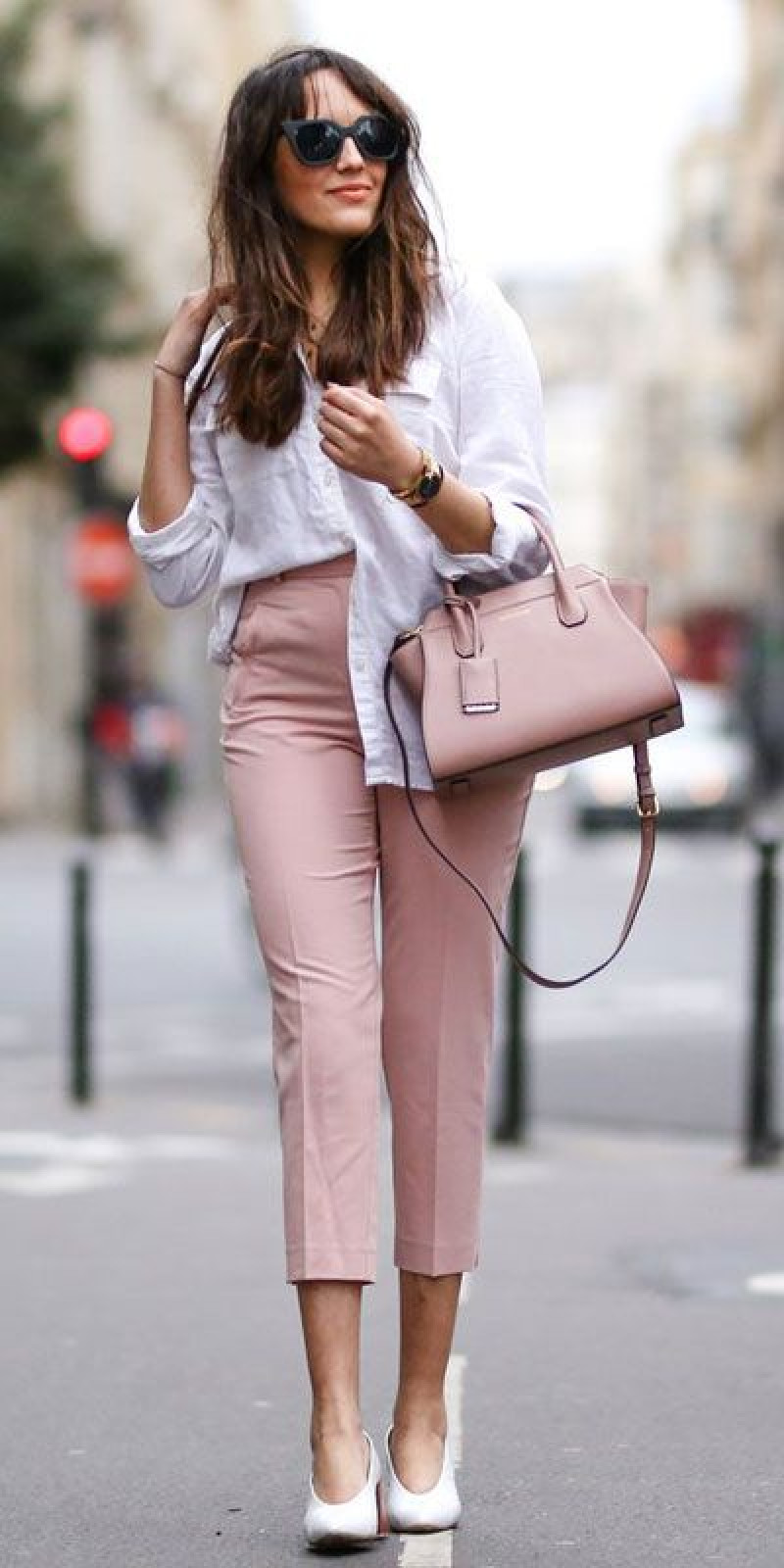 I'm totally feeling this white cotton shirt with a collar neckline, styled with pink jeans and a cute pink leather top handle bag. The plain design of the outfit is elevated by the full closure and button fastening of the blouse. I'll finish off the look with some low stiletto pumps and blue dial analogue watch with a golden strap. Don't forget to throw on some trendy sunglasses for that extra touch of chic!
Pink Jeans with White Off shoulder Bardot Top and a Green Leather Strap Bag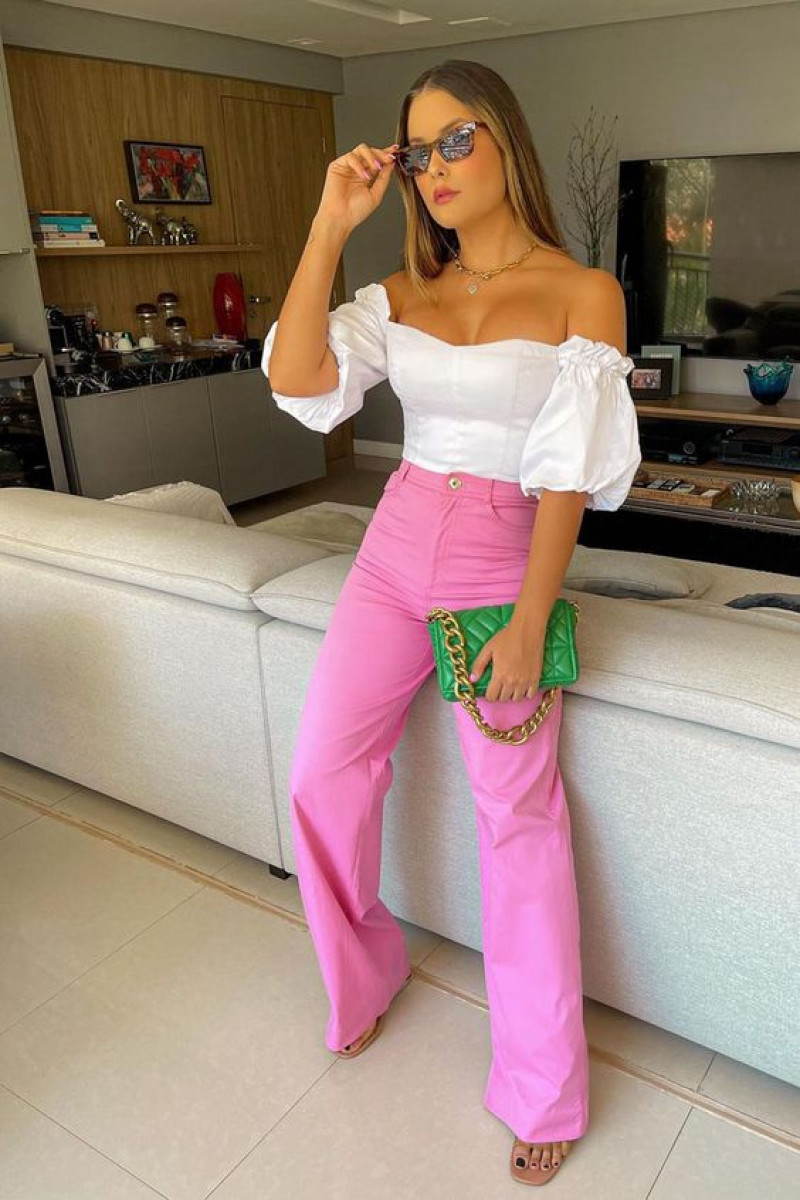 My Favourite outfit! It features a pair of pink silk straight jeans with a low rise and logo design, paired with an elegant white cotton bardot top. The green leather long strap bag has text design, while the eyewear includes sunglasses. The yellow gold metal necklace has gemstones and the casual sandals are made of rubber and plastic in a pink color with open feet.
Get Ready for Summer with Pink Casual Trousers, White Crop Tops and Comfy Trainers: Perfect for Adults Looking for a Plain and Simple Style!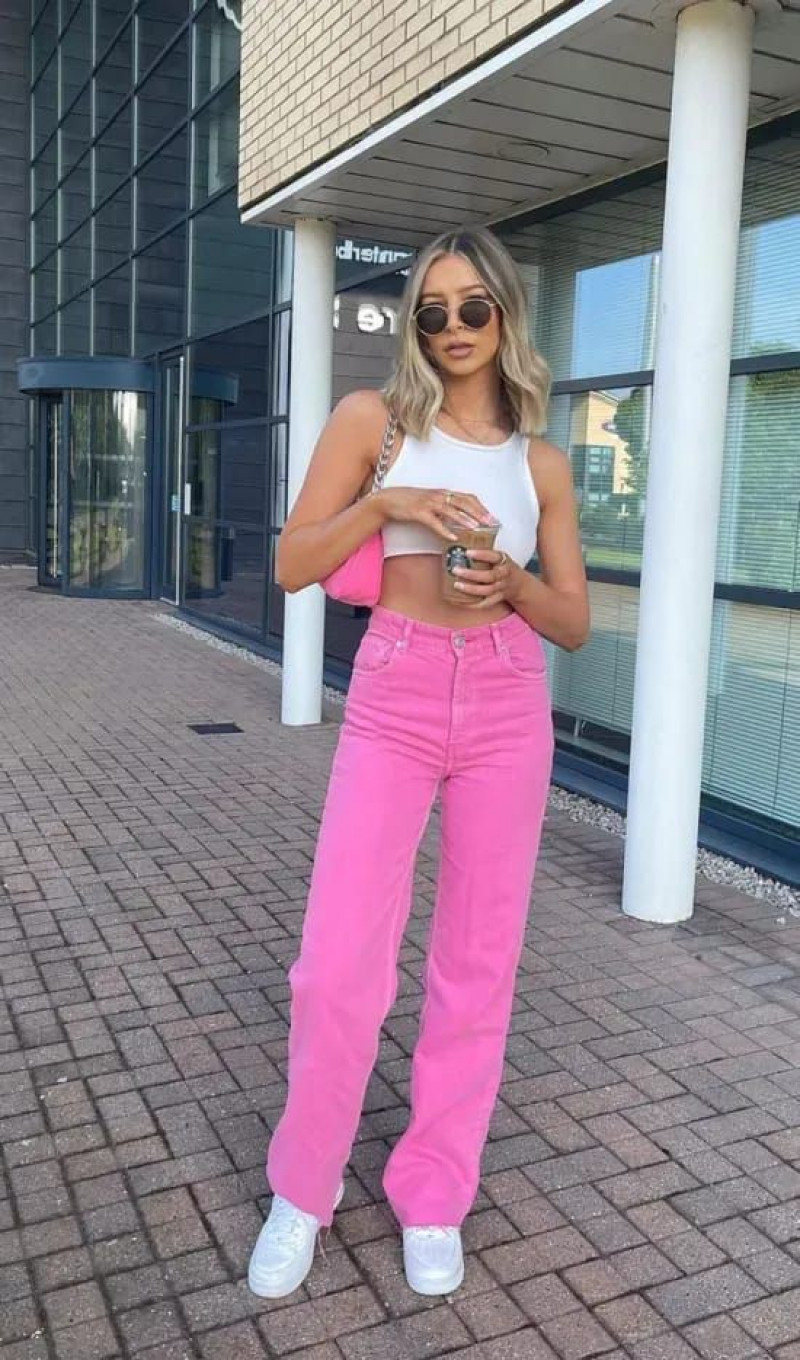 Look sexy in this pink cotton trousers with a white sleeveless crop top and white leather trainers or platform sneakers. Checkout the look with sunglasses. Additional colors for outfits could include black, navy blue, or beige.
Pink Trousers with black & white Stripe shirt styled with Black Handle Bag and a sunglass!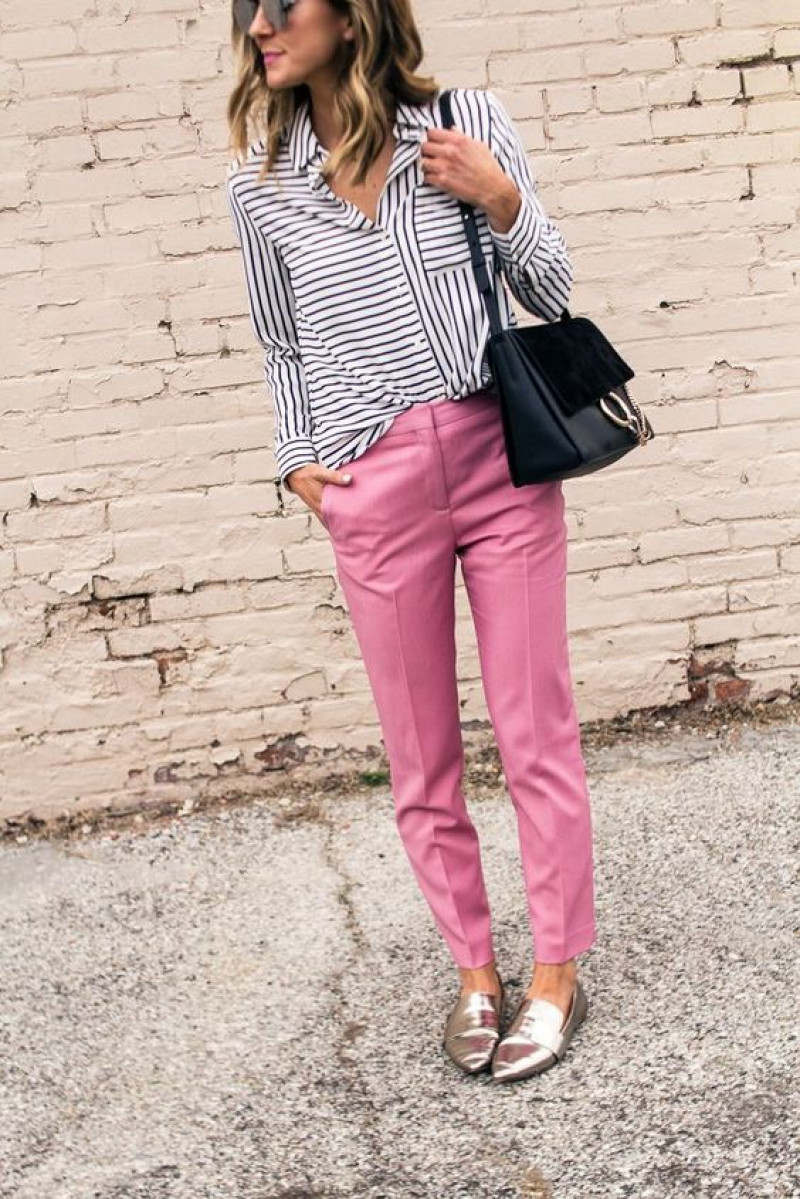 The cotton material of the long, slim-fit casual trousers in pink is perfect, while the multicolor patterned shirt with a stripe design and full zipper closure is made of comfortable cotton material. The top handle bag in black leather and golden low shoes made of leather material end up the last look.
Lovely! Pink Jeans and crew neck t-shirt combo!- Must try out on this trendy style!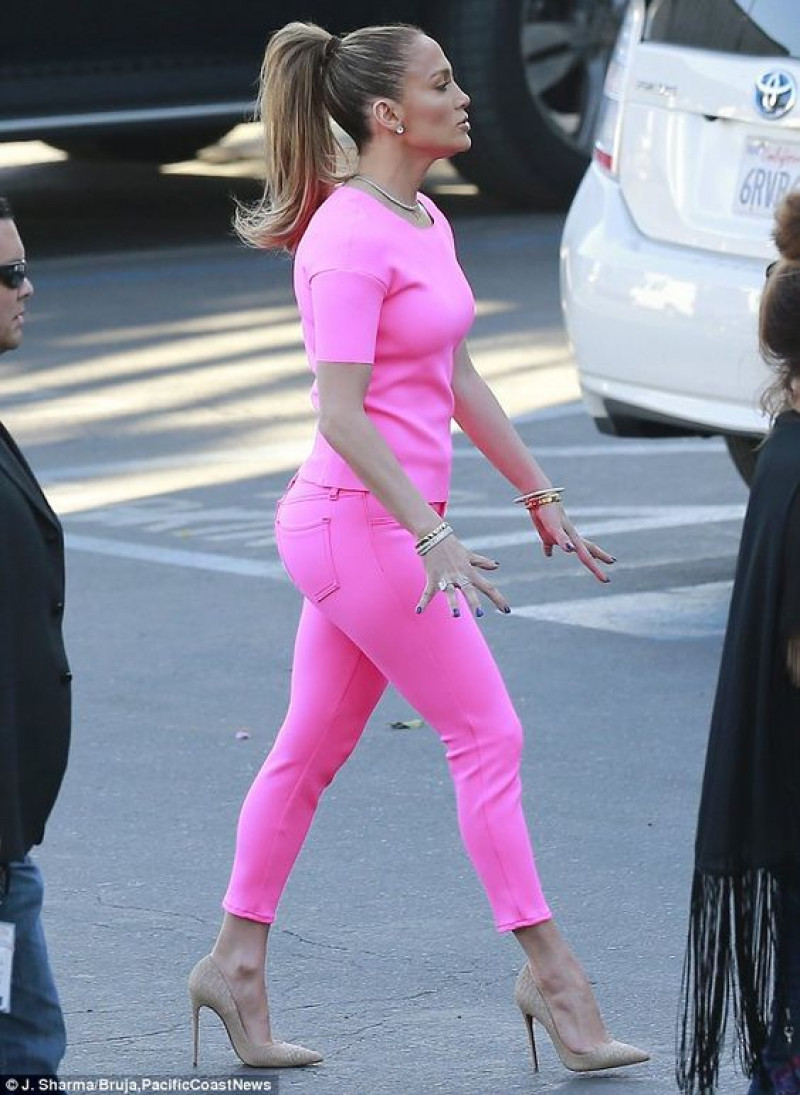 These pink cotton casual trousers with a slim fit can be paired with a plain pink crew neck t-shirt for a amazing look. Add some elegance to the outfit with beige suede pumps and accessorize with a silver metal bracelet with gemstones. Wear low rise trousers on the hips, tuck in the t-shirt and let the shoes shine.
Grey melange Shrug with patterned pink trousers-Pink Jeans for Casual Coolness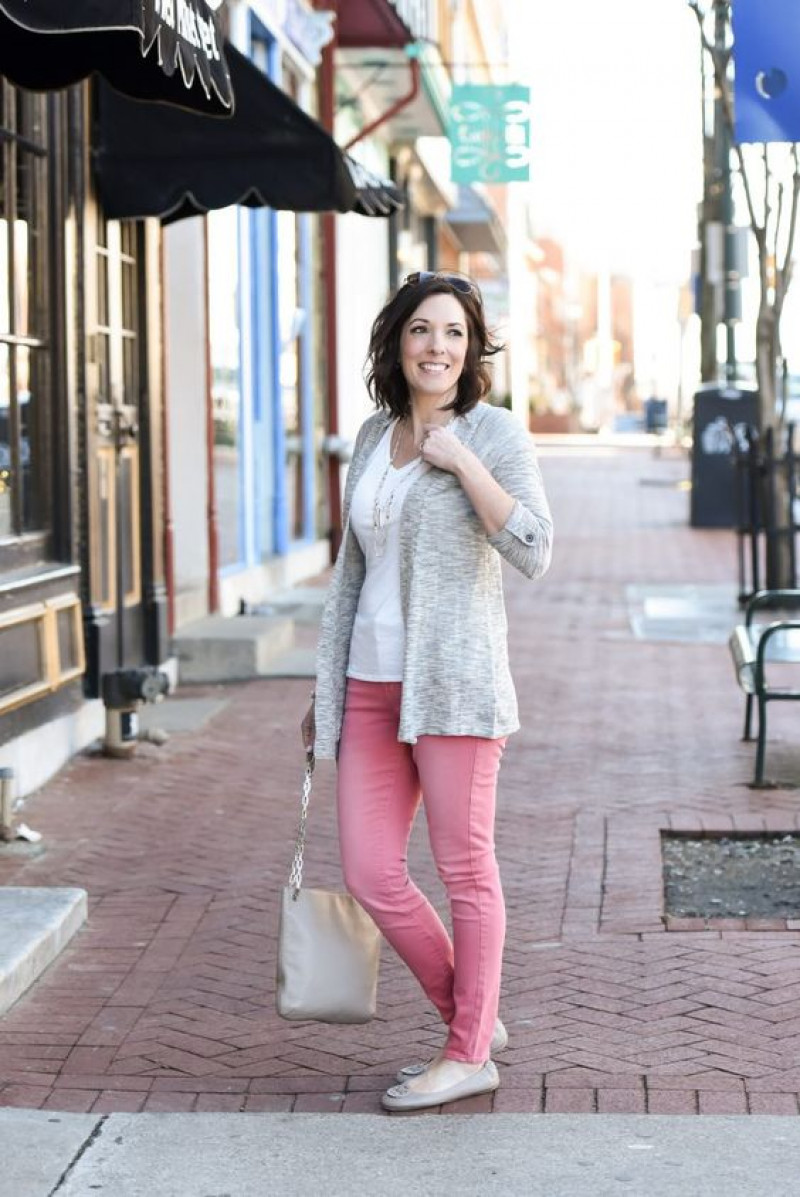 This elegant wool coat in grey melange features a full closure with button fastening and single-breasted lining, perfect for adult women. Style up with slim fit pink trousers in a patterned cotton material and white leather sneakers with stiletto-shaped low heels, this outfit is completed with a plain white silk and satin bucket bag.
Brown Leather Jacket with Pink Jeans and Beige Stiletto Heels: Looks Trendy!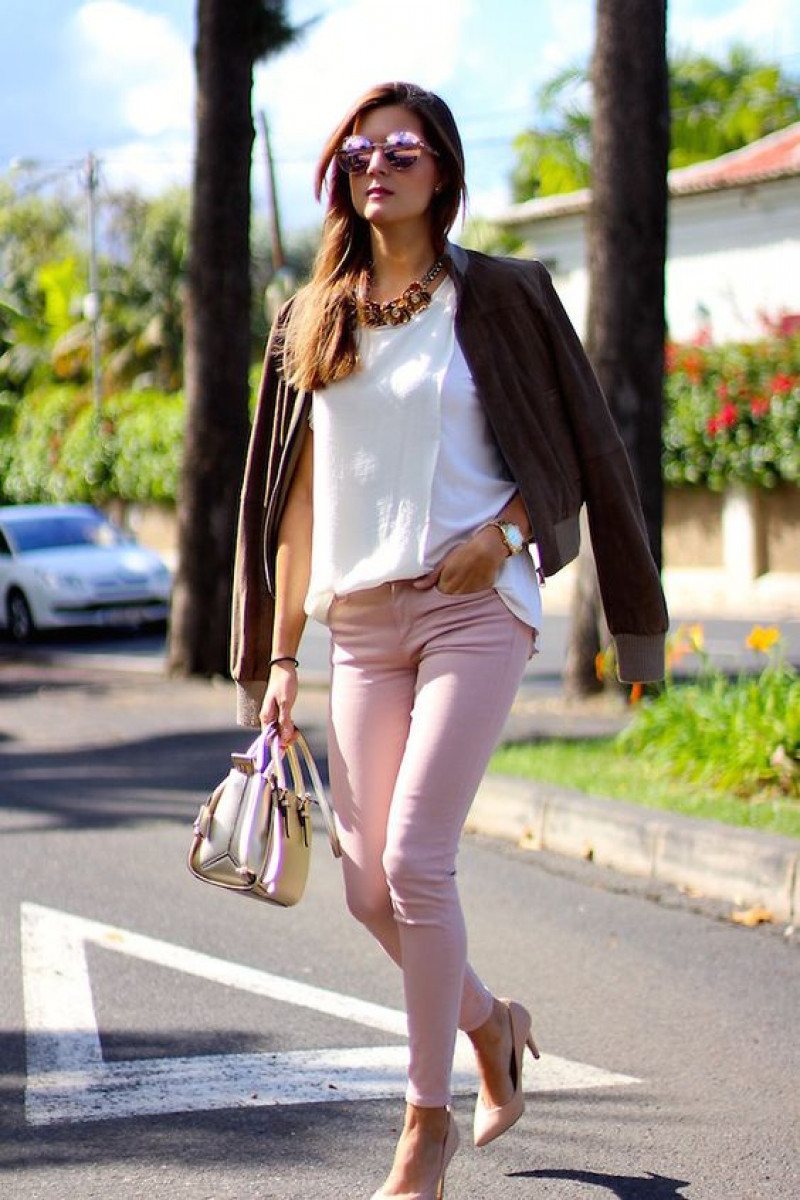 Get this trendy look with brown leather bomber jacket with pink denim jeans and chunky-heeled brown ankle boots. Setup the outfit with a beige leather bucket bag, a yellow gold beaded necklace and metal bracelets. This outfit is perfect for a weekend brunch or shopping with friends.
Wide Pink Jeans, with Multicolor(light) knitwear Crop Top and White Sneakers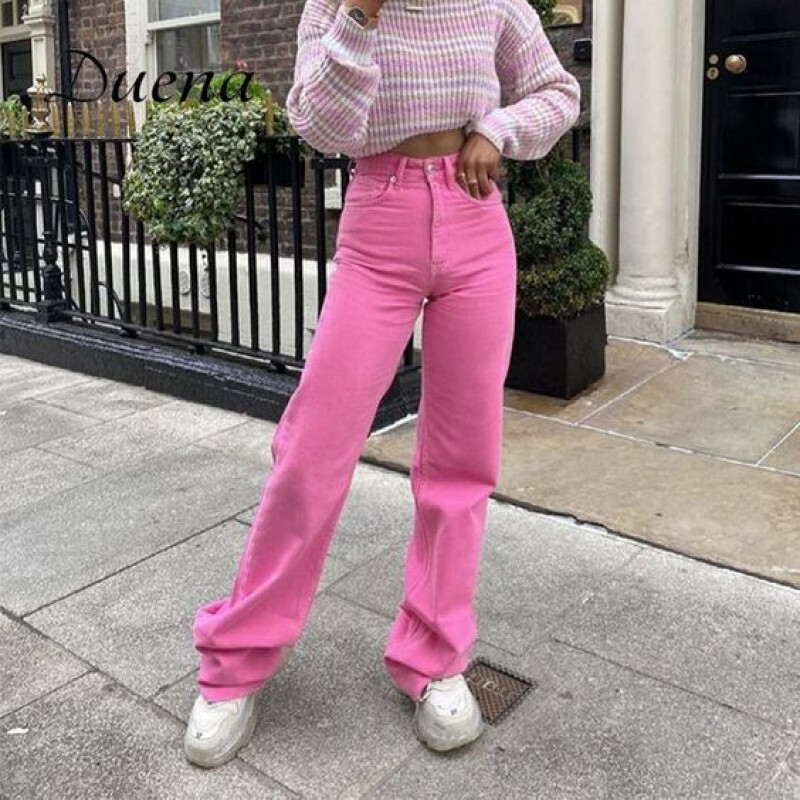 Standing Out in a Pink Jeans Outfit is always an amazing idea. The pink wide jeans styled with the patterned knitwear top to look cute. The white sneakers add a sporty touch to the overall outfit. Wear this on a shopping trip or lunch date.
Pink corduroy culottes with a white tee and yellow gold earring-Dressing up with Pink Jeans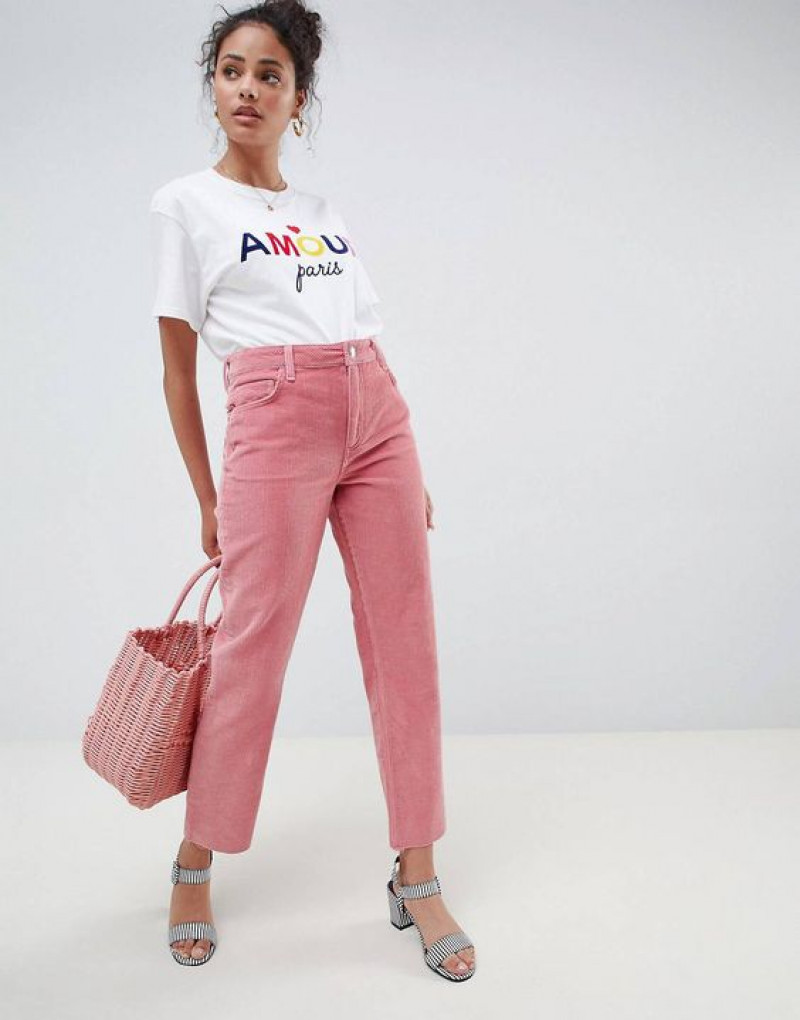 This pink corduroy culottes with a white text t-shirt and grey leather sandals is perfect for a day out. Add a patterned straw bucket bag and yellow gold metal earrings to make it more stunning.
Dark Blue Denim Jacket with a Pink Jeans and Black Pumps-Pink Jeans and Complementary Colors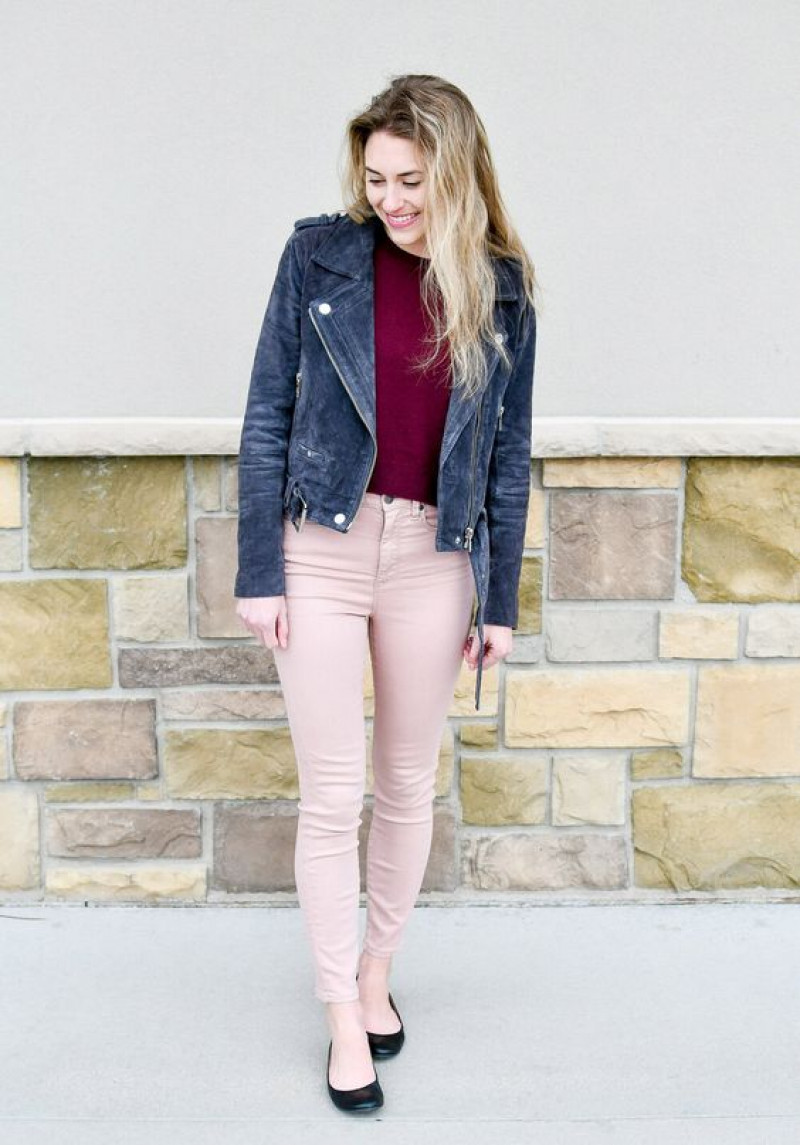 For a stunning look, try a dark blue denim biker jacket with slim fit pink cotton trousers. Looks classy with elegant black leather pumps for a chic touch. Fasten the full zipper closure of the biker jacket and keep the belt off for a relaxed vibe.
A Look with Cotton Trousers and Melange Knit Sweater with Silver Pumps and Stylish Sunglasses ! - Pretty in Pink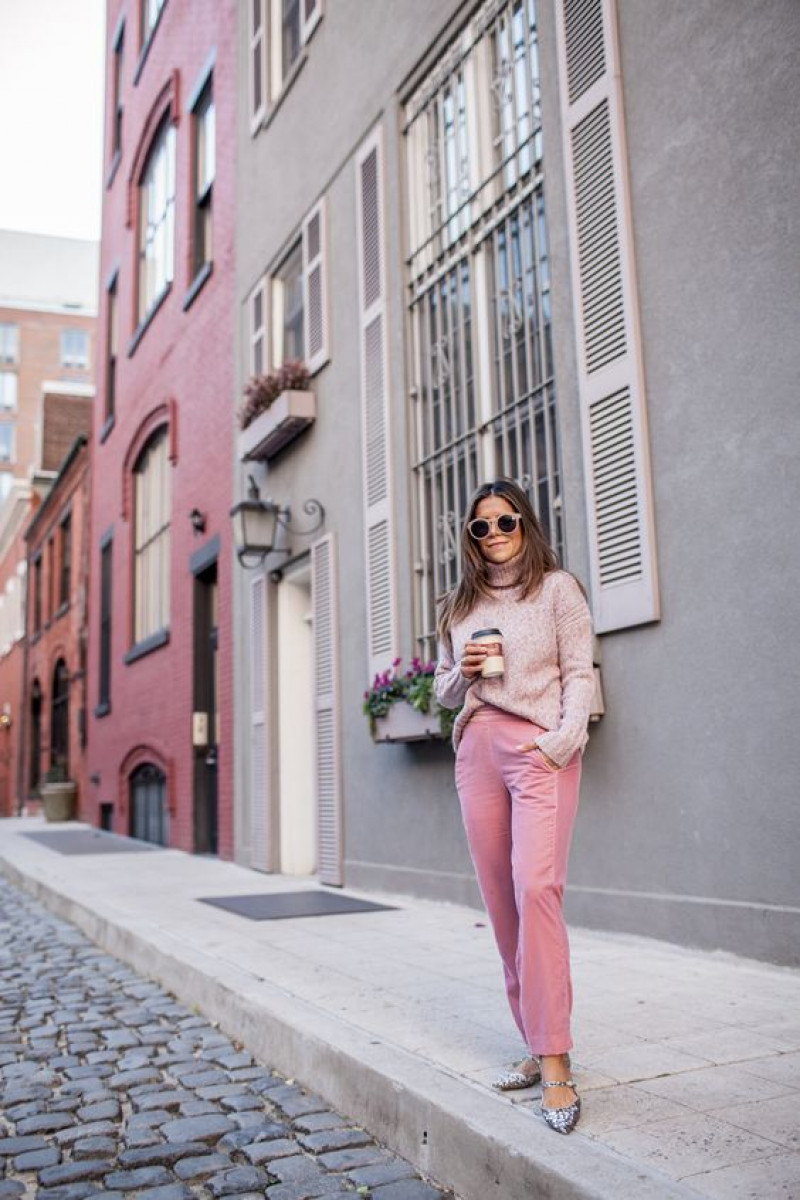 Get a Pinky Look with this outfit featuring a pink cotton trousers, a crew neck melange knit sweater in the same color and silver leather pumps. Add some flair with sunglasses. Additional colors for this look could include white or navy.
Looks amazing in Pink: A Pink Trouser with White Crop Top and a Black Boots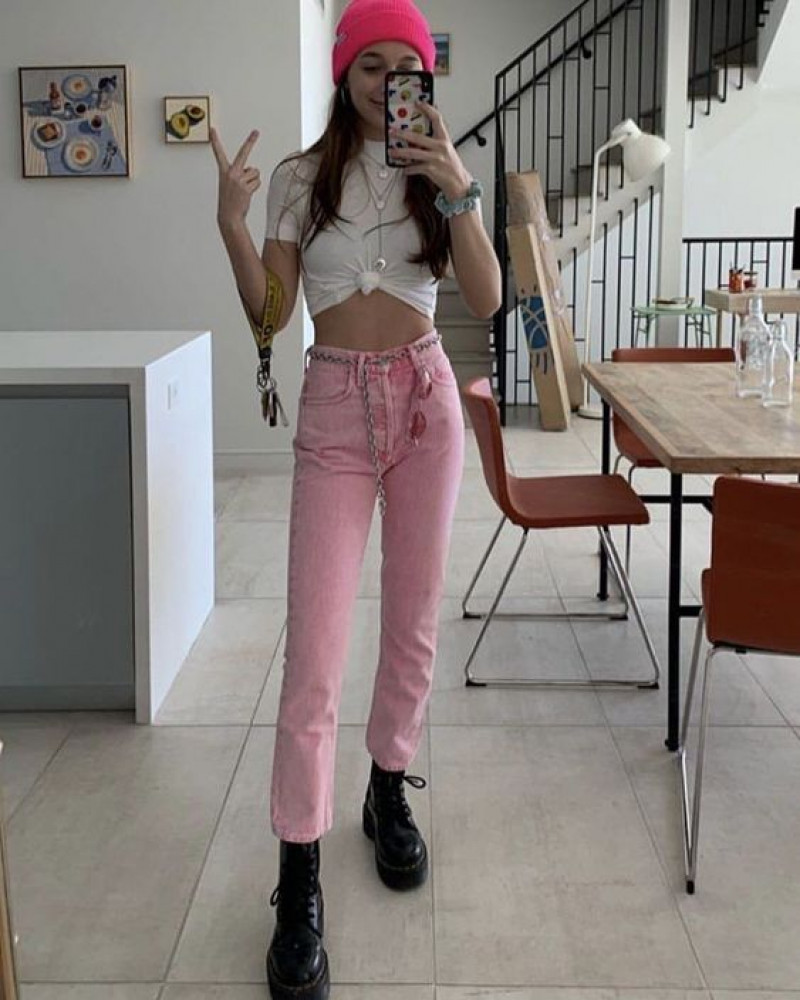 My Favourite one ! Pink trouser with a white crop top featuring a logo design . Add some edge with black leather ankle boots and a chunky low-heeled pair for formal occasions. Top it off with a beanie or winter hat and accessorize with a silver analogue watch sporting a blue Roman numeral dial.
Stylish Pink Flared Long Casual Trousers with White Square Neckline Crop Top and Yellow Gold Bracelet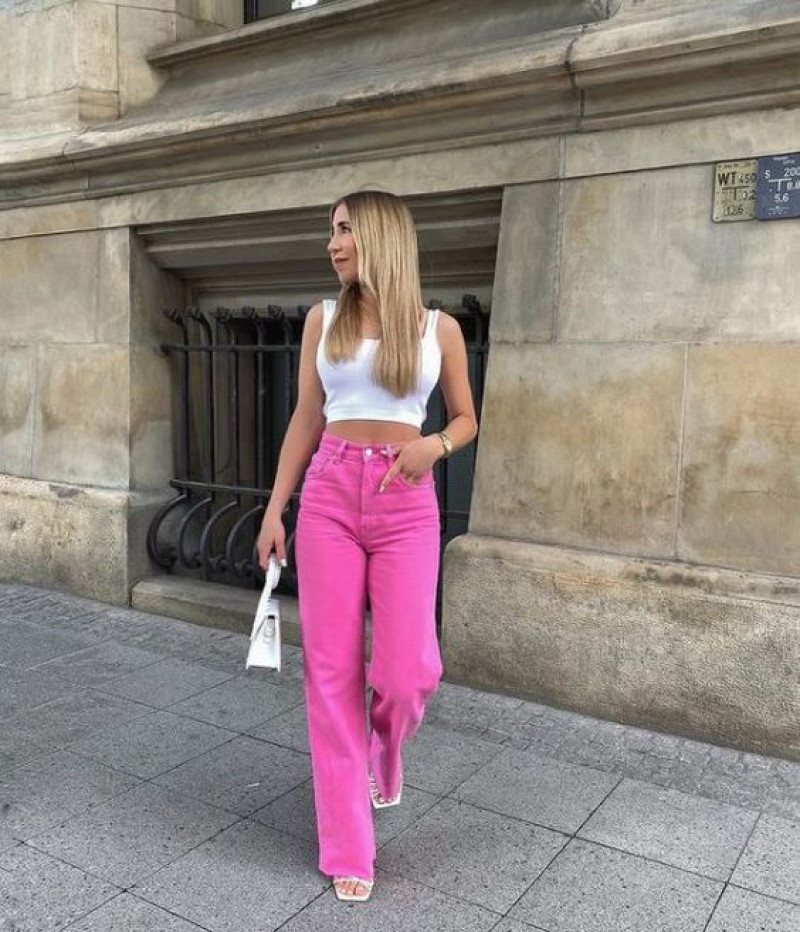 For a relaxed yet chic look, style pink cotton flared trousers with a white square neckline sleeveless crop top and beige casual sandals. Add a touch of sophistication with a plain white leather top handle bag and accessorize with a yellow gold metal bracelet. This outfit is perfect for an outdoor brunch or casual day out with friends.
Get the Perfect Casual Look with Pink Velvet Straight Fit Jeans, Black Logo Shirts and Leather Casual Sandals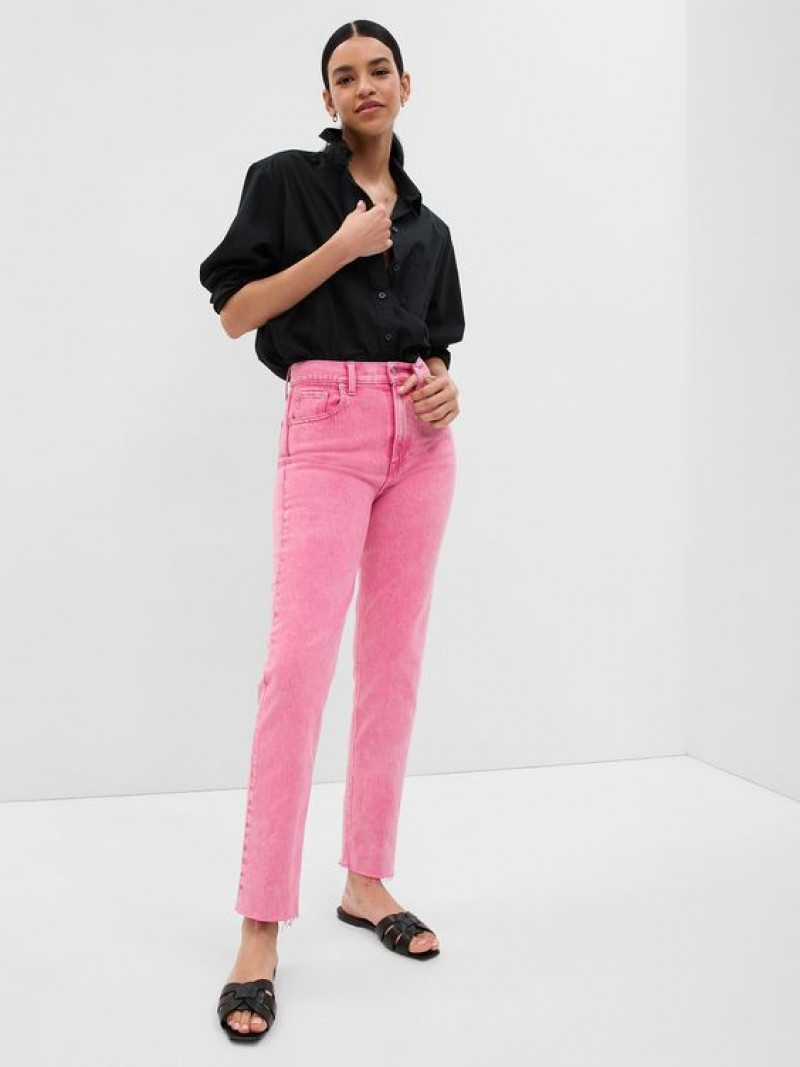 Rock a chic and edgy look with these pink velvet jeans featuring a trendy melange design and low-rise fit. Style them with a black cotton shirt boasting logo detailing, full closure and button fastening for a smart vibe. Finish off the outfit with some sleek black leather open feet sandals for an effortlessly cool ensemble.
Pink trousers with white crop top and a beige heels sandals-Trendy Look Featuring Pink Jeans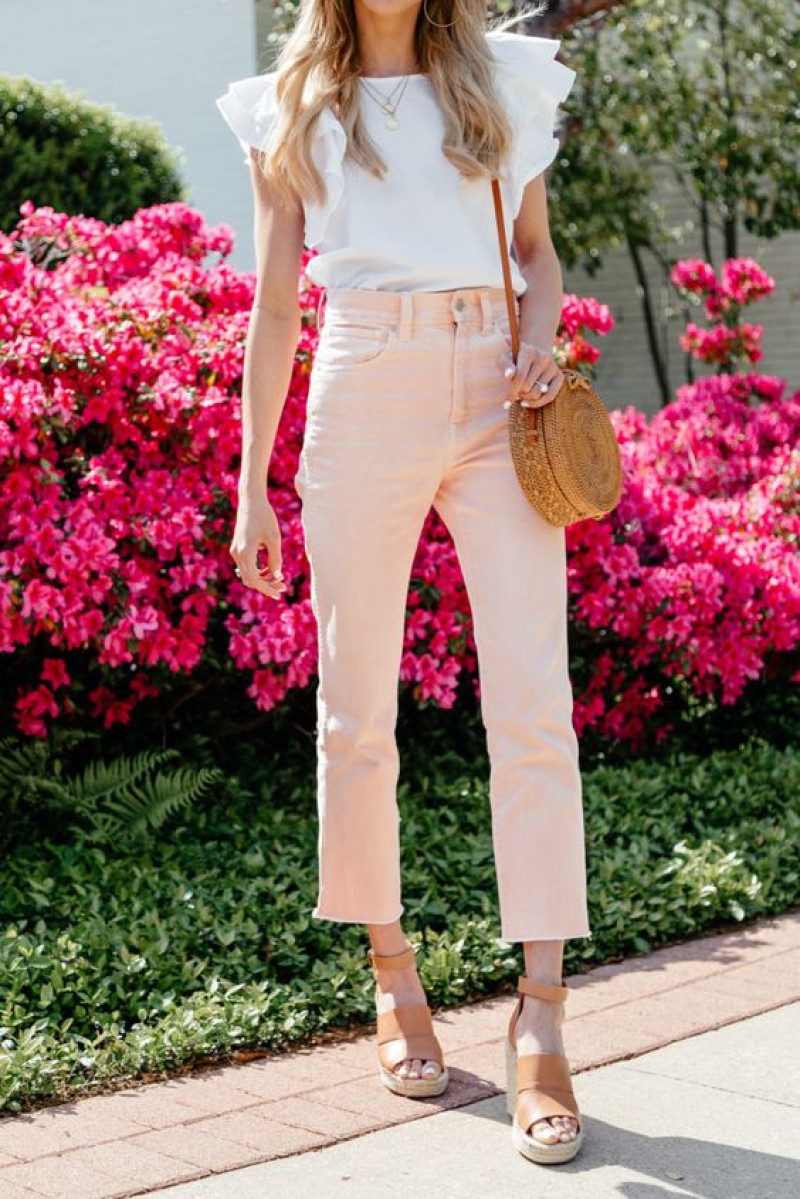 The trousers have a plain design and come in a pink color, while the crop tops have an elegant style with a boatneck neckline and a partial closure. The long strap bag has a picture design made of straw material and the necklaces, pendants and chains are made of metal. The pattern is not emphasized in any of these items.
Stylish Pink Trousers with White Cotton Top and Sandals- Pink Jeans Fashion Inspiration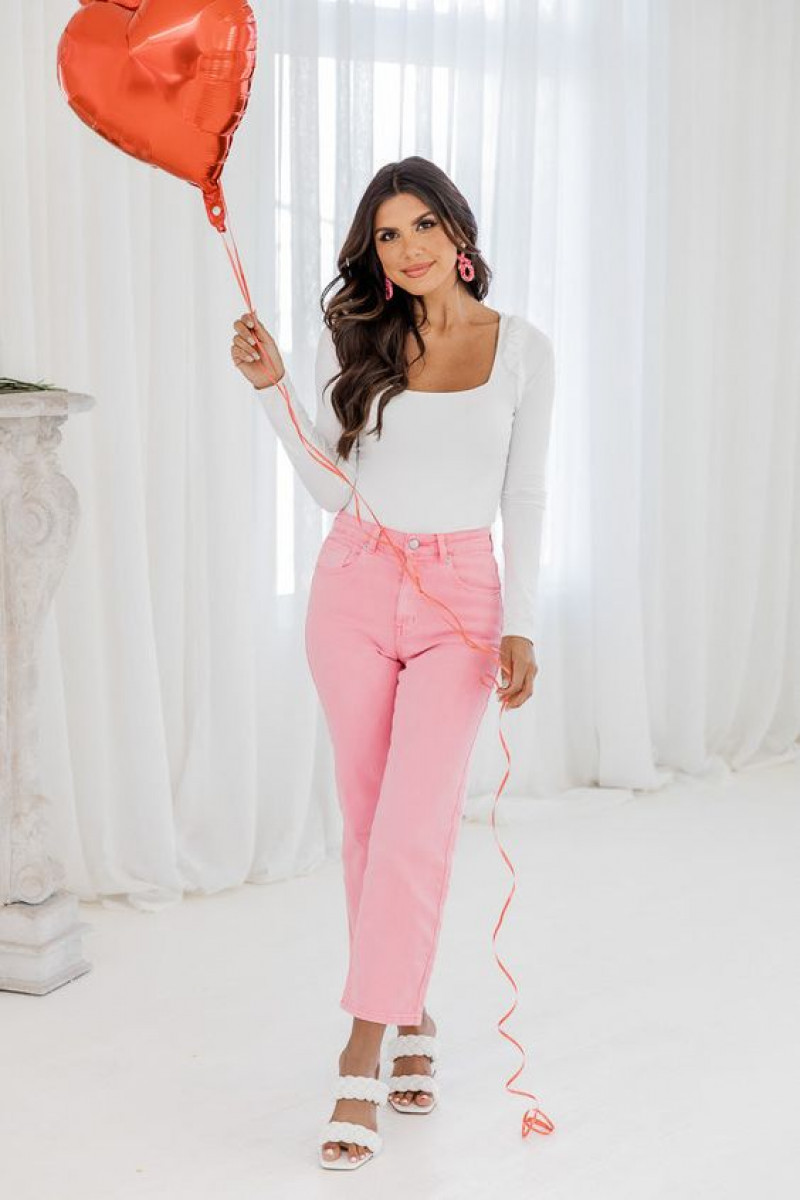 Amazing! this pink trouser with a white cotton Top with long sleeves and square neckline. The outfit is completed with white leather open feet sandals, making it perfect for a relaxed summer day. Key elements: pastel color, silk material, square neckline, open feet sandals.