Must Try Out! this Outfit Ideas for the Women over 50. Embrace your unique fashion journey and discover the confidence and elegance that comes with dressing in your 50s and beyond. This article provides valuable insights, practical tips, and expert advice on navigating fashion choices for individuals in this vibrant age group. From wardrobe essentials to timeless pieces, we'll explore how to create stylish and sophisticated outfits that reflect your personality and celebrate your individuality. Whether you're seeking inspiration for everyday ensembles or special occasions, this article will go-to resource for mastering the art of dressing gracefully and fashionably over 50. You can also gift it to your mothers and grandmothers and make them feel special.
Stay Warm and Stylish with Beige Long Wool Coats, Blue Jeans, Patterned Scarves and More!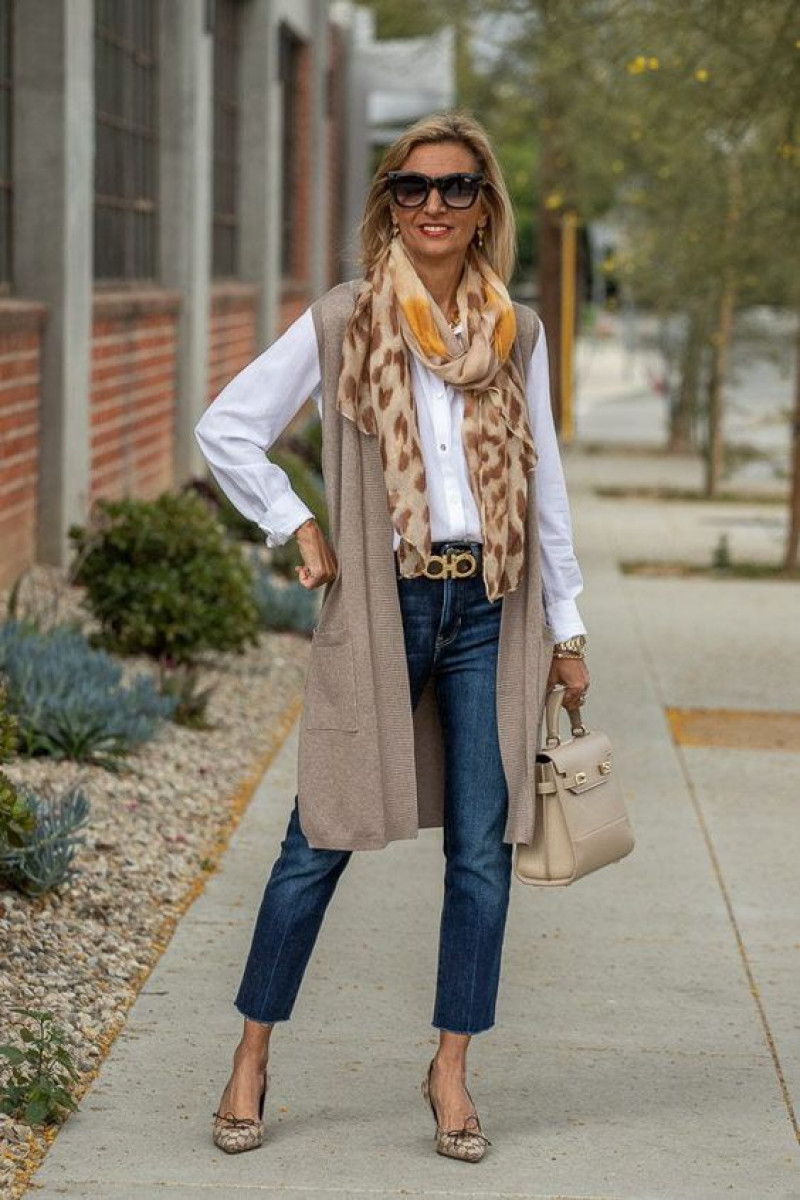 Get Fashion Tips for the 50+ Age Group with this light blue jeans in. The patterned beige scarf made of cotton material. The plain beige top handle bag made of leather material. The elegant beige pumps are open feet shoes with a stiletto heel shape. So you can try this Outfit for a Day Out in Winters!
Navy Blue denim Jeans with brown leather ankle boots- Try the look with trendy beige Top and cool sunglasses.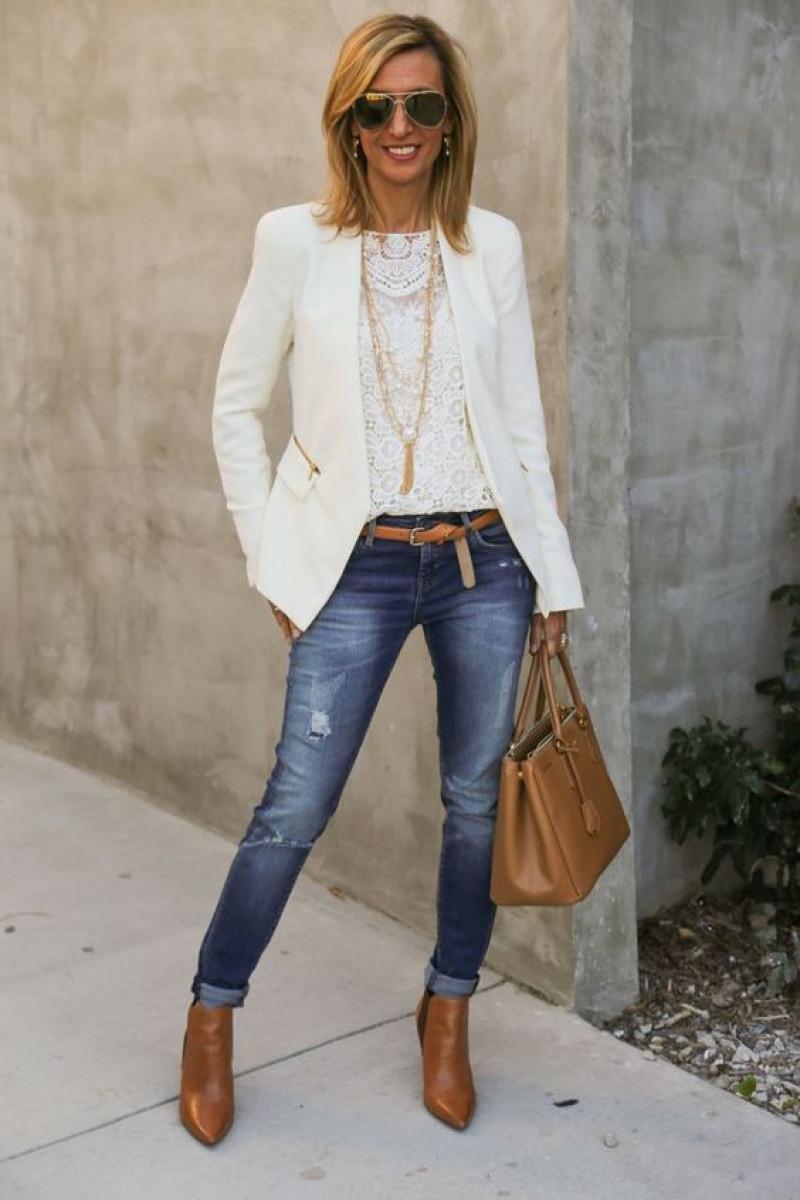 For a daily wear look, pair dark blue denim trousers with a plain beige lace top. Match the outfit with brown leather ankle boots and sunglasses. Carry a brown leather top handle bag for added look.
Age no matters - Stay stylish with these brown suit jackets with dark blue denim Jeans-Matches with the Sunglasses and White Vans!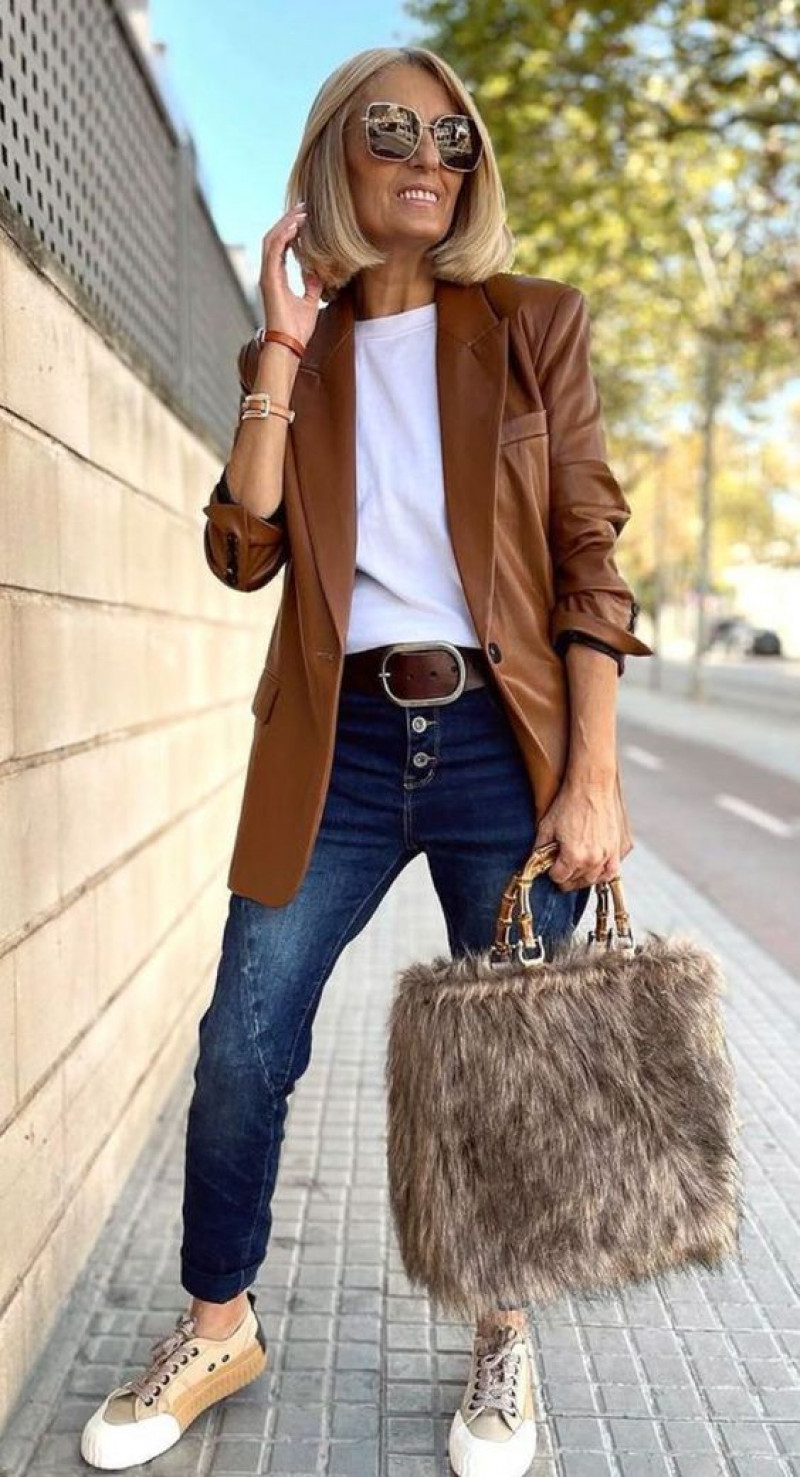 Try Styling brown suit jacket with beige suede sneakers or dark blue denim jeans with low rise, straight fit sneakers. Finish up the look with a patterned fur bucket bag and rose gold metal bracelets. Remember to protect your eyes from the sun with some stylish sunglasses!
Get Ready for Animalistic Patterned scarf and Black Jeans, Beige Handle Bags - Age is just a number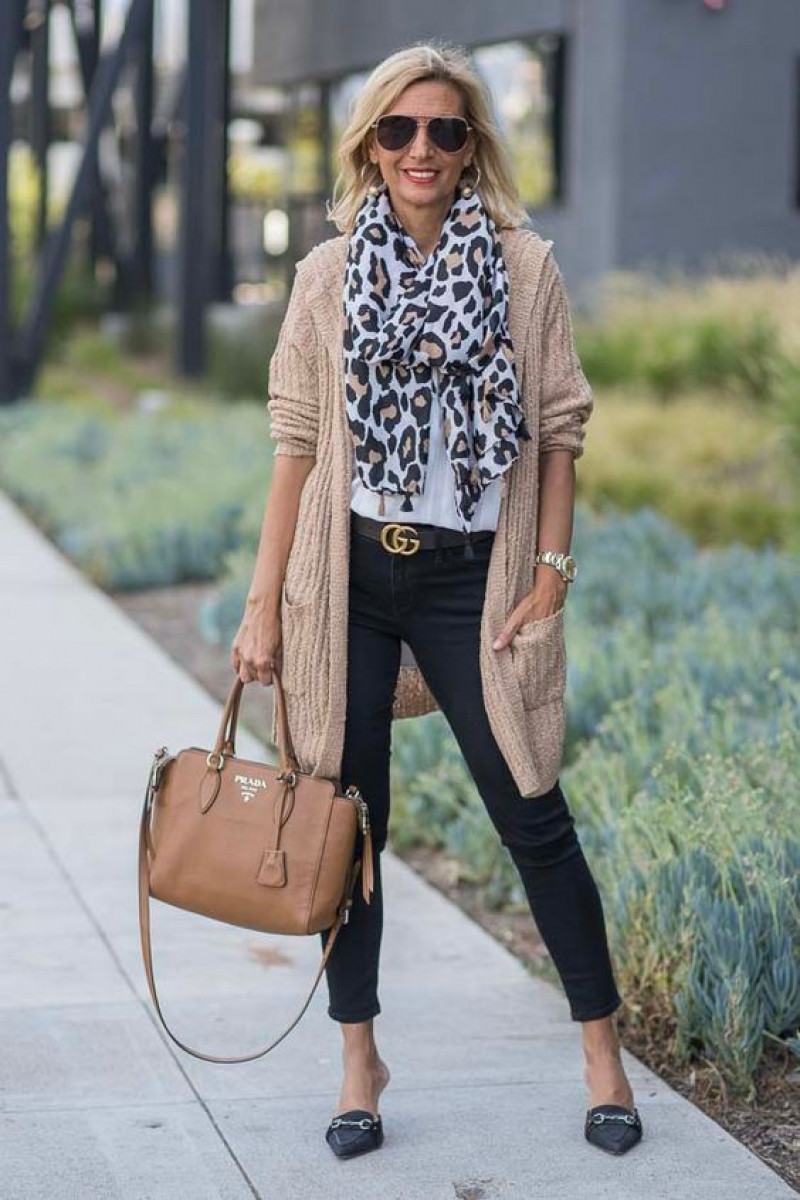 This leopard patterned scarf with black knitwear skinny Jeans. Accessorize with a beige leather logo top handle bag and elegant black rubber mules. Finish the look with a silver analogue watch and non-numeric white dial sunglasses. Perfect for a stylish day out.
Stylish Denim Jeans, White Shirts and a Watch: Perfect for women above 50!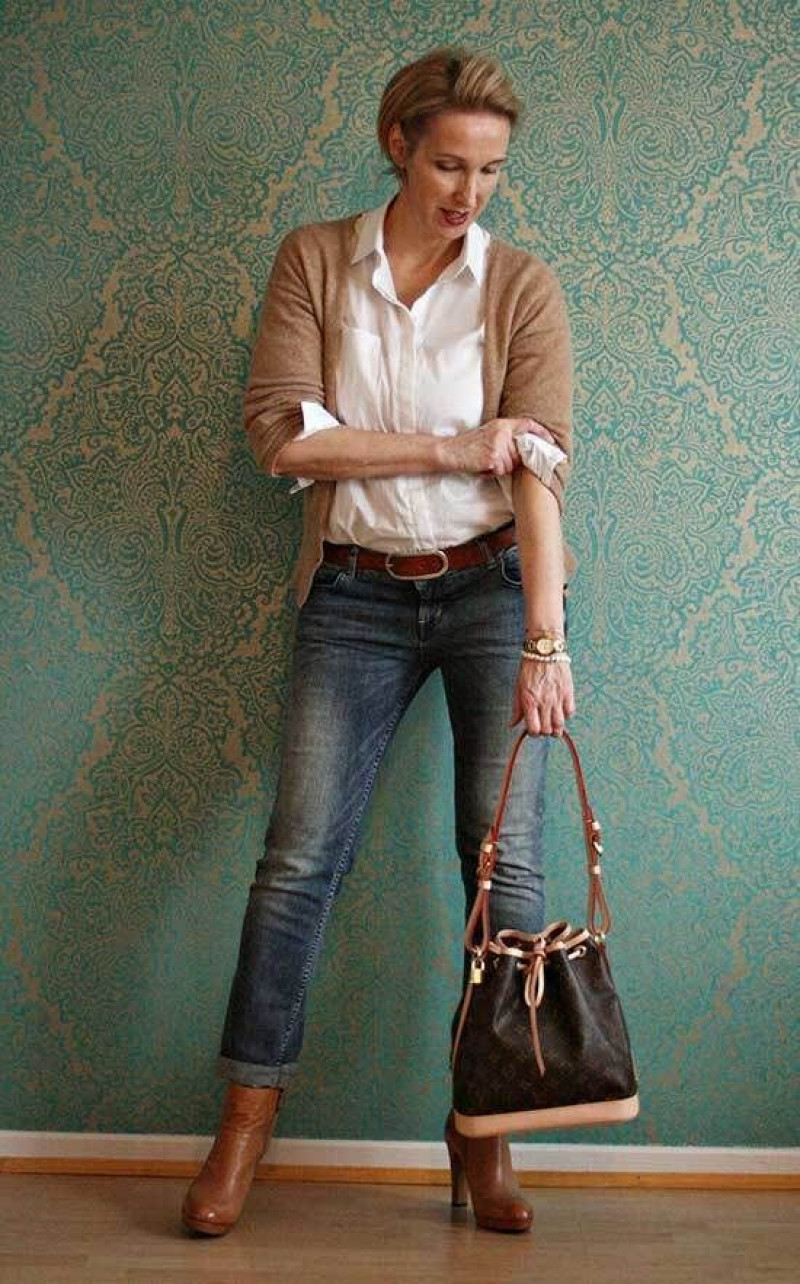 The leather trousers, bucket bag and boots are all made of high quality leather material, while the shirts and sandals have a plain design pattern.
Beige long wool coat with light blue denim Jeans and a White Heels- Pair it with the sunglasses!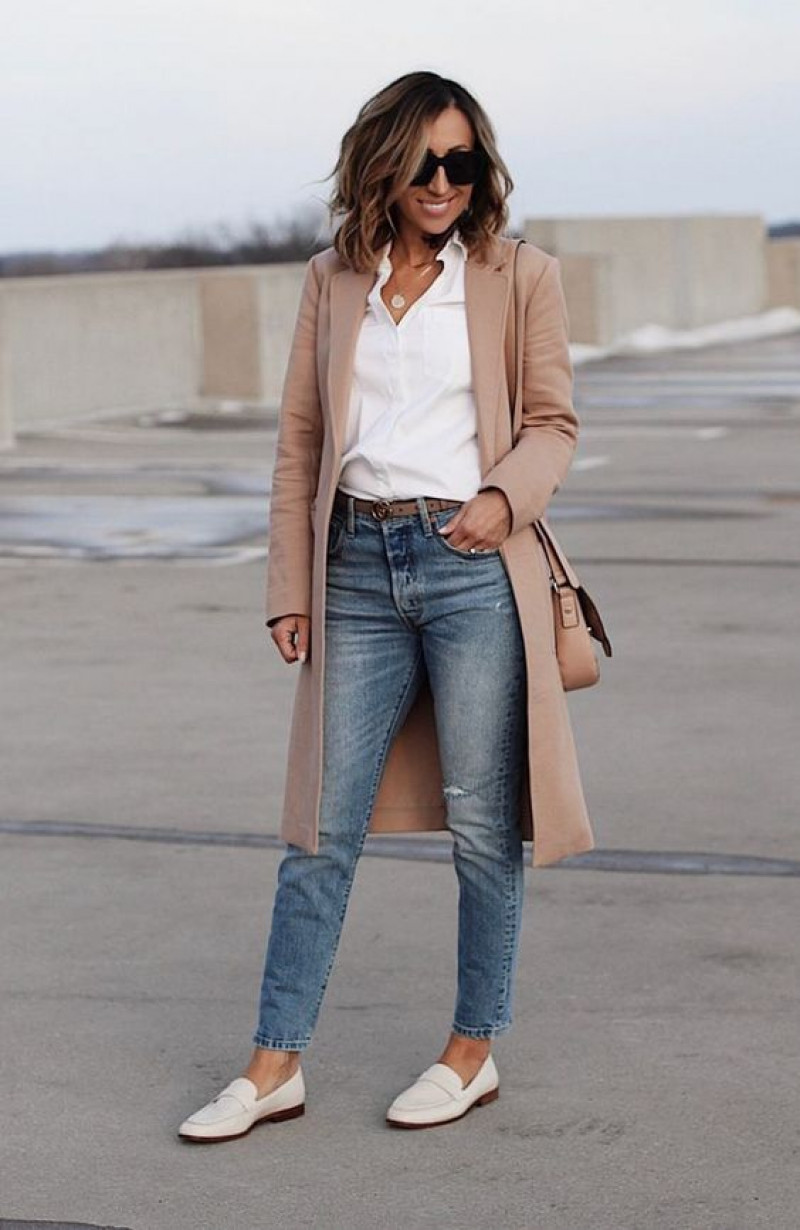 Styling the beige wool coat and light blue denim trousers with white leather heels. Accessorize with a plain rose gold necklace and a simple leather long strap bag. Make it more classy with stylish sunglasses.
Green Melange shrug Matches Perfectly with white top and Blue Denim Jeans - Perfect for old aged women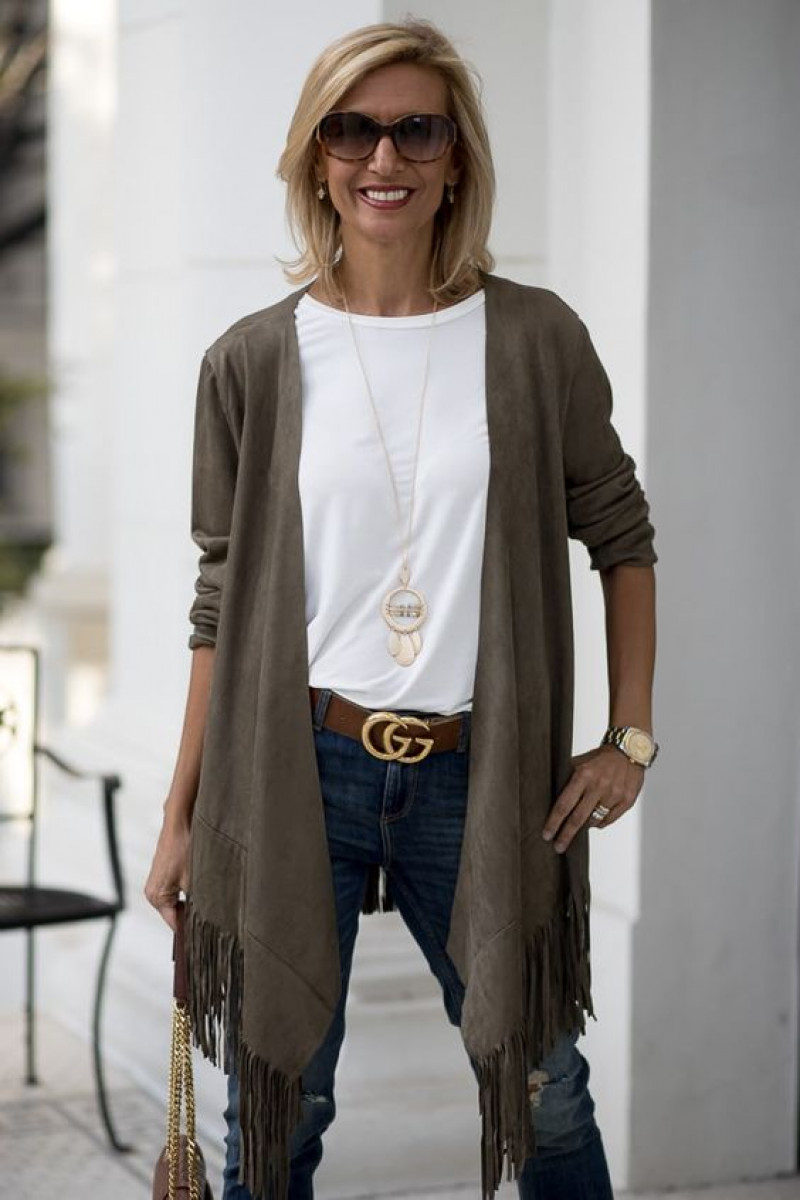 Green melange boatneck cardigan with green denim jeans featuring a low rise is another stylish look. Add a yellow necklace and silver analogue watch for the perfect finishing touch.
Get the Perfect Look with Dark Blue Pant, Grey sweater and a Pink Leather Totes with a silver Low-Heeled Pumps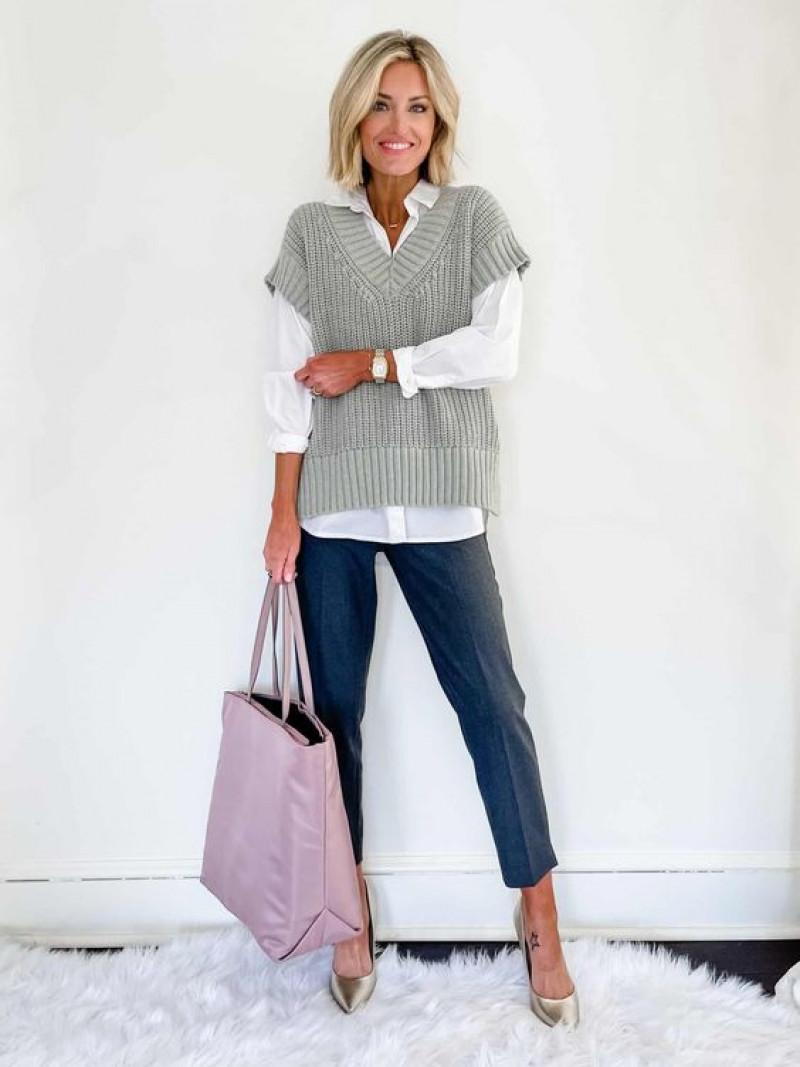 To look more stylish at mature age, try a dark blue denim pant with a patterned grey knitwear wrap Sweater. Finish the outfit with a pink leather tote bag and silver low heeled closed toe pumps. Add an elegant touch with a silver Roman numerals dial analogue watch with a brown leather strap. Perfect for women who want to look lovely while meeting friends for lunch.
Dark blue denim Jeans with a plain black V-neck sleeveless vest- Finish look with a black leather crossbody bag and a stylish sunglasses!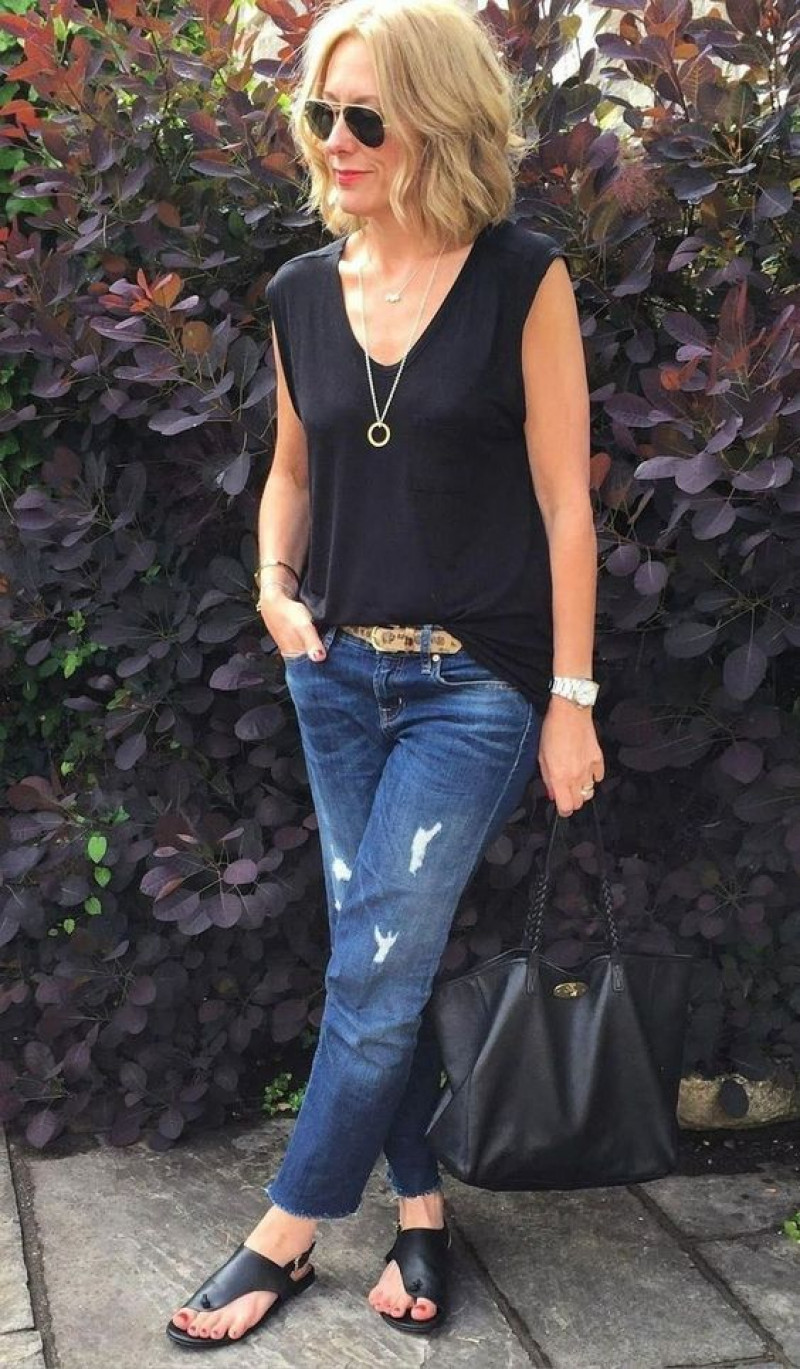 Check out this fire outfit at 50! Dark blue and navy denim straight fit pants with a low rise paired with a plain V-neck navy denim vest with partial closure and drawstrings. Black leather sandals with peep toe to Match the look. Accessorize with a silver metal necklace and rock some cool shades. Don't forget to keep time in with a silver analogue watch with a white non-numeric dial.
Match Your Look with Light Blue Denim Jeans and Beige Turtleneck Sweater with brown Handle Bag and Brown Stiletto Pumps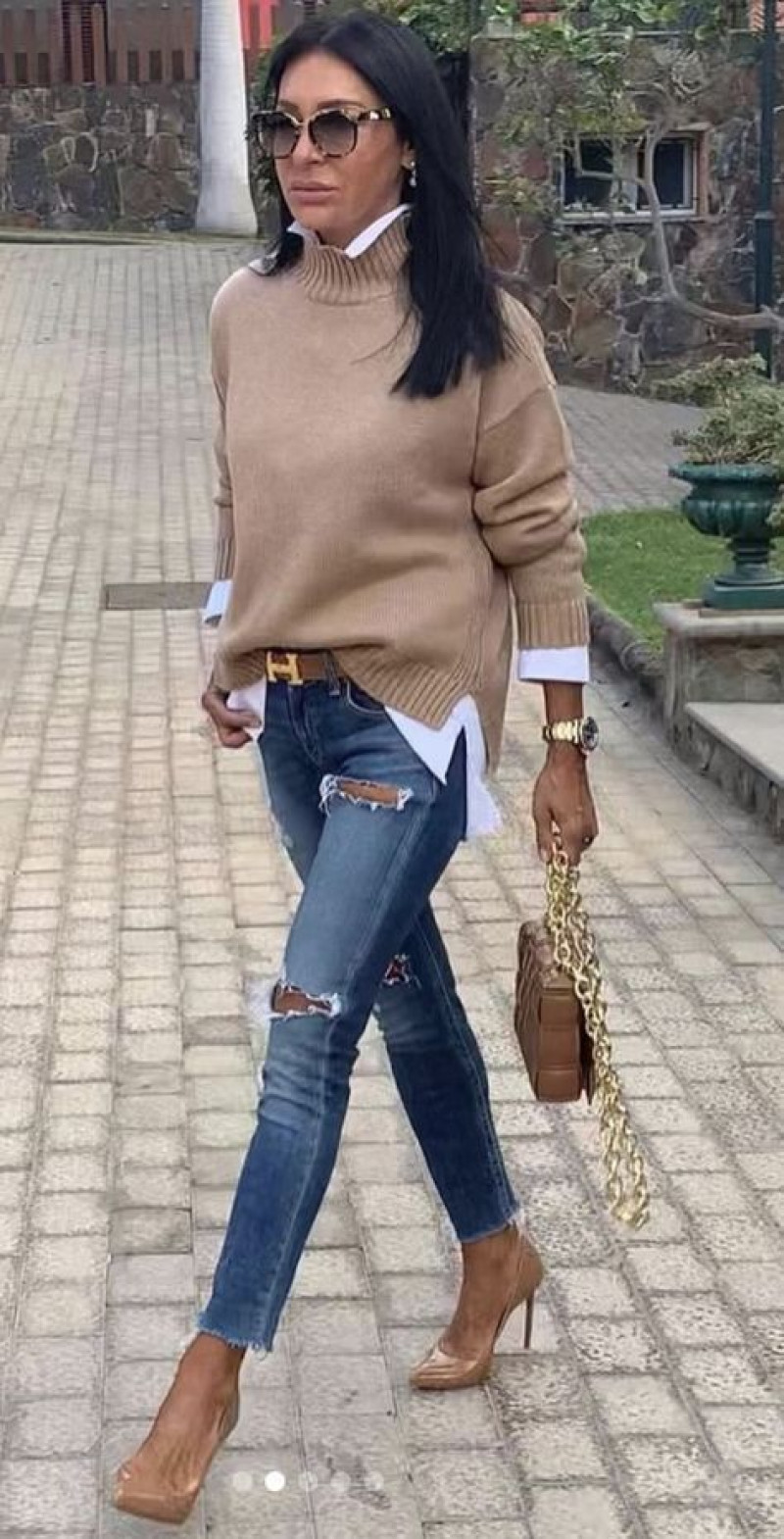 This outfit features a pair of light blue denim slim fit trousers paired with a beige shorted turtleneck knitwear sweater. The look is accessorized with a brown animalistic patterned plastic and vinyl top handle bag, elegant brown leather stiletto ankle boots, beige leather pumps, blue dial silver analogue watch with a brown metal strap and sunglasses.
Black Suit Jackets with Blue Jeans and a Black Handbag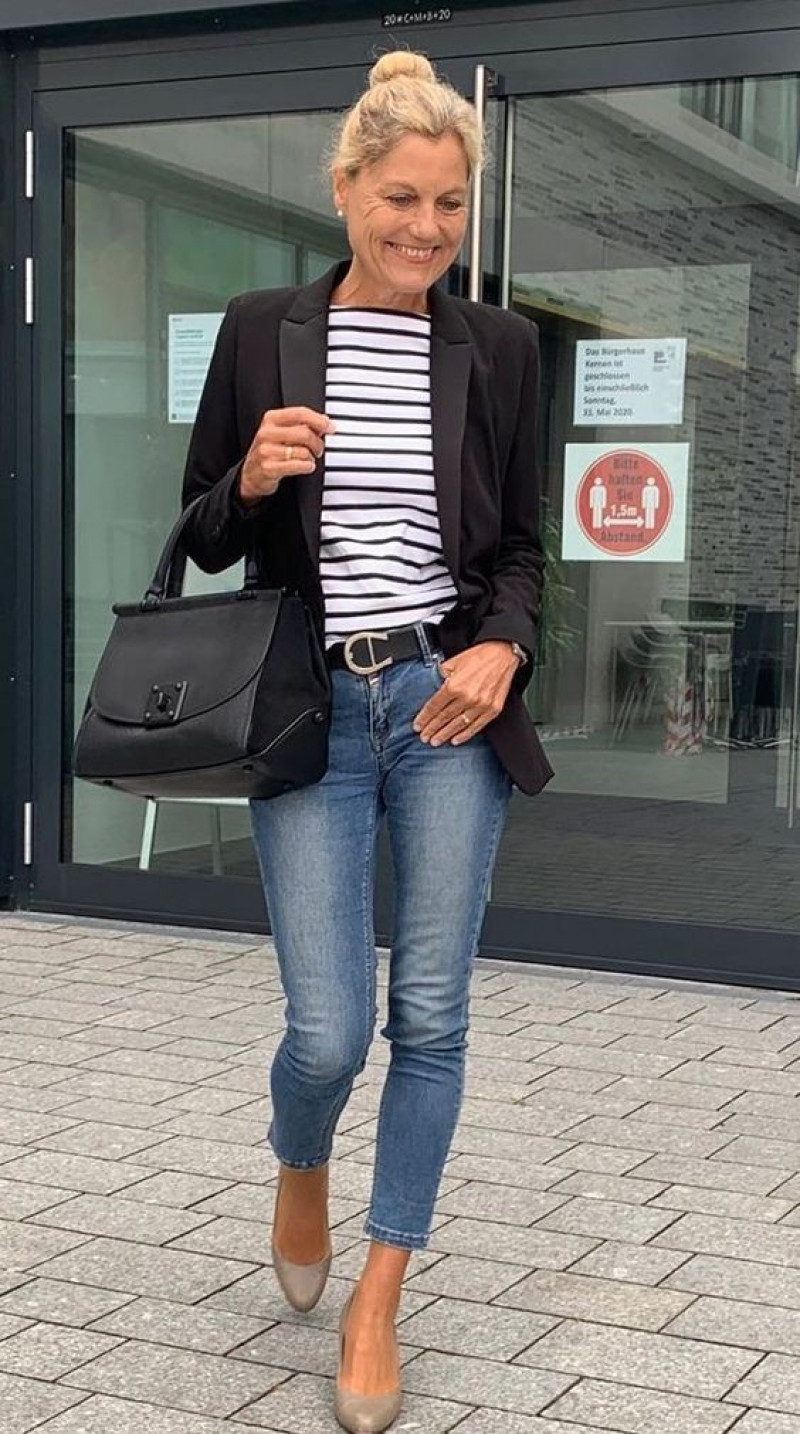 Suit jacket and tuxedo are made from black textile material with a plain design and full button closure. The trousers are made from light blue denim material with a skinny fit and low rise. The top handle bag is made from black textile material with a logo pattern. The ballerinas and pumps are made from beige suede material, with closed toe shoes and an elegant Look.
Stay comfortable with these beige Top with dark blue denim jeans and chunky beige sandals.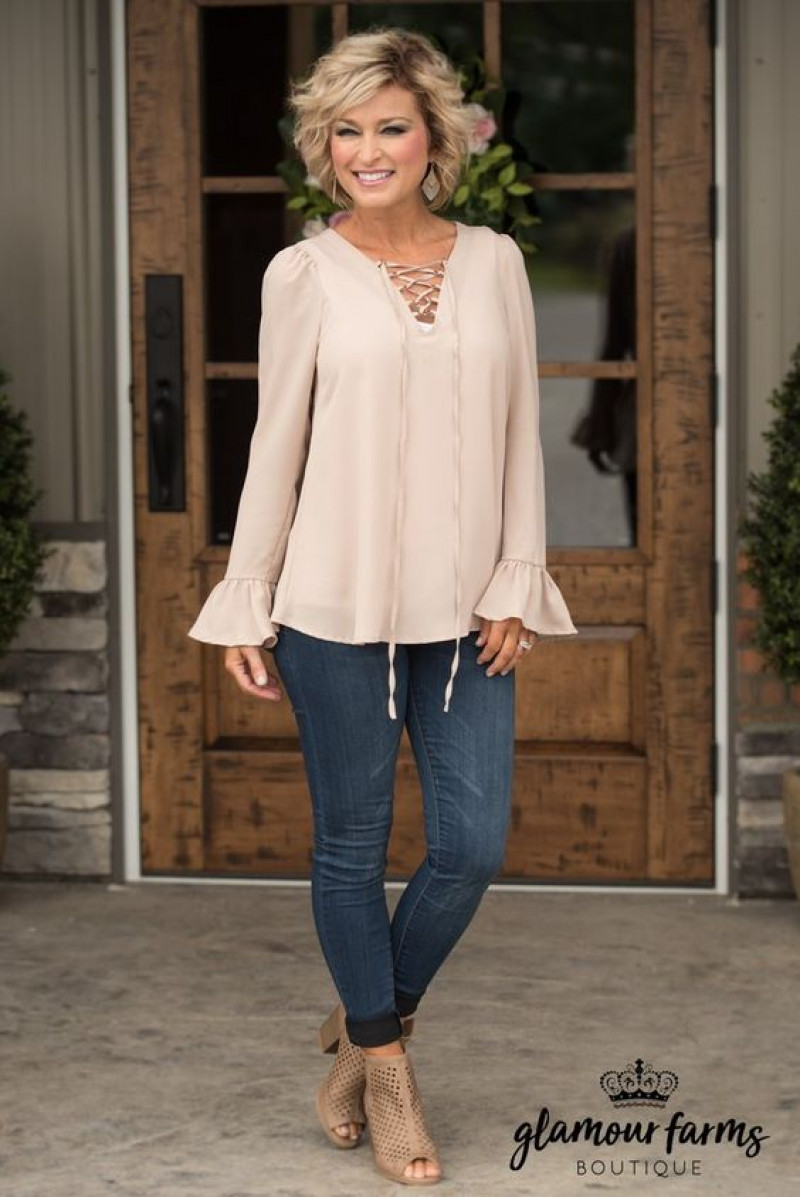 Must try out this dope outfit! We got a beige lace blouse with a round neckline and long sleeves made of cotton. It's smart for the ladies out there. Finish it up with some dark blue and navy slim fit denim trousers. And to finalize the look, we got some chunky beige leather leather open feet sandals. It's a killer combo needed!
Look amazing in this white trousers with a beige Melange knit sweatshirt!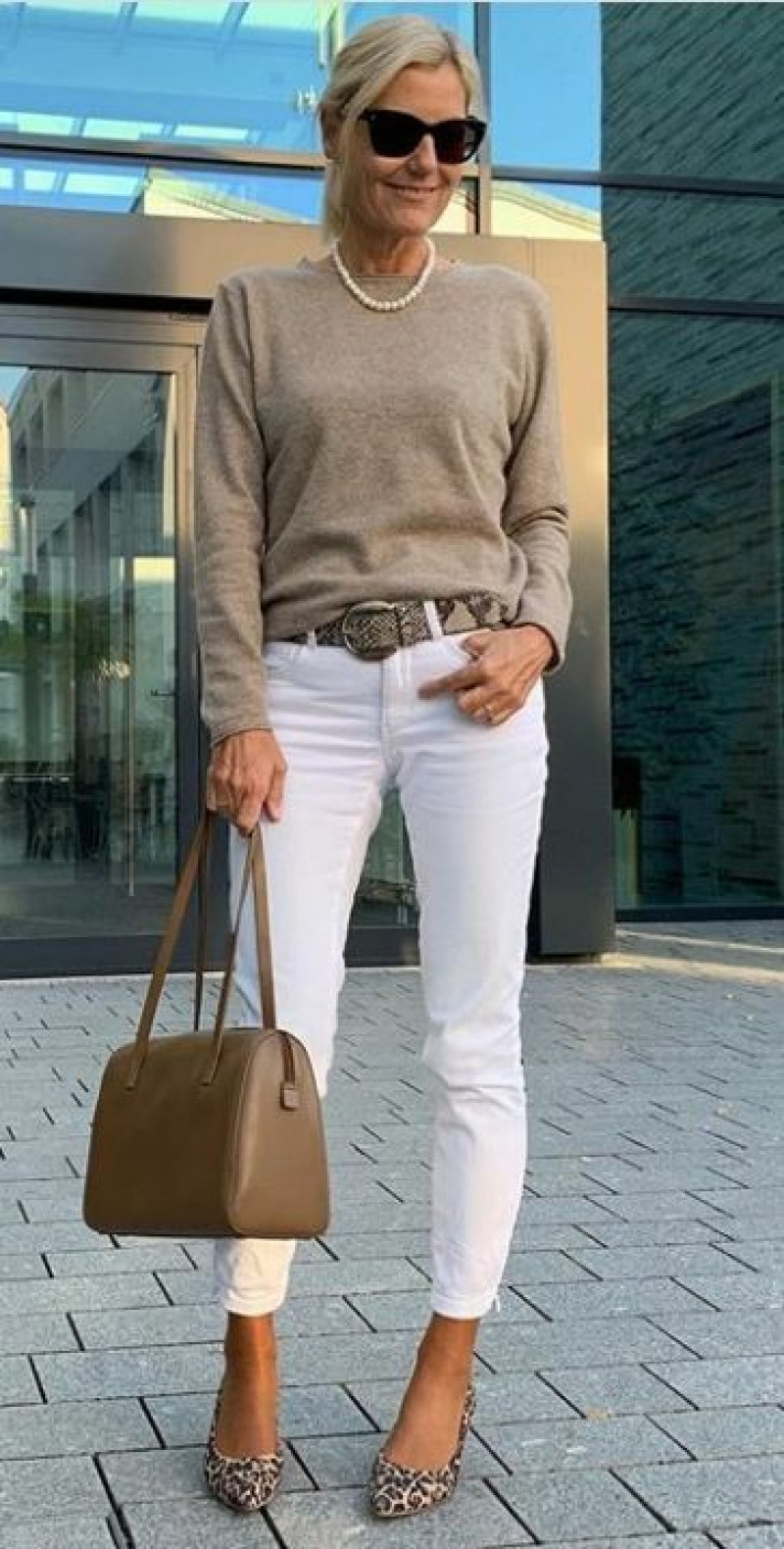 These white cotton slim-fit trousers pair perfectly with a beige melange knitwear sweatshirt featuring a crew neckline and long sleeves. Match the look with brown leather pumps, a plain brown leather women's bag, a silver metal necklace and sunglasses.
Wardrobe Recommendations for Women Over 50- With this stylish sunglasses!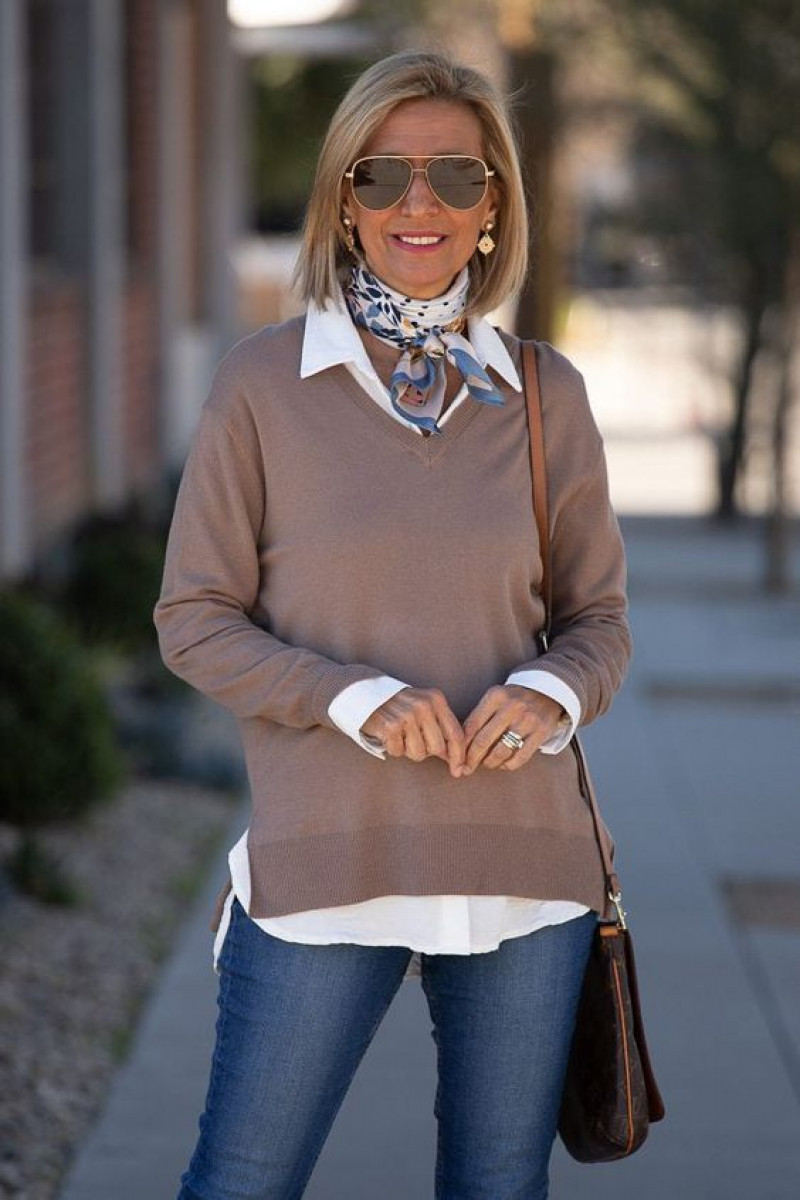 Beige long strap bag is made of soft suede material, perfect to pair with the plain tunics and light blue denim jeans. The yellow gold metal earrings add a touch of elegance to the overall look.
Shop Pink Suit Jackets with Denim Jeans - Looks Perfect with this stylish sunglass!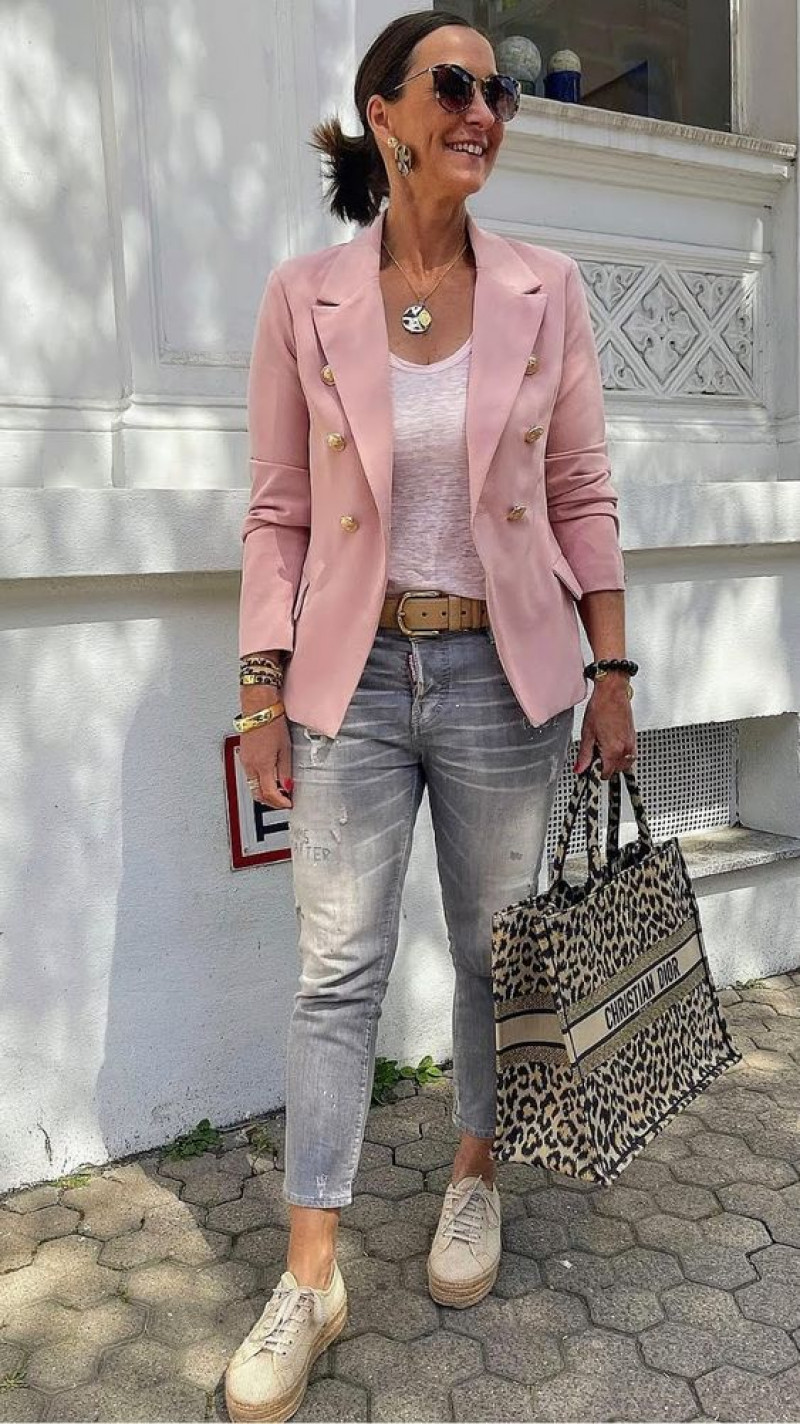 Trendy Collection for old women with a pink suit jacket with skinny grey denim trousers and beige sneakers. Finish the look with a patterned animalistic tote bag, a silver necklace and some stylish sunglasses. This Combo is perfect for events such as brunch with friends or a shopping trip to the mall.
Beige Denim Shrug with Checkered Shirt and a Light Blue Jeans-Looks great !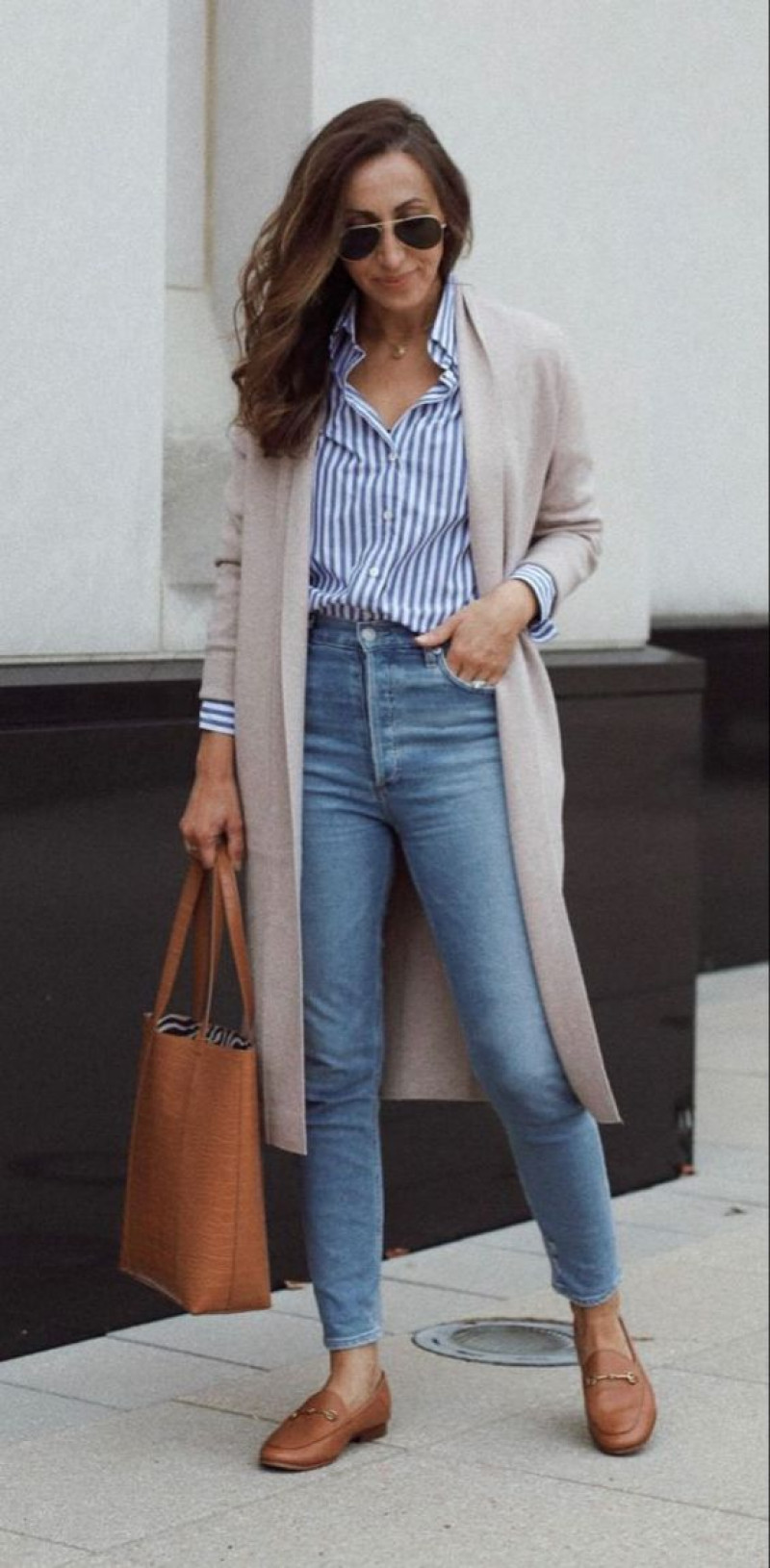 This outfit features a beige denim shirt with shoulder straps and long sleeves, paired with light blue slim fit trousers. The look is accessorized with a brown leather crossbody bag, beige suede shoes and sunglasses for a yet stylish appearance.
Grey trousers with black knit t-shirt and a chunky low pumps- Lovely One!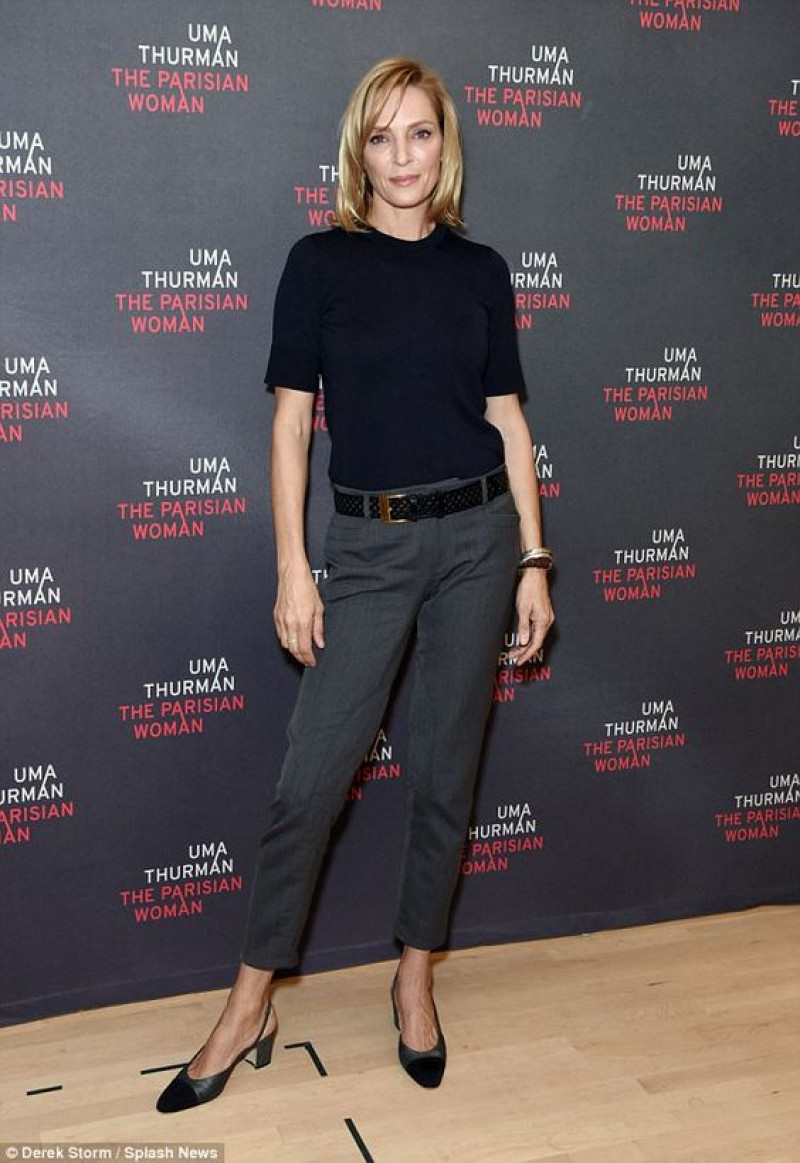 Perfect One! The trousers are made of denim material and have a text pattern, while the t-shirt is made of knitwear material with a text design. The pumps are made of leather leather material and have a chunky heel shape, while the bracelets are made of silver metal with gemstones.
Stay stylish with these grey patterned knitwear shrug with black leather skinny leggings and Black ankle Boots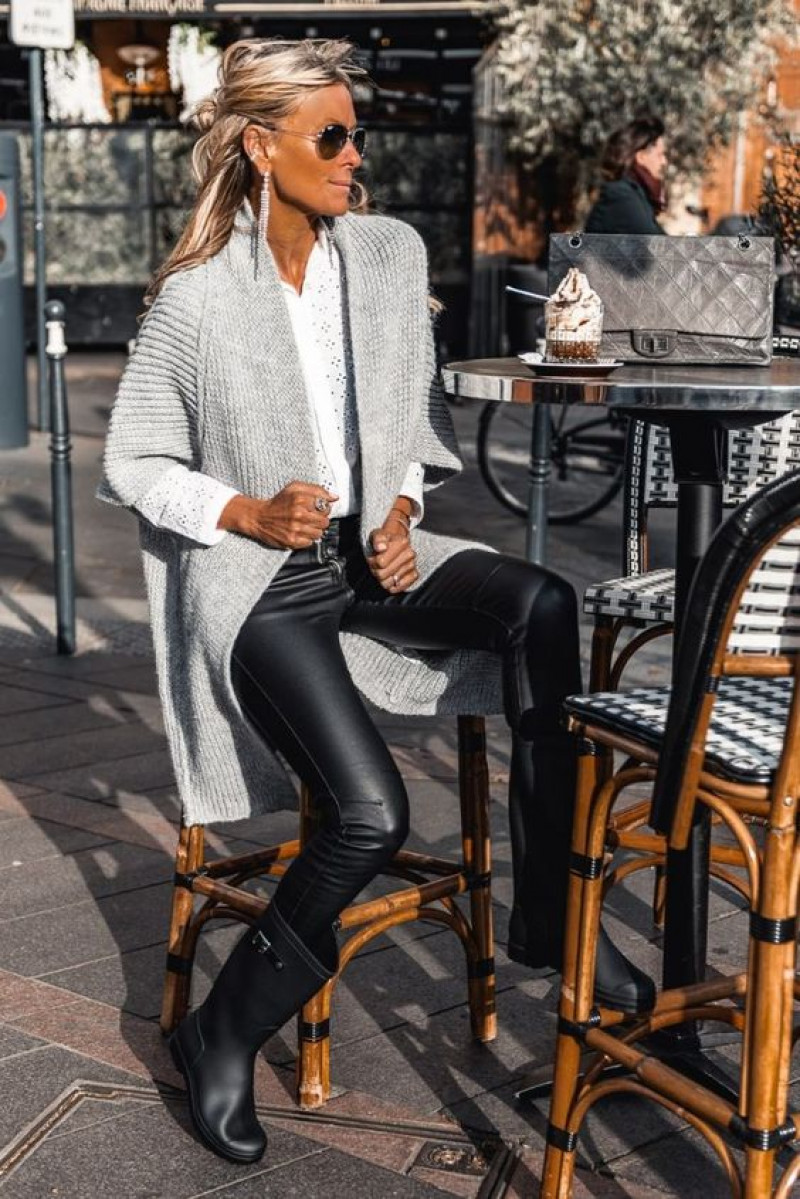 Style a grey patterned knitwear cardigans with black leather skinny leggings and black ankle boots. End up the look with a pair of stylish sunglasses for a touch of glamour.
Stay Classy in Dark Blue Jeans with a Black Top and High Pumps!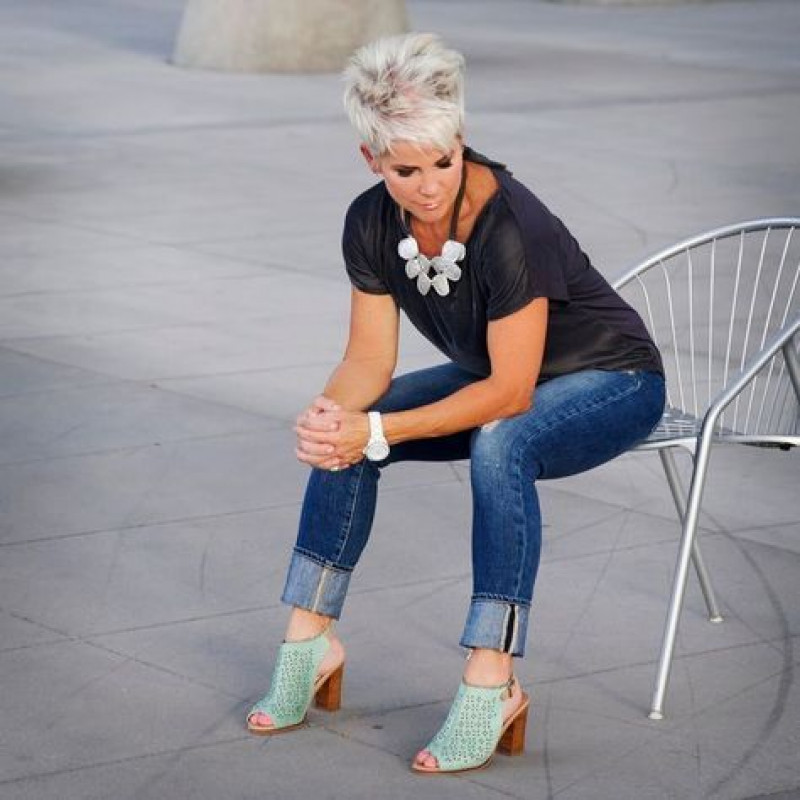 Pretty dark blue and navy denim material of the midi length dress features a plain design with a collar neckline, long sleeves, full closure buttons and a wrap skirt pattern. This analogue watch has a silver case and strap with a white Roman numerals dial, while the light blue leather leather chunky heeled sandals completes the Look!
Beige wool coat with black Jeans and a Turtleneck Top- Finish the look with stylish sunglasses!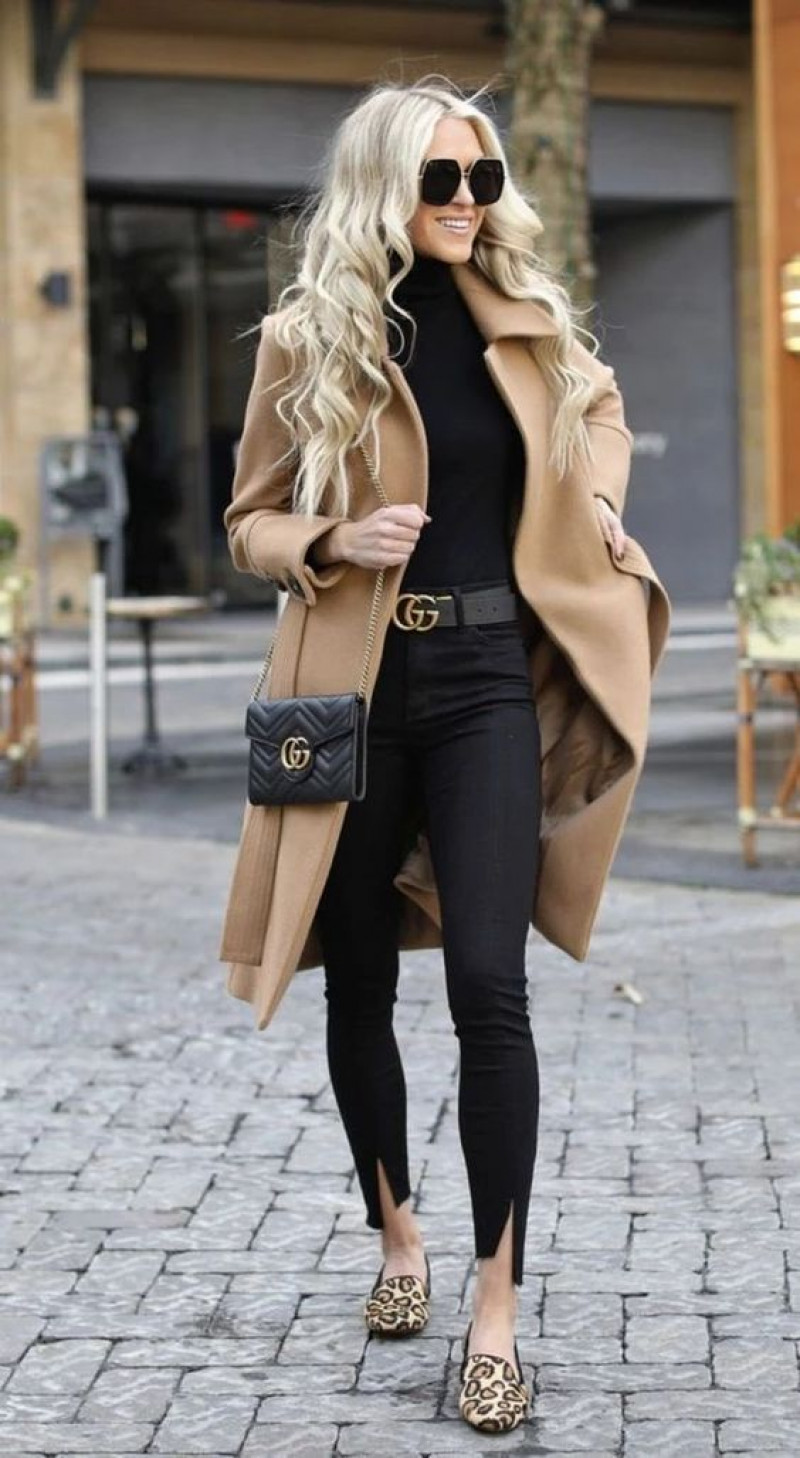 The beige wool coat is perfect for daily wear, while the black cotton trousers are a great match. The black leather long strap bag in the long strap bags and multicolor leather leather Free Time Shoes finish the look.
Orange Cotton Top with Light Blue Denim Jeans and a Beige Suede Boots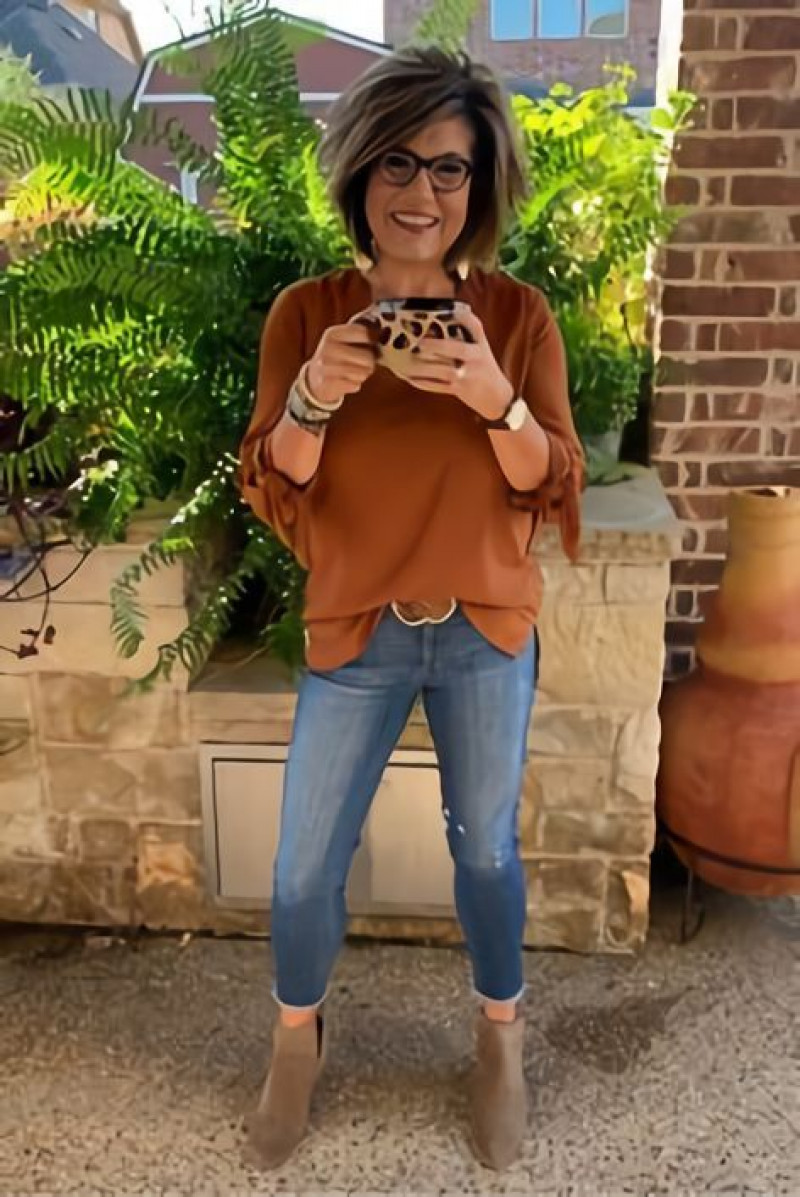 Must try an orange cotton full closure top with light blue denim skinny trousers and beige suede ankle boots. Must go with the Outfits with a brown leather strap analogue watch and glasses. Perfect for a weekend brunch or a day out exploring the city.
Black Sheath Dress with a long beige shrug and a Sandals!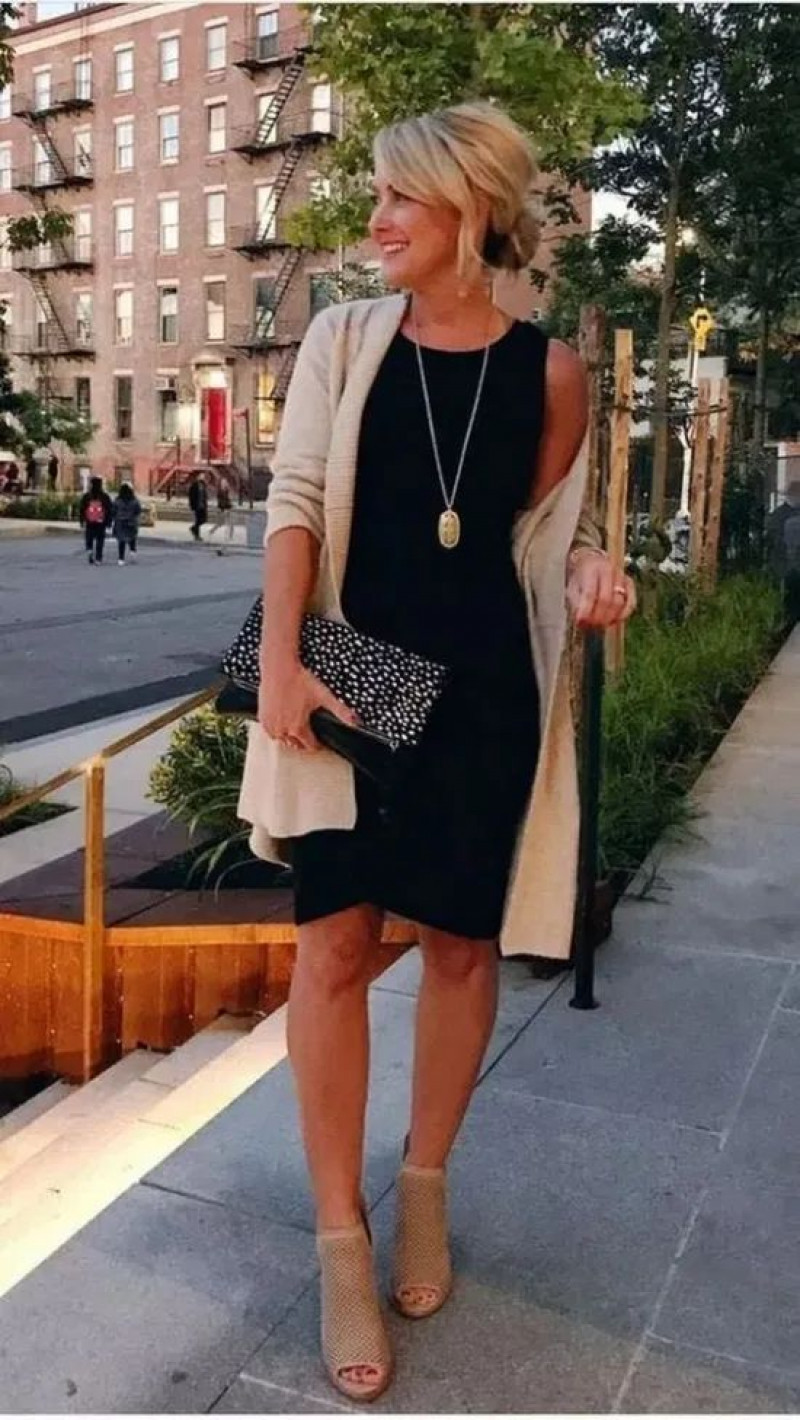 Match a black cotton sheath dress with beige leather sandals. Add a pop of color with a yellow gold metal necklace. Make it more stunning with a black leather clutch or wristlet with a polka dot pattern for added interest.
Step Up Your Style with Elegant Dark Blue Suit Jackets and Light Blue Jeans: Perfect for Fashionistas!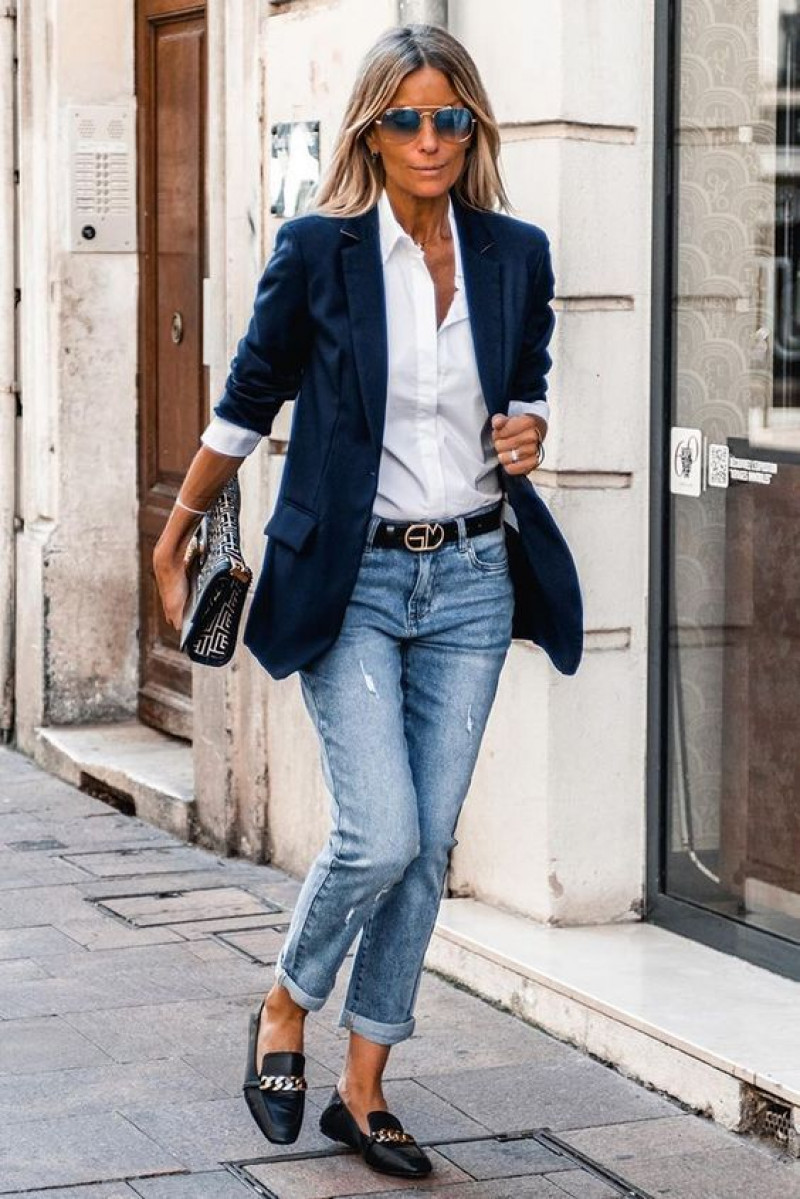 Amazing! Try Out this suit jackets are made of textile material. Similarly, the light blue trousers made of denim material. The top handle bags with multicolor leather design and Free Time Shoes in dark blue and navy made of leather materials are also included. Finally, the sunglasses.
Blue Jeans with green cotton shirt and Leopard Heels Sandals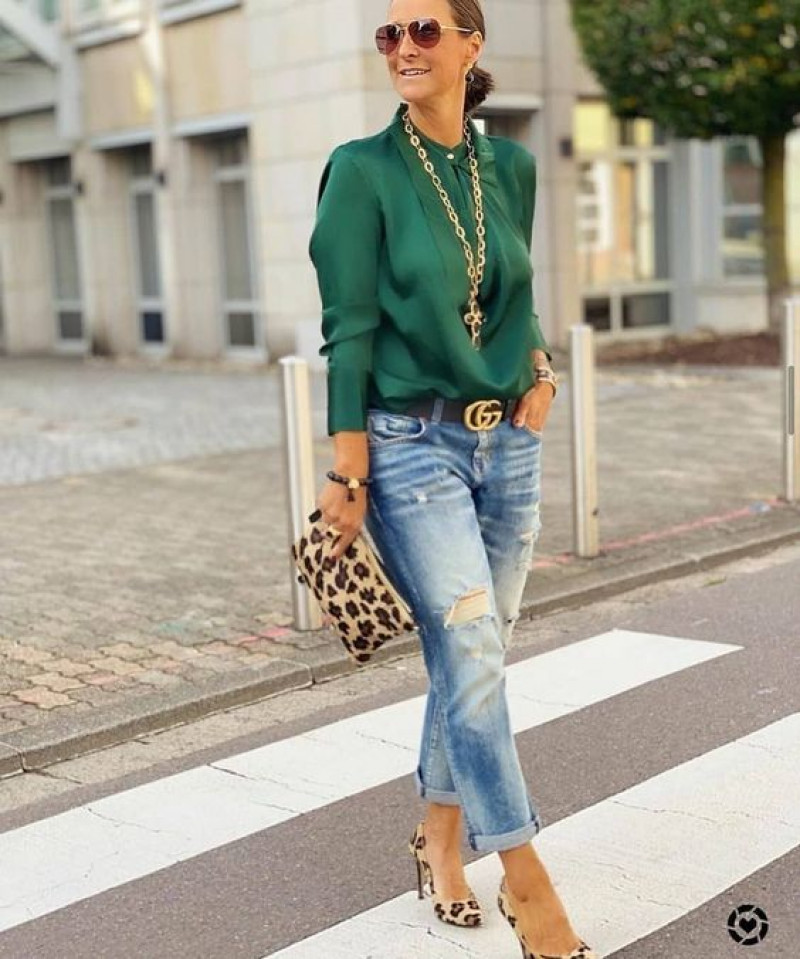 Light blue denim flared trousers with a plain green cotton shirt and beige suede sandals. End up the look with patterned fur tote bag, beige stiletto pumps, sunglasses and a golden watch with a white dial and brown leather strap. Perfect for brunch or a shopping trip with friends!
Try up with White Top with Blue Denim Jeans and a Silver Jewelry Set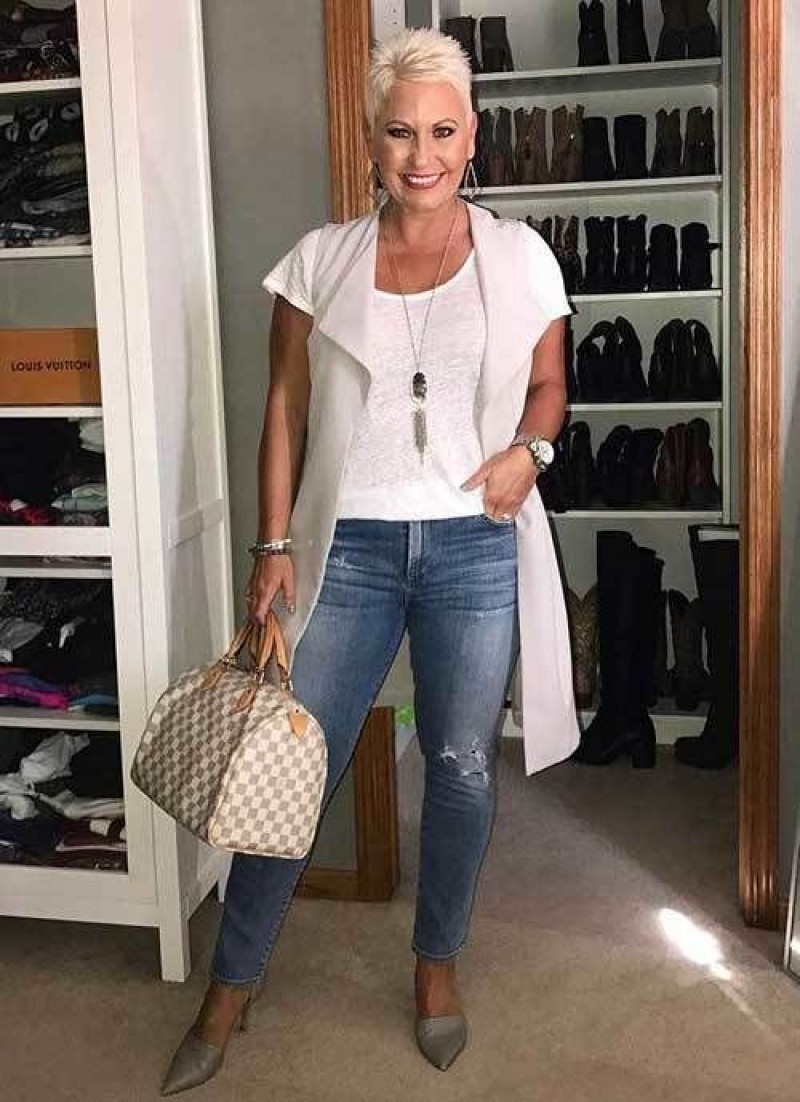 Looks WOW! Outfit features a white denim cardigan with a round neckline and short sleeves paired with light blue patterned skinny jeans. Match the look with a beige stiletto pump, a silver watch with a white dial and a silver bracelet with gemstones. Additional colors for this outfit could include shades of pink or green for added pop.
Age is just a number, always stay stylish and young with our latest dresses choices. Do come back, if you like our articles and please do share your feedback.