Step into a world of elegance and femininity with the enchanting allure of white and pink outfits for women. Whether you're seeking a romantic ensemble or a chic and refreshing look, the pairing of white and pink opens up endless possibilities for creating outfits that captivate and inspire. Join us as we explore the timeless appeal and versatility of these delicate hues in women's fashion.
Stylish Pink Leather Trousers with Wide Leg Fit - Styled with White Crop Top!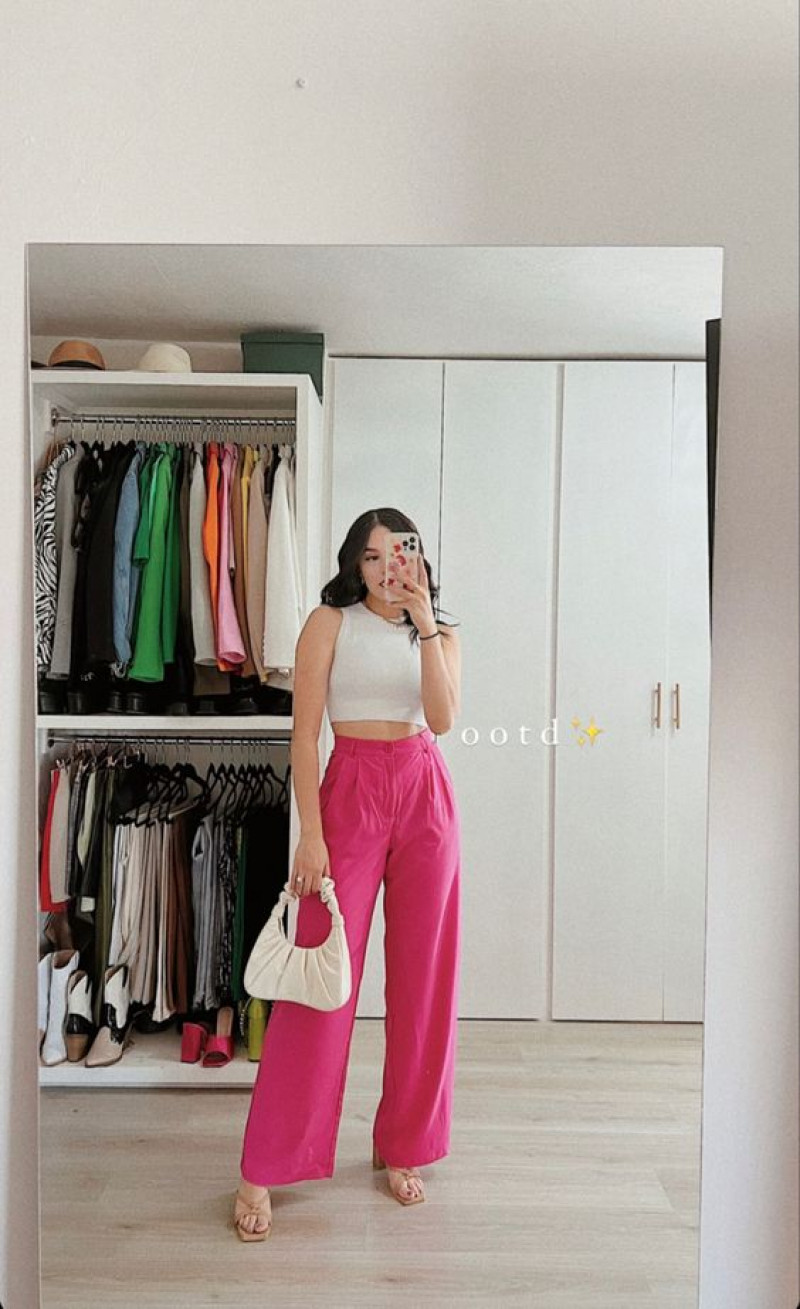 Try these pink leather trousers with a white melange turtleneck upper and beige sandals for a stylish look. Style the outfit with a white hobo bag for a chic touch.
Stay stylish with White Crop Top with Light Pink Pants- Don't miss adding a Silver Watch!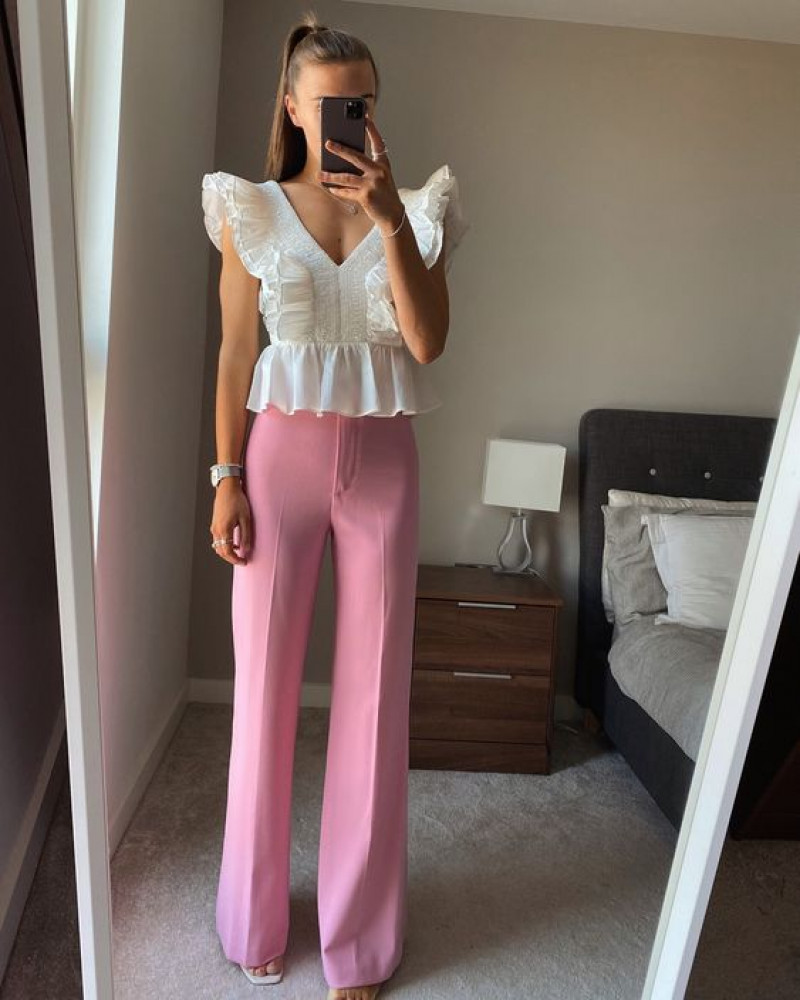 Try Out these Lovely pink silk flared trousers with a white lace crop top and a silver watch. Don't Miss to style it with Silver Watch.
Elegant White crop Top with a pink Mini skirt and white trainers!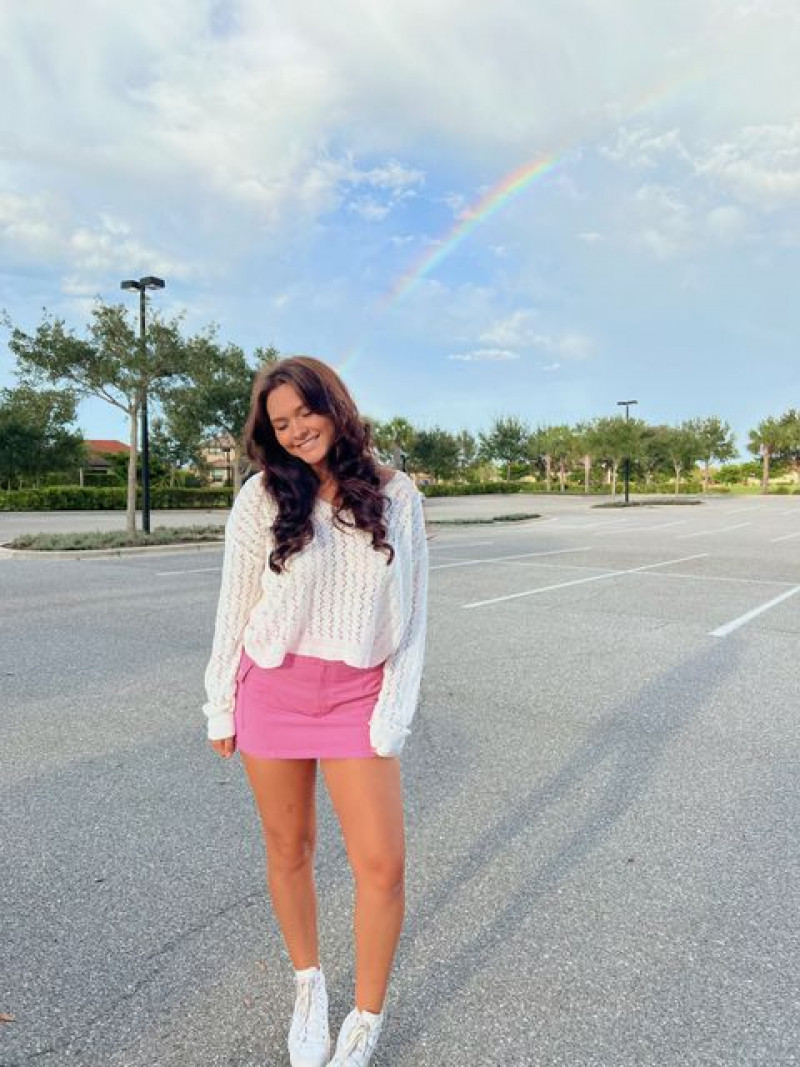 Style this Lovely White Crop Top with long sleeves made of knitwear. Match it with a pink mini skirt made of cotton. The trainers and sneakers are both white low shoes, with the trainers being textile and the sneakers being leather. The overall style is elegant for the Top and casual for the skirt and footwear.
Rock it out! In White T-shirt and Pink Denim Skirt styled with Beige Sandals!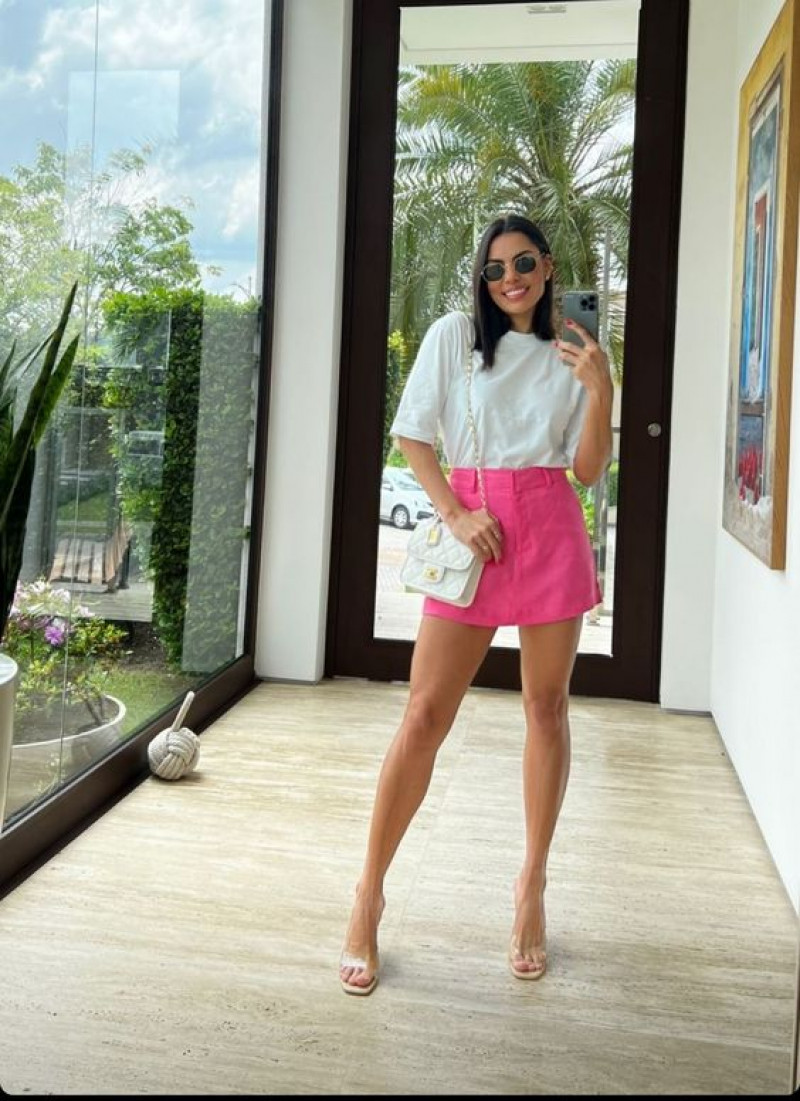 Searching for a stylish outfit? Try a white Crop Top with short sleeves and a crew neckline. Match the look with a pink A-line skirt made of cotton and a long strap bag in white leather. For footwear, opt for elegant beige formal sandals with a stiletto heel shape. Don't forget to accessorize with sunglasses!
Lovely Pink Shorts with White Knitted Tops and Comfortable Beige Sandals!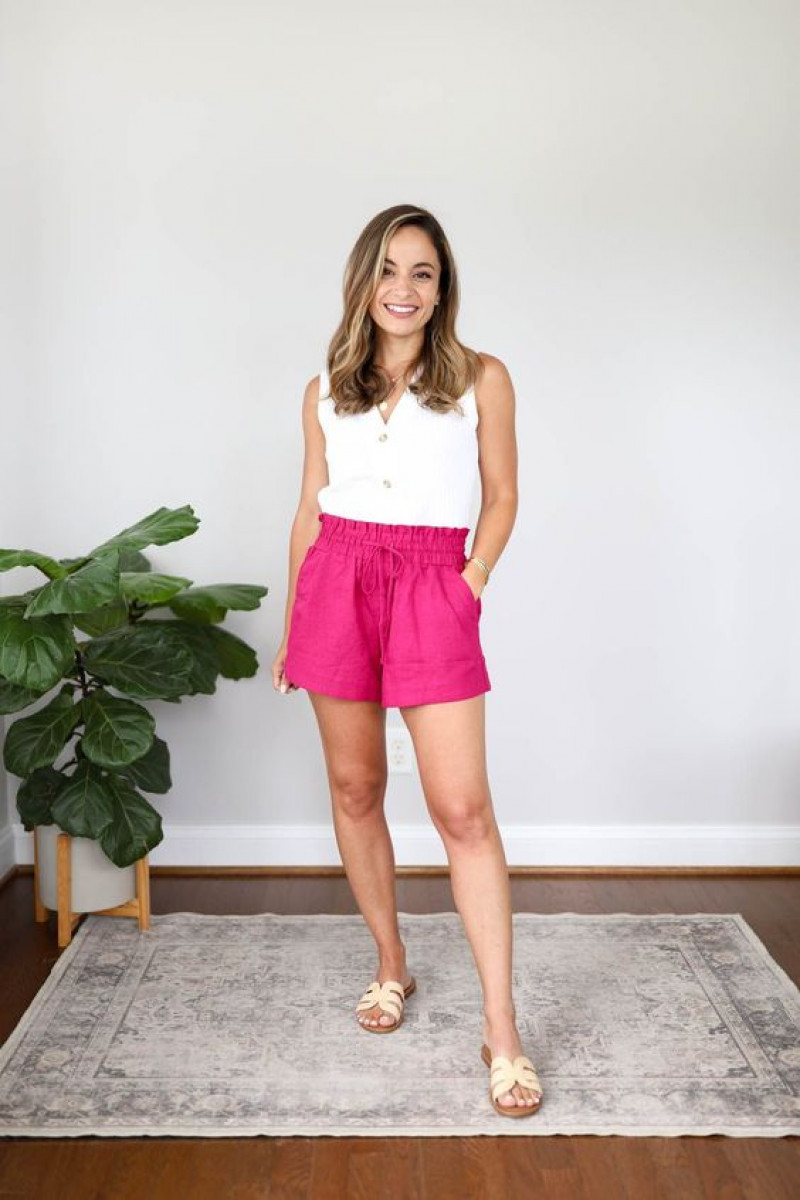 Style these Lovely Pink shorts ,made of pink plain knitted material, while the knitted tops are made of white plain knitwear. The sandals are made of beige leather material.
Rock the summer vibes with these white short overalls with White Crop Top of V cut neckline -Perfect for a day out! #casualoveralls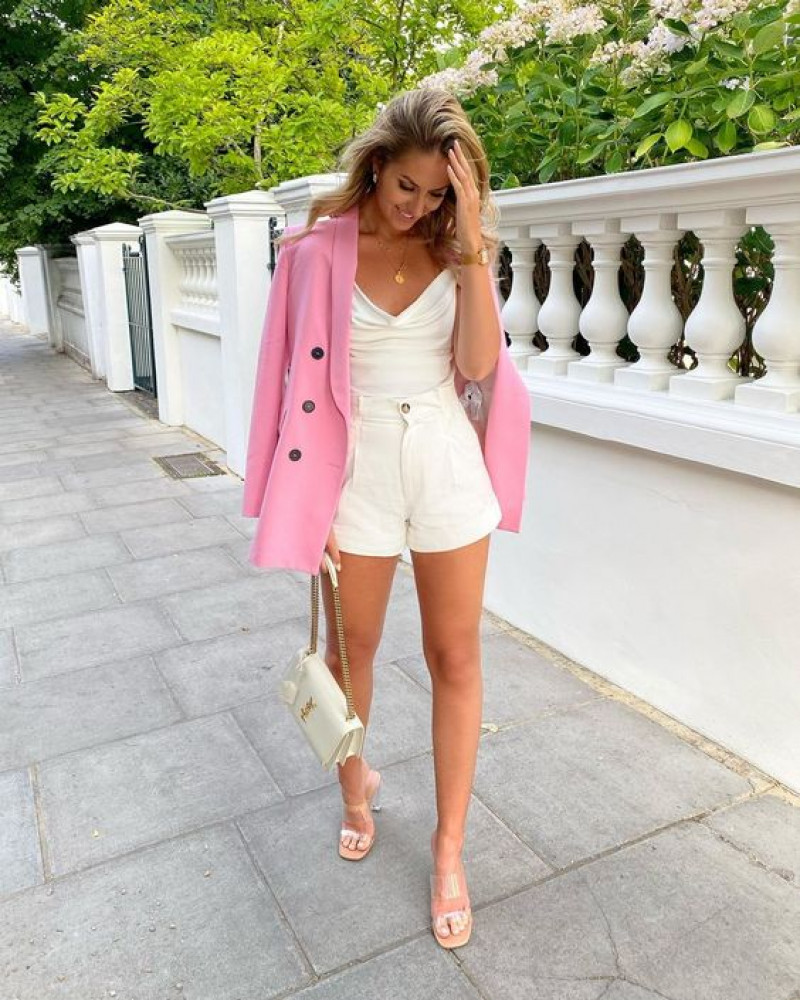 Style this Lovely White Crop Top with White Denim Shorts. Match it with Pink Blazer and a Beige Colored Pumps. Don't Forget to add a White Handbag!
Lovely Outfit! White Cotton Crop Top, Brown Patterned Tote Bag, Pink Denim Shorts, Beige Leather Sandals and a Silver Metal Necklace!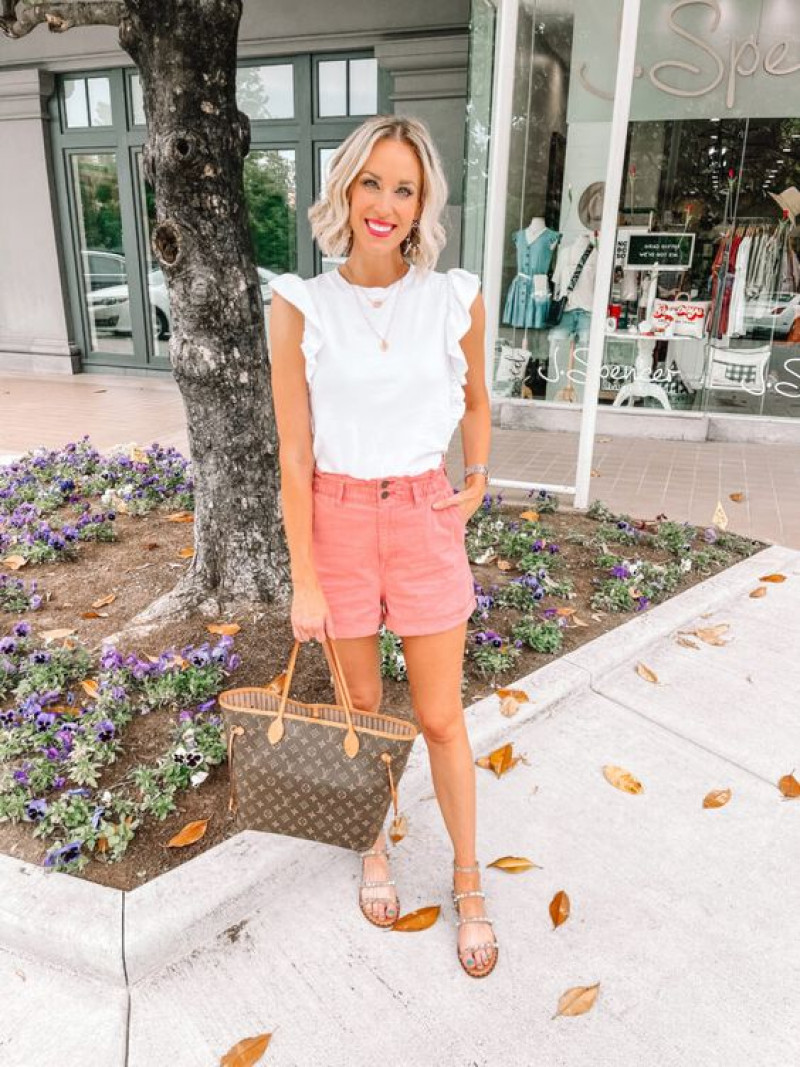 The crop top is an elegant, short-sleeved white cotton top with a plain design and a crew neckline. The totes and shopper bags are brown straw bags with a patterned geometric and abstract design. The jeans are pink shorts with a plain design and a mid-rise. The sandals are beige leather shoes with a style and open feet height. The necklaces, pendants and chains are silver metal accessories in their design.
Stylish White Leather Skinny Jeans with Pink Crop Top: Perfect Pinkish Look!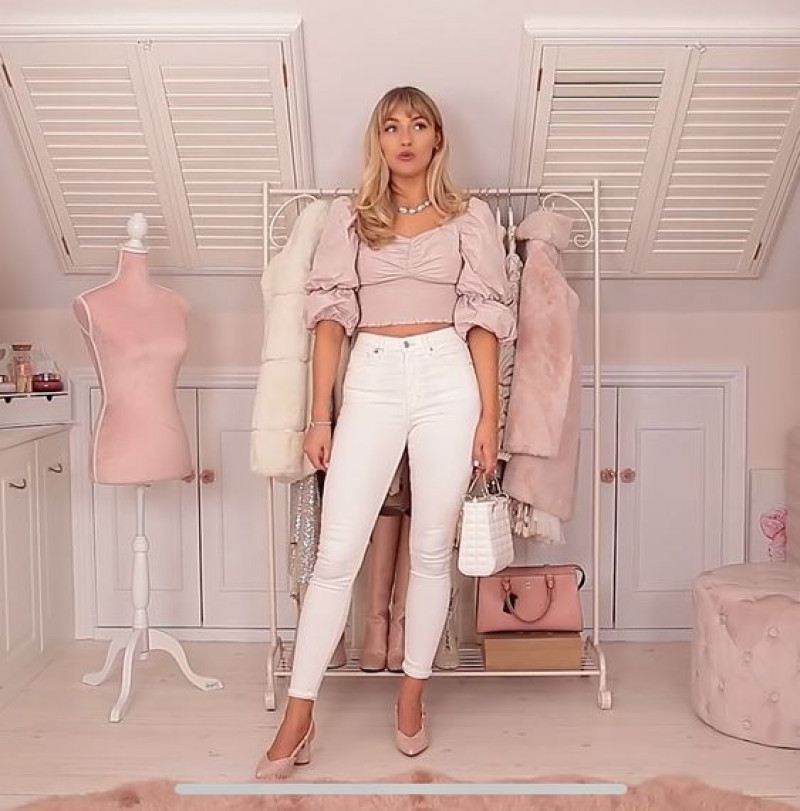 The white leather trousers are designed for daily wear. The pink shirts in the shirts have a bow neckline and sleeves. The patterned top handle bags in the women's bags have a stripe design. The pink pumps in the pumps are made of leather and have a low heel height. The silver bracelets in the bracelets are made of metal.
Get Ready in Formal- Try a Pink Long Blazar with Pink Pant!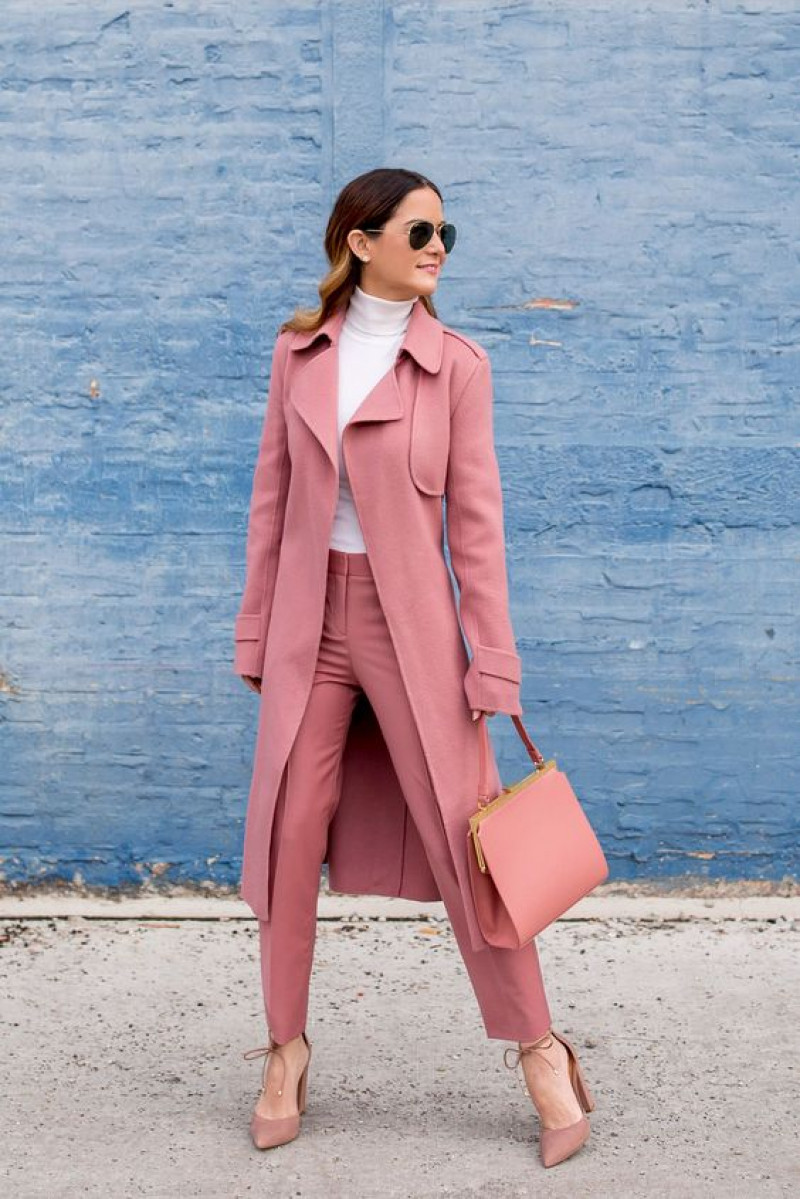 The winter coat in pink, with a long length and made of wool. The trousers, are also in pink. The top handle bag in pink leather is plain in design. The pumps are beige in color and have a chunky heel shape.
Try out this White Crop Top with Pink Mini Skirt- Styled with White Sneakers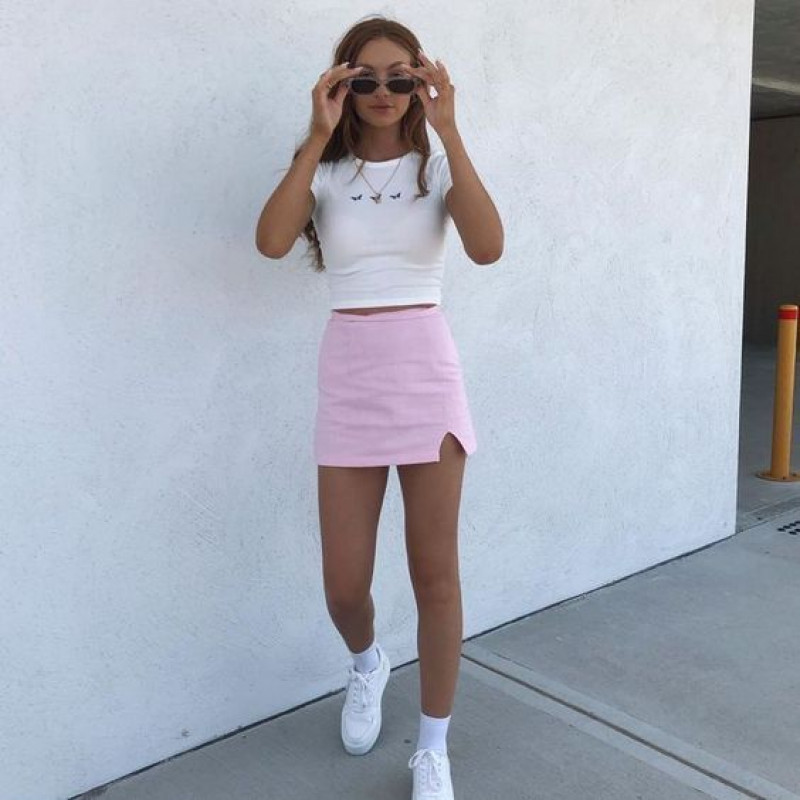 The skirts are made of cotton and have a melange design. Its Looks more Pretty with this White Crop Top. Style it with White Shoes and Stylish Sunglasses!
Stunning Pink Formal Trousers with White Cotton Cardigan- Styled with White Blazar and Patterned Leather Tote Bag!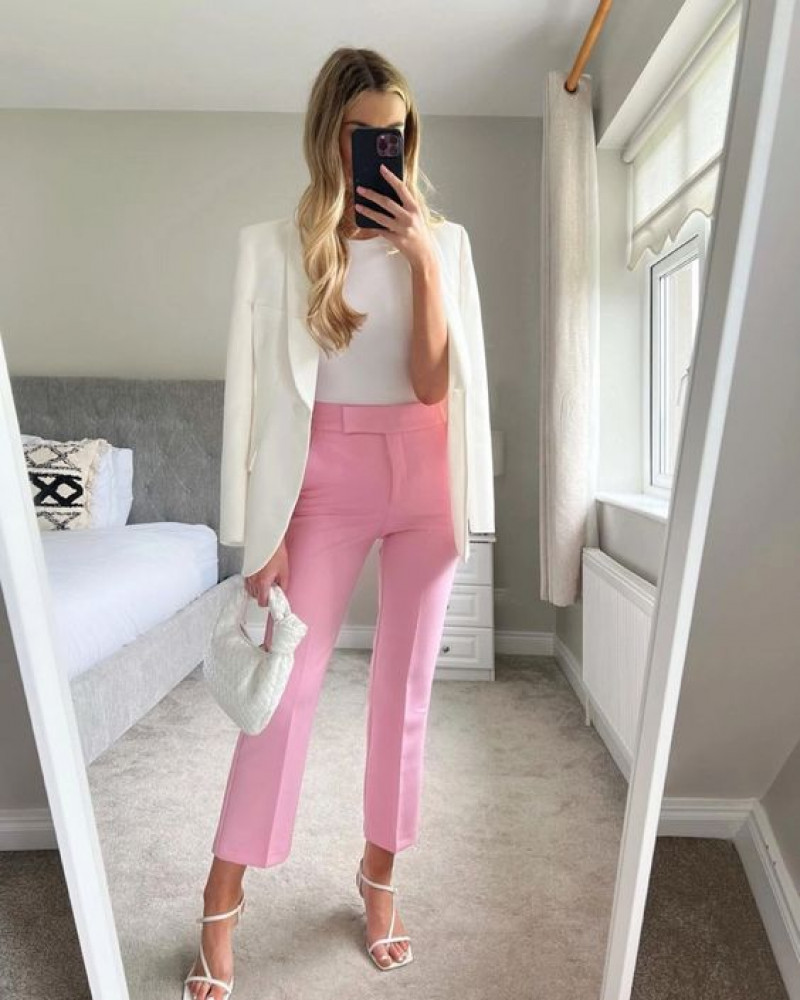 I'm loving these elegant pink slim-fit formal trousers with a low rise. Style them with a short white cardigan featuring a back neckline and long sleeves for a chic look. Finish the Look with a patterned white leather tote and some killer stiletto sandals.
Style in Pink! With this Lovely Pink Blazer and White Formal Pant!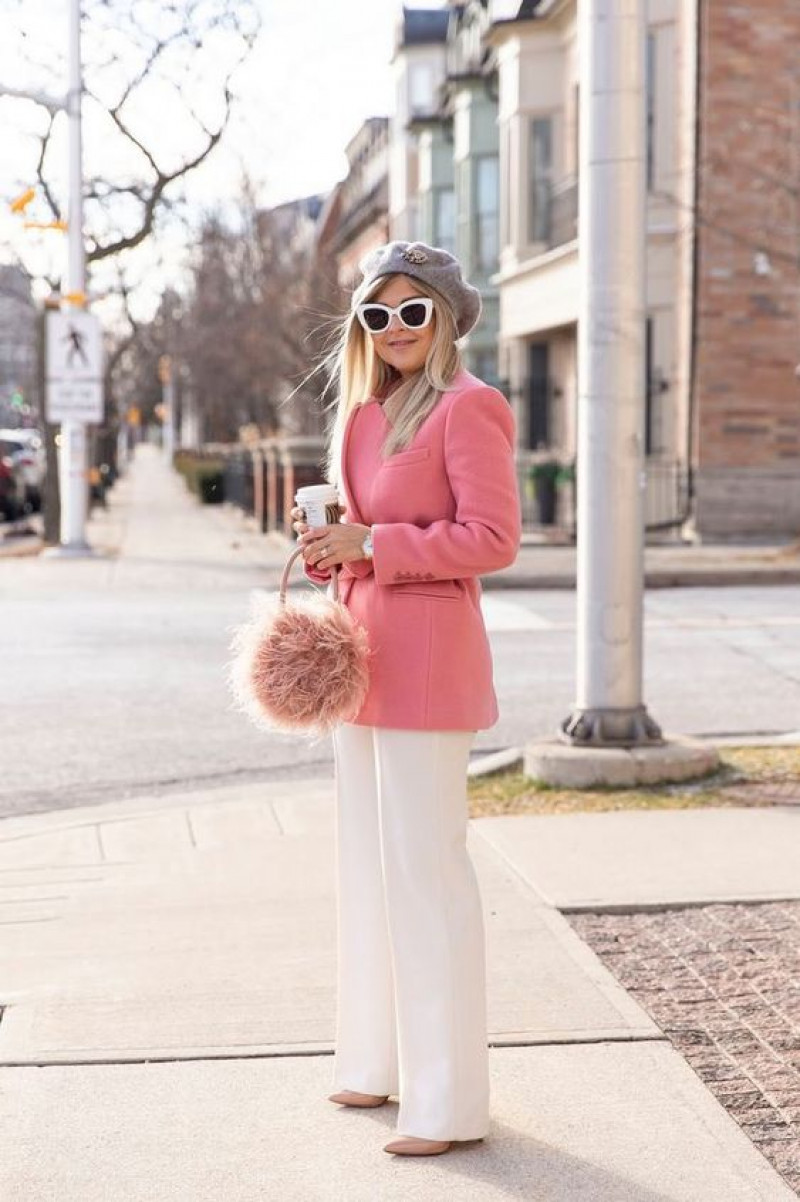 Try a pink wool coat with white wide-leg trousers. Match the outfit with a lace top handle bag and sunglasses. Perfect for a brunch date or shopping day.
Try out this Pink Off Shoulder Crop Top with Mini Baby Pink Skirt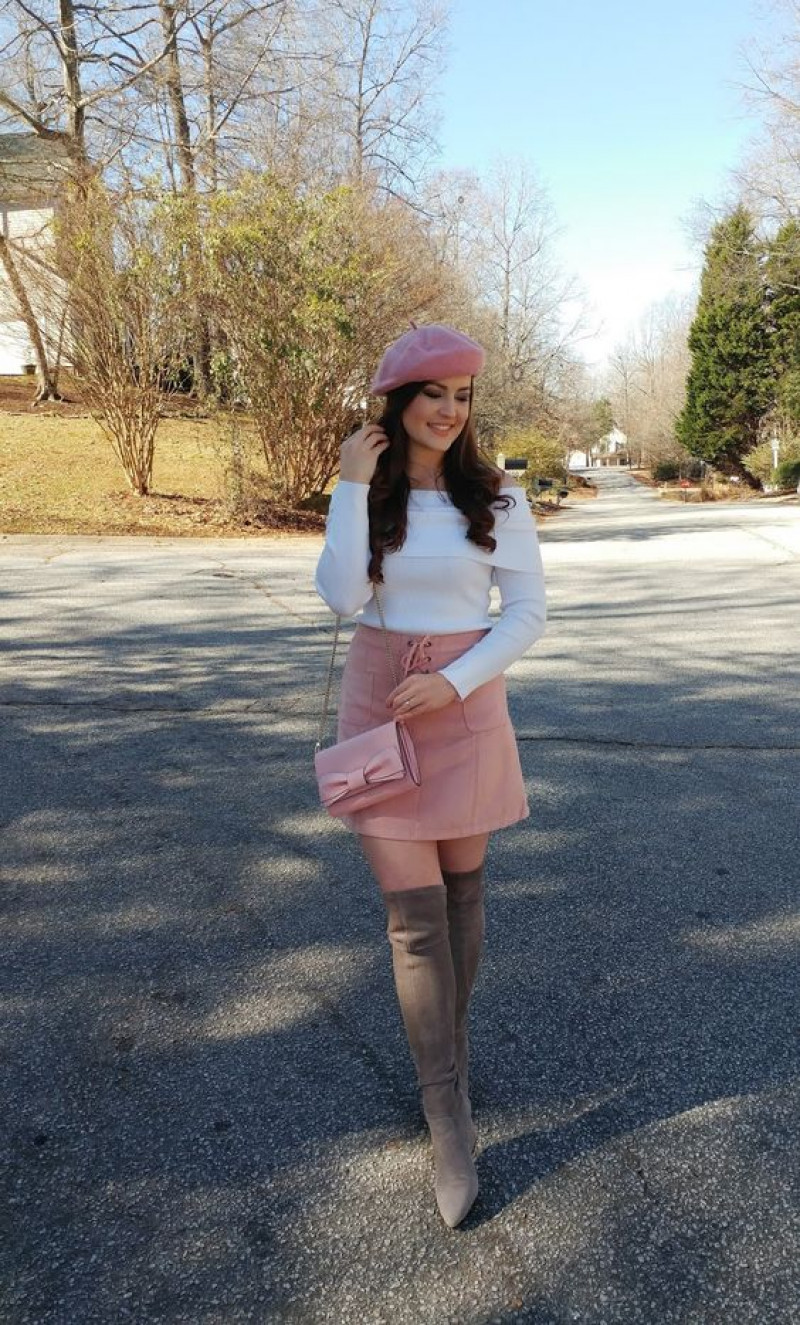 The outfit consists of a white cotton shirt with square neckline and long sleeves, paired with a plain skirt in pink. The look is completed with a beige pair of ladies high boots and a beret.
Get out! With White Cotton Crop Top with Square Neckline- Styled with Pink Shorts!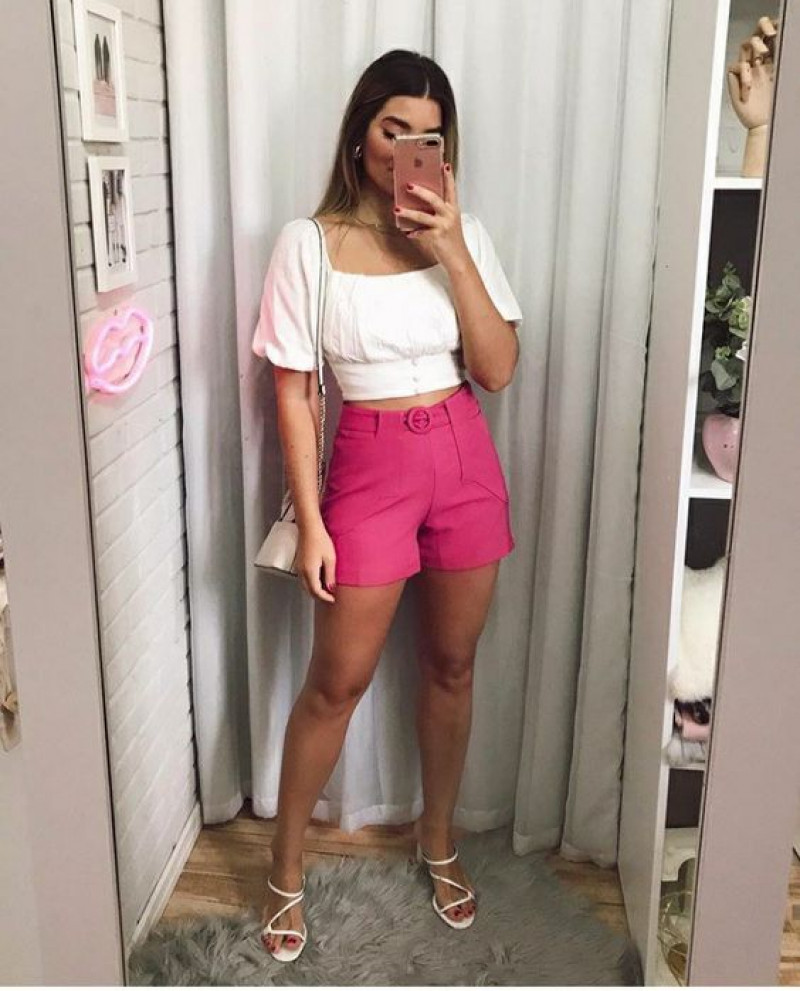 Style the white short-sleeved cotton t-shirt with pink short jeans. End up the outfit with a plain leather long strap bag and white sandals. Add a touch of elegance with a yellow-gold metal necklace.
Stay cool and stylish with our pink shorts paired perfectly with a White Off Shoulder Top- Finish the look with elegant beige leather formal sandals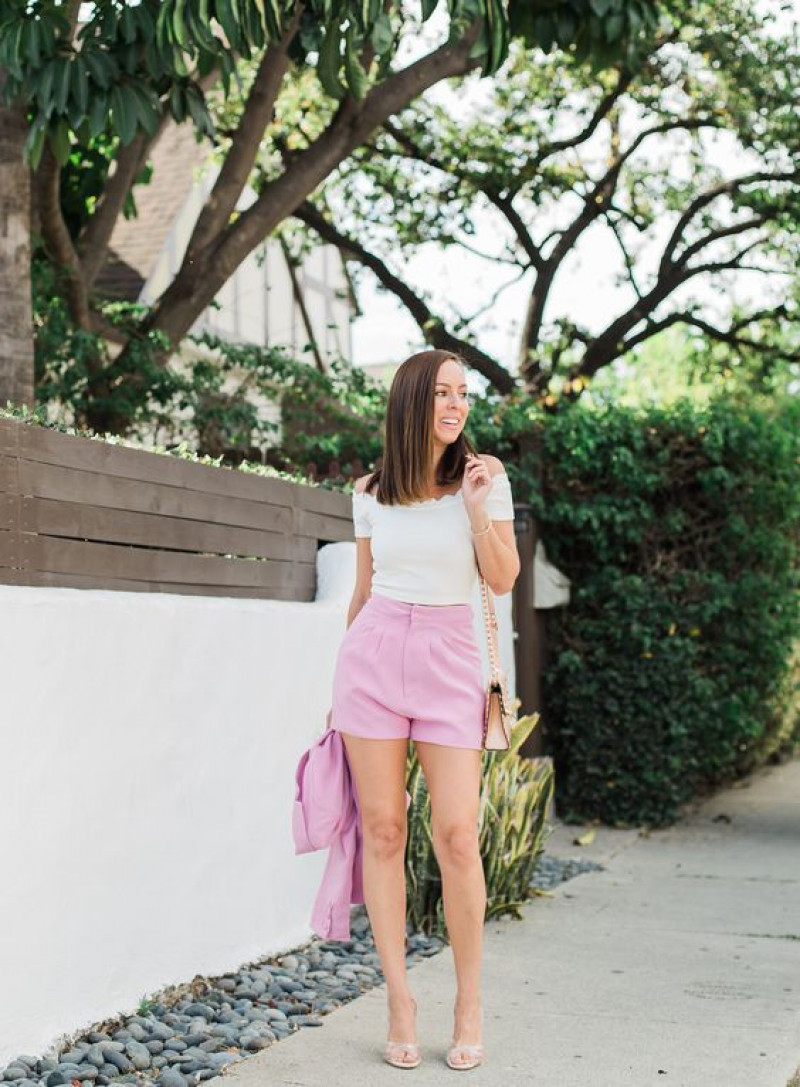 Style the pink cotton shorts with a white plain t-shirt and beige leather sandals. Perfect for Outings with Your Closed ones.
Get this amazing White Sleeveless Crop Top with Pink Shorts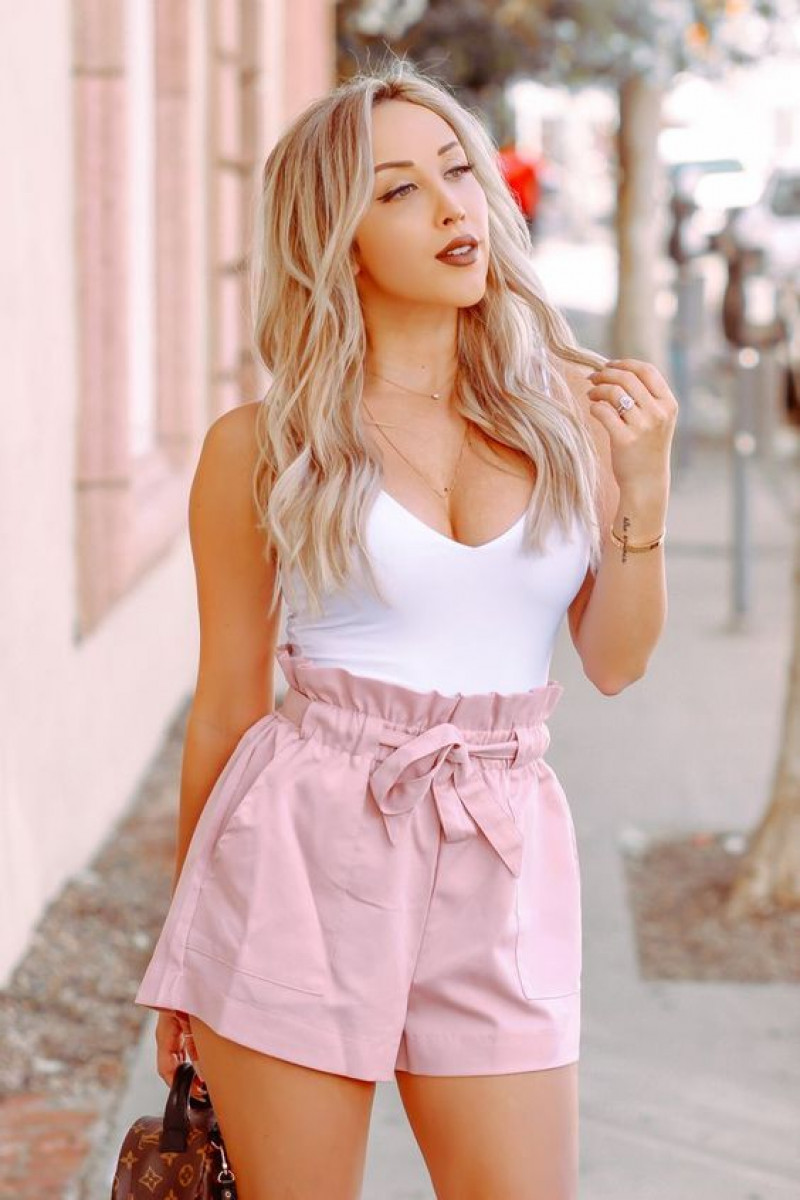 Pink cotton shorts with a white sleeveless top and a brown suede top handle bag. Style the outfit with a yellow-gold metal bracelet.
Get the Perfect Upper White V-Neck Crop Top Shirt with Pink Hotpants!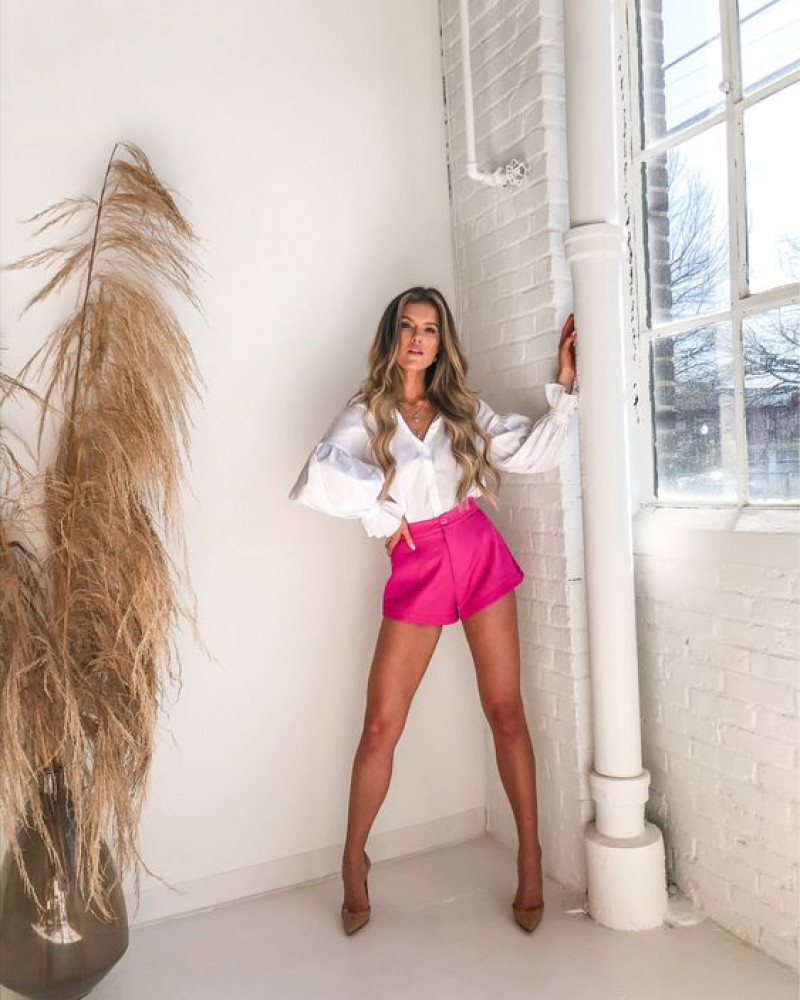 The white v-neck shirt with long sleeves is an elegant choice for Women. Try it with pink silk hot pants for a Sexy look. Match the outfit with low boots in suede material.
White Pant with a White Crop- Looks Perfect with a Long Pink Blazer!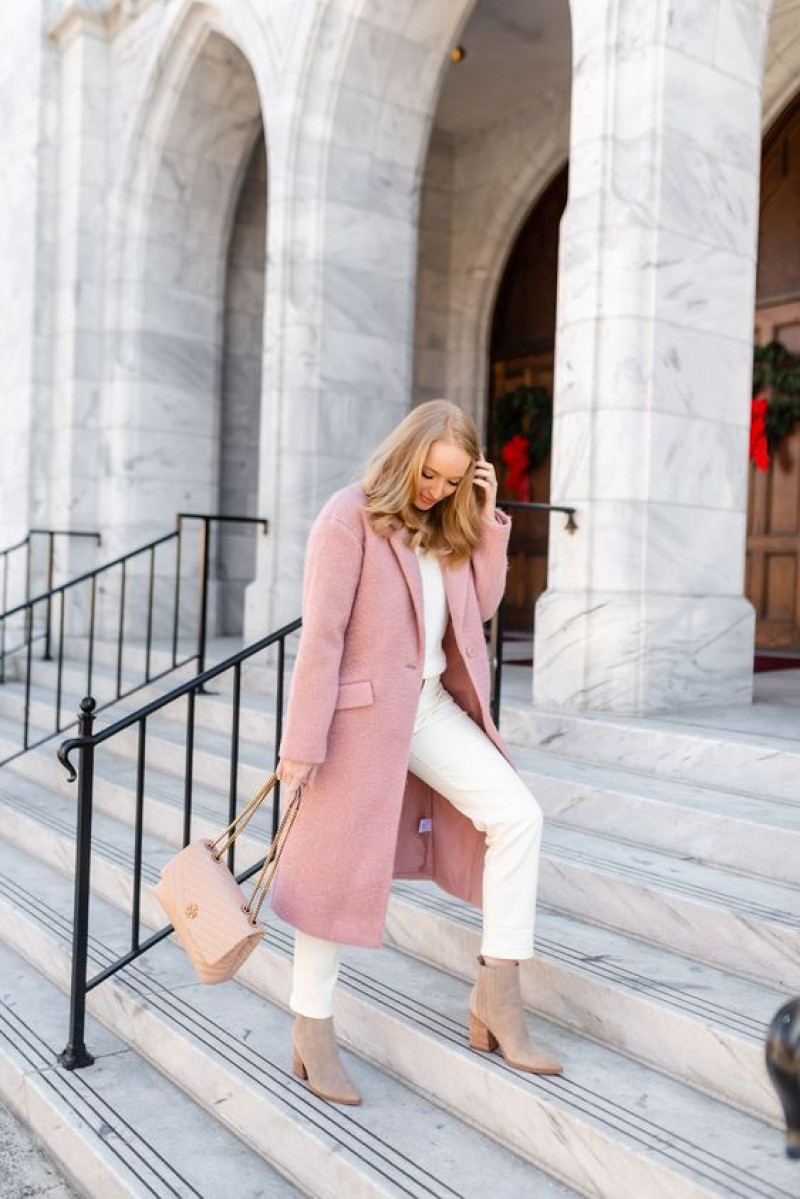 Stay warm and stylish this winter with a pink wool mid-length coat featuring a full closure and button fastening. Try it with a plain pink straw long strap bag for a chic look. Finish the outfit with beige suede ankle boots, adding a flatform heel for extra comfort.
Stylish Pink Wool Coat with White Formal Trousers, White Pumps and a Yellow Gold Accessories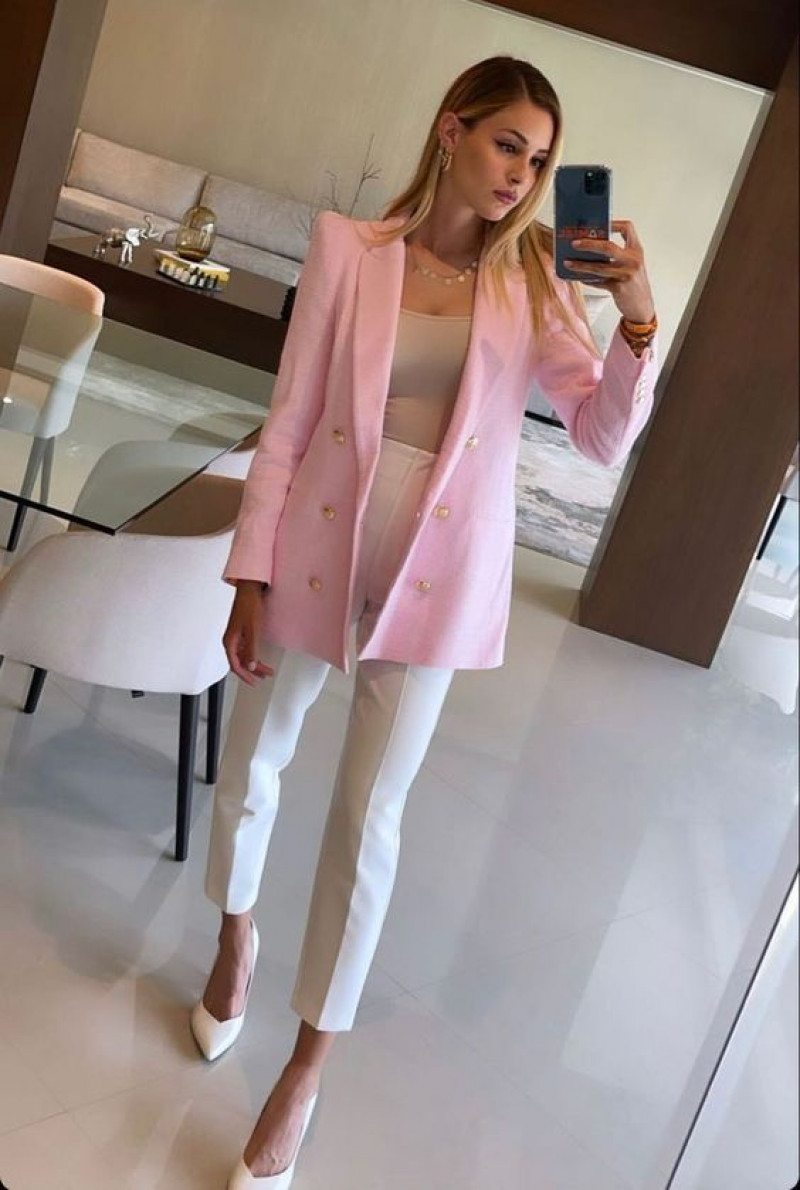 The outfit includes a pink wool coat, white formal trousers, beige pumps and yellow gold accessories. Key elements are the elegant style and plain designs.
Get this Sexy Look! In White Crop Top with Mini Pink Skirt- Must Try with White Hat!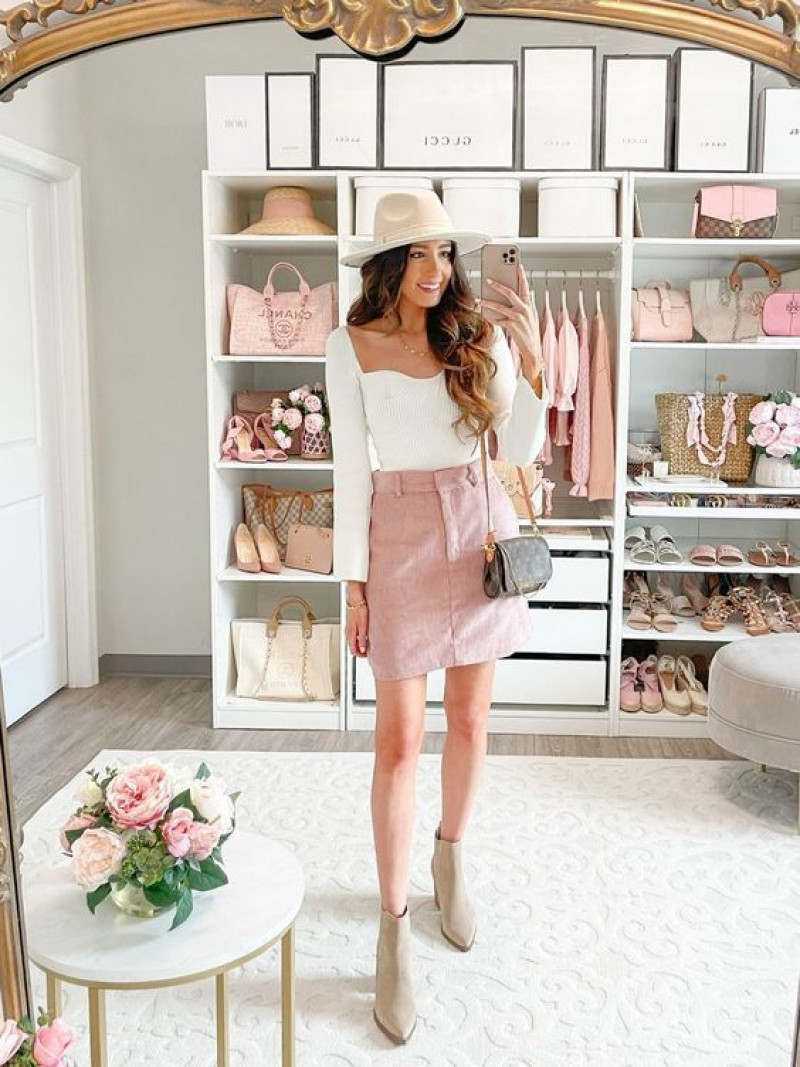 Get Ready with this stylish White Crop top styled with Mini Pink Pencil Skirt. Match the outfit with a white leather long-strap bag for that effortless street-style vibe. Don't forget to rock a bucket hat and some beige suede ankle boots with a chunky heel to elevate your fashion game!
Lovely Pink: White Crew Neck Short Sleeve T-Shirt, Knee Length Skirt and Pink Heels Sandals!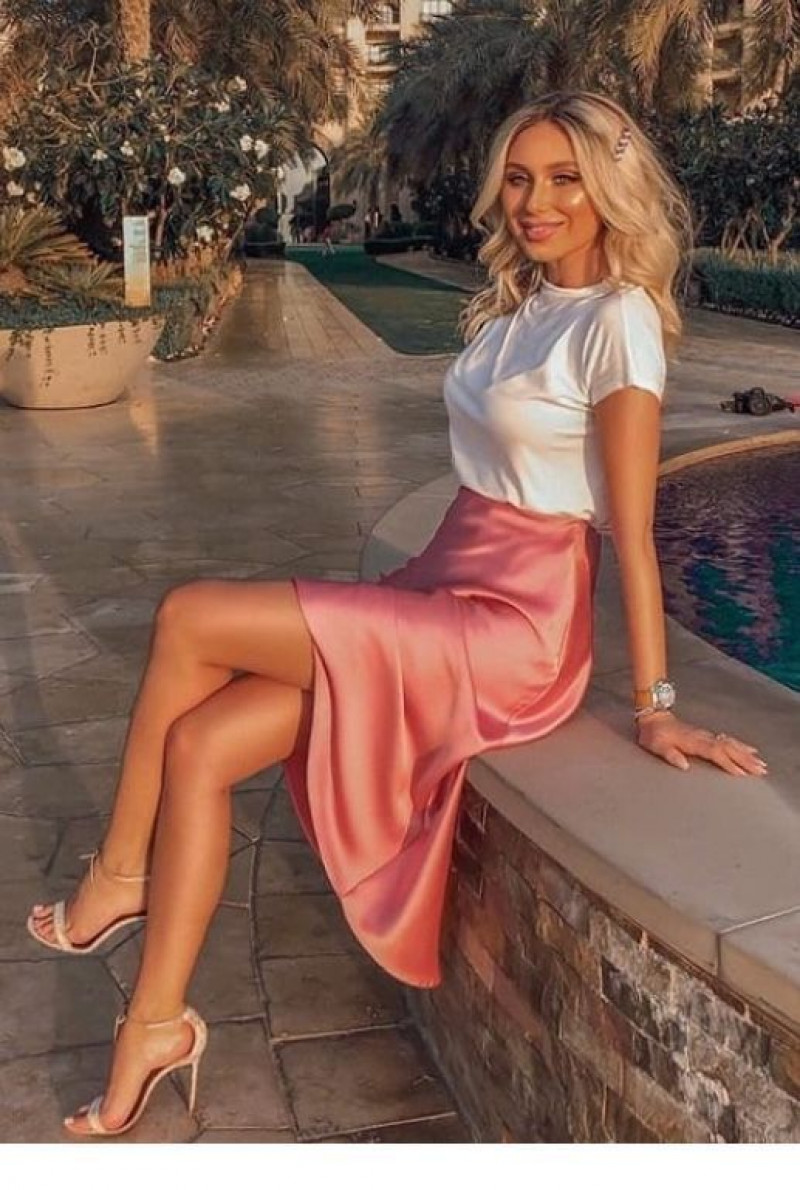 Go with this pink wide leg cotton trousers with a plain white short-sleeved t-shirt and beige leather sandals for a Pretty look. End up the look with a silver watch featuring a white dial and a brown metal strap.
Pink Patterned Mini Shorts with a White Crop Top- Looks Stunning in Sunglasses!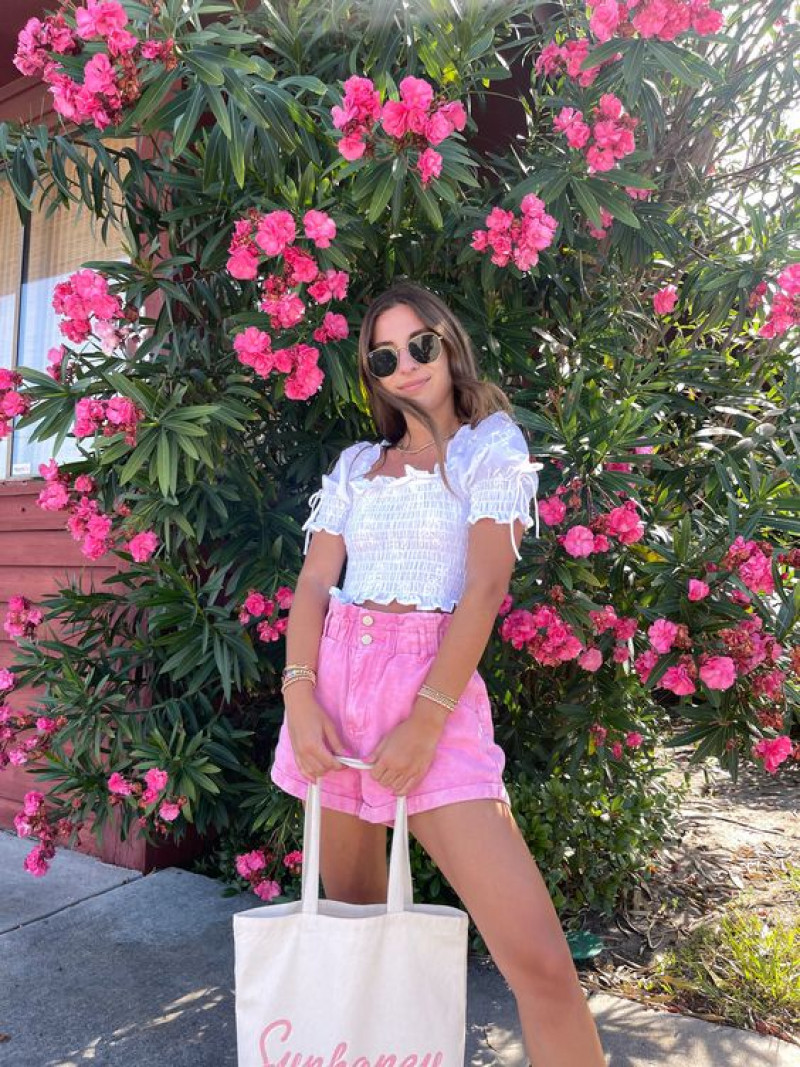 The yellow gold bracelets are made of metal and adorned with gemstones. Style it with White Crop Top and Pink Denim Shorts.
Pretty in Pink: Cotton Shorts, White Shoulder Strap Crop Top and a Yellow Gold Necklace Set!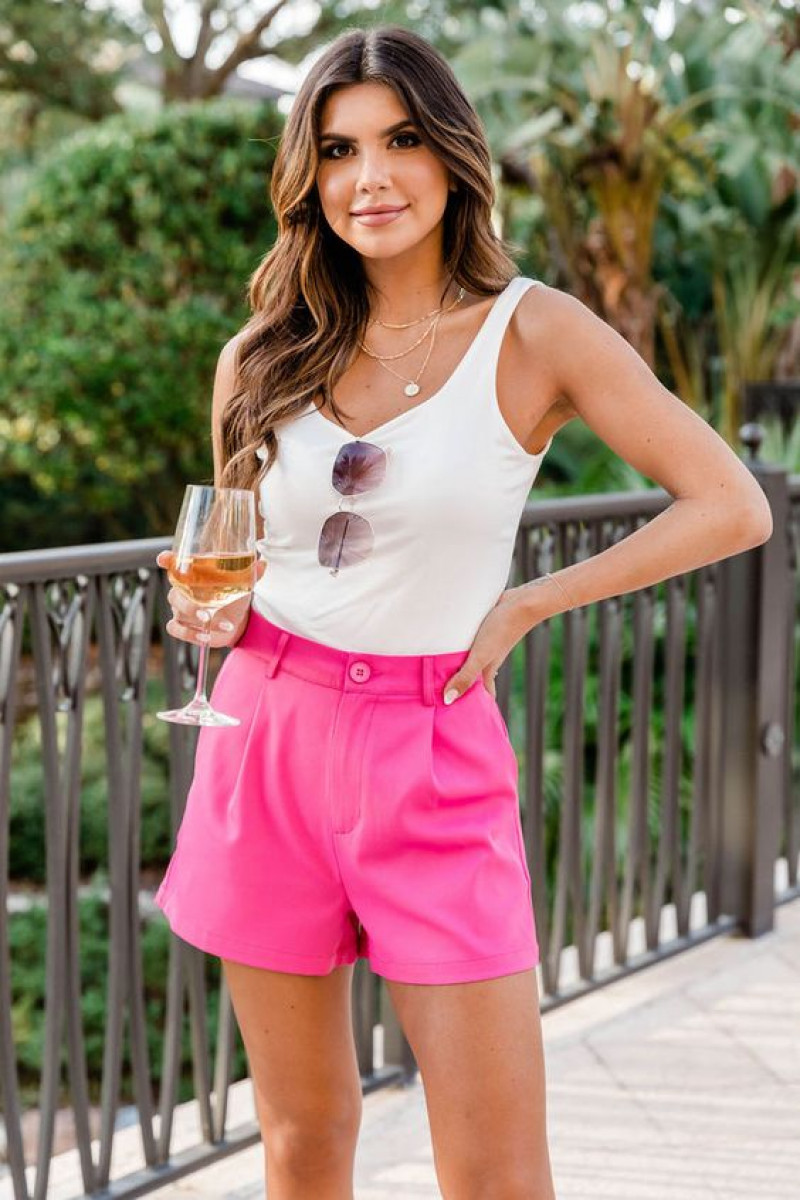 Get this stunning look in pink cotton shorts with a white sleeveless crop top. Style the outfit with a yellow gold metal necklace.
Pretty in Pink: Shorted Turtleneck Sweater with Long Sleeves and White Mini Skirt styled with White Boots!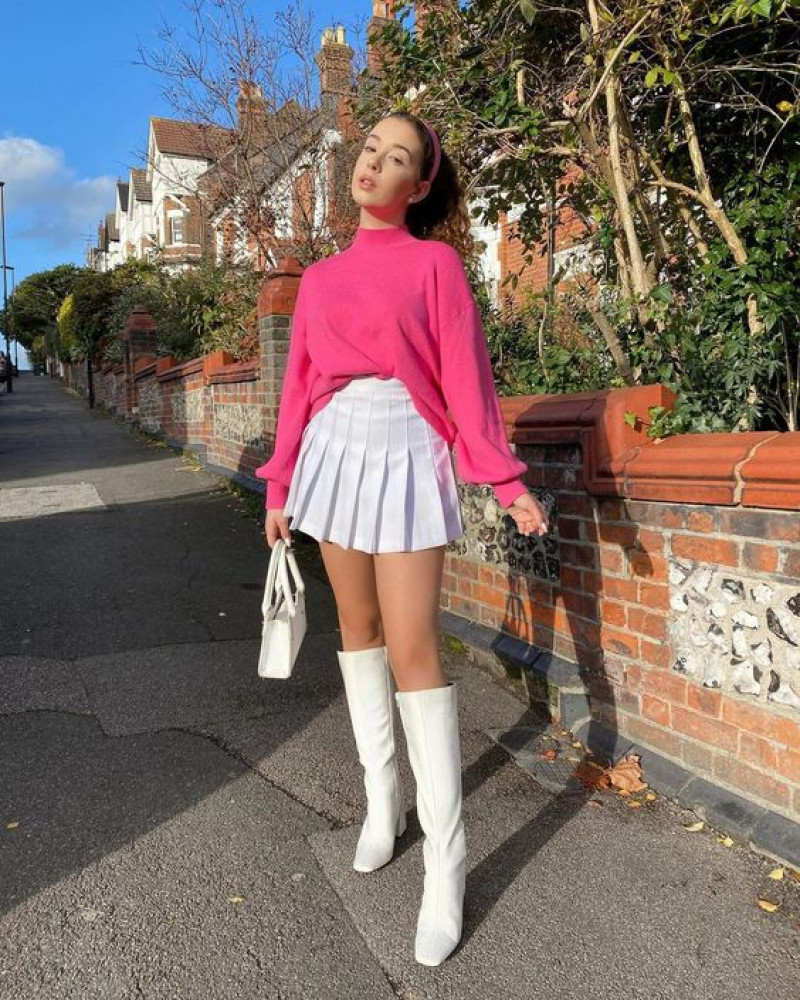 Try this pink turtleneck sweater and skirt outfit, a pair of white ladies high boots would complement the look perfectly. Also Add a white top handle bag would Finish the stylish ensemble.
Stay Stylish with this Short White Trench Coat, Mini Pink Skirt, White Top Handle Bag and White Pumps!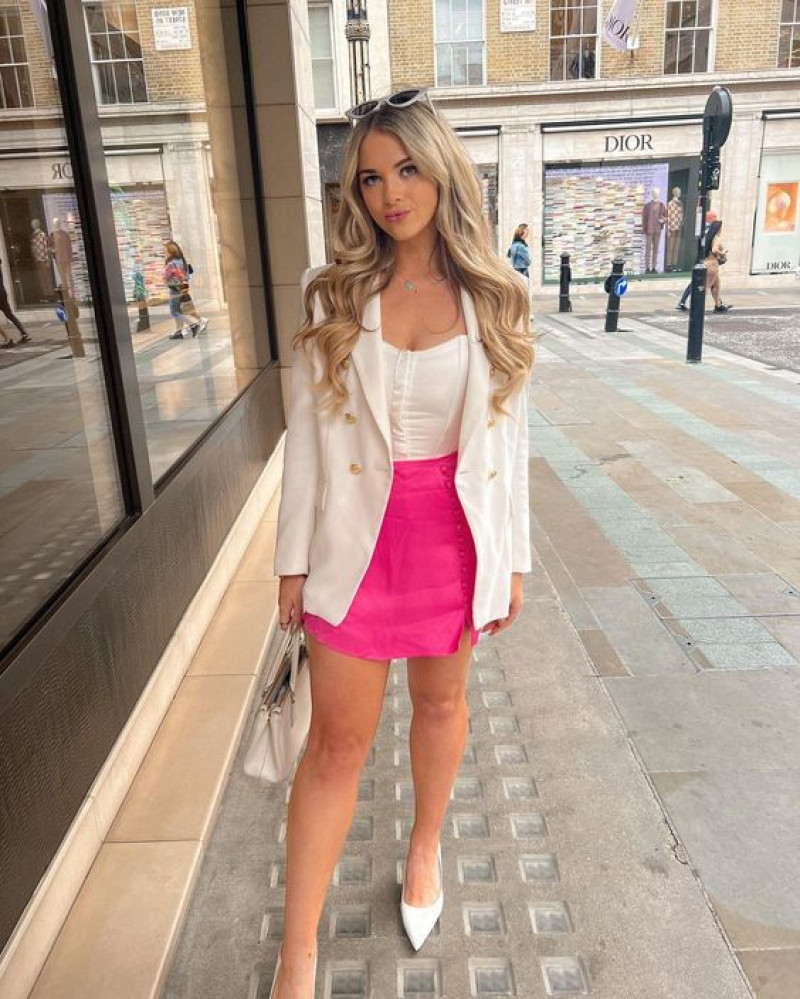 The white trench coat is made of textile material with a full closure and button fastening. It has a double-breasted lining and no belt. The pink formal skirt is an elegant mini design with a plain color. The beige top handle bag is made of shiny leather. The white Pumps in the Pumps are low shoes with a flatform heel shape and closed toe, made of leather material.
Stylish Pink Textile Suit Jackets with White Pant and White Pumps!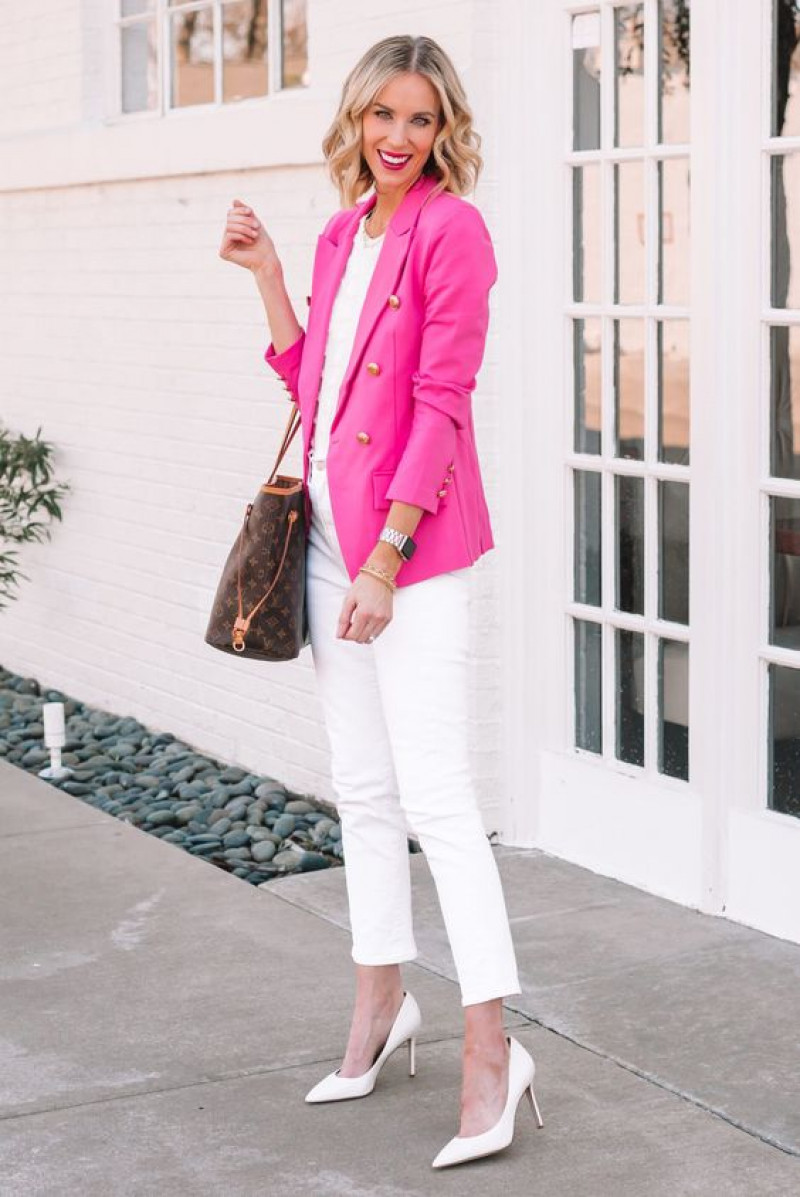 Try this stylish look, Style a pink suit jacket with white slim-fit jeans and a brown patterned bucket bag. Match the outfit with pink pumps and a silver watch for a touch of elegance. Perfect for brunch or a day out with friends.
Lovely! White Crop Top with Pink Pants- Looks Cute!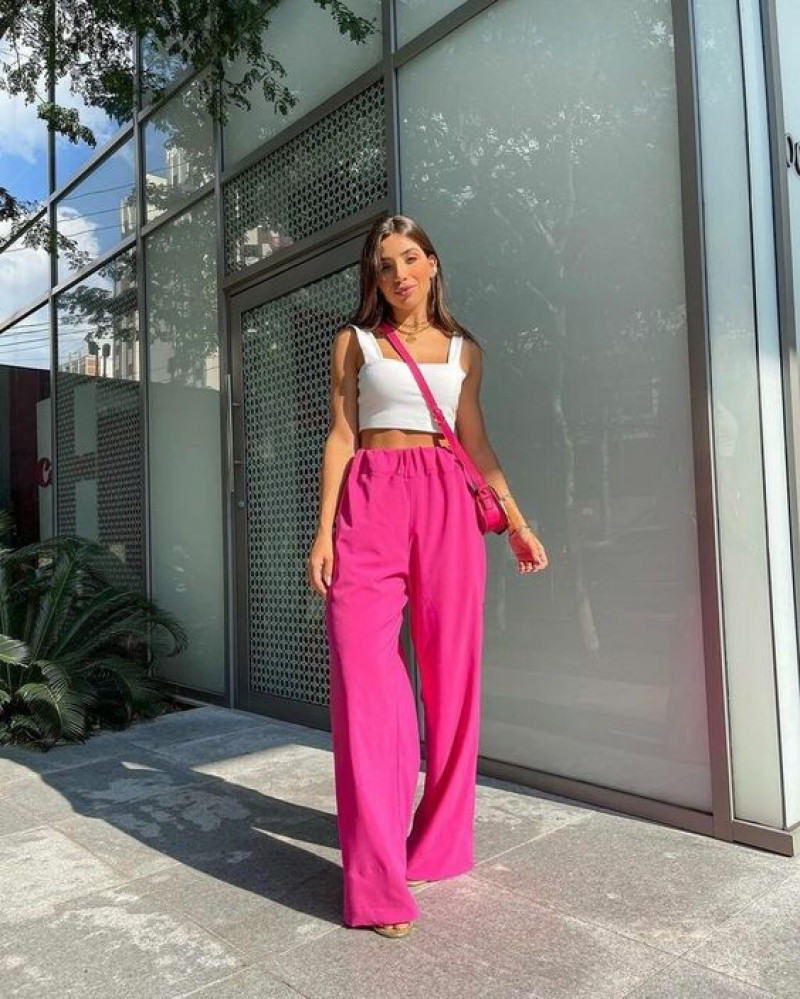 The sweat pants in the pink sport style are made of cotton material, while the long strap bags in beige have a lace design and are made of leather. The crop tops in white have a square neckline and sleeveless cut, made from comfortable cotton material.
Flared Pink Trousers, White Square Crop Top, Brown Leather Top Handle Bag & Silver Metal Bracelets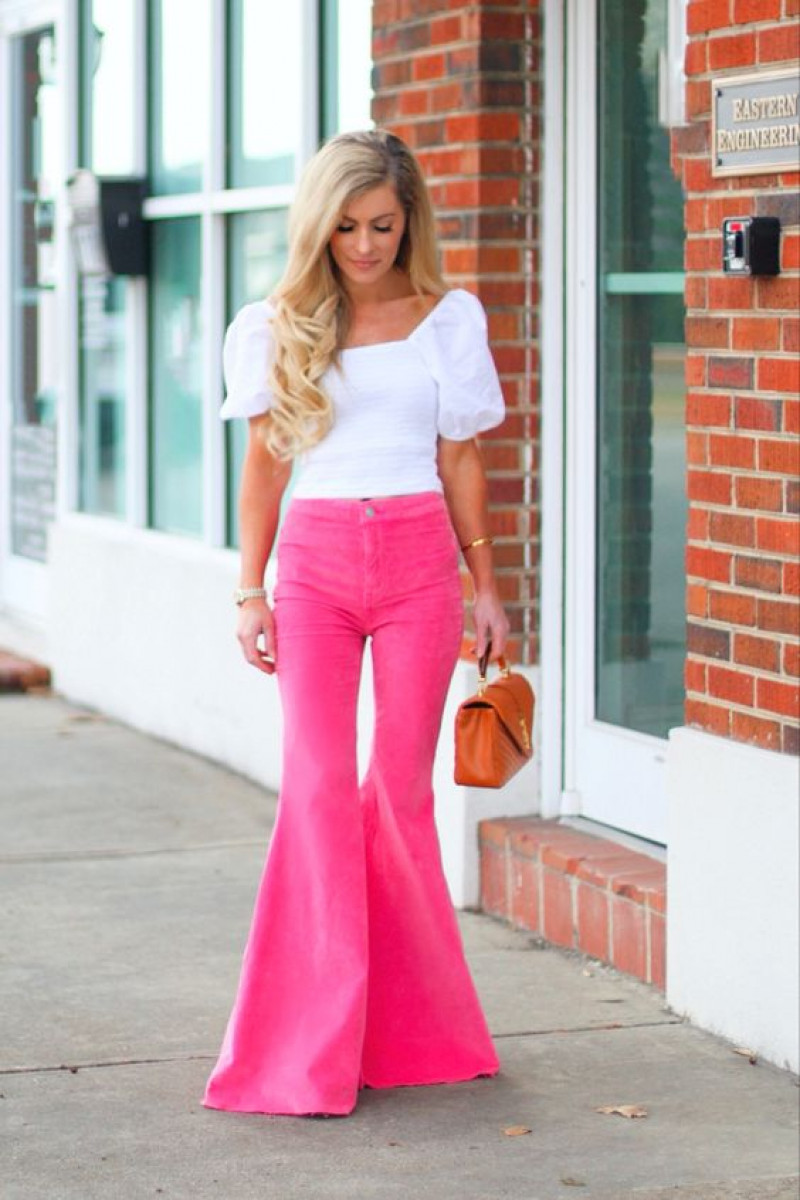 Lovely! Pink silk long flared trousers with a white square neckline crop Top. Match the look with an orange leather top handle bag and silver metal bracelets for added flair.
Pink Crop Top and Pink Wide Leg Pant- Styled with White Blazer!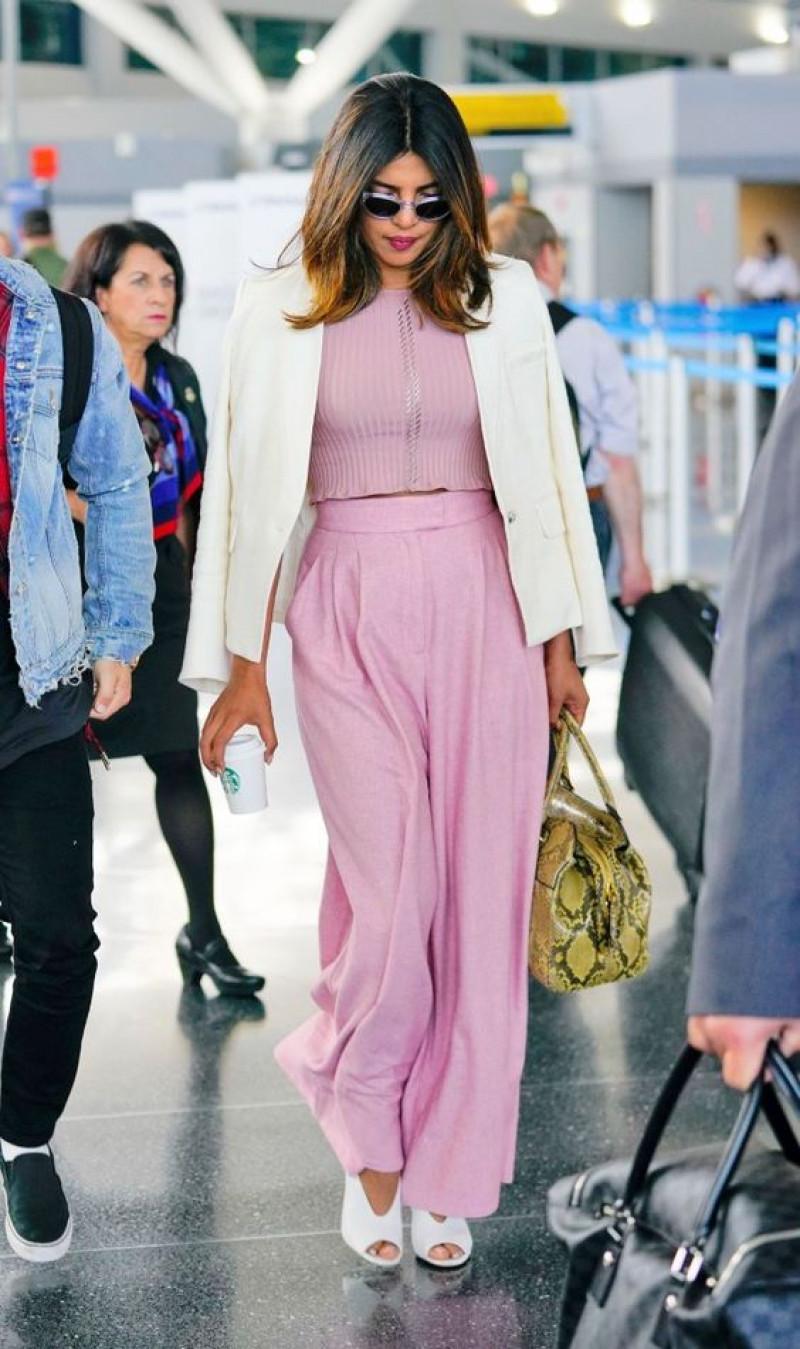 Get a pink suit jacket and tuxedo with cotton wide-leg trousers in the same color. Style the outfit with a golden suede top handle bag and elegant black ankle boots. Add sunglasses for a trendy touch.
Stay cozy and chic with our elegant pink short wool coat and Skirt! Don't forget to finish off your style with classic white socks!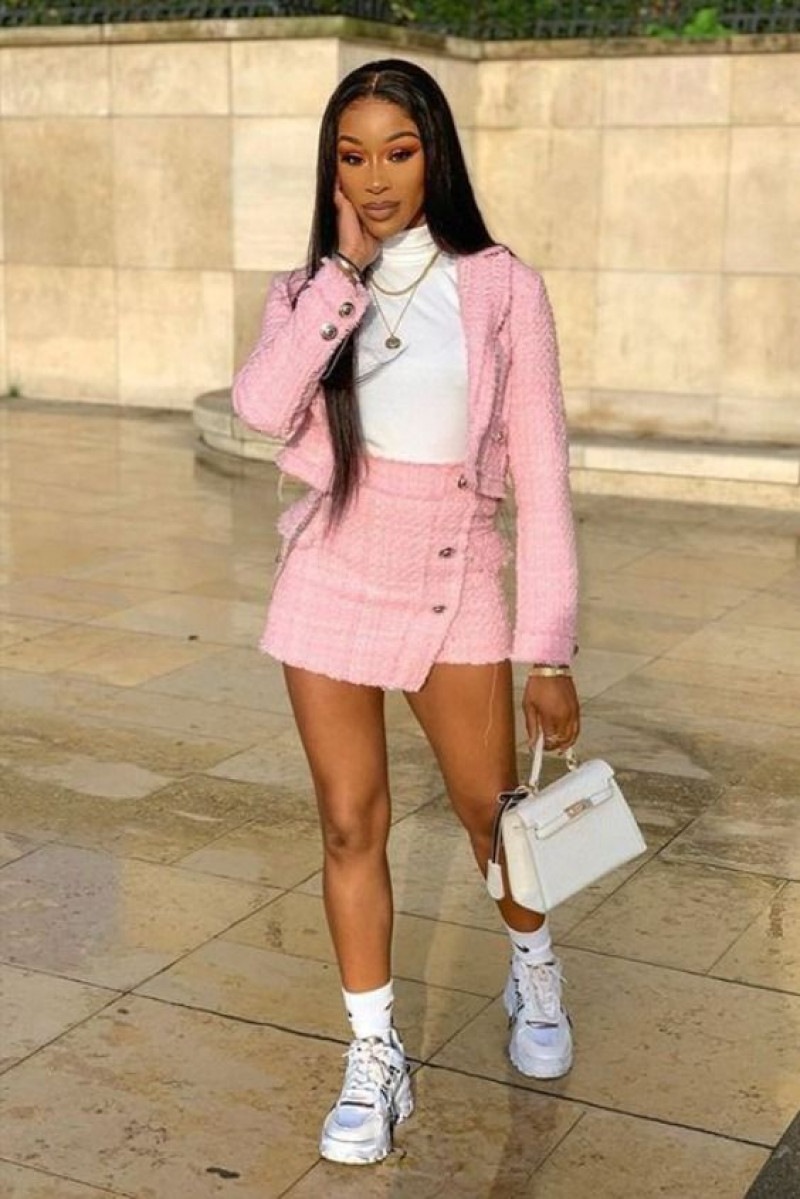 The wool coat has an elegant design with a patterned stripe. The skirt features a patterned stripe design as well. The top handle bag in Women's Bags is plain, while the Trainers are white with a sporty design. The Necklaces, Pendants and Chains are made of yellow gold metal. Lastly, the classic socks are white in color with a simple design.
I hope you Liked these White and Pink combinations!