In 2023, turtlenecks are back in style, seen on runways and in magazines. As fall and winter come, turtlenecks are great for staying cozy while layering. If you're unsure about trying this trend, don't worry. This guide has tips and ideas to help you wear turtlenecks confidently. It's your go-to for rocking turtleneck fashion like a pro!
Stay warm and stylish this winter with our Grey Woolen Jacket- Style it with Light Blue Denim Jeans and colorful Leather Shoes for a trendy look!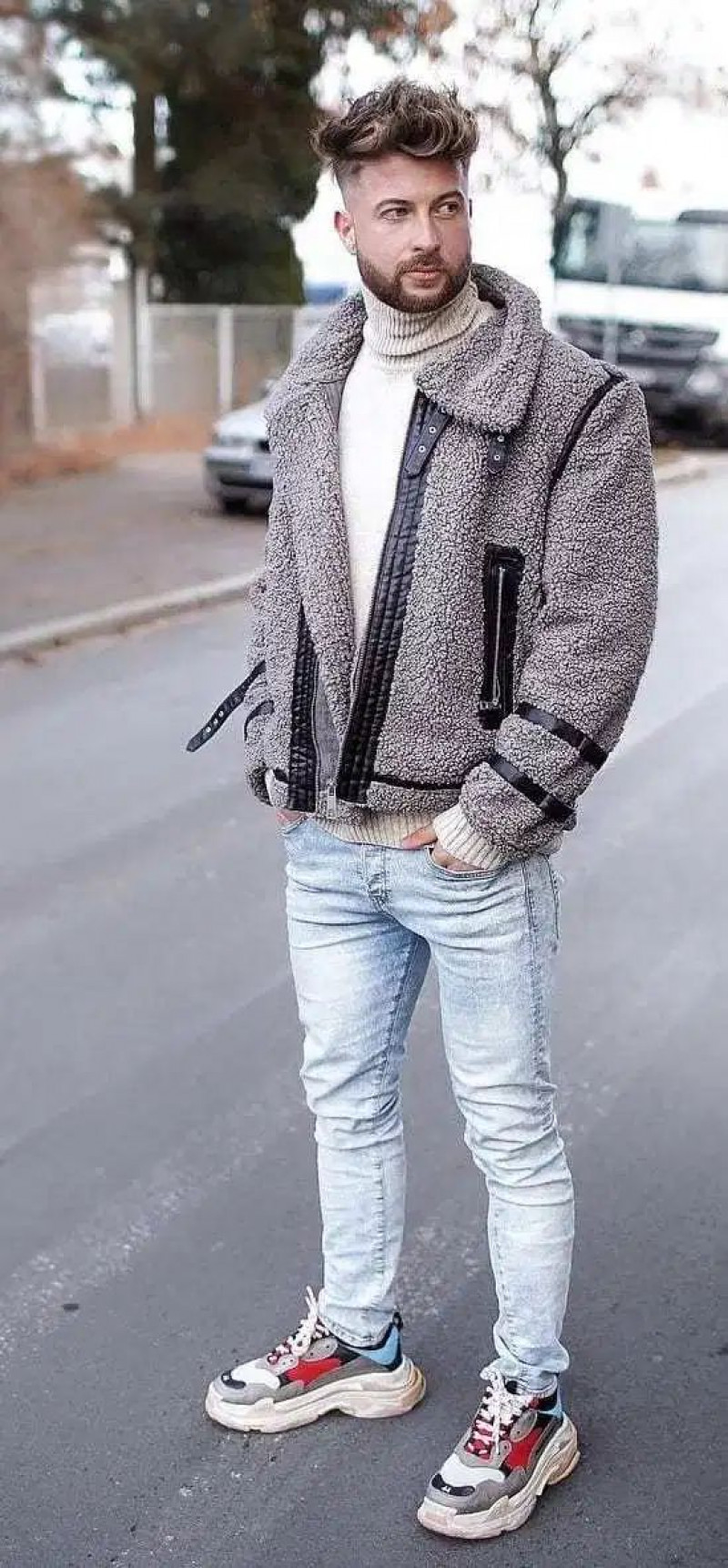 The winter jacket is made of wool with a melange design, while the trousers are made of denim with a plain pattern. The trainers are made of leather material in a colorful design.
Style Black synthetic parka coat - With a Grey Turtleneck Sweaters!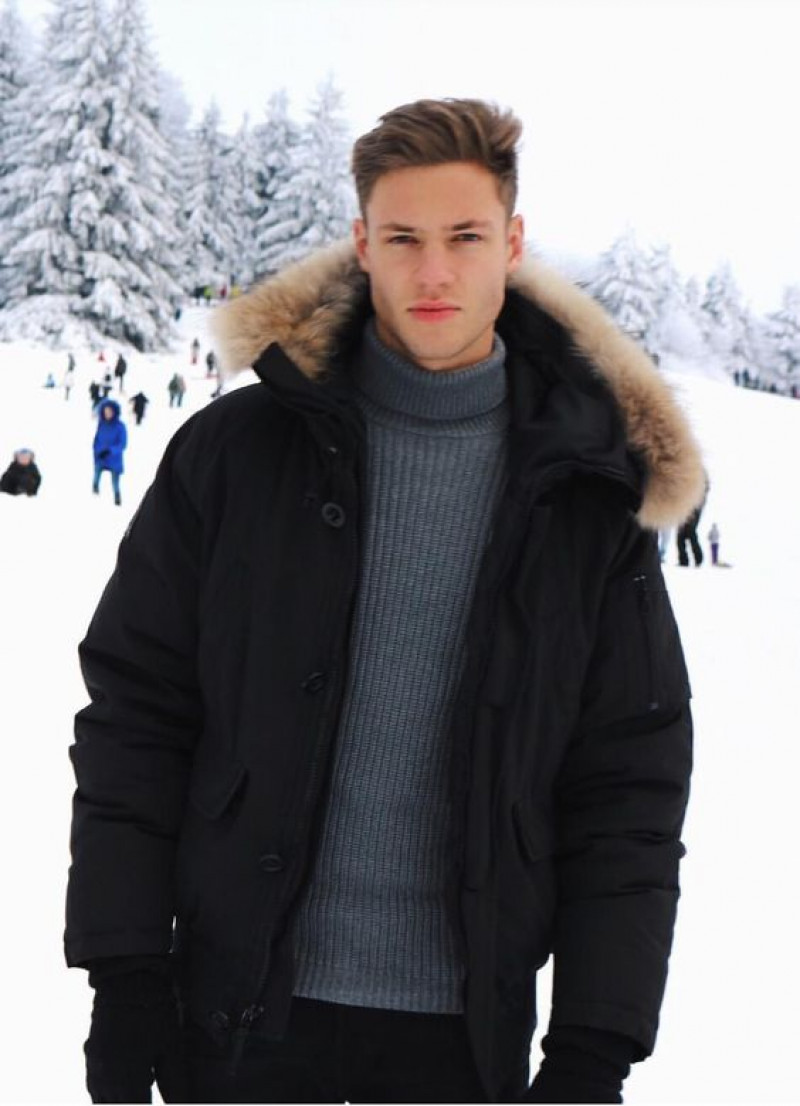 The black coat is a stylish choice for Mens. Made from synthetic material, it has a middle length and a casual style. The coat features a hood, full closure with buttons and a plain design. It is single-breasted with no belt, making it a fashionable option for jackets and coats.
Brown Turtleneck Sweatshirt with Black Denim Jeans and Brown Leather Casual Boots!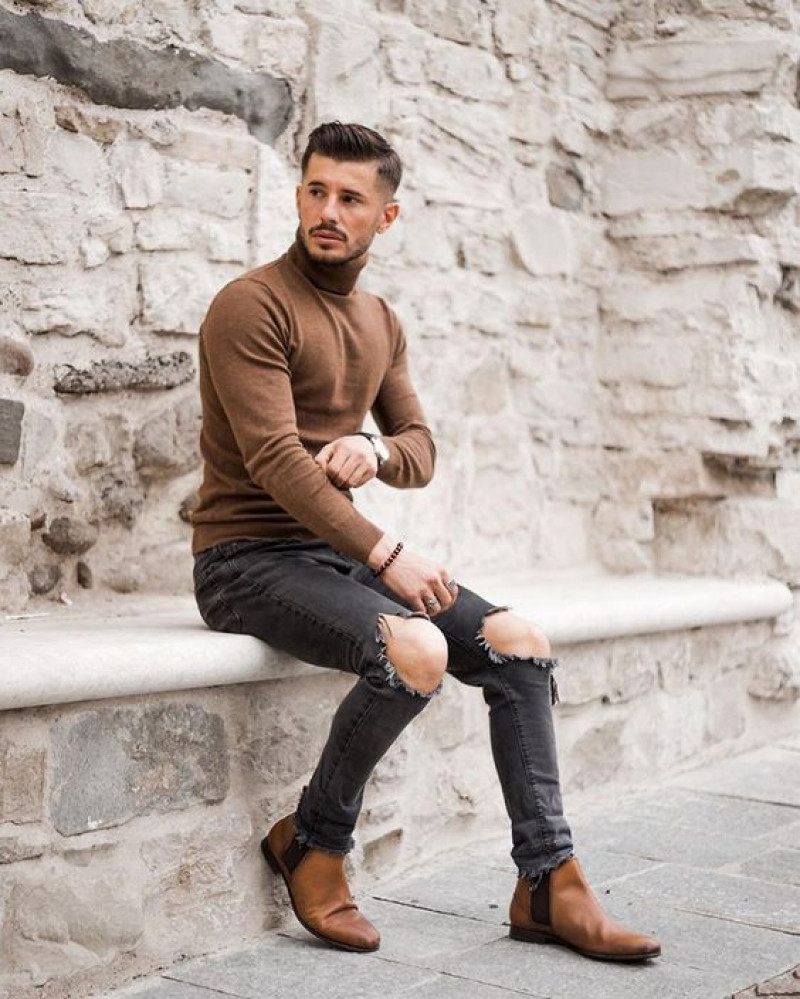 A grey denim long trousers with a plain brown crew neck sweatshirt. Finish the look with brown leather Chelsea ankle boots, a black metal bracelet and a white dial analogue watch with a brown leather strap.
Look Smart in this Long Coat- Styled with Black Turtleneck Sweater, Grey Pants and Brown Boots!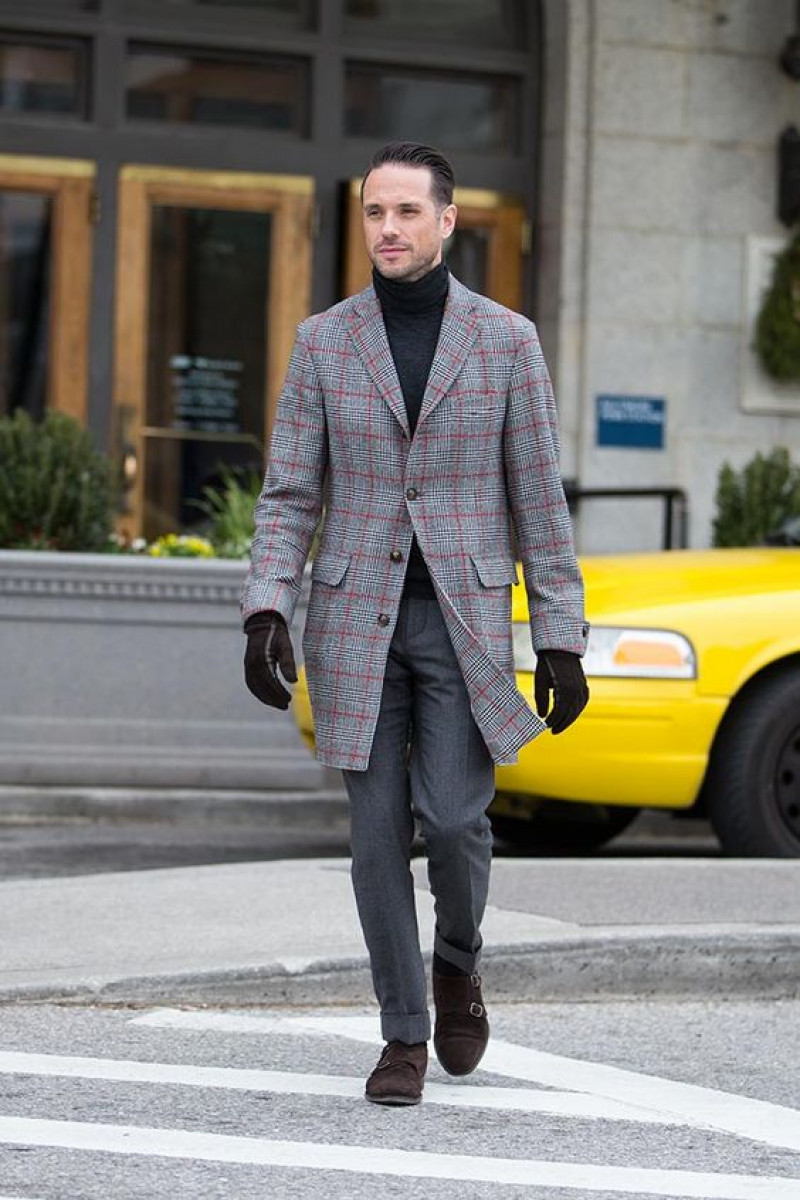 The suit jacket and tuxedo are made of grey tweed material with a patterned design, featuring a checked pattern. And it is styled with Grey Pant and Brown Shoes.
You're rocking that style! In this Black Coat and Pants- Styled with Beige Turtleneck Sweatshirt!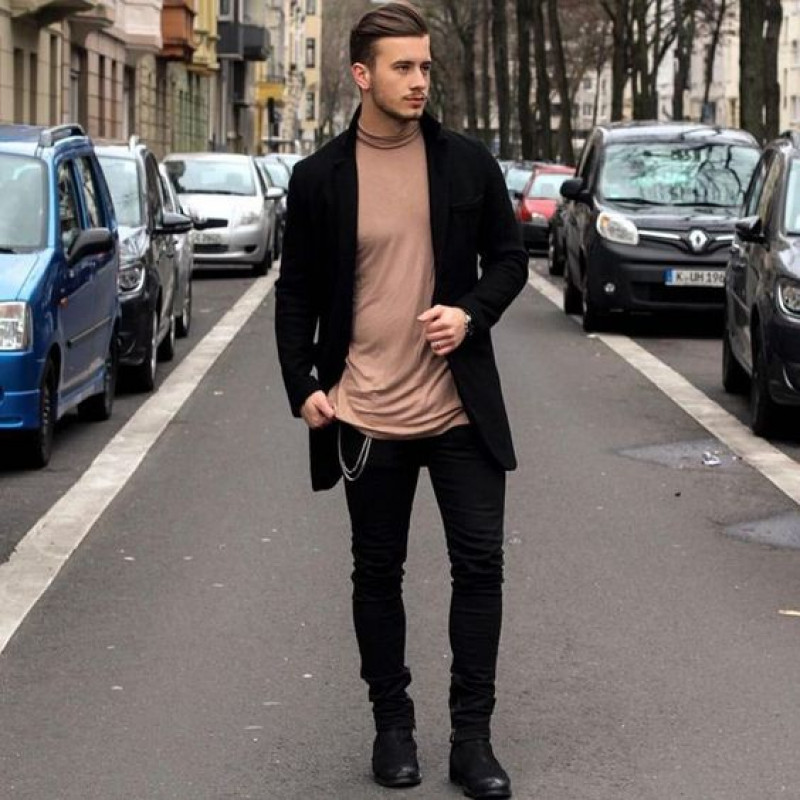 The wool coats are short in length and made of black wool material. They have a casual style with a logo design and full closure. The jeans are long, slim-fit and made of black denim material. The casual boots are low boots made of black leather material. They style in a chunky heel shape.
Wow! Looking So smart in Black Turtleneck Sweatshirt- Styled with Denim Jacket and Black Jeans!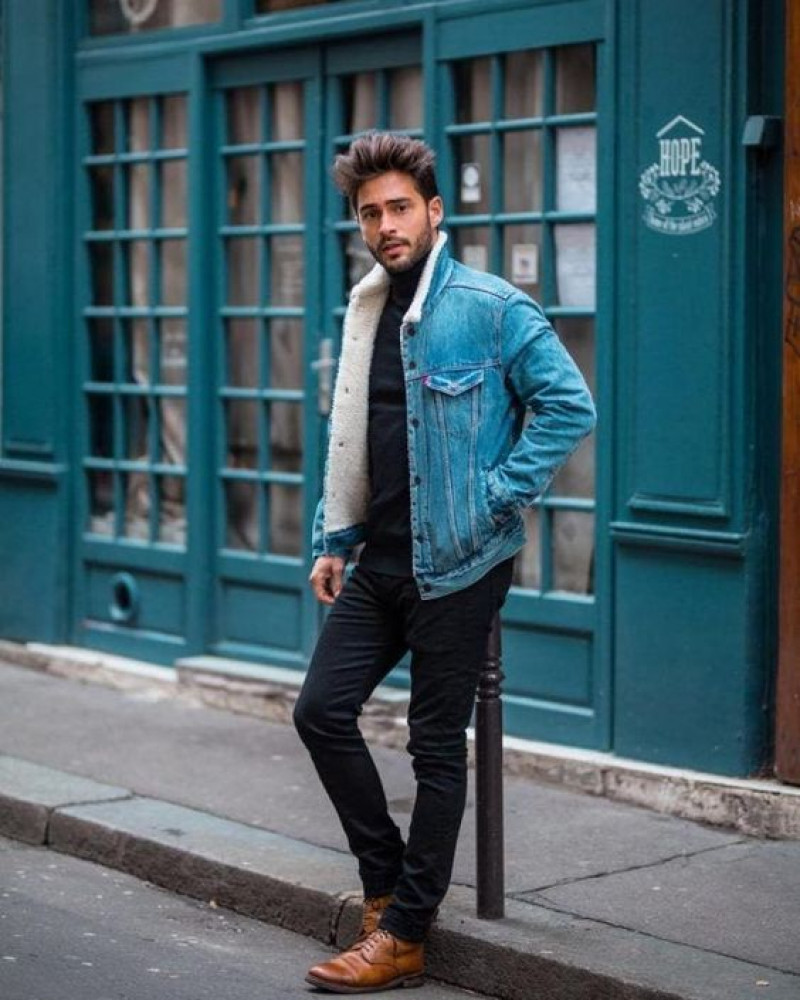 The jackets have a plain design and are made of denim material. The suit trousers have a plain design as well, made of cotton material. The formal shoes have a design with low boots and brown color. The beanies and winter hats are made with a variety of designs and patterns available.
Black Turtleneck Tshirt - Styled with Denim Jacket and Grey Jeans!- Complete the Look with Trendy Glasses!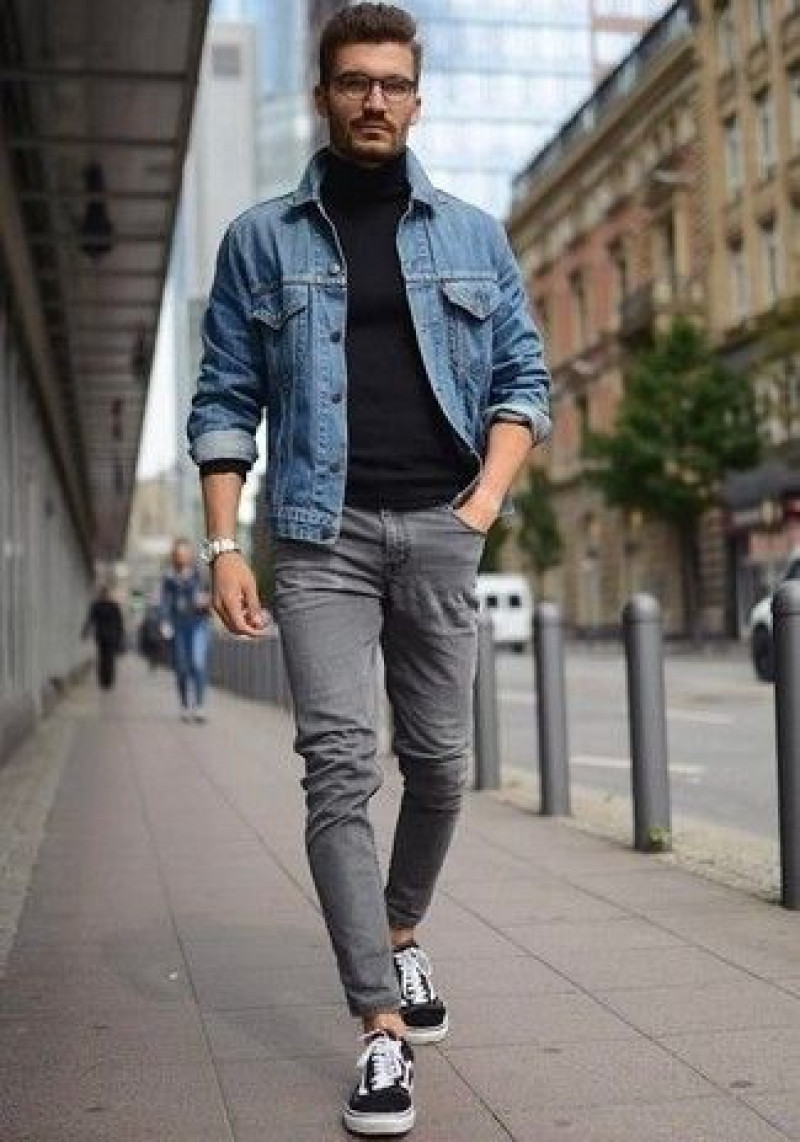 Rock a short light blue denim jacket with plain grey slim-fit casual trousers. Finish the look with some dope black low-top sneakers and cool glasses.
Nailing the whole fashion game- With this Long Beige Coat styled with a Turtleneck sweatshirt and Black Denim Jeans!

Try styling a beige wool coat with black slim-fit denim trousers for a stylish and sophisticated look. Finish the look with a dark blue leather bucket bag and elegant white ankle boots. Add a touch of glamour with patterned sunglasses.
Get Ready with this Grey Turtleneck Sweater- Match it with Black Denim Jacket and Light Blue Jeans!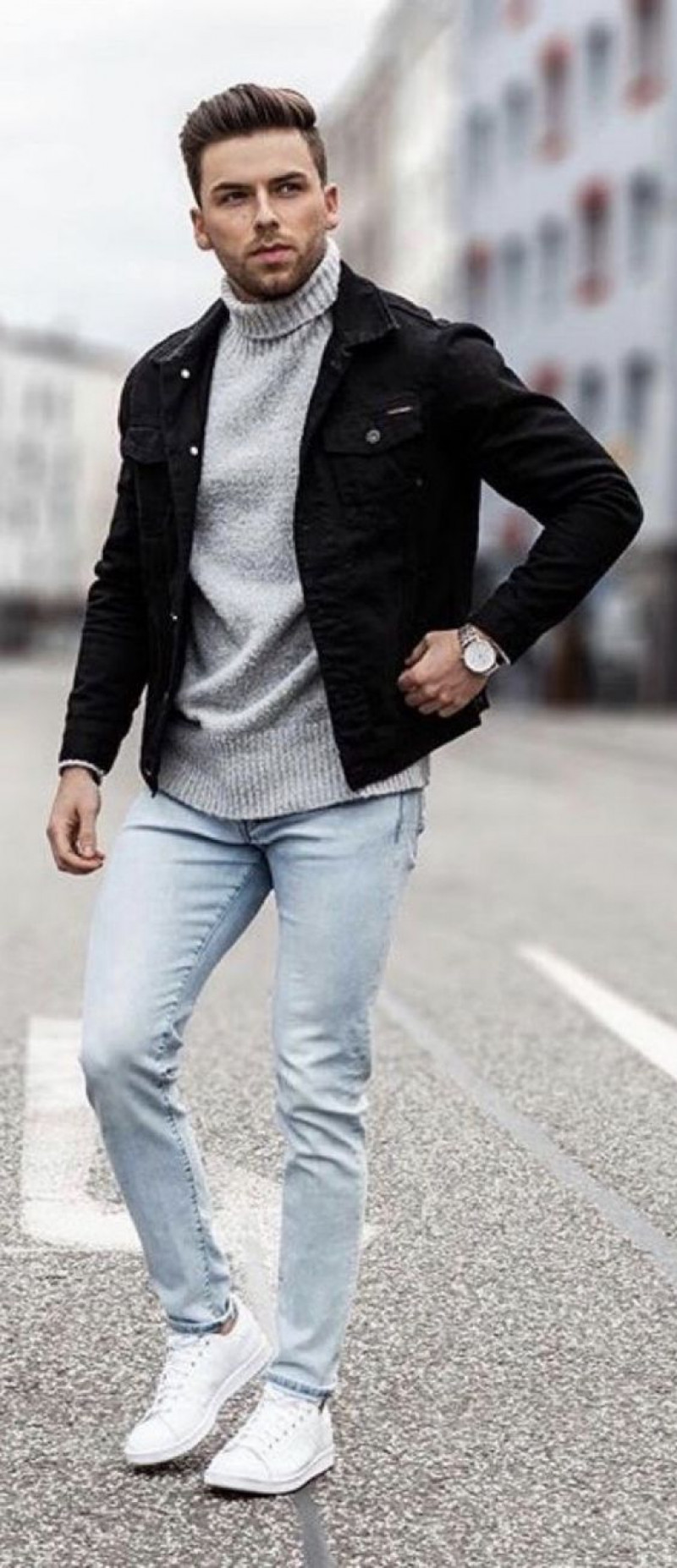 To look cool, wear a short black jacket made of textile material. Match it with long slim light blue denim casual trousers and white low sneakers. End up the look with a silver watch.
Stylish Green Short Jackets with Green Turtleneck sweatshirt - Perfect for Adult Fashion!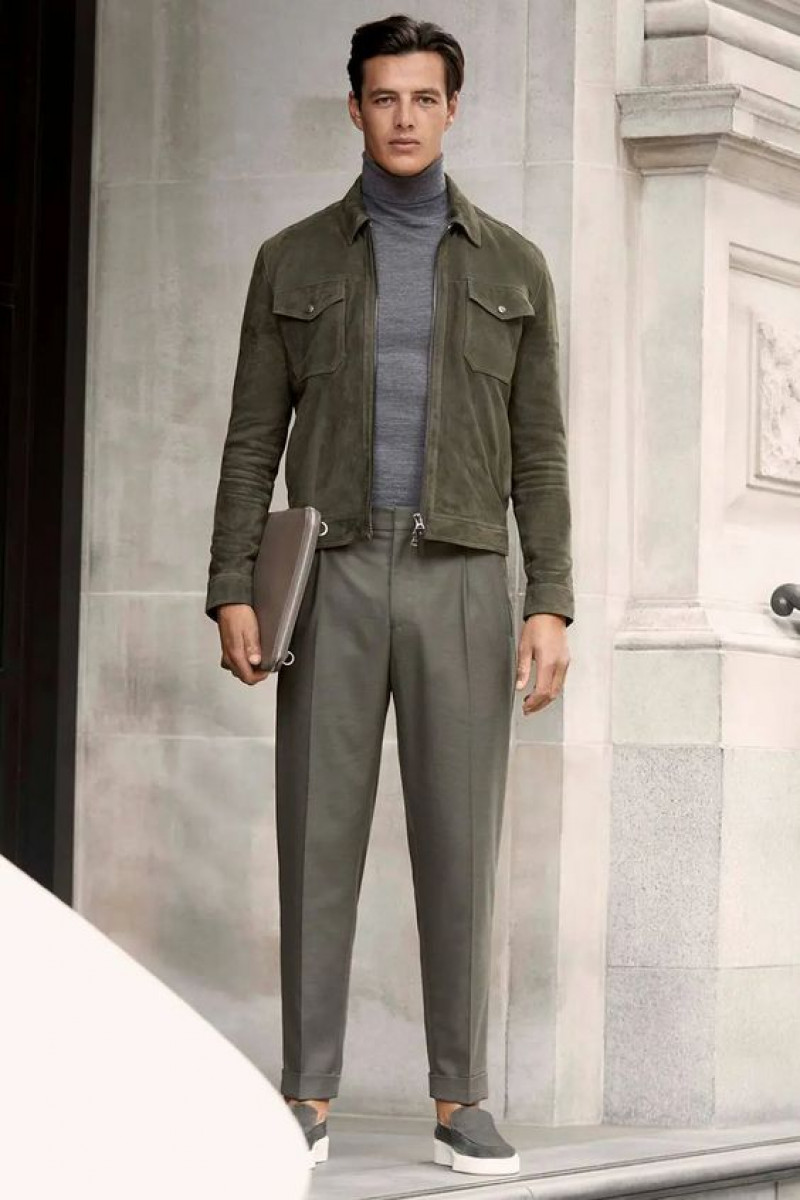 Style the green short jacket with green sporty formal trousers for a stylish look. Add a grey leather bucket bag and grey suede low shoes to Finish the look.
Stylish Red Cotton Turtleneck Sweatshirt with Light Blue Skinny Denim Trousers and Beige Casual Boots!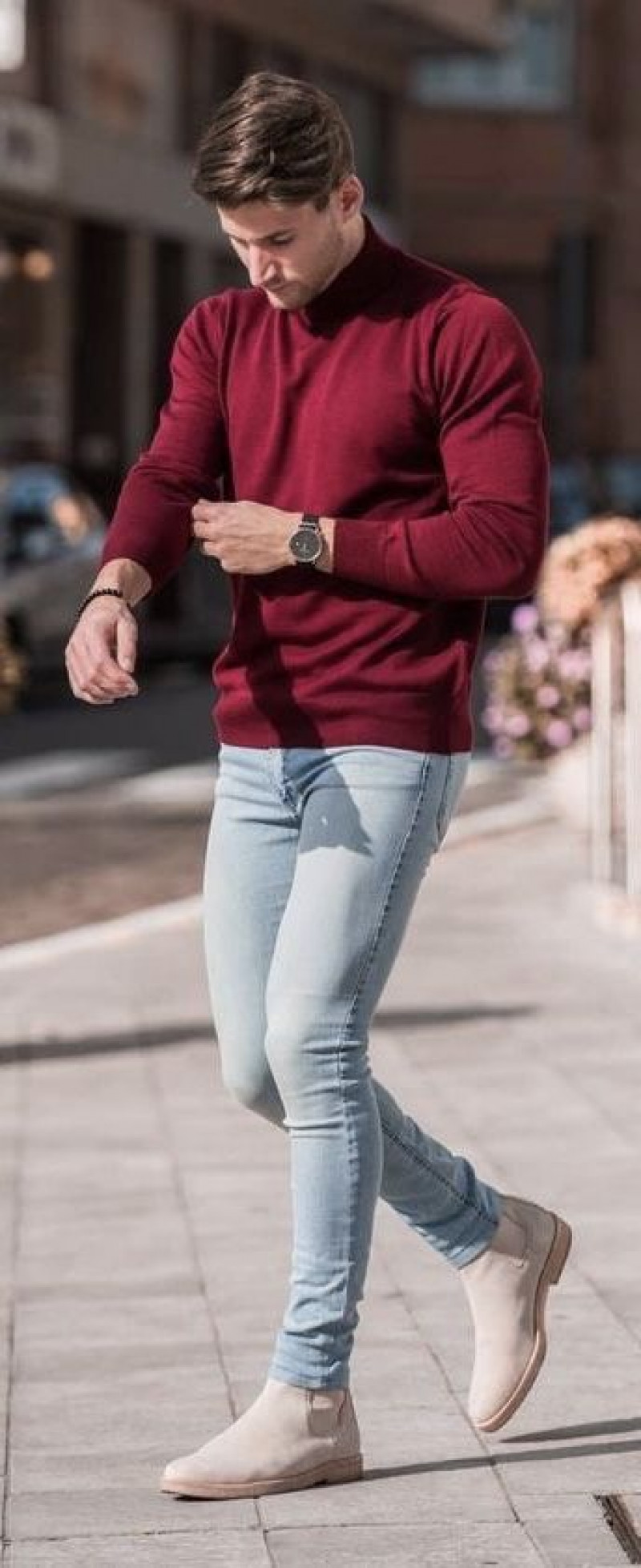 A sweatshirt is made of cotton and has a plain design. The trousers are made of denim and have a plain pattern. The boots are made of suede material. The watch has a black leather strap and a silver case.
Stay cozy and stylish with our beige turtleneck knitwear sweater!- Pair it with our Grey Plaid Pant for a trendy and a comfortable look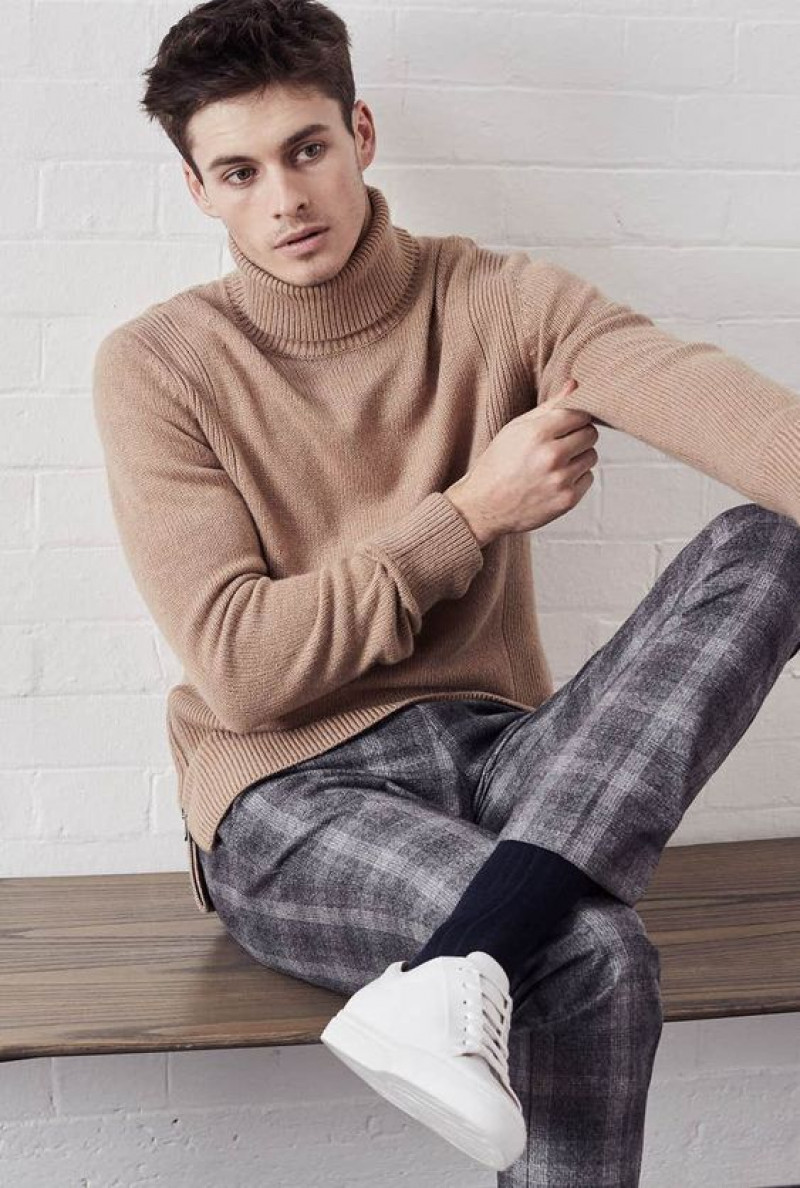 Fall in love with this beige turtleneck sweater made of cozy knitwear, perfect for a casual and plain design. Combine it with grey suit trousers for a stylish yet relaxed look. End up the look with white low-top sneakers for a sporty touch.
Grey Plaid Pants styled with Brown Jacket- Which is a Perfect Outfit for White Turtleneck Sweater!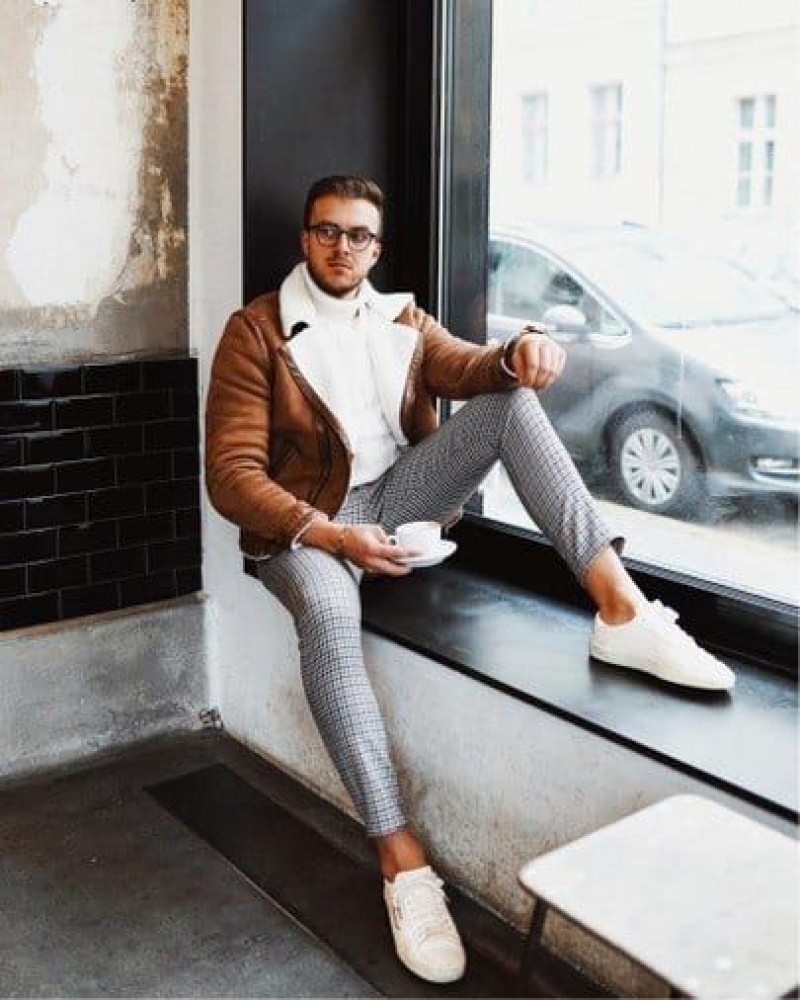 Style your outfit with white leather sneakers and glasses for a stylish and sophisticated look. Try the grey melange checked formal trousers with an elegant knitwear cardigan in brown.
Style this Black Turtleneck Knitwear Sweater with Grey Denim Jeans and a Black Boots- For Your Upcoming Birthday Party!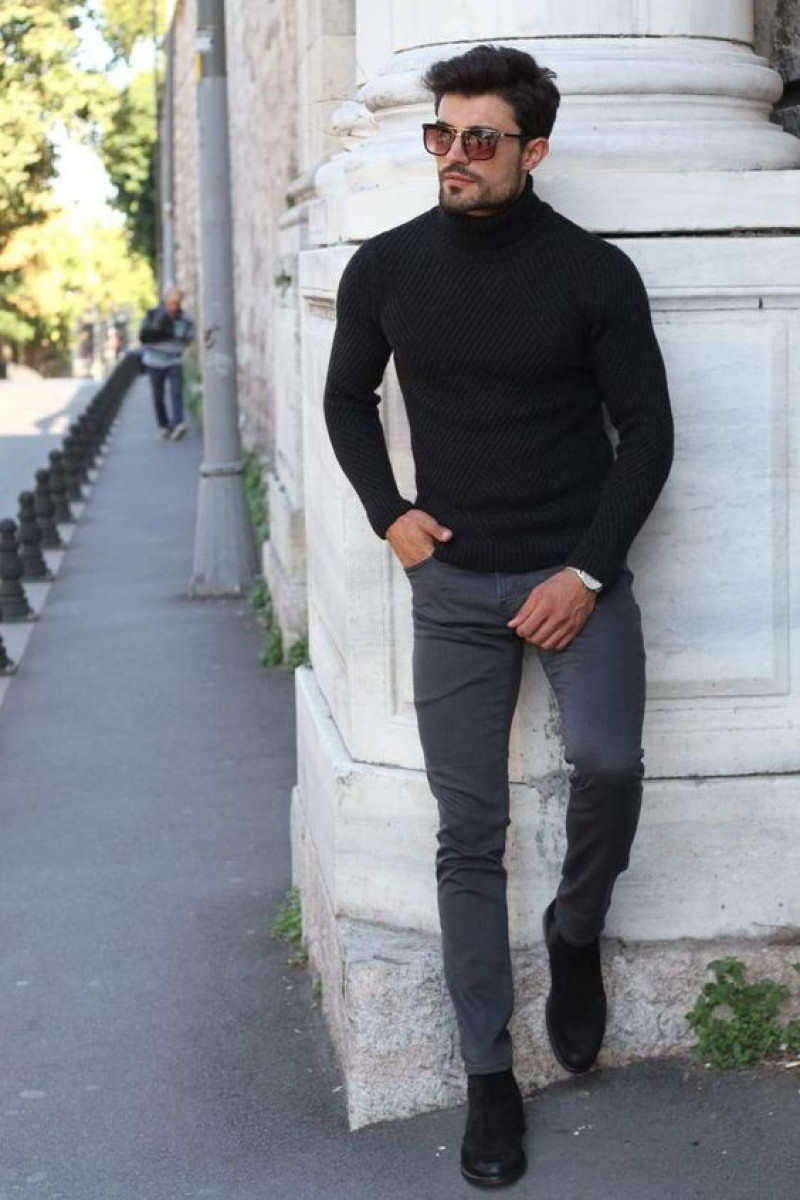 The black turtleneck sweater has long sleeves and a patterned stripe design. The grey trousers are made of cotton and have a plain design. The sunglasses make the look more stunning!
Lovely Brown Jacket styled with Black Turtleneck Cardigan and Black Pants- Perfect with White Shoes!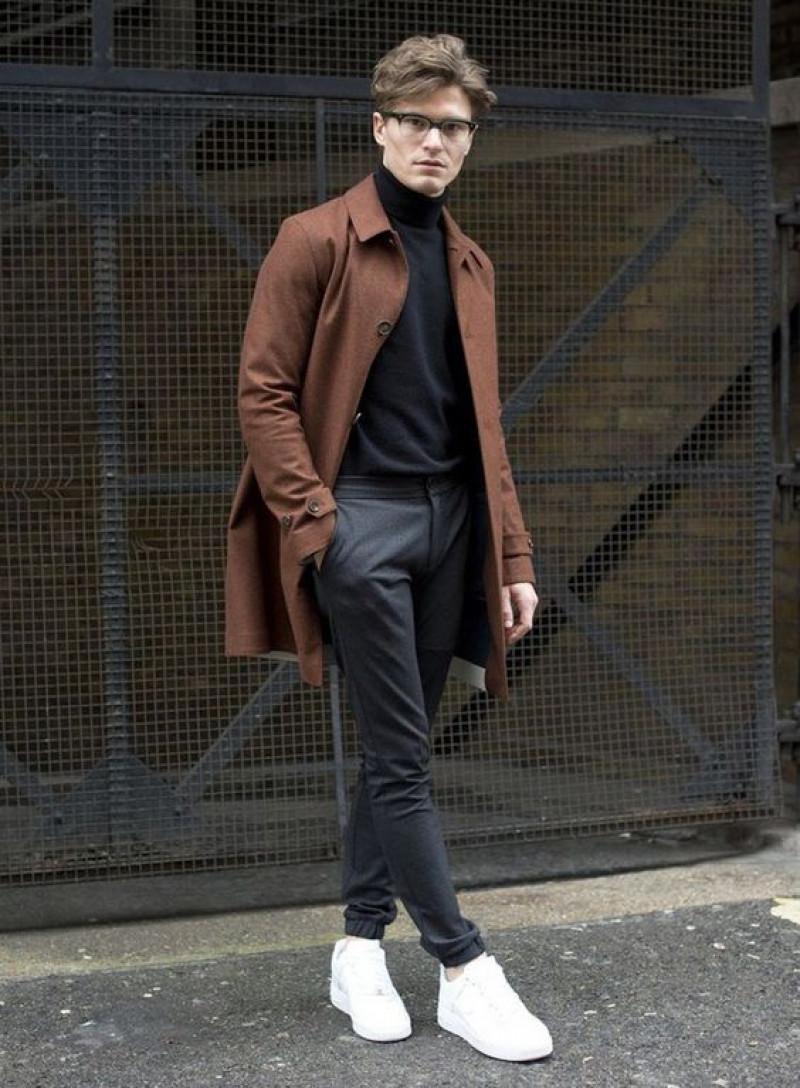 Lovely! Long brown wool coat with grey suit trousers. Match up the look with white sneakers or trainers and sunglasses for a trendy touch.
Get this Impressive Style- With Black Turtleneck Sweatshirt- Styled with Beige Pants and a Silver chain!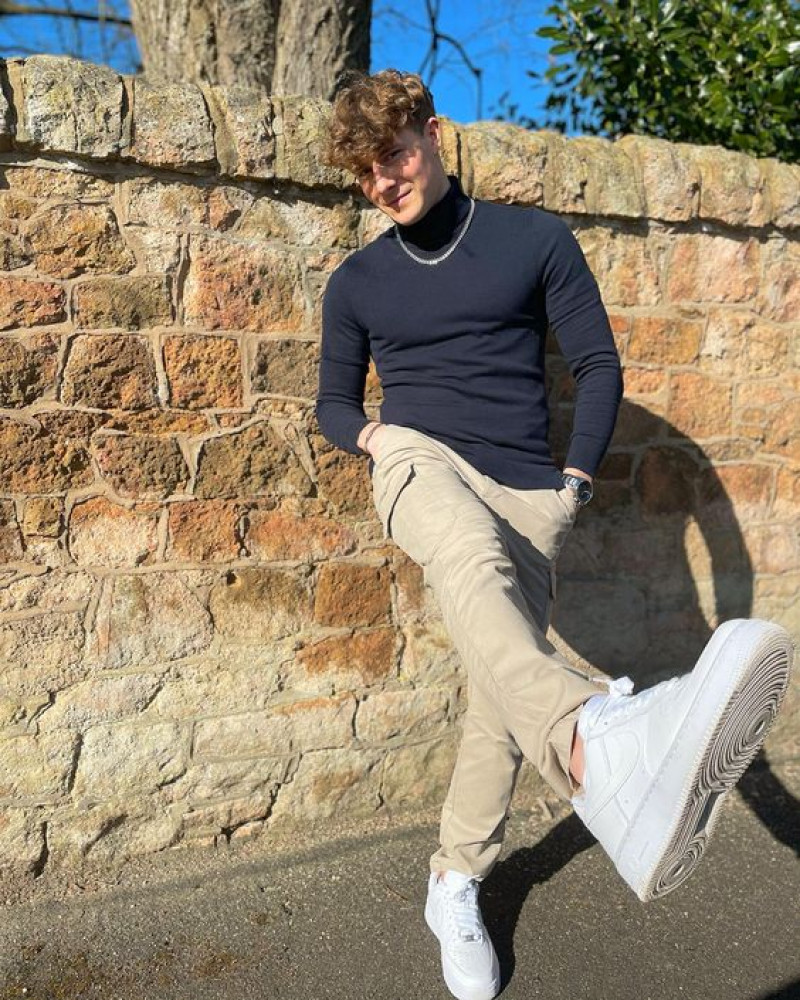 Get Ready with this beige cotton trousers and a dark blue turtleneck sweater. Finish the look with white leather trainers and a silver chain.
Rock like a star! - In this White Sweatshirt with Grey Pants and a Black Boots!
Amazing! Try out these beige cotton slim-fit trousers with a plain beige turtleneck sweater. Don't Forget to add with black leather ankle boots and sunglasses.
Look Smart! In this Black Turtleneck Sweatshirt and Grey Pant- Looks stylish in Black Boots and Stylish Sunglasses!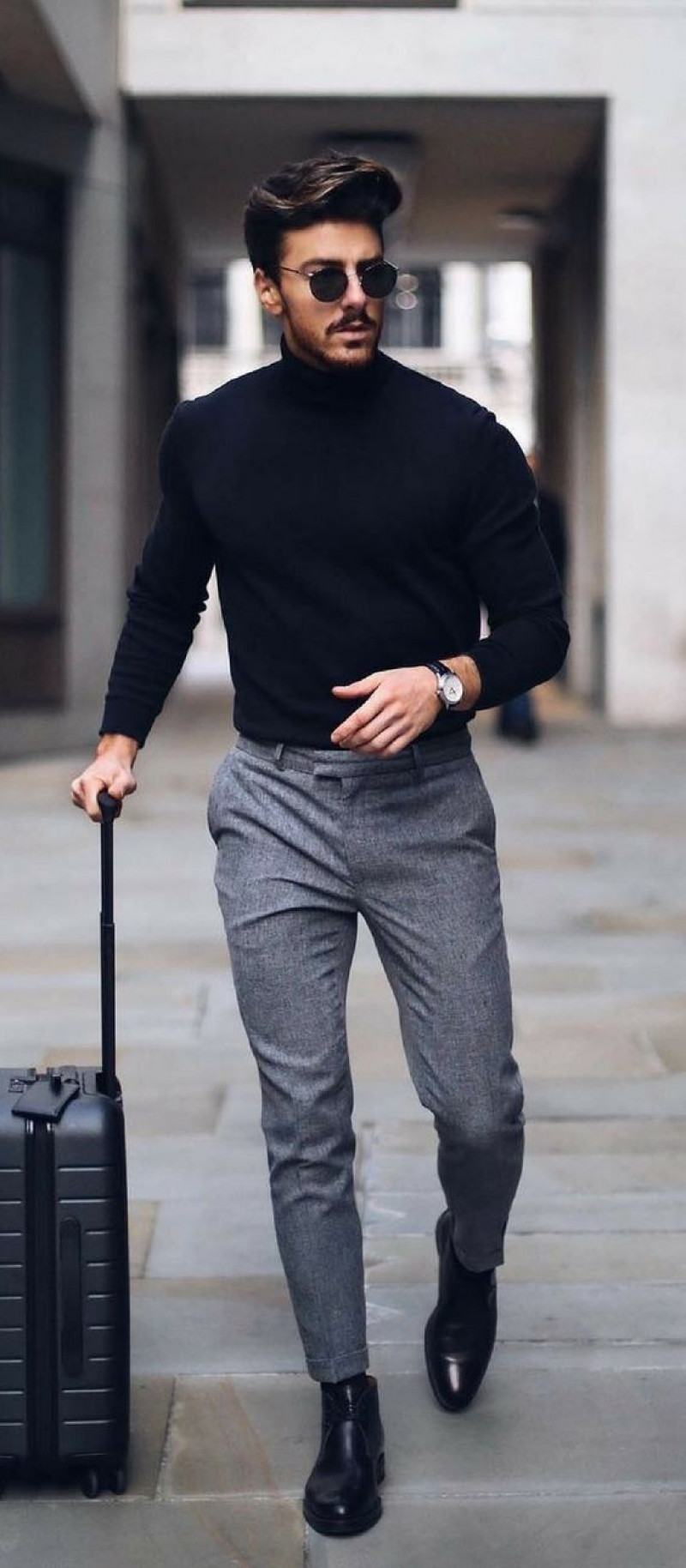 A Perfect Outfit for everyday wear or a casual evening out. Try out this grey melange long slim-fit trousers with a black turtleneck sweater. Style it with black ankle boots and sunglasses.
Look Just Amazing- In this White Turtleneck Sweater and a Grey Plaid Pant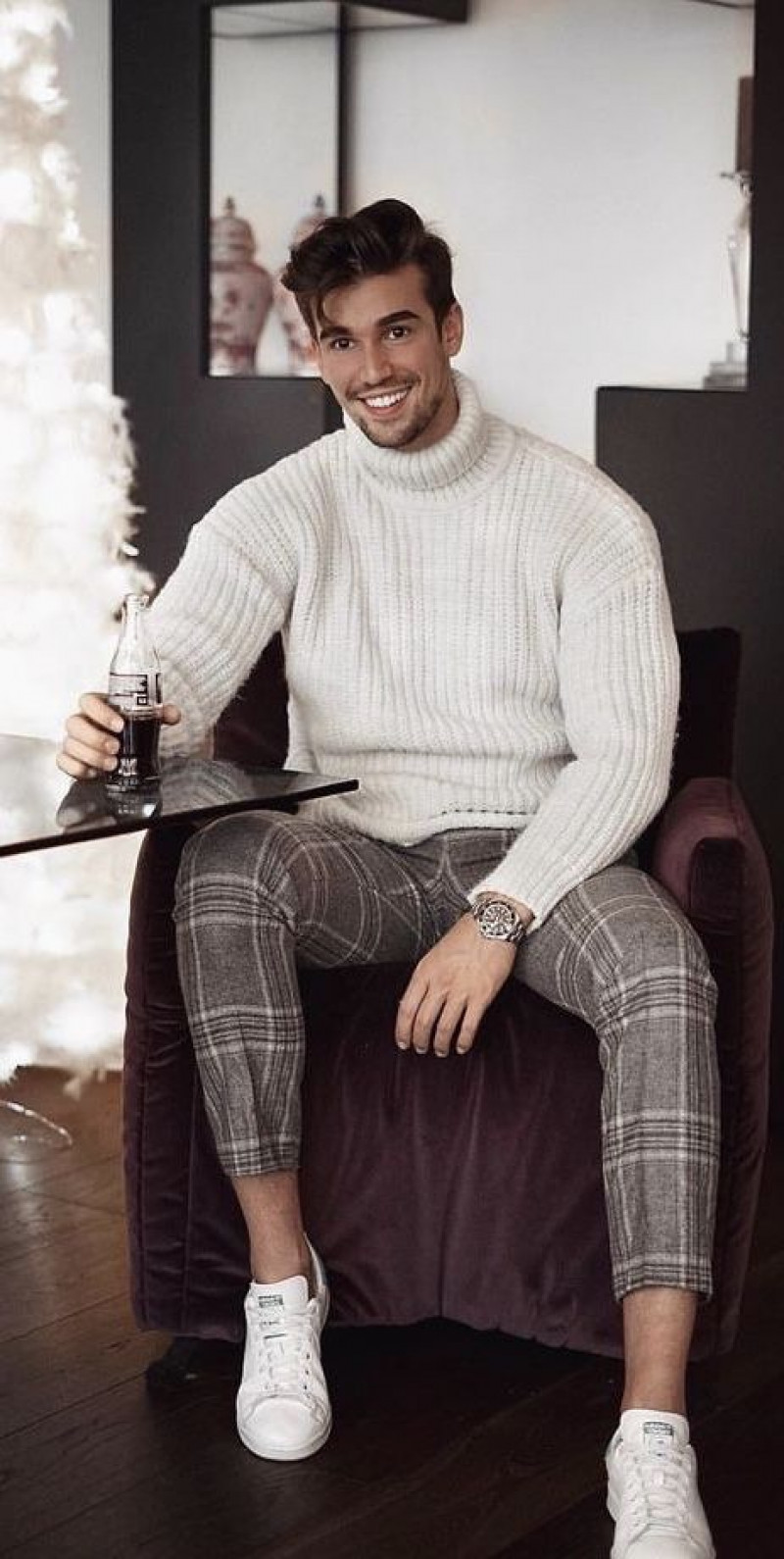 To create a stylish outfit, pair brown leather trousers with a patterned, checked design. Add a white turtleneck sweater in a striped pattern and Finish with white low-top sneakers or trainers. Finish off the ensemble with a silver watch featuring a white dial and metal strap.
Lovely Navy Blue Jacket Styled with White Turtleneck Sweater and a stylish Sunglasses!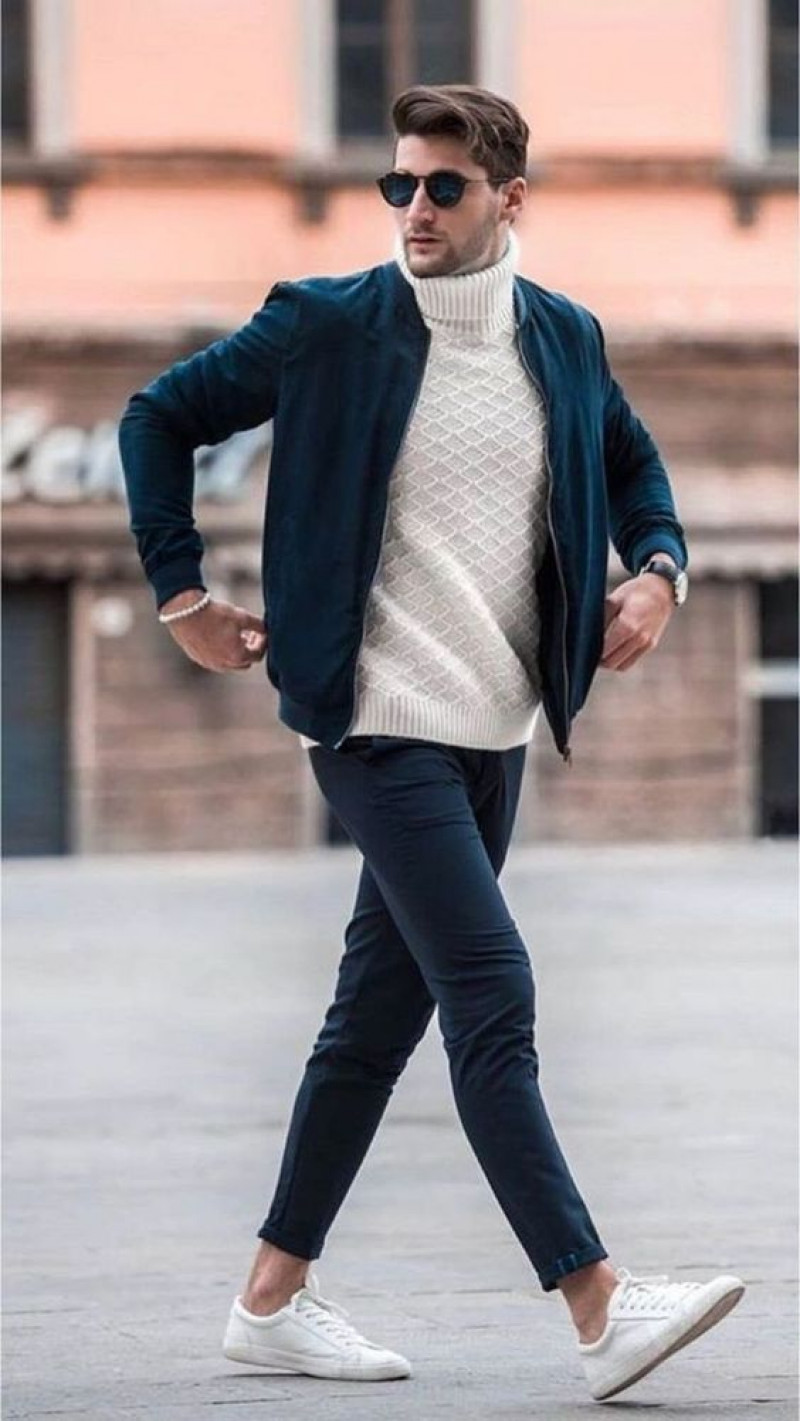 Get out with this! A turquoise patterned Harrington jacket with dark blue and navy cotton trousers. Match the look with white low sneakers and sunglasses for a stylish and comfortable ensemble.
A Perfect White Turtleneck Sweater, Brown Pants and Brown Ankle Boots with Elegant White Dial Watch!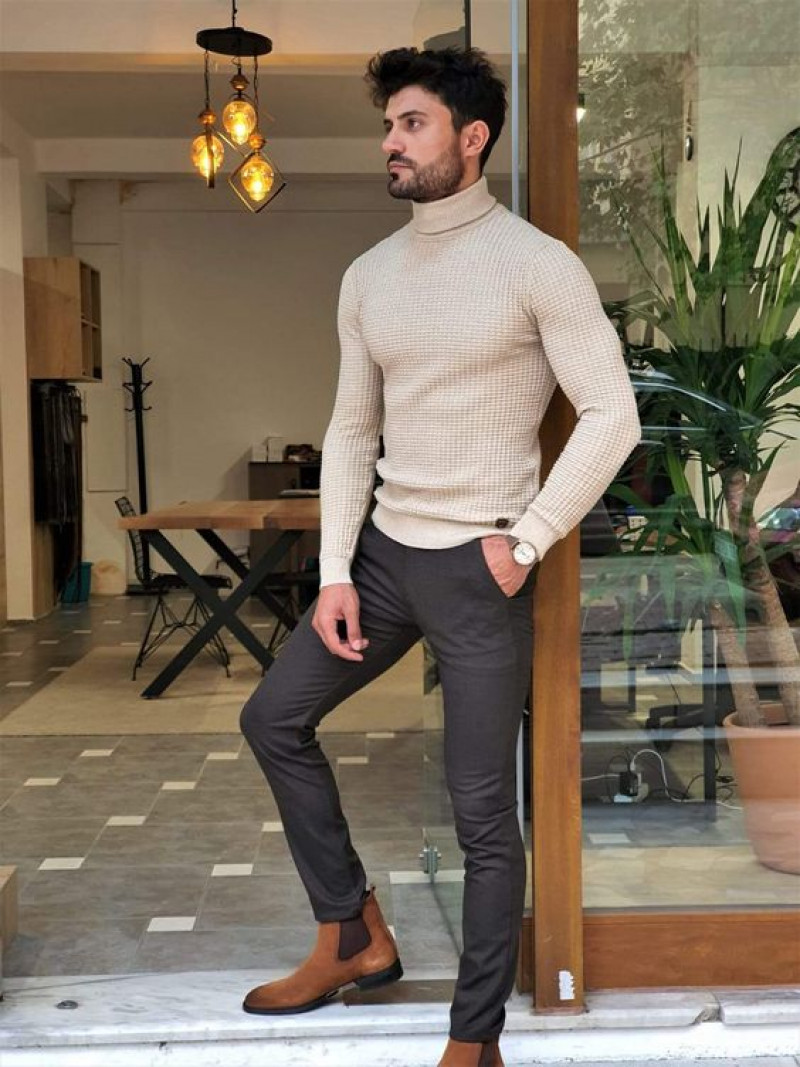 Style your Look! With this Trendy White turtleneck Sweater and Brown Pants. You can Pair it with Brown Boots and a Stylish Watch.