Want some outfit ideas for your 18th birthday party? So we have got a collection of some of the latest birthday outfit ideas, which you can style on your 18th Birthday .Don't forget to accessorize with a black leather bag and gold bracelets to finish the look! First and Tenth outfit are my personally my favorite ones! So what are you waiting for ? Go ahead and scroll for your favorite collection. Its a special day in everyone's life and dress something special from the options given below:
One shoulder Purple Cocktail Dress -Style it with Silver Bracelets!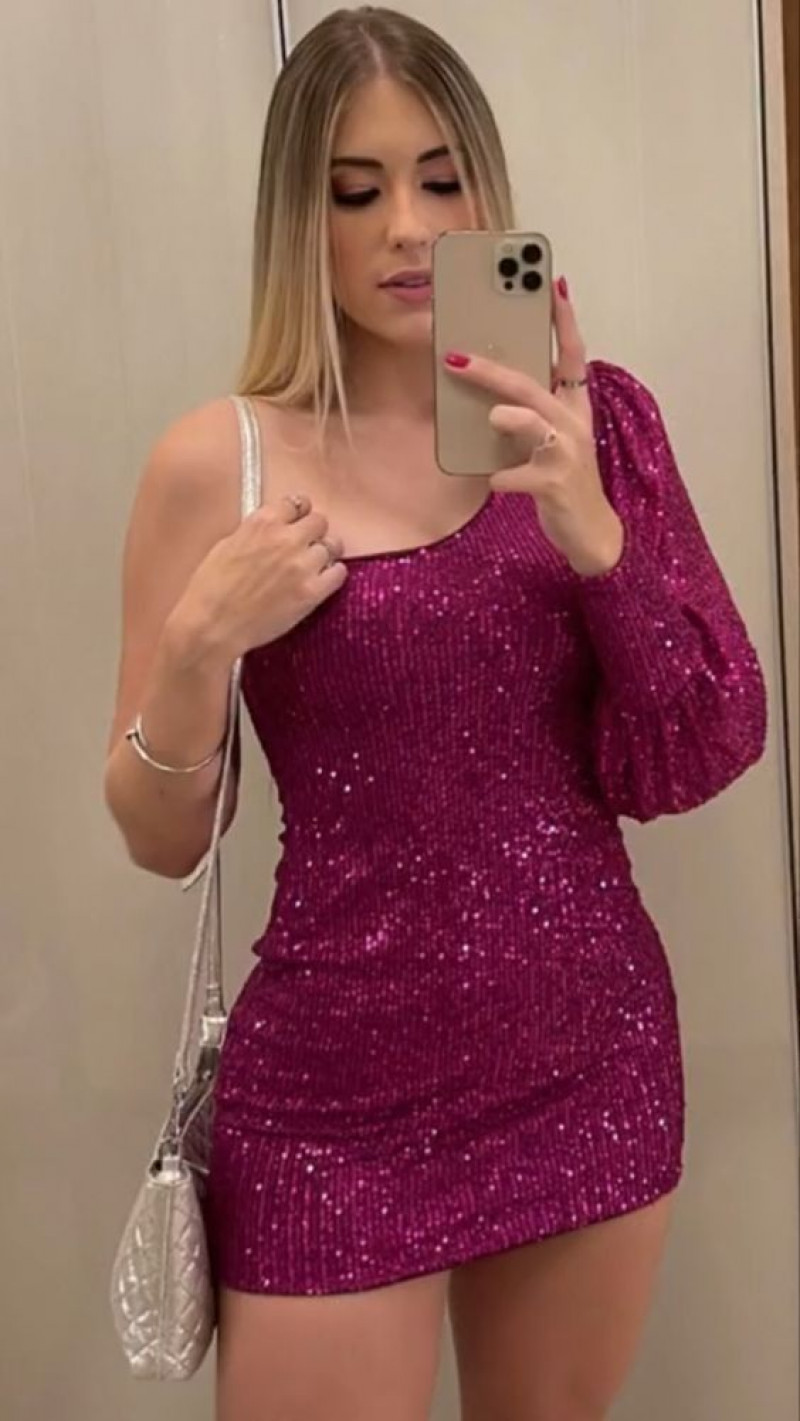 Knitted cocktail dress in purple and violet features a shiny design that adds an elegant touch, while the square neckline and shoulder straps create a flattering pattern. The silver leather long strap bag also boasts a shiny design, complementing the overall look. The silver metal bracelets complete the ensemble with their simple yet stylish pattern.
Golden Mini Skirts, Sexy Lace Bras & Pink Stiletto Sandals - Perfect for Birthday Outfit @18!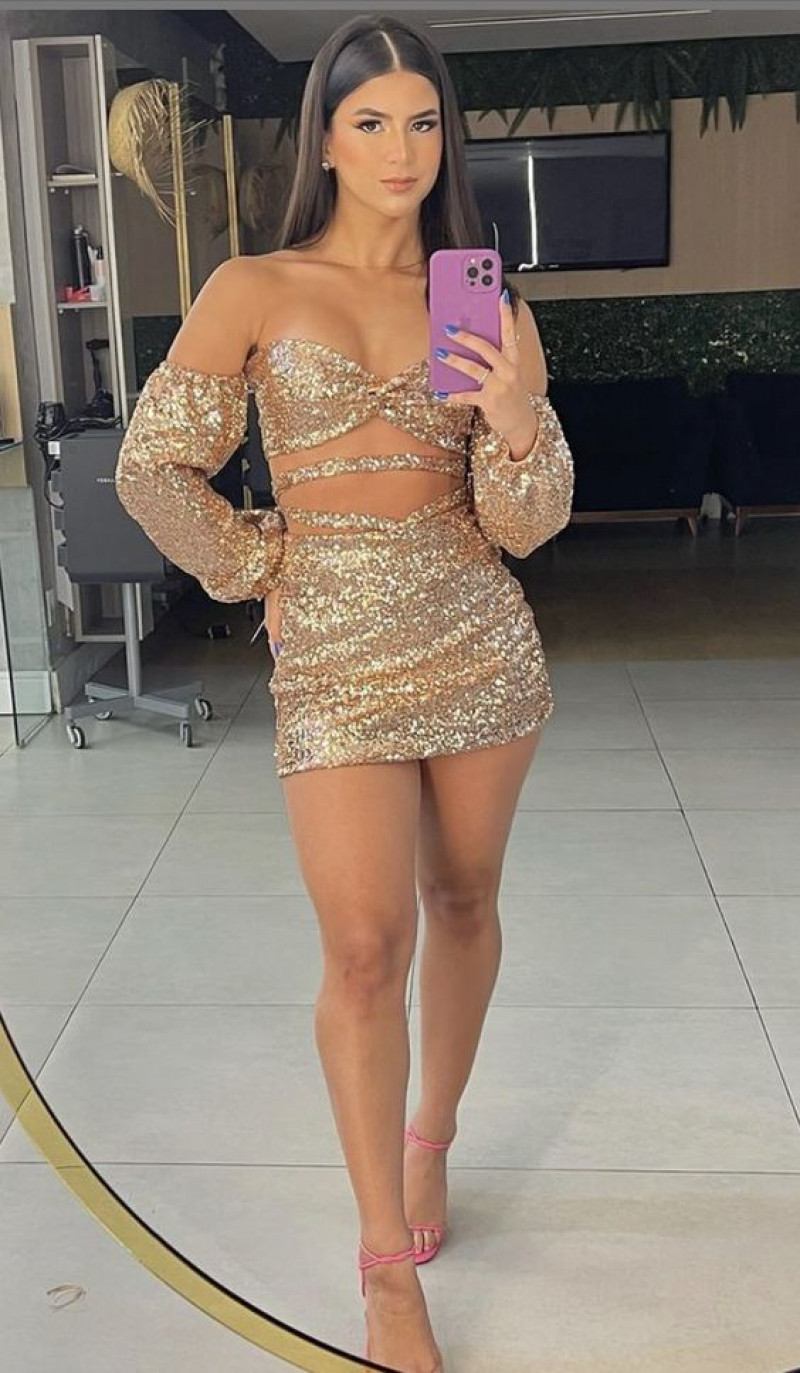 Outfit features a golden, shiny mini skirt with a sexy lace bra and pink leather sandals. The elegant style of the skirt is balanced by the casualness of the sandals, creating a unique and eye-catching look. The stiletto heel adds a touch of sophistication to the overall outfit.
Sequence Combo with a mini skirt and a shiny sequence top-Outfit recommendations for girls stepping into adulthood and celebrating their 18th birthday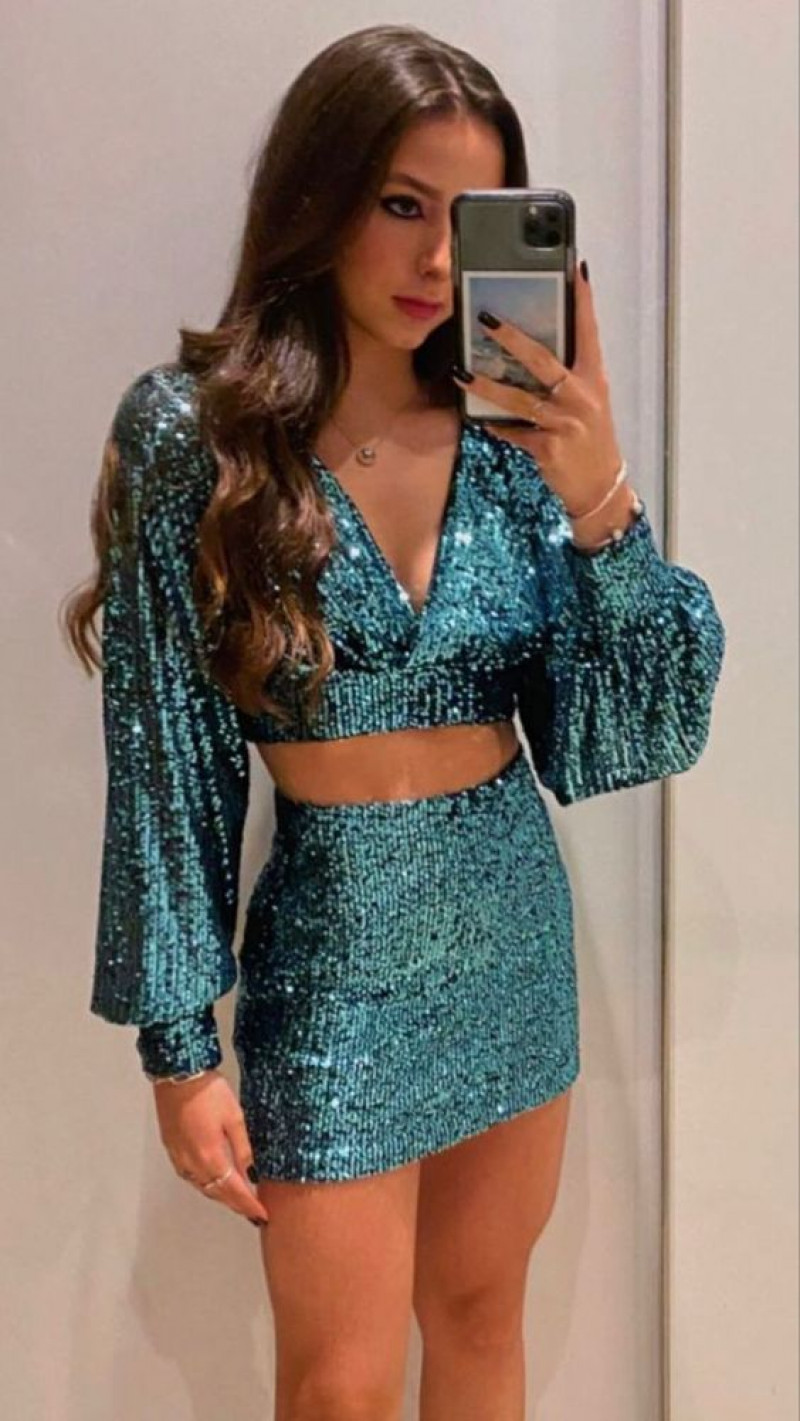 This outfit features an elegant turquoise knitwear shirt with a low cut neckline and long sleeves, fastened by buttons. The shiny design adds a touch of glam. Style with a light blue tweed mini skirt and finished with a gold metal necklace, this look is perfect for an adult who wants to feel both stylish and comfortable.
Shimmer in Silver: Mini Wrap Cocktail Dress with Red Leather Strap Bag and a Beige Stiletto Sandals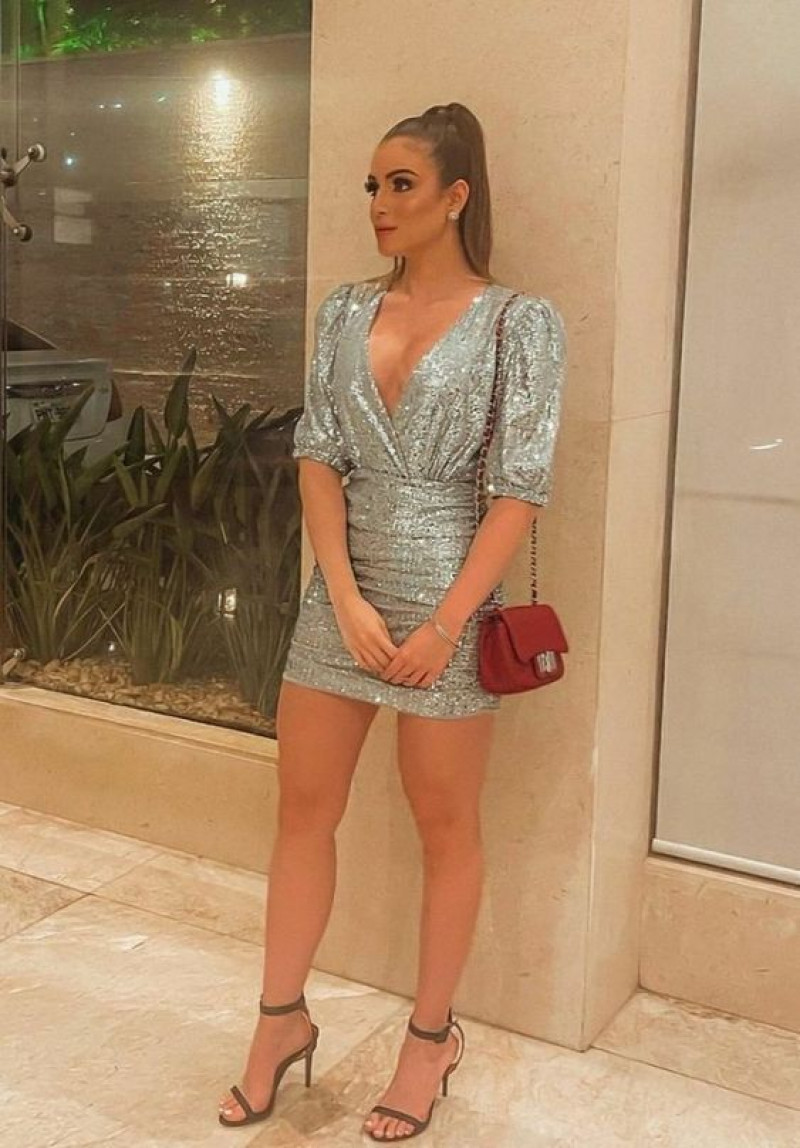 This silver lace mini cocktail dress with a wrap neckline would perfectly with red leather long strap bags and beige stiletto sandals. Style the look with rose gold metal earrings for a shiny finish. Perfect for a night out or special occasion.
Rock the night in this shiny one-shoulder bodycon cocktail dress, celebrate your 18th bday in style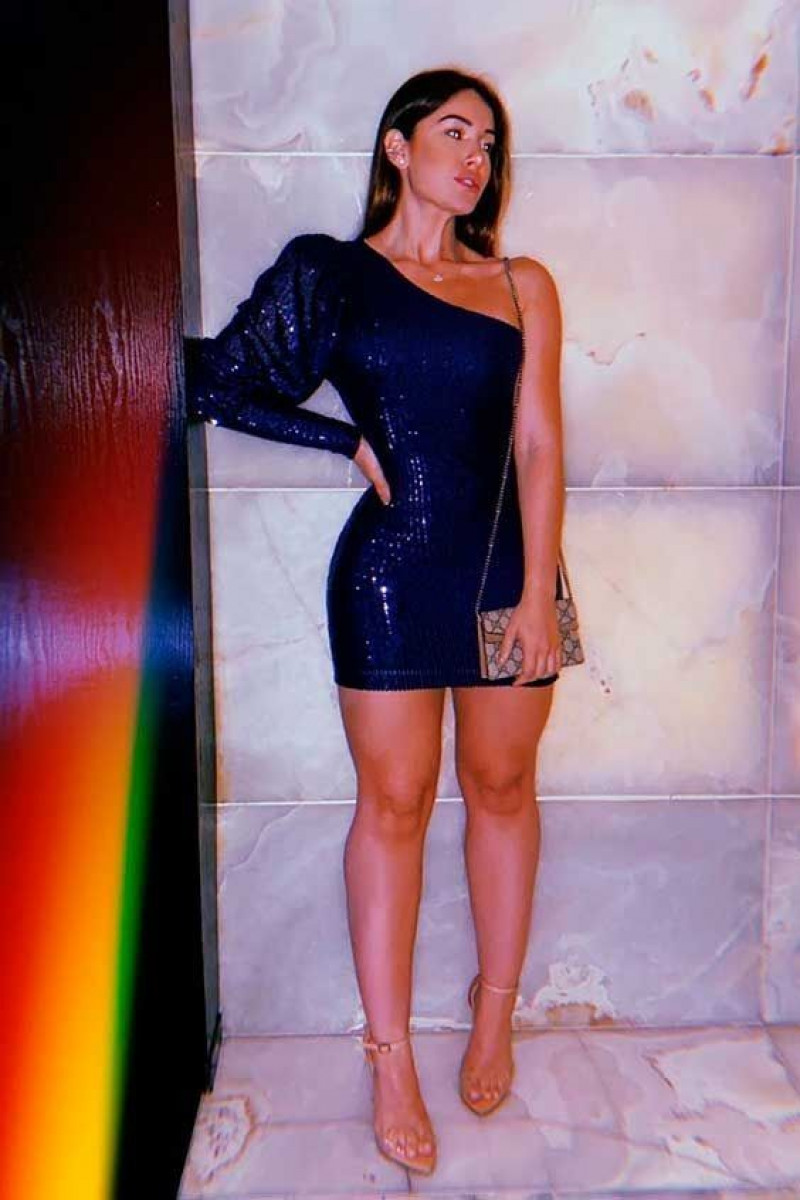 Get ready to turn heads in this stunning dark blue and navy bodycon dress. The one shoulder neckline with spaghetti straps and one sleeve cut is perfect for a cocktail party. Made of shiny leather material, the mini wrap skirt adds a touch of sexiness. Try it with these elegant beige formal sandals featuring open feet and a comfortable heel height for the ultimate fashion statement.
Yellow Silk Wrap Top with Long Sleeves - Styled with a mini Pink Skirt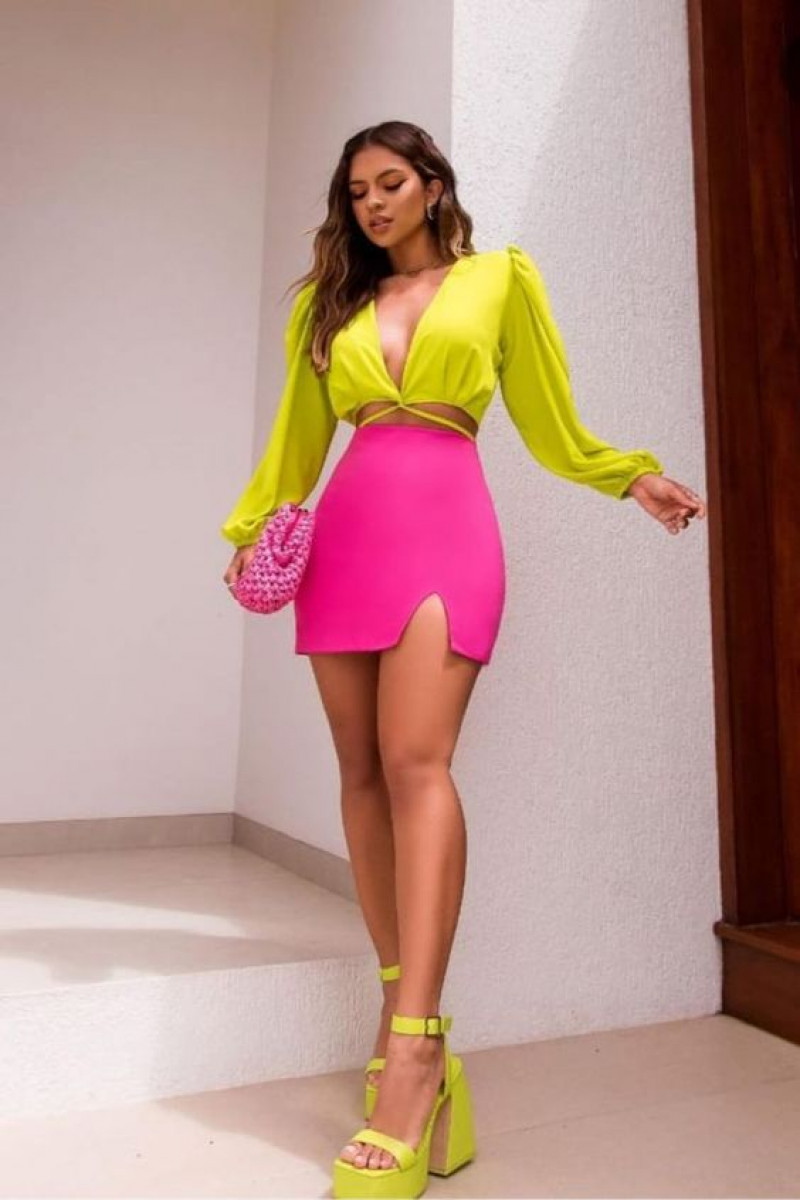 This yellow silk mini wrap dress with long sleeves and a wrap neckline is perfect for a day out. Match it with chunky high-heeled yellow leather sandals and silver metal earrings for a stunning look. Don't forget to cinch your waist with the included belt to accentuate your figure.
Pink mini sheath dress with a golden small bag and light green pumps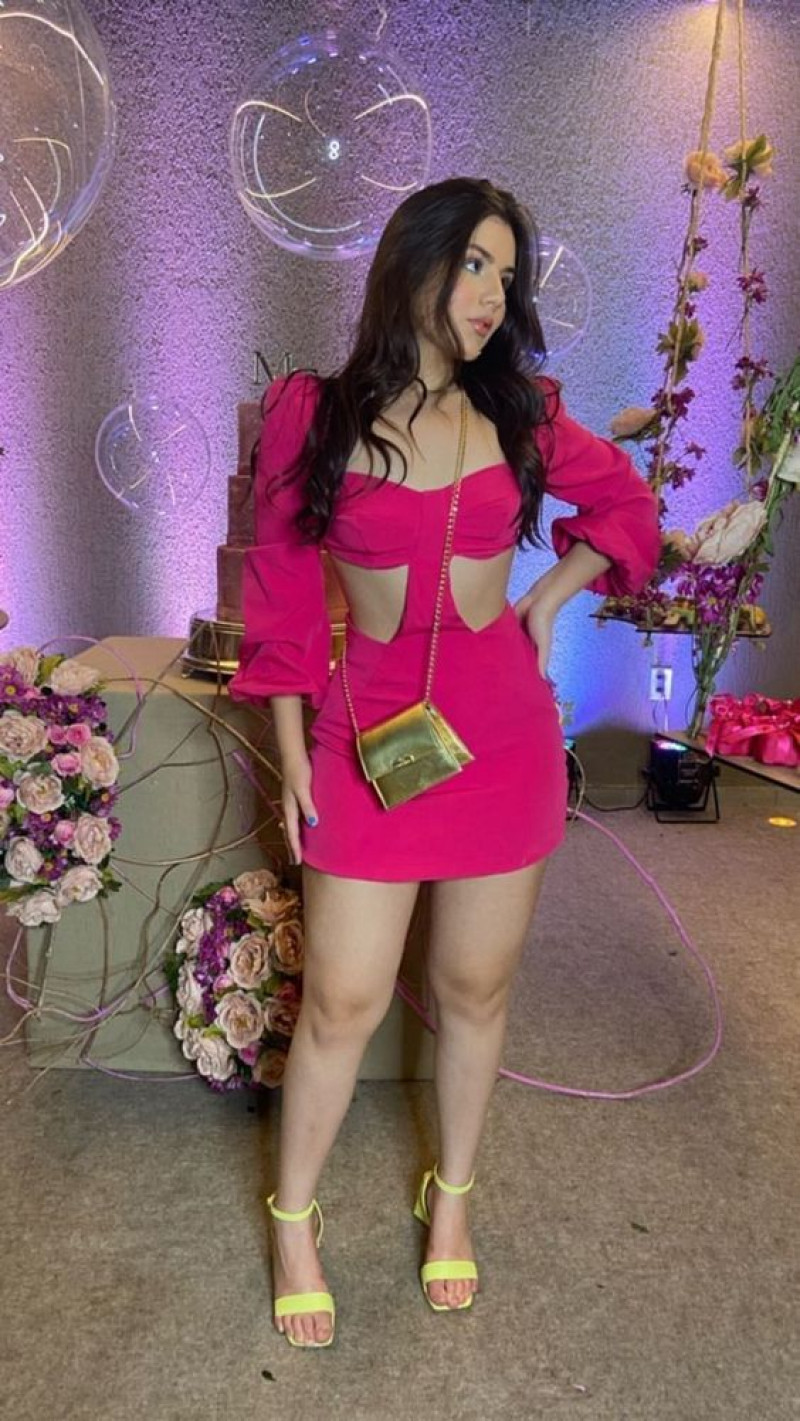 Sexy Pink sheath dress with low cut neckline, spaghetti straps and is perfect for a day. Style it with yellow leather sandals and suit trousers in a matching shade of pink. Additional color options could include white or navy blue.
Shine bright in this dark Black Mini Dress-Perfect look for the 18th birthday celebration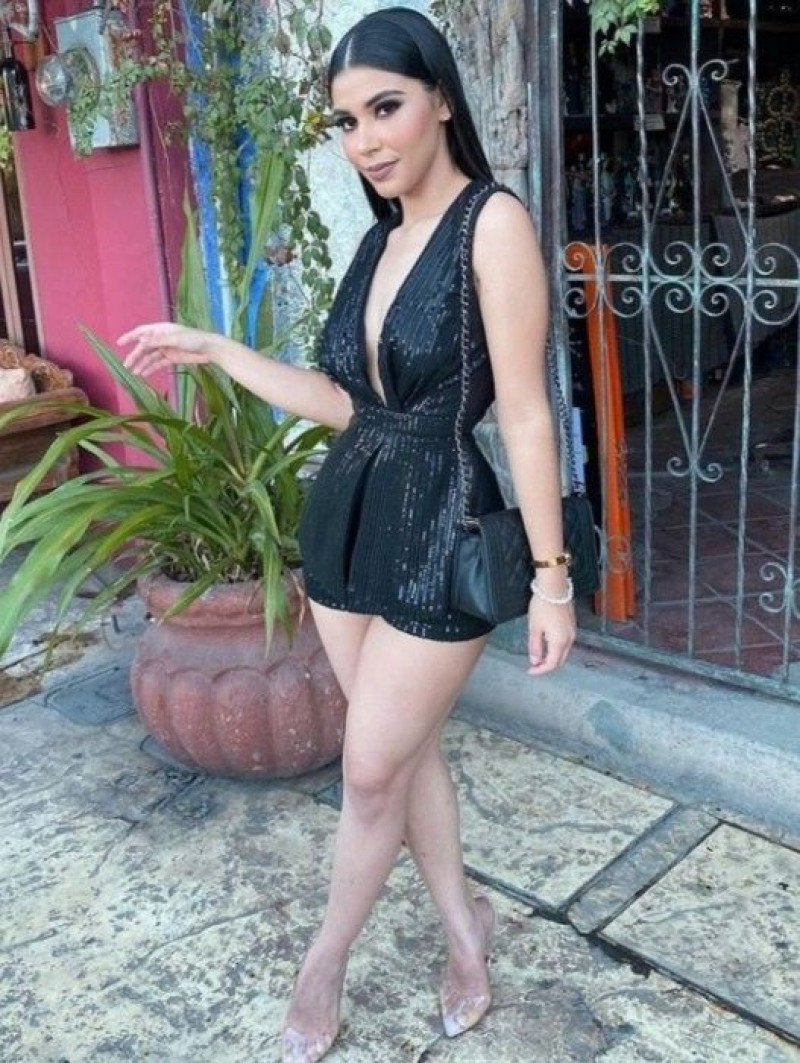 For a stylish cocktail party, wear a dark blue leather mini dress with low cut shoulder straps and a full button closure, with a shiny belt and an A-line skirt. Match the look with black leather crossbody bag, beige closed-toe pumps and silver metal bracelets without gemstones.
Elegant Pink Collared Crop Top with Shiny Lace Shorts and Grey Fur Top Handle Bag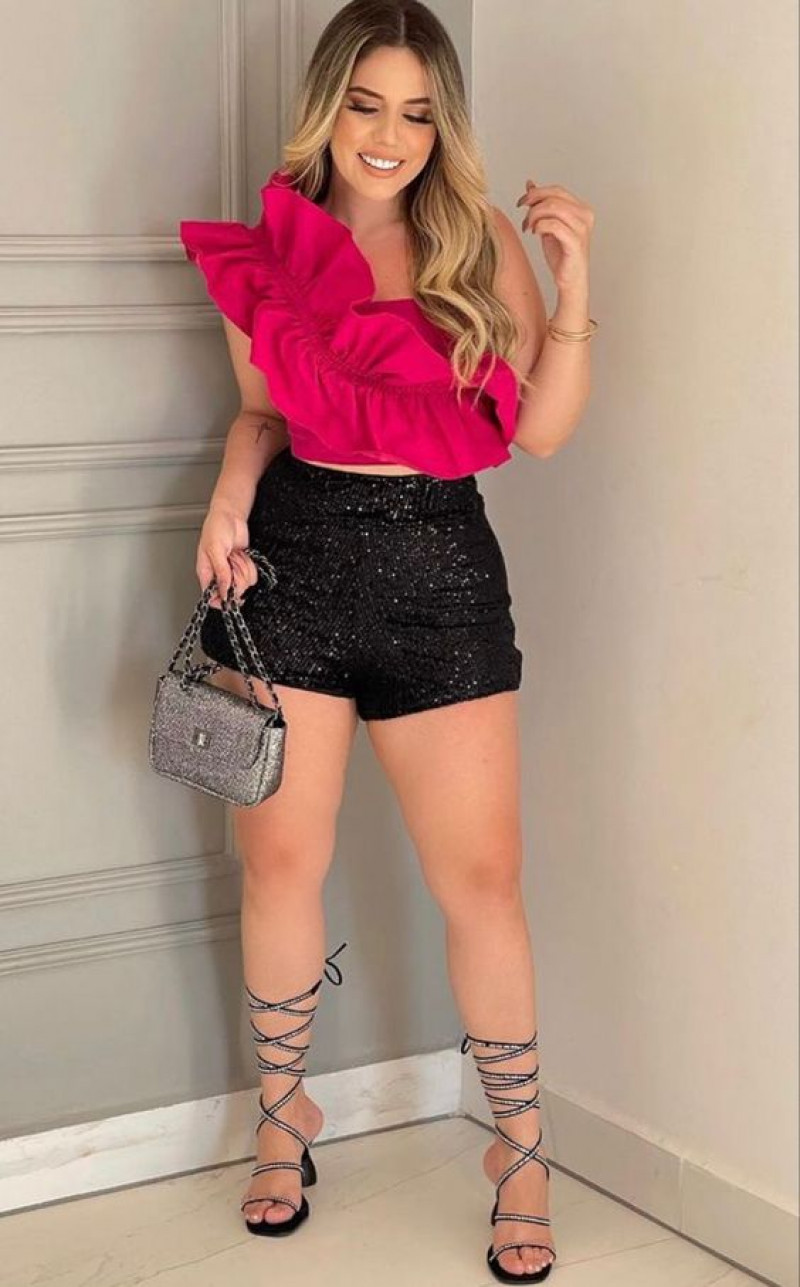 This elegant pink crop top with a collar and sleeveless cut is perfect for an adult looking for a plain yet stylish outfit. Match it with black lace shorts for a shiny touch. Add a grey fur top handle bag and formal black leather sandals with stiletto heels to look amazing. A simple yellow metal bracelet would be the perfect accessory to finish off this chic ensemble…
Yellow trouser with Crop Top and White Leather Sneakers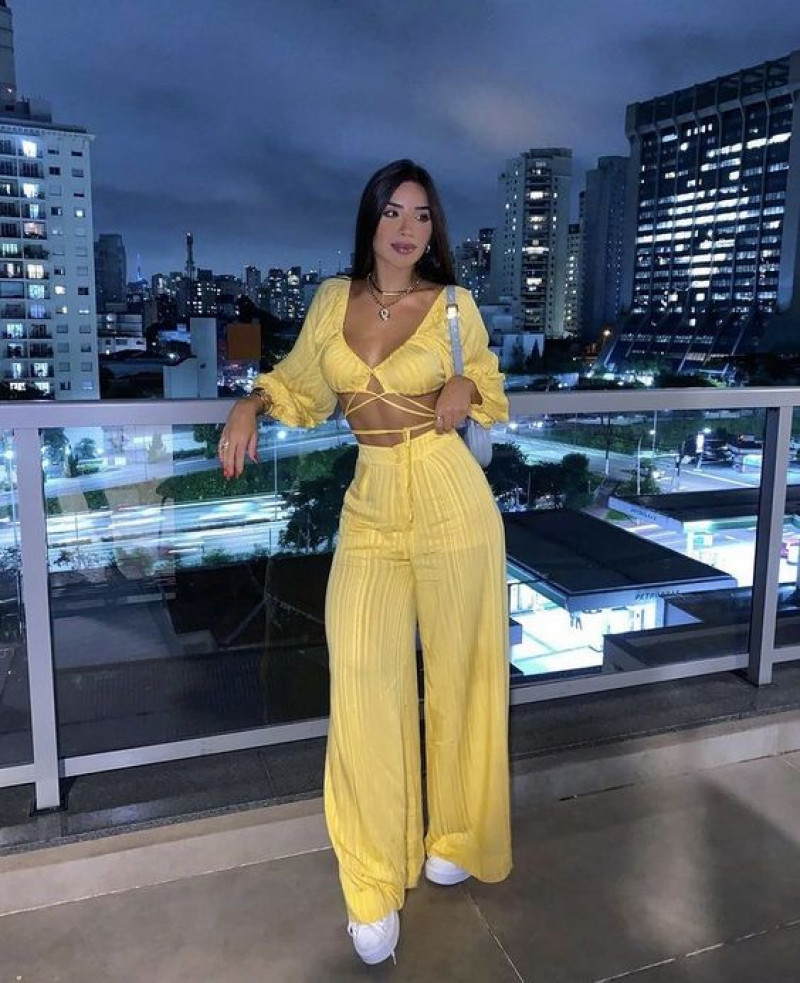 This outfit features a patterned, yellow corduroy overall with wide legs and crop top in elegant plain design. The low cut neckline is complemented by a gold necklace, while white leather sneakers complete the sporty look.
Elegant White Mini A-Line Skirt with Melange Knitwear Design and High Rise with Knitted Top in Full Zipper Closure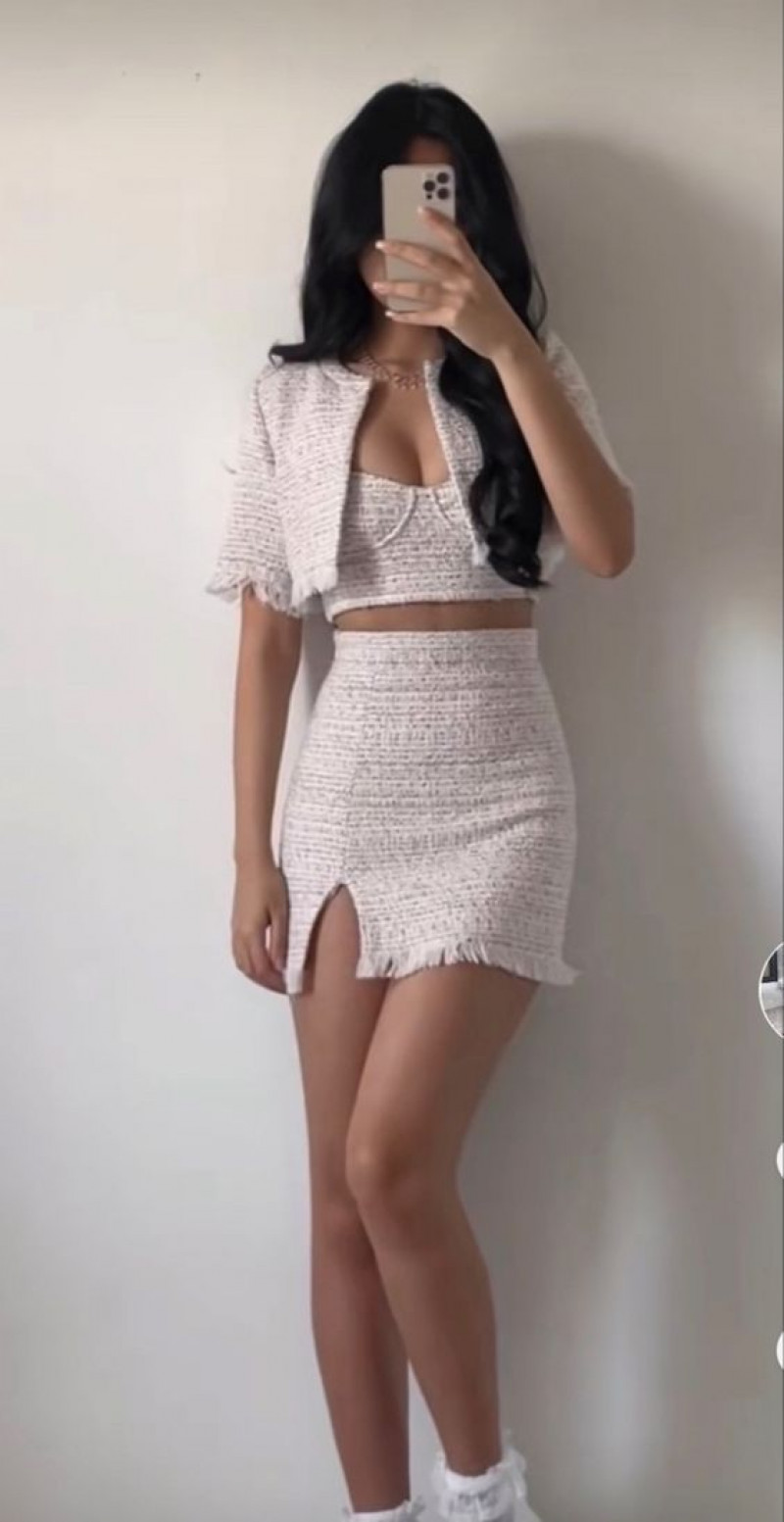 White mini A-line skirt made of melange knitwear is perfect for a sophisticated look. Style it with a white knitted top featuring long sleeves and full zipper closure for a outfit.
Purple Crop Top with Mini Skirts, styled perfectly with High Boots!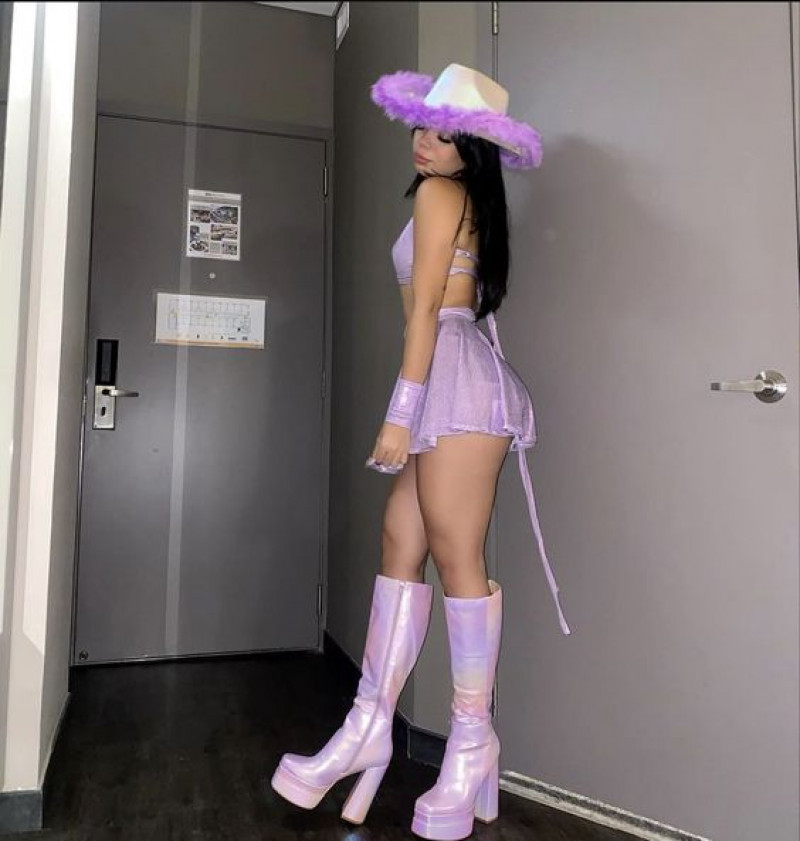 For a sexy look, a purple and violet melange denim mini skirt with a plain high-rise denim shorts. Complete the outfit with elegant purple leather high boots with chunky heels for an edgy touch.
Black Shiny Mini Dress-Fashion ideas for girls hosting their 18th birthday party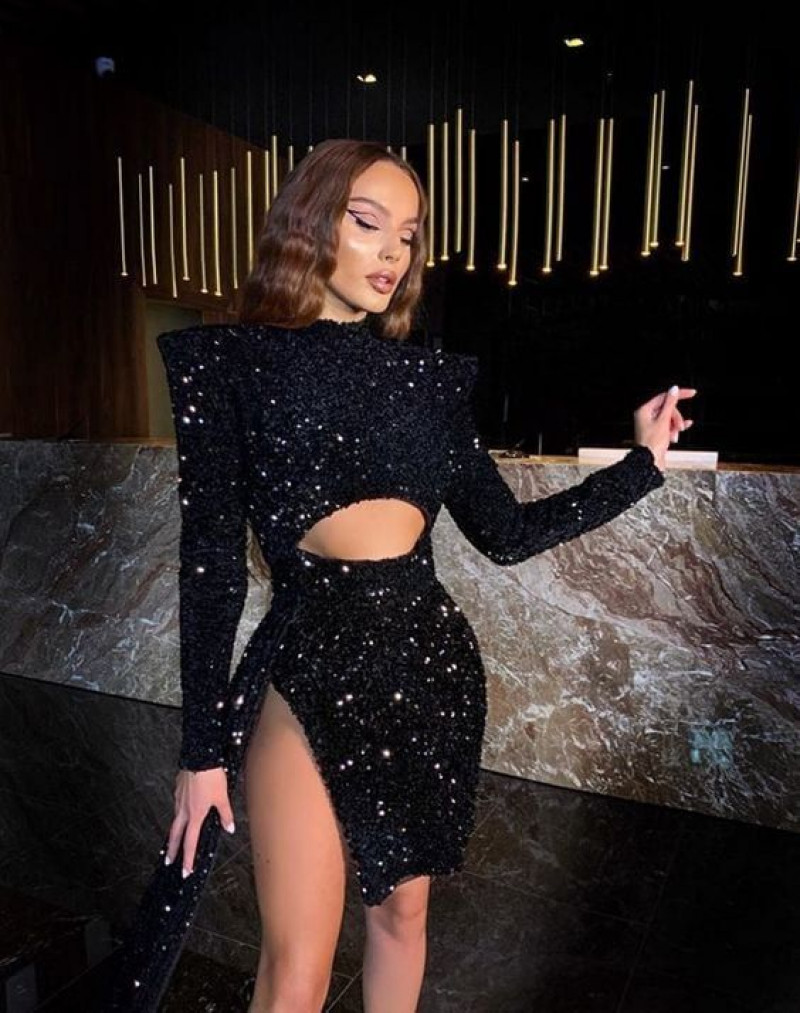 "Get cozy and chic with our black patterned knitted dresses and polka dot pencil skirts. Style the dress with ankle boots and a denim jacket or dress up the skirt with a blouse and heels for an elegant look."
Step out in Style with our Shiny Silver Mini Dress - Perfect for 18th Birthday!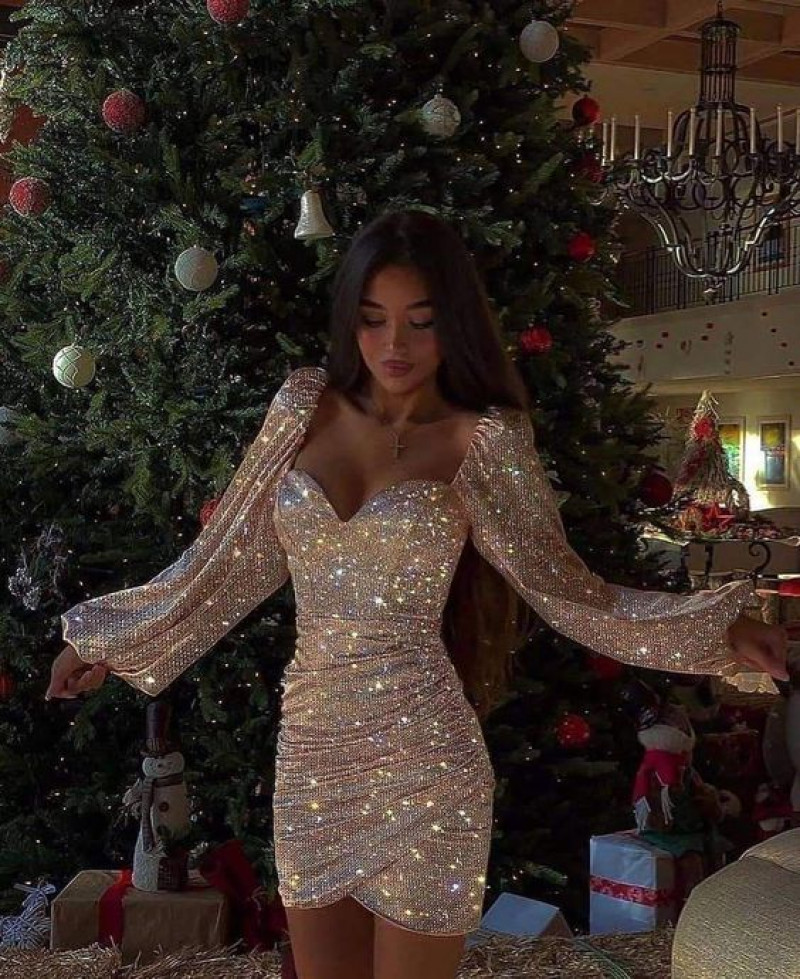 Brown lace mini dress with a low cut neckline and polka dot pattern is perfect for a birthday occasion. Try it with strappy sandals or ankle boots to finish the look.
Pretty in Pink: Mini Lace Crop Top with skirt and pumps-Trendy attire ideas for girls throwing an 18th birthday bash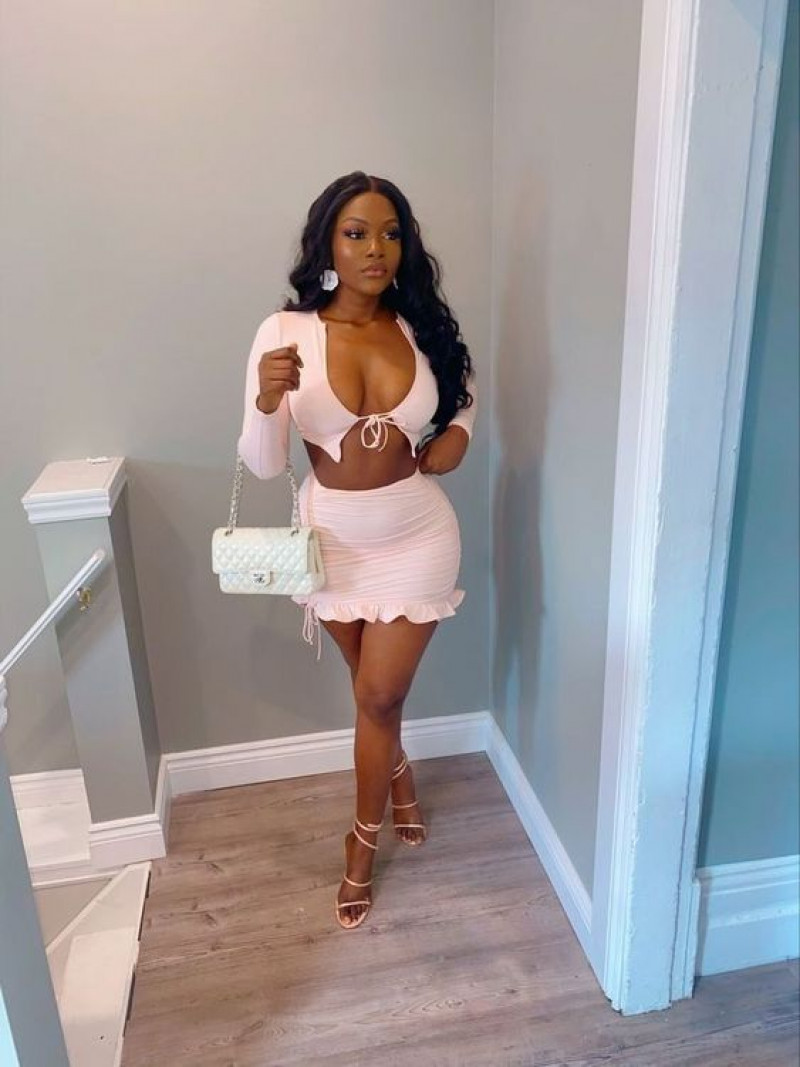 Must try a pink lace cocktail dress with long sleeve design and low cut neckline. Add white geometric patterned leather long strap bag, pink cotton sport bra, brown leather sandals and silver metal earrings to style the look.
Shine bright in pink lace wrap skirts with elegant crop tops- Looks Wow!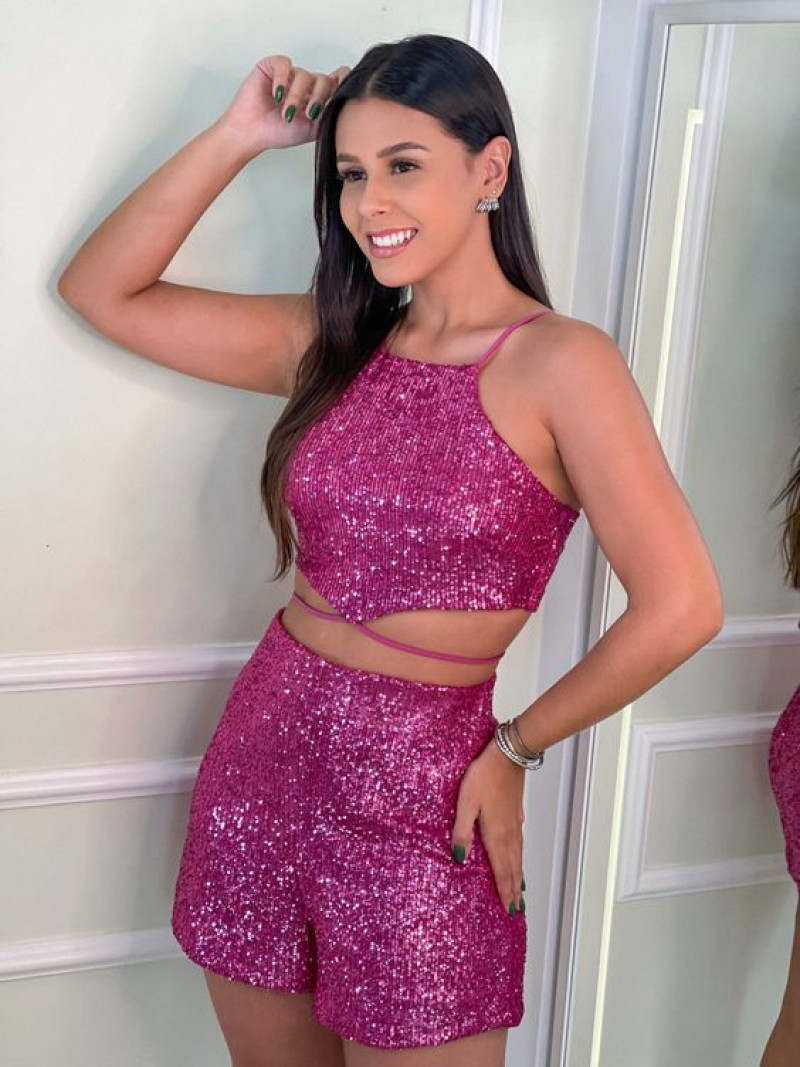 To look hot, a shiny pink lace wrap skirt (mini length, low rise) with an elegant pink lace crop top (spaghetti straps, square neckline). Add silver metal bracelets and earrings for a finishing touch. Gemstones are not necessary.
Chic outfit suggestions for girls celebrating their entrance into adulthood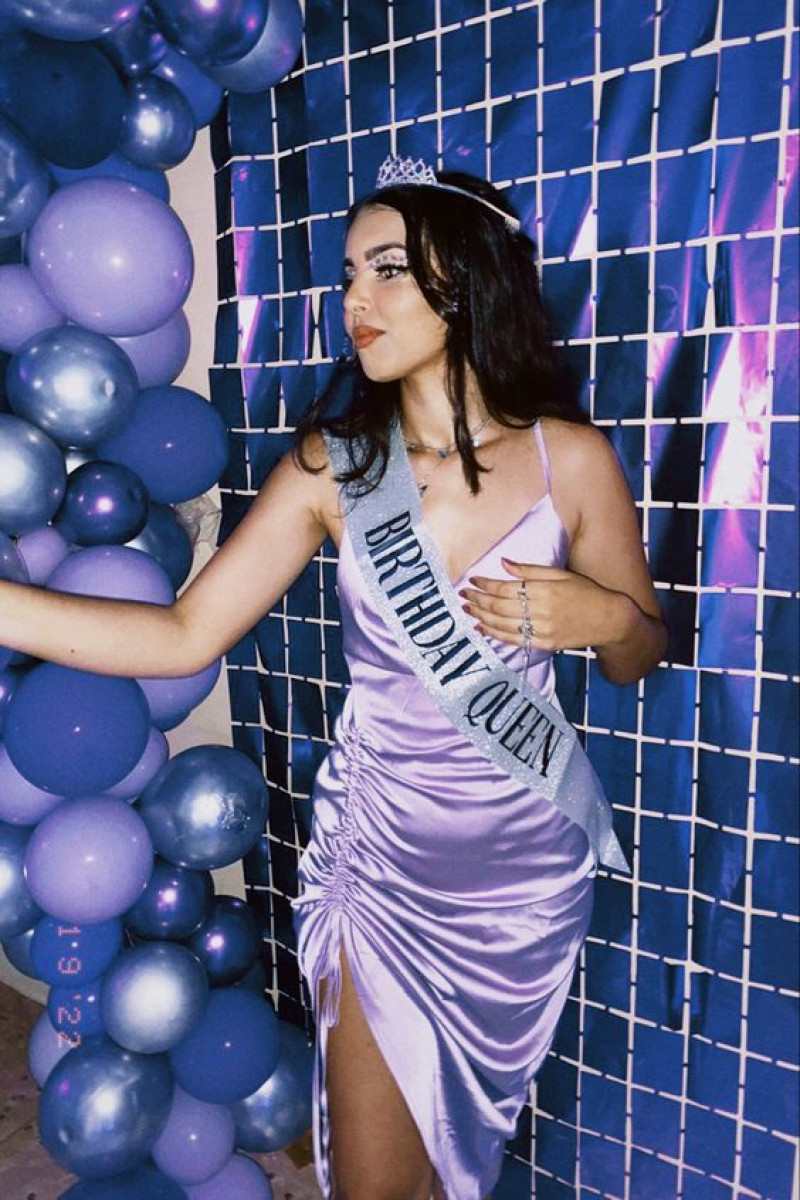 Purple maxi cocktail dress with low cut neckline, spaghetti straps and stripe design is made of cotton and perfect for adult women. It has no closure or belt but features wrap skirts. Match it with oversized sunglasses and strappy sandals for a chic summer look.
Pretty in Pink: Knitted Cocktail Dress with Lace Design Top with Melange Maxi Skirt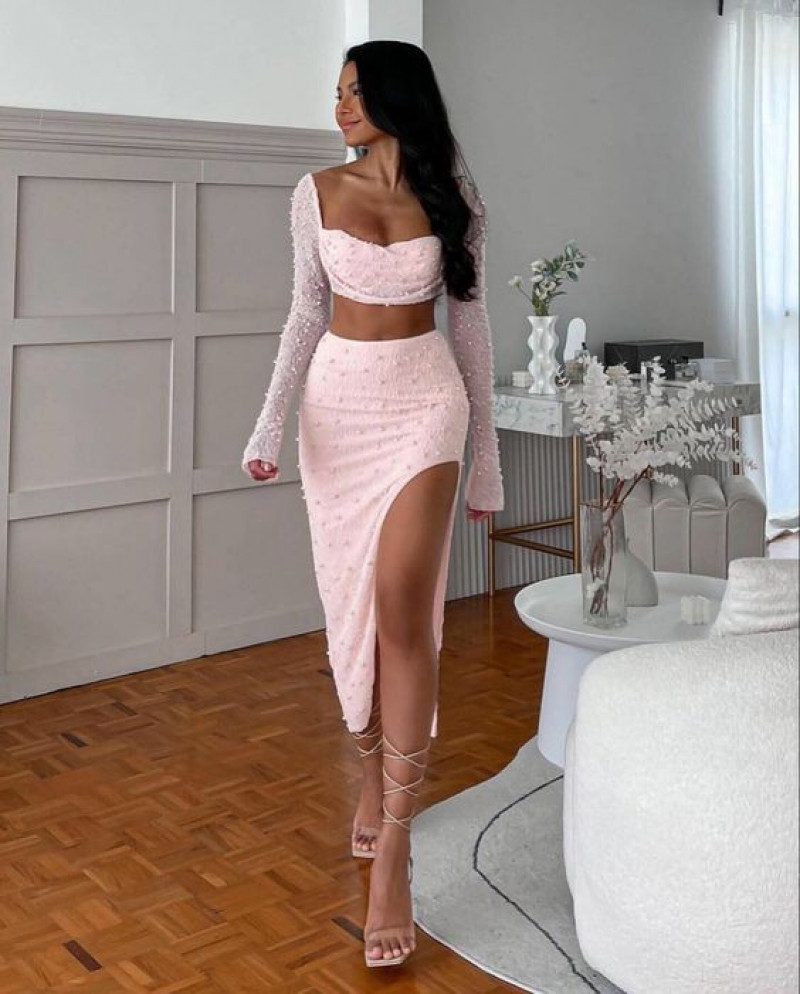 This outfit is all about that pink knitted cocktail dress with a square neckline and lace design, with a maxi melange skirt in the same hue. Keep it sexy with a matching lace bra and slip on some beige leather sandals to finish the look. Damn girl, you're gonna turn heads, paired perfectly with beige platform sandals.
Trendy outfit suggestions for girls turning 18 and wanting to shine on their special day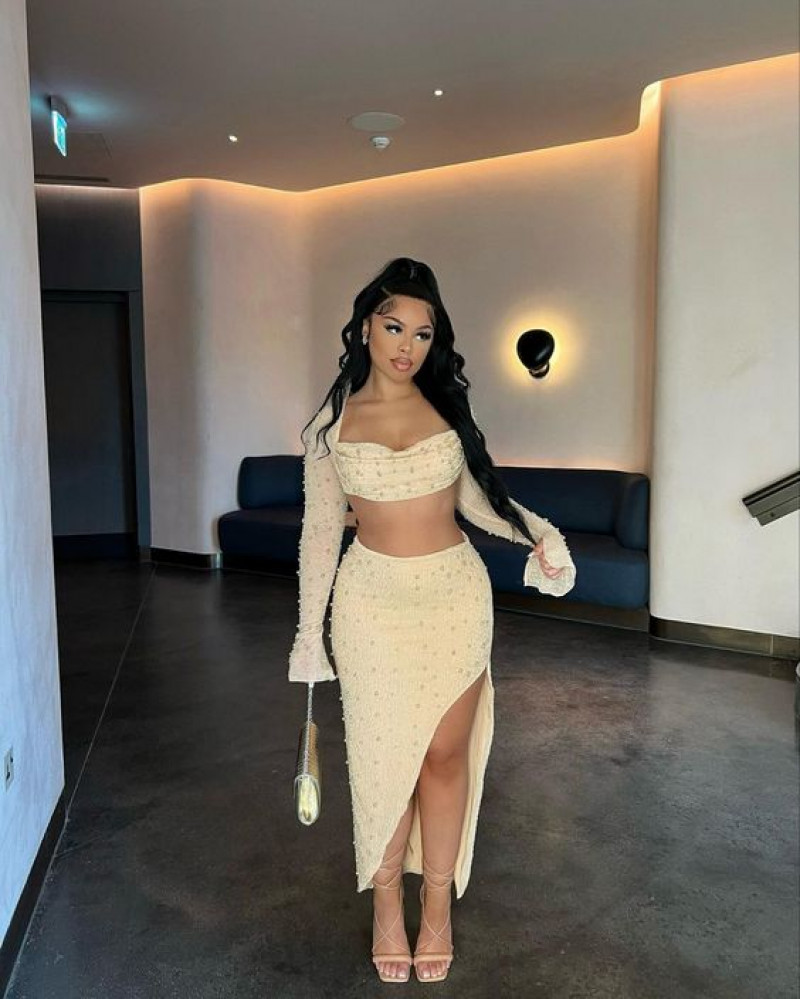 The yellow knitted midi dress with a polka dot pattern is made of high-quality knitwear material, while the elegant mermaid maxi skirt in melange design and the beige sandals with platform heels are crafted with leather for durability.
Stylish Lace Midi Bodycon Dress with Long Sleeves-Clothing tips for girls looking to make a fashionable statement on their 18th birthday.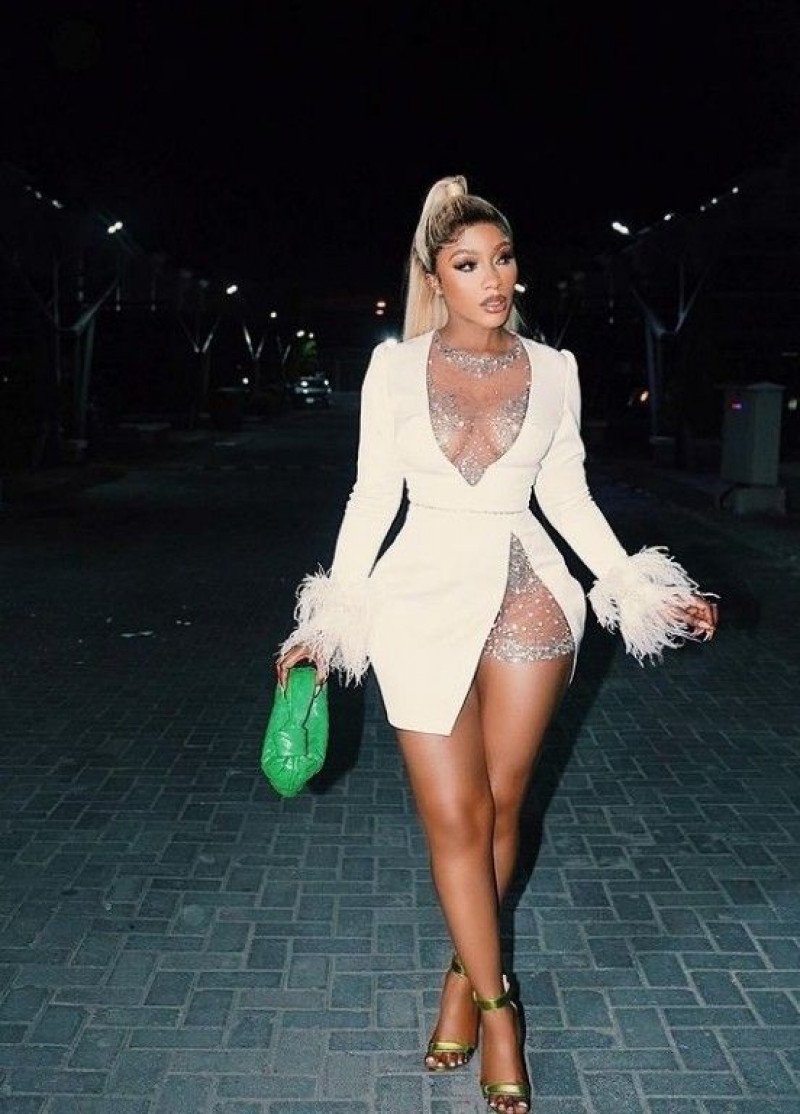 White lace bodycon dress with long sleeves and full closure buttons pairs perfectly with wrap skirts and golden chunky heel formal sandals. Match the look with low platform white textile trainers for a sporty touch.
White Off-Shoulder Mini Dress with Beige Chunky Heels-Dress suggestions for girls turning 18 and planning their birthday celebration.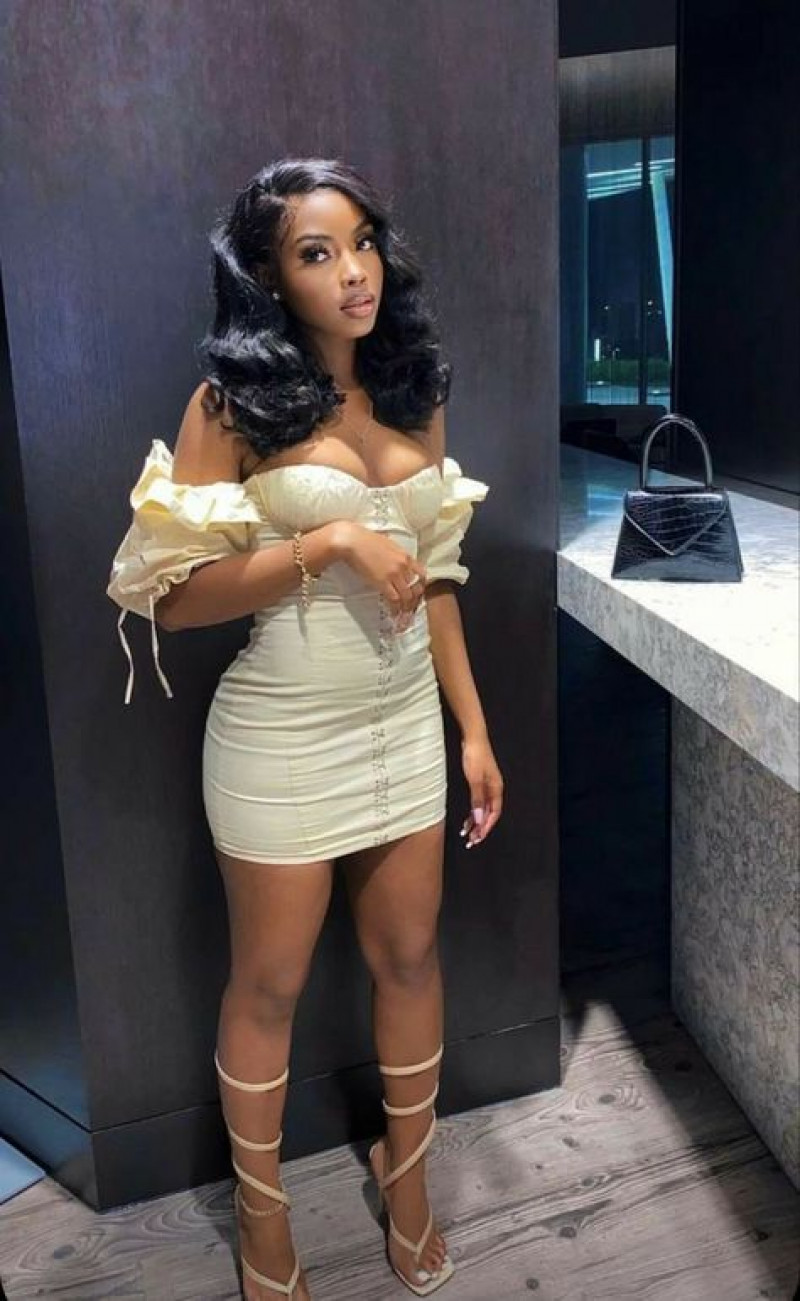 The dress in white cotton with an off-shoulder neckline and strapless cut has a partial closure with drawstrings, while the formal sandals in beige leather have a chunky middle heel. The top handle bag is made of black leather with a plain design and the metal bracelets are without gemstones. Material and pattern play a crucial role in defining the overall look of these accessories.
Shine in Pink: A Mesh Mini Cocktail Bodycon Dress with Long Sleeves and Square Neckline, with Silver Metal Necklaces and Earrings.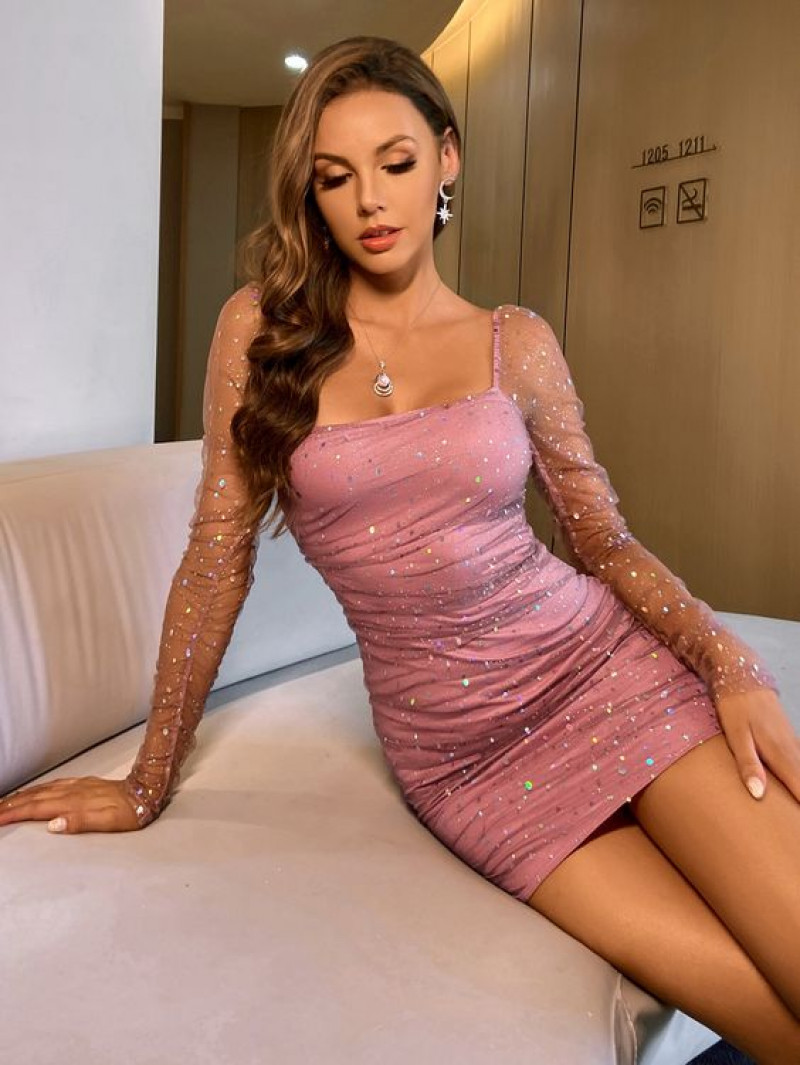 Pink mini bodycon dress with a square neckline and spaghetti straps is made of mesh material, perfect for a shiny cocktail party. The silver metal Necklaces, Pendants and Chains and Earrings to fulfill the look.
Stylish Black Lace Mini Dress with Low Cut Neckline and Long Sleeves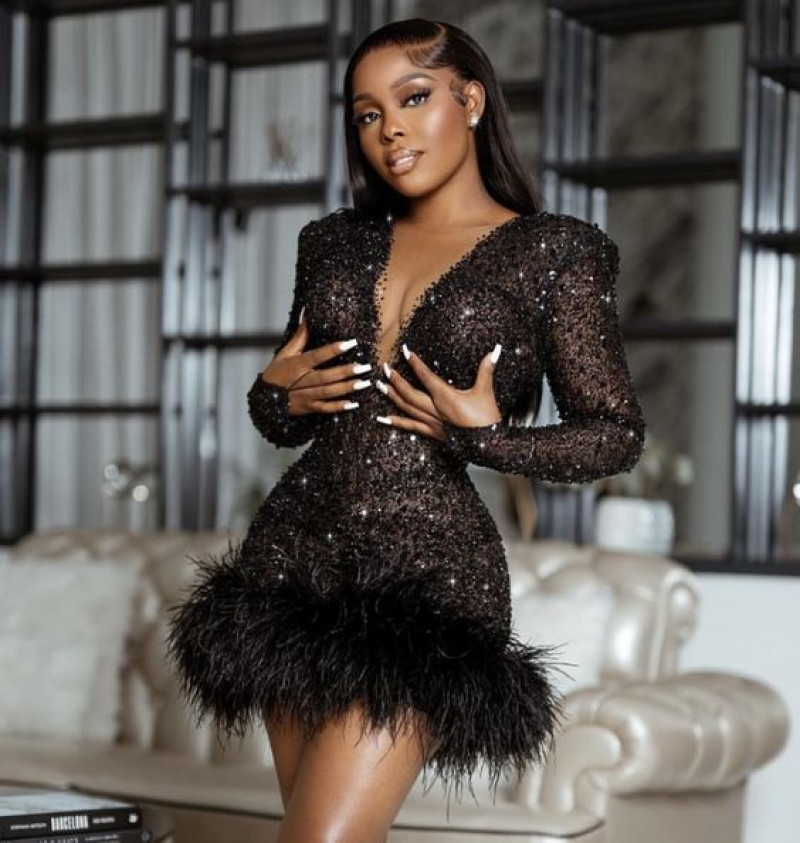 Black lace mini dress with a low cut neckline and shiny design is perfect for a night out. The long sleeves add some edge, while the tutu skirt adds a touch of femininity. Pair it with some killer heels and you're ready to slay the fashion game.
Pretty in pink! This midi-length off-shoulder Birthday Outfit with beige suede pumps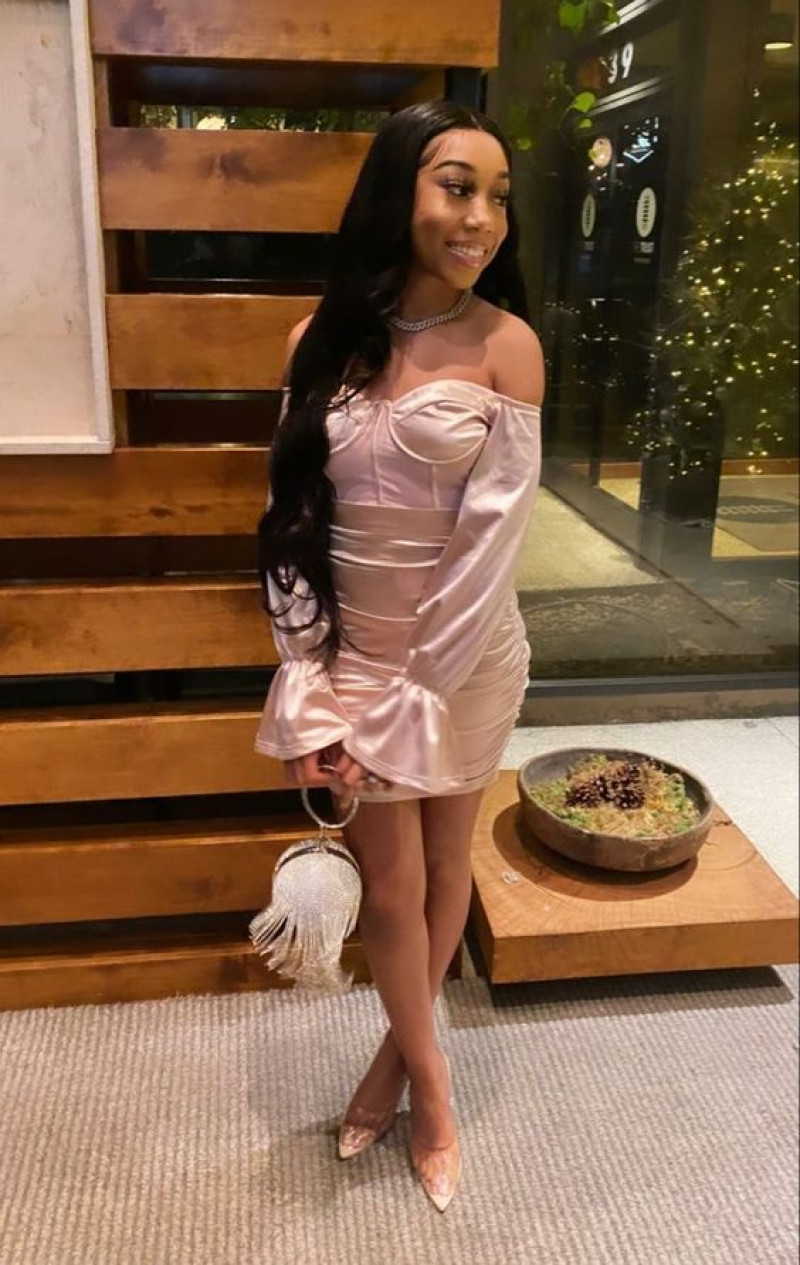 Hot pink leather midi dress with a stripe pattern features an off-shoulder neckline, long sleeves and partial closure with buttons. Paired with beige suede pumps and a metal necklace, this outfit is perfect for a yet chic look.
We are sure above dresses will make you feel like a queen. Do try!!