A yellow top paired with jeans creates a vibrant and effortlessly stylish look. The cheerful hue of the top adds a pop of color to any outfit, while jeans provide a comfortable and versatile foundation. This combination strikes a balance between classy and chic, making it a go to option for a trendy and youthful appearance.
Get Ready with this Pretty yellow boatneck knitwear sweater with light denim Jeans and a brown leather top handle bag!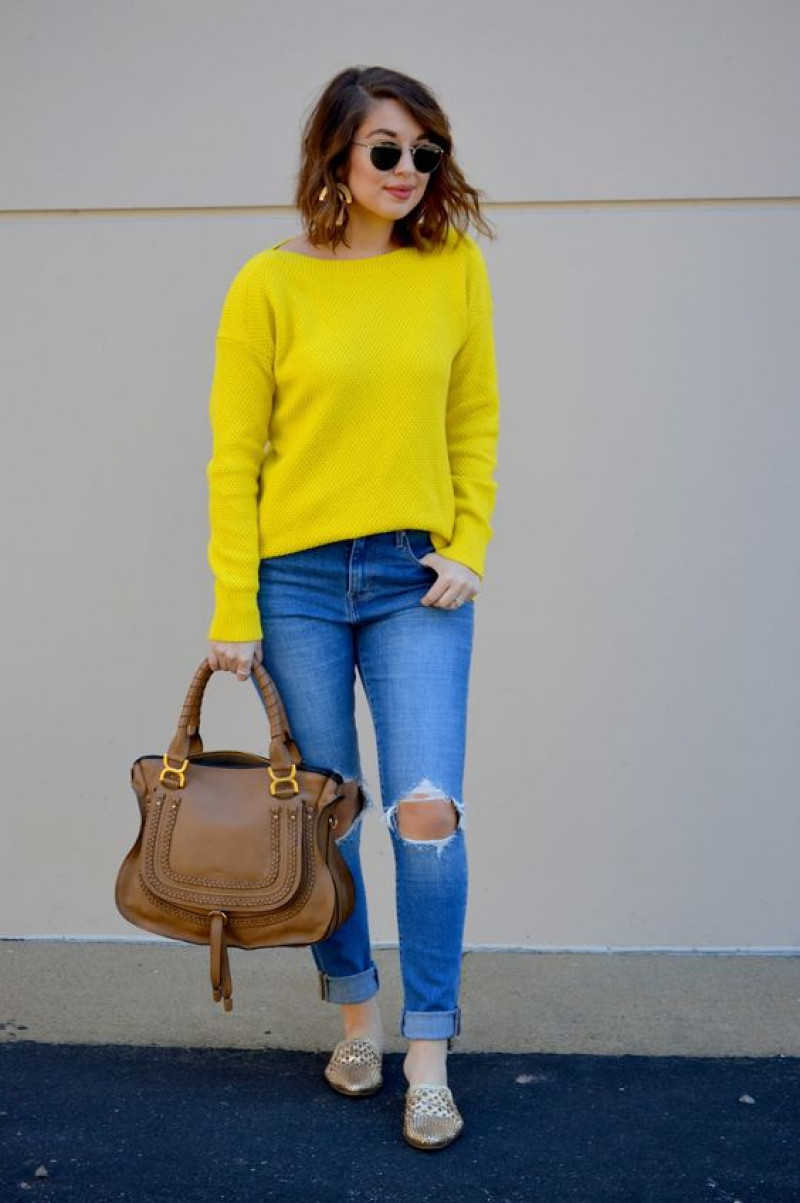 Try a yellow boatneck sweater with light blue skinny jeans and beige low shoes. Add a brown leather top handle bag and sunglasses for the perfect finishing touch. The knitwear material of the sweater provides texture while the plain design keeps it simple yet chic.
Dark Blue Skinny Denim Jeans with Yellow Top and Brown Leather Handbag!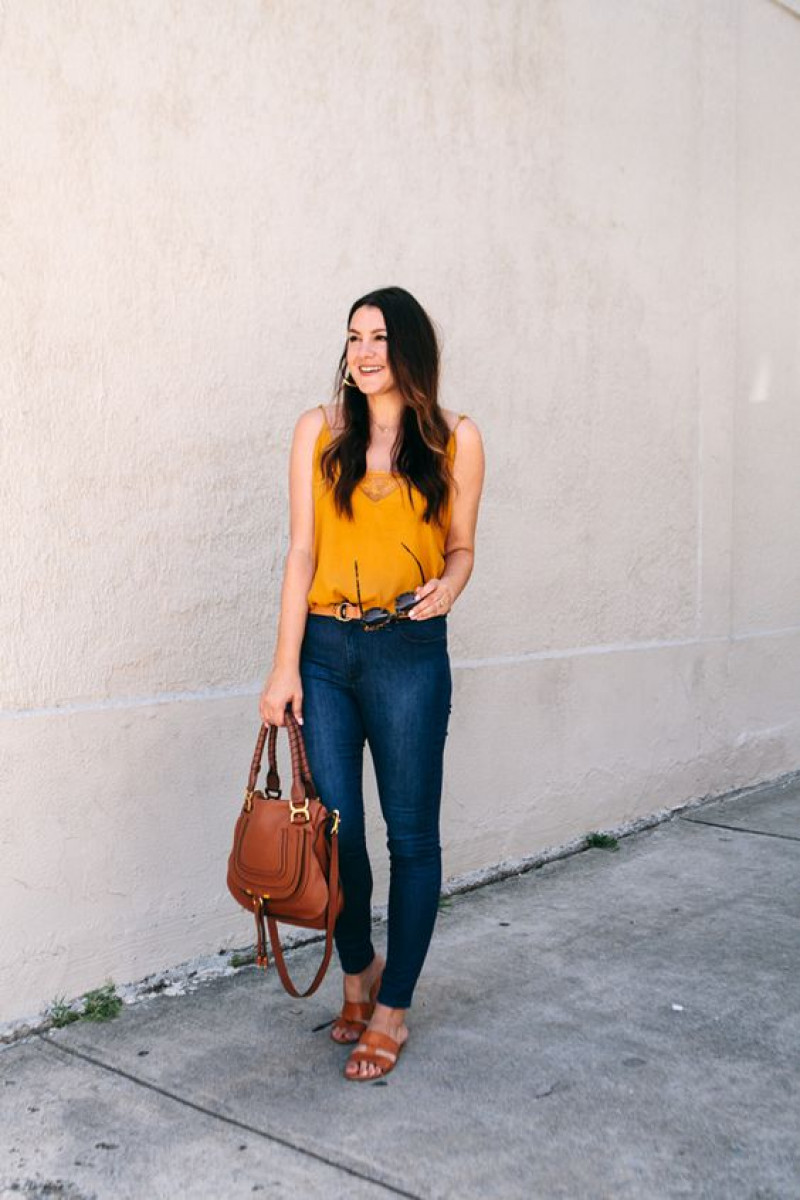 Style the dark blue skinny denim trousers with brown leather sandals. A plain yellow cotton sleeveless top and a brown leather top handle bag to Finish the outfit.
Go Out with dark blue skinny denim Jeans with a yellow plain top and Brown leather sandals!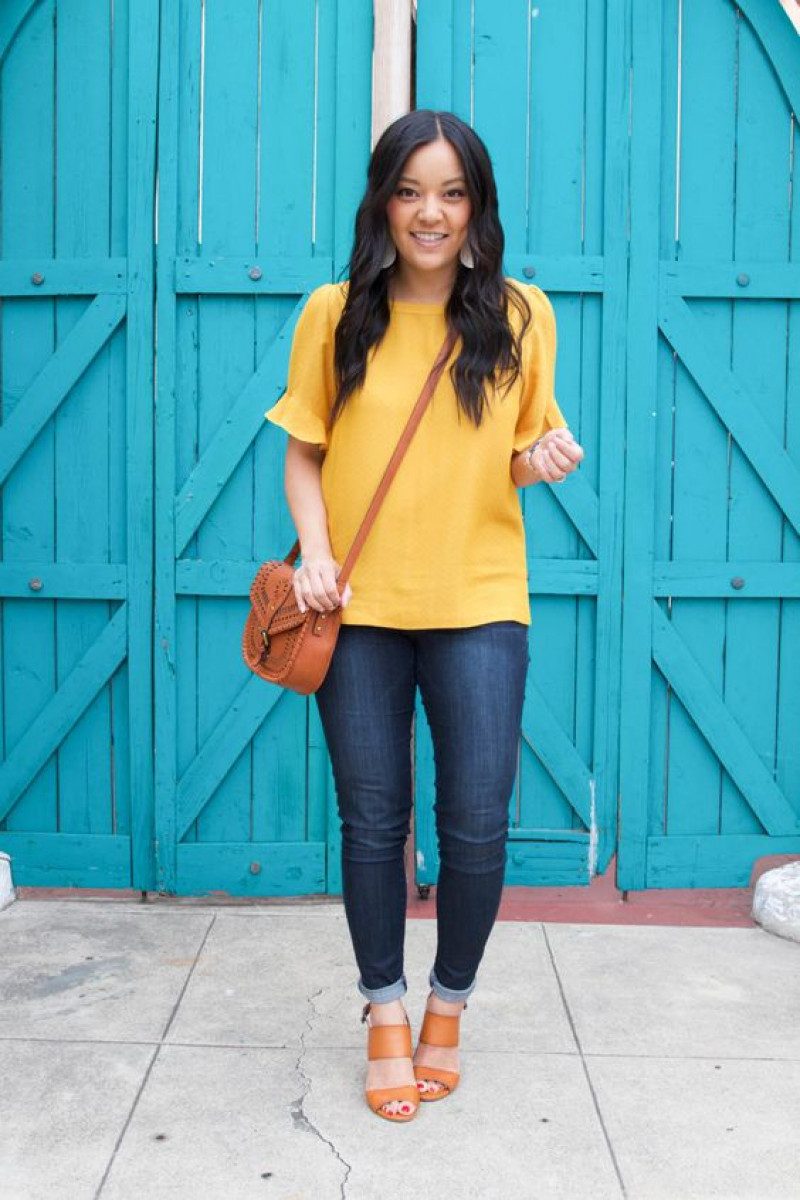 Look Amazing by trying matching navy skinny denim trousers with a yellow, low cut, short sleeved smart vest that has a full button closure and single breasted lining. Add some orange leather sandals with open feet for comfort and finish off the look with an orange leather long strap bag with a polka dot pattern.
Light Blue Denim Jeans with white Sneakers and Yellow Spaghetti Strap Top!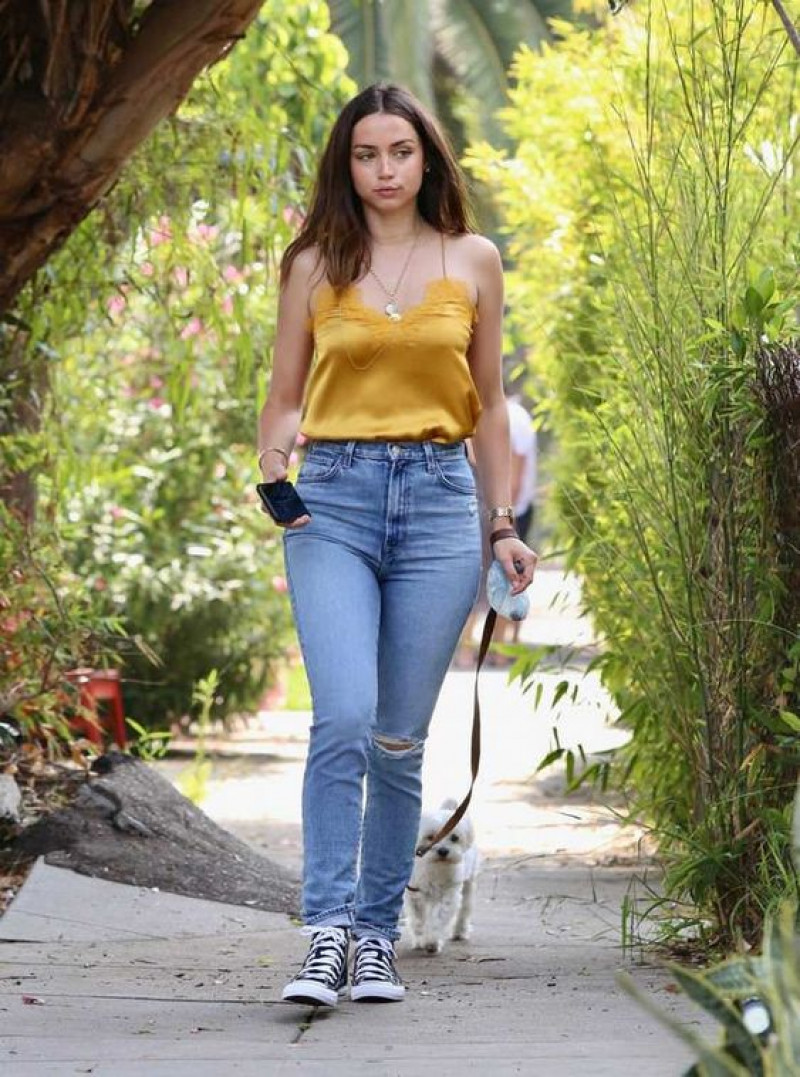 This outfit features a light blue denim trousers with a slim fit and low rise matched with black textile sneakers with a flatform heel. The metal necklace adds a touch of elegance to the plain yellow spaghetti strap top with partial button closure.
Yellow plain top with Dark Blue Jeans and Brown Sandals!
This yellow upper with short sleeves and full closure features buttons and a single breasted lining. Matched with dark blue slim denim trousers, orange leather sandals and an orange leather long strap bag, this outfit is completed with silver metal earrings and a golden analogue watch with a white dial.
Yellow Crop Top, Dark Blue Jeans and Stylish Sunglasses with Golden Watch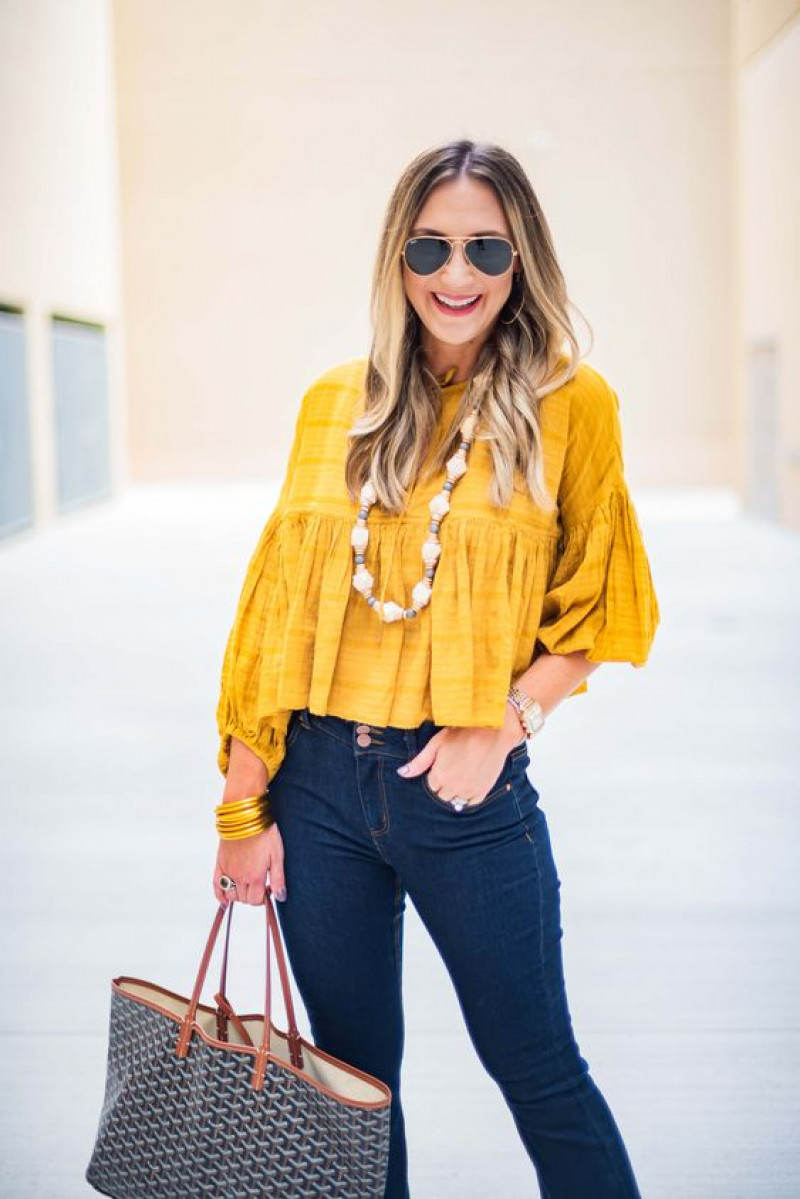 The yellow crop top with a collar and a drawstring closure and is made of plain material, while the dark blue and navy denim jeans are of style. The women's leather totes and shopper bags have a patterned design in geometric & abstract, whereas the eyewear sunglasses and analogue watch with golden case color and white dial, both made of metal strap material.
Stylish Flared Jeans with Yellow Sleeveless Top Silver Earrings
This outfit features a dark blue and navy flared jeans with a plain design and low rise. The elegant yellow sleeveless top has a low cut neckline and no closure. Beige leather pumps with closed toes Finishes the look. Add some silver leather earrings without gemstones for a touch of sophistication.
Light Blue Skinny Denim Trousers with White Flatform Sneakers and Yellow Shorted T shirt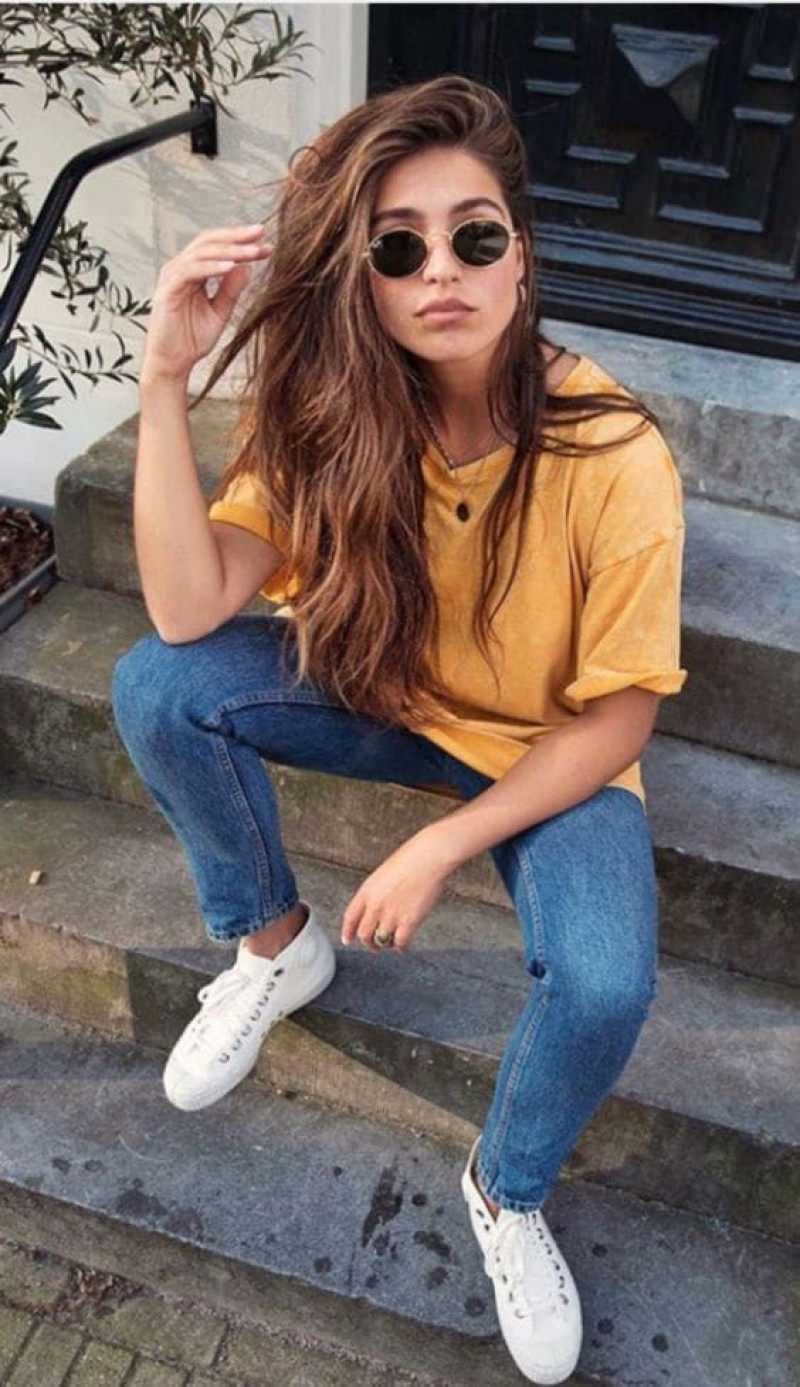 To look Classy, choose light blue denim skinny trousers with a yellow short sleeved plain t shirt. Try out the outfit with white leather low flatform sneakers and sunglasses for an effortless style.
Stay cool with our yellow square neck Top with grey jeans and beige sandals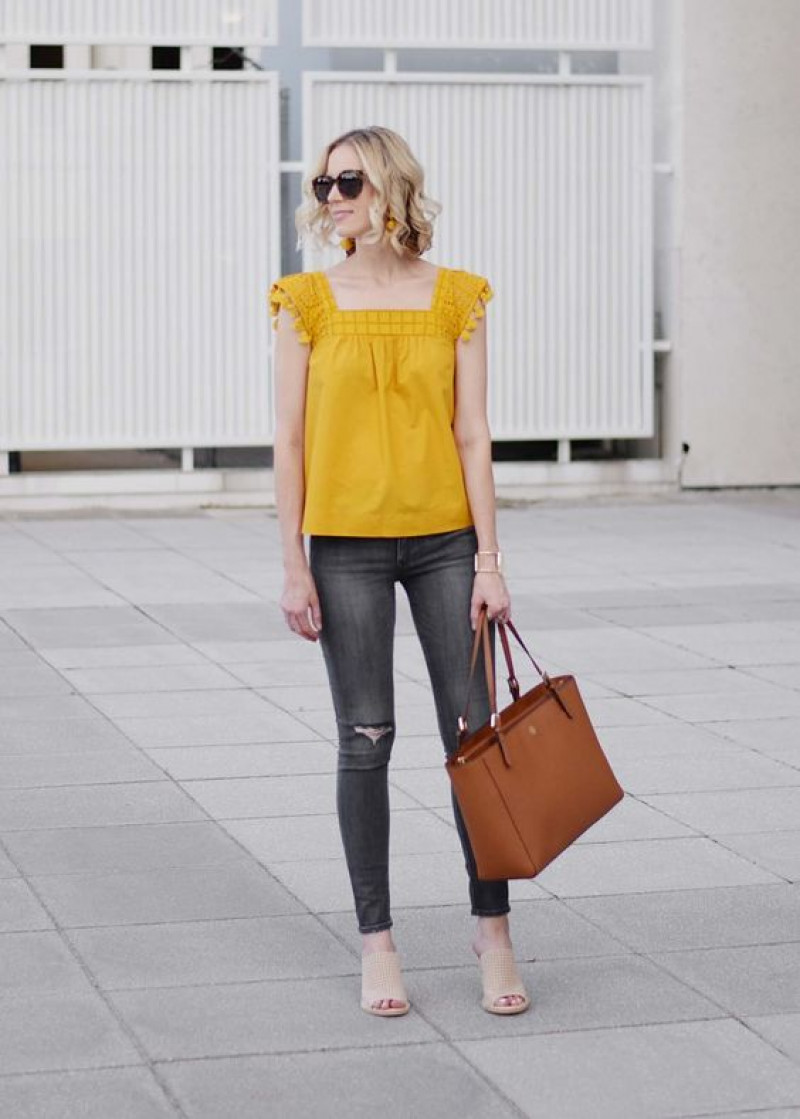 This yellow top with a square neckline and short sleeves perfectly matched with grey skinny jeans in a low rise fit. Add a touch of elegance with beige leather sandals. Match the look with a brown leather tote and white dial analogue watch with a golden case and brown metal strap.
Light Blue Denim Jeans and Floral Yellow Square Neck Top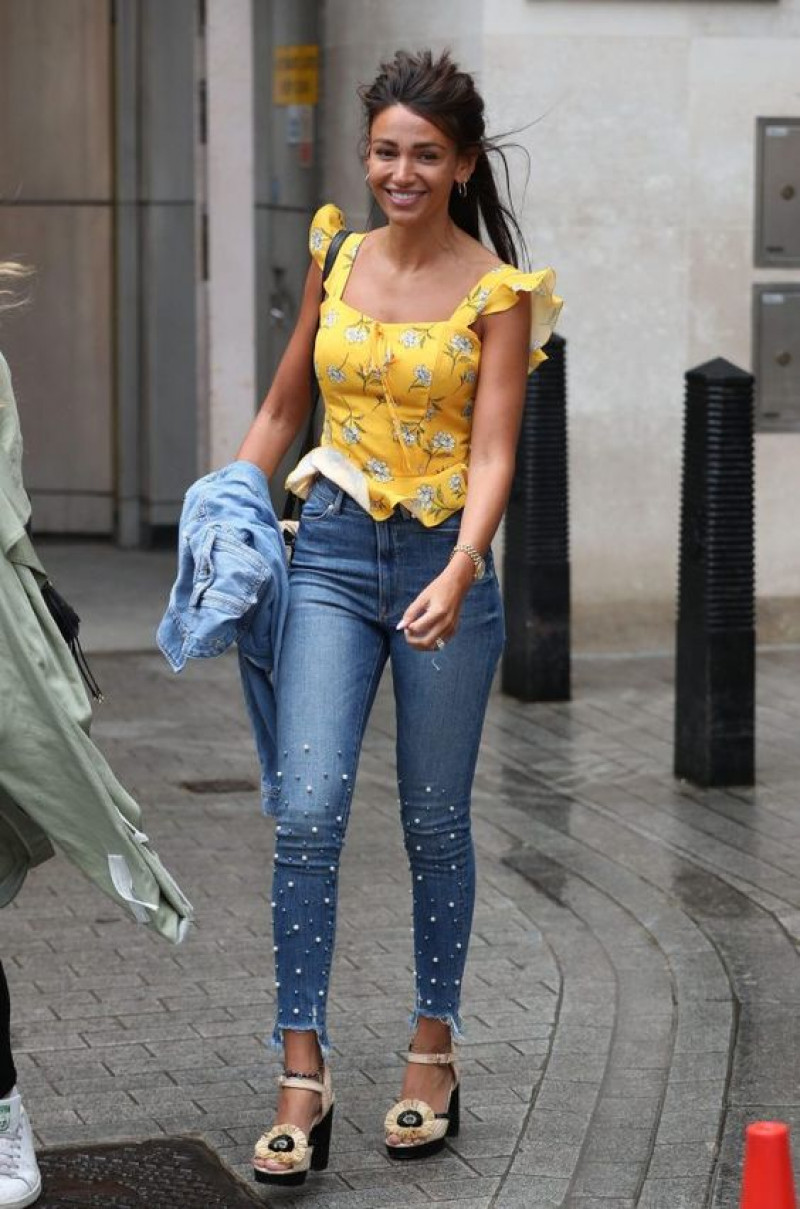 The elegant yellow top with shoulder straps and square neckline features a beautiful floral pattern design, while the light blue denim trousers have a plain design and skinny fit. The beige leather chunky heeled sandals to match the look with their open feet and style.
Yellow linen crop top with a v neck with dark blue denim shorts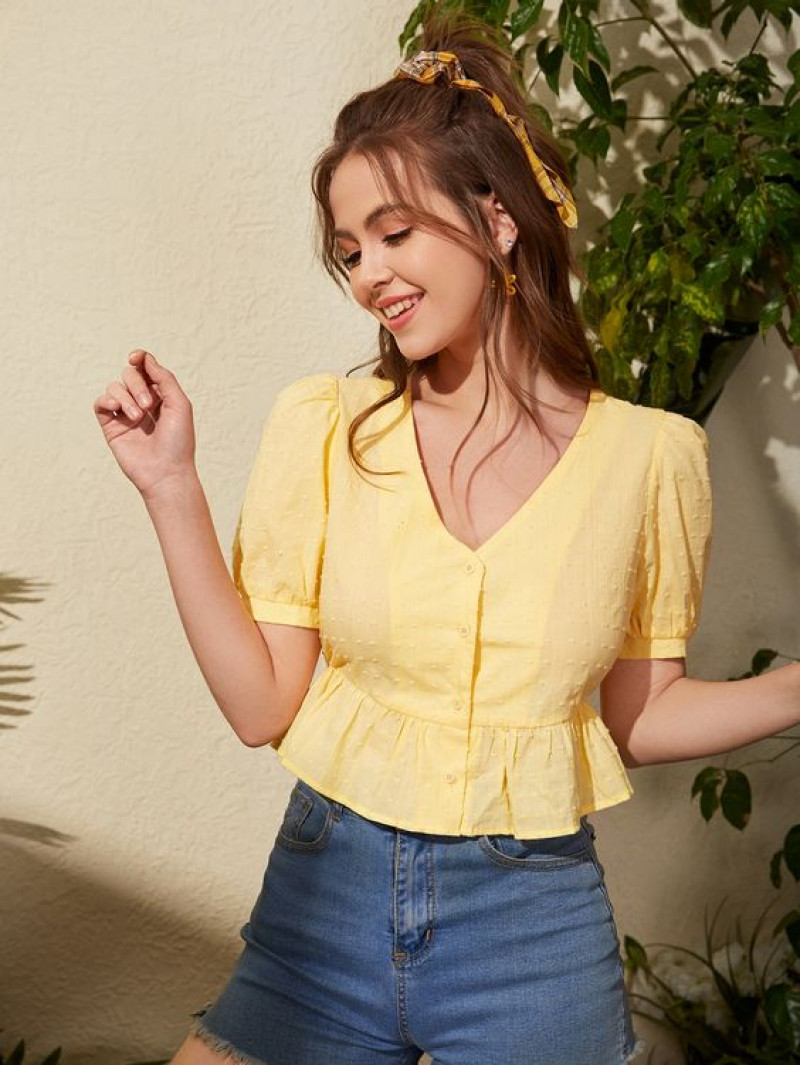 This elegant yellow crop top is perfect for adult women who want to look stylish and trendy. The linen material and v neck cut add sophistication, while the short sleeves keep it comfortable. The full button closure adds a touch of class to this plain design. Try it with these dark blue and navy denim jeans for a finished outfit that's perfect for any occasion. The low rise and plain design make these jeans versatile and easy to wear with any top. Add some accessories like a statement necklace to Match the look.
Dark blue denim trousers with yellow cotton top and yellow flatform sandals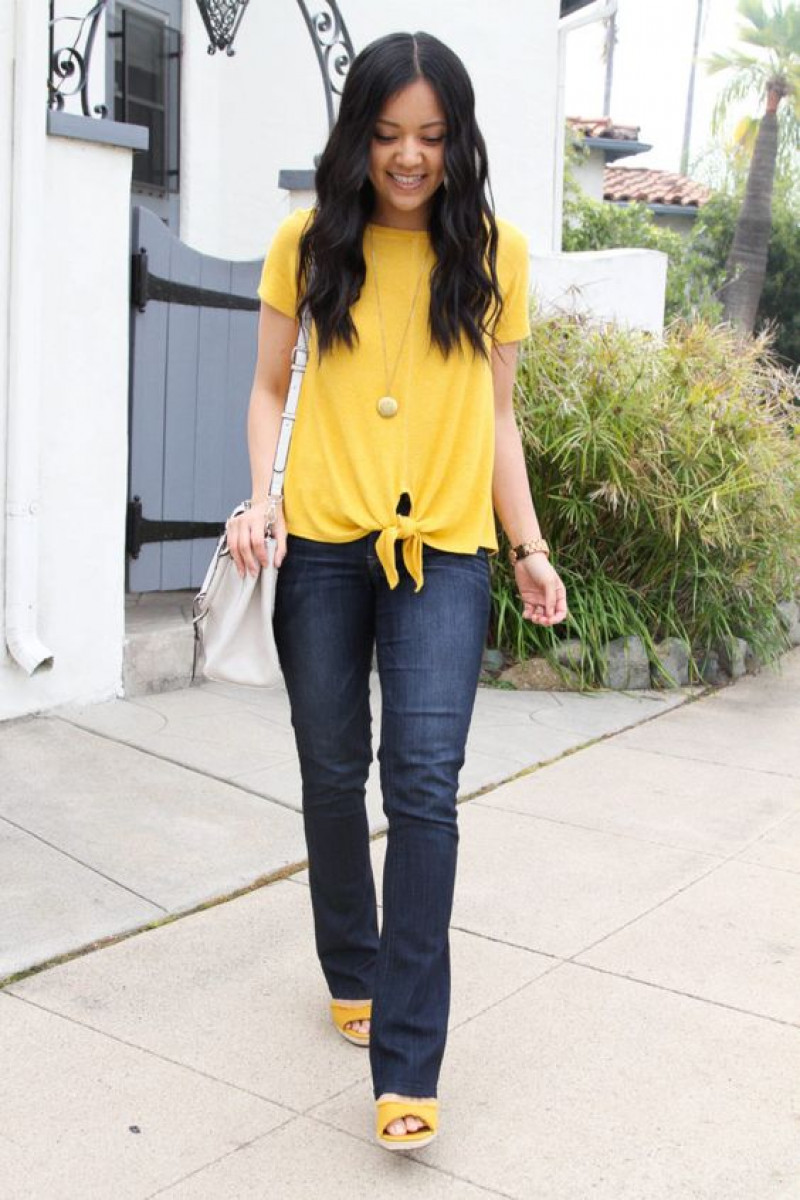 This outfit features dark blue denim trousers, a yellow short sleeved cotton top and a black leather bucket bag. Try the look with yellow flatform sandals for a perfect style.
Dark blue denim trousers with beige stiletto sandals and a plain yellow spaghetti Top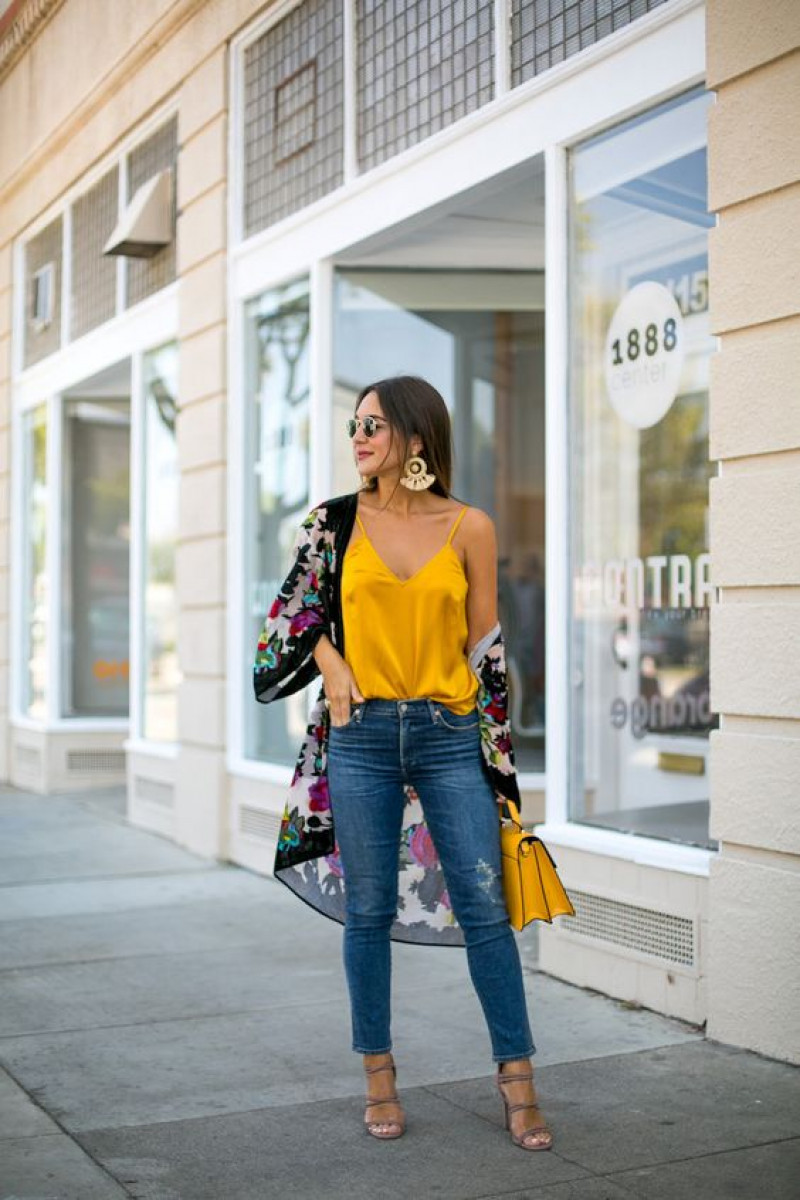 For a stylish look, Style dark blue and navy denim slim fit trousers with a patterned spaghetti strap top featuring long sleeves and a low cut neckline. Match the outfit with beige stiletto sandals, yellow leather bucket bag, gold metal earrings and ear cuffs and sunglasses.
Black jeans with a yellow heart neckline crop top and silver metal earrings!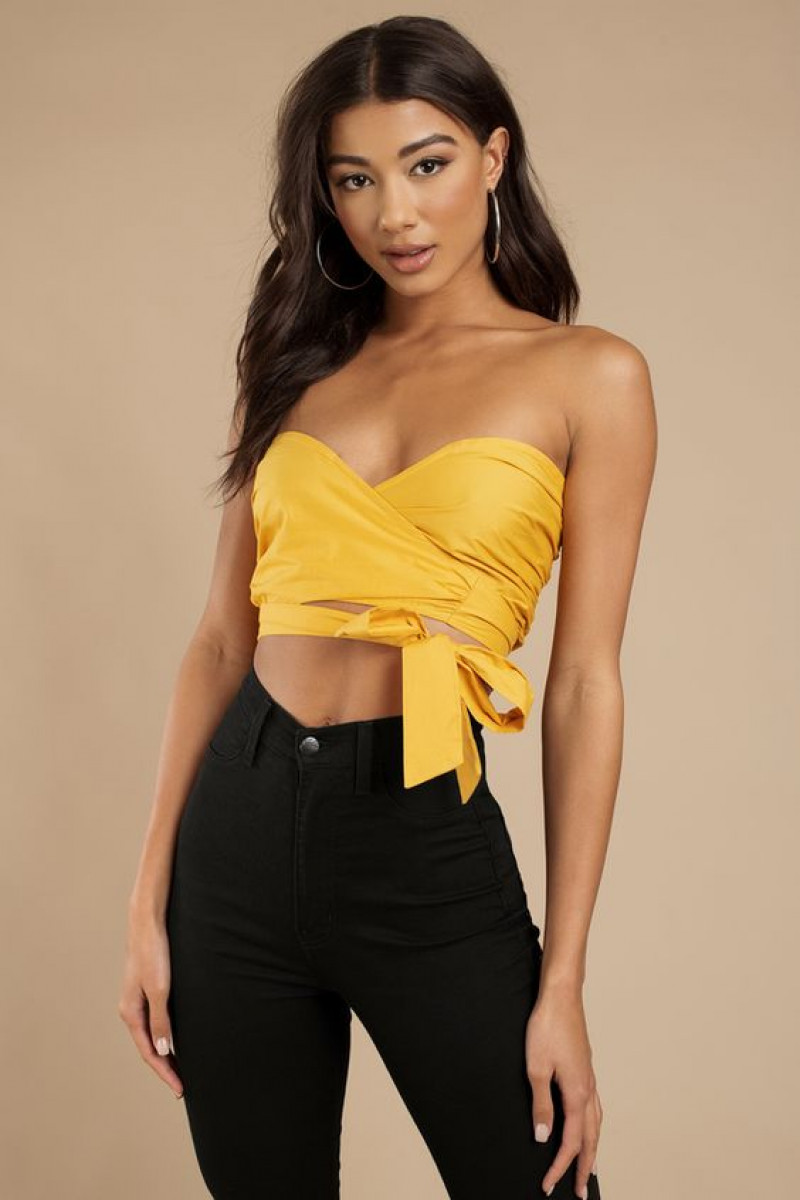 This outfit features a black jeans made of cotton and a plain design with a mid rise fit. Matched with a yellow heart neckline crop top that has sleeveless and shorted cut style, made of cotton for a comfortable look. Accessorize with silver metal earrings to end up the look. Add some sneakers or sandals to make it perfect for a day out with family.
Denim Jeans with Yellow Off-Shoulder Top and Brown Chunky Heel Sandals!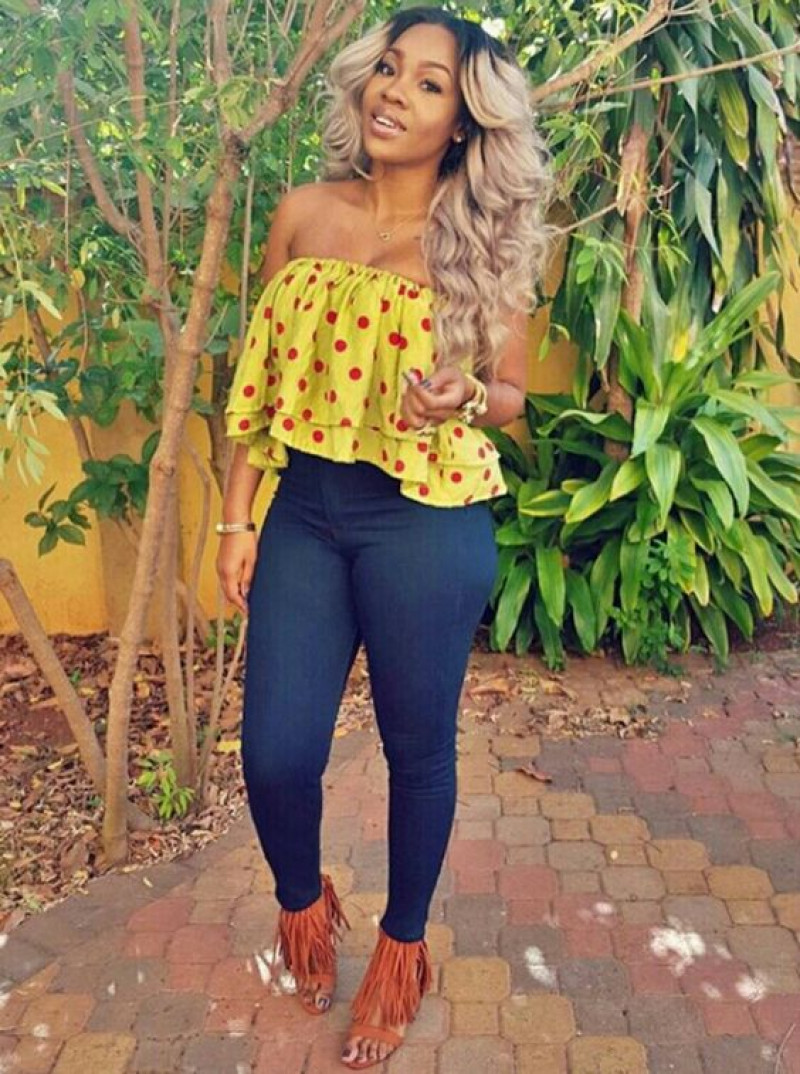 This outfit consists of dark blue and navy denim skinny trousers, best suits with orange chunky heel sandals. The off shoulder yellow polka dot crop top adds an elegant touch, while black metal earrings and ear cuffs is Perfect to Complete the Look!
Be in Trend with Off shoulder Yellow Bardot Tops and Dark Blue Denim Jeans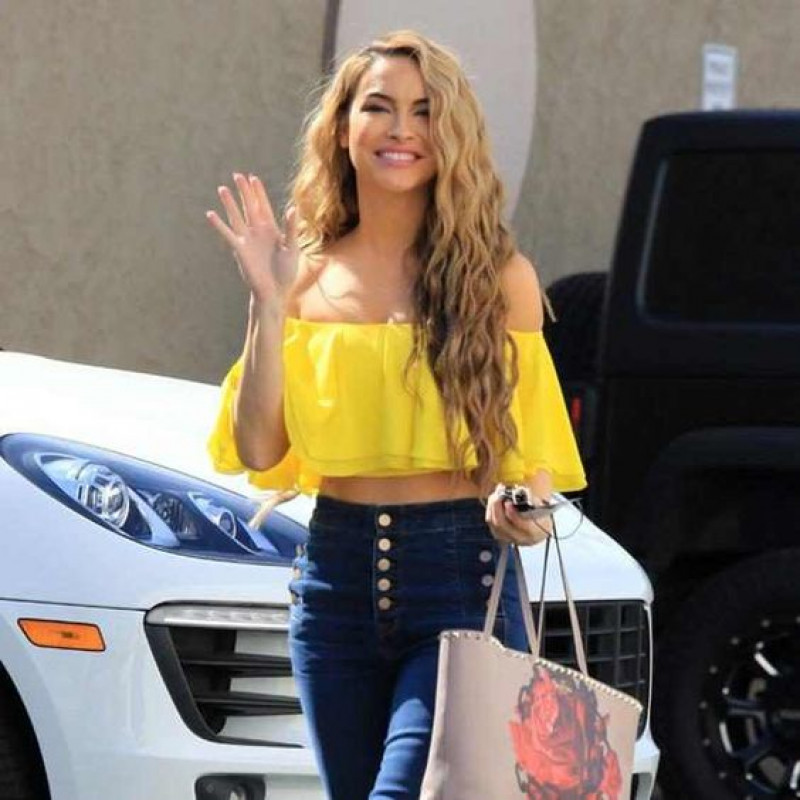 Looking for a stylish outfit? Look no further! Try a yellow Bardot top with dark blue jeans for a trendy look. The cotton material and long sleeves make it perfect for cooler weather. Add a tote made of textile material to end up the look. Perfect for any adult looking for a plain, comfortable outfit.
Blue Denim Jeans with Yellow Striped Patterned T Shirt and White bag!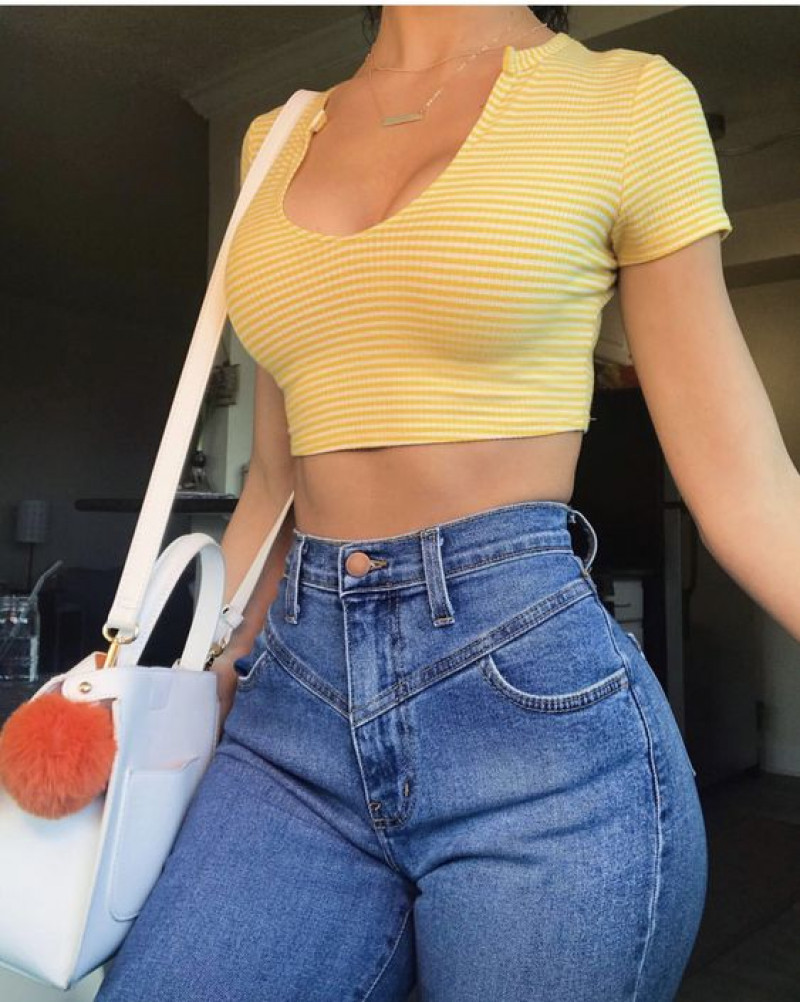 The plain design of the light blue denim jeans and the patterned stripe design of the yellow cotton t shirt create a stylish look. The necklaces, pendants and chains in gold add a touch of elegance while the white fur clutches and wristlets complement the overall design.
Denim Blue Jeans with Brown stiletto sandals, a Pretty Top and a necklace!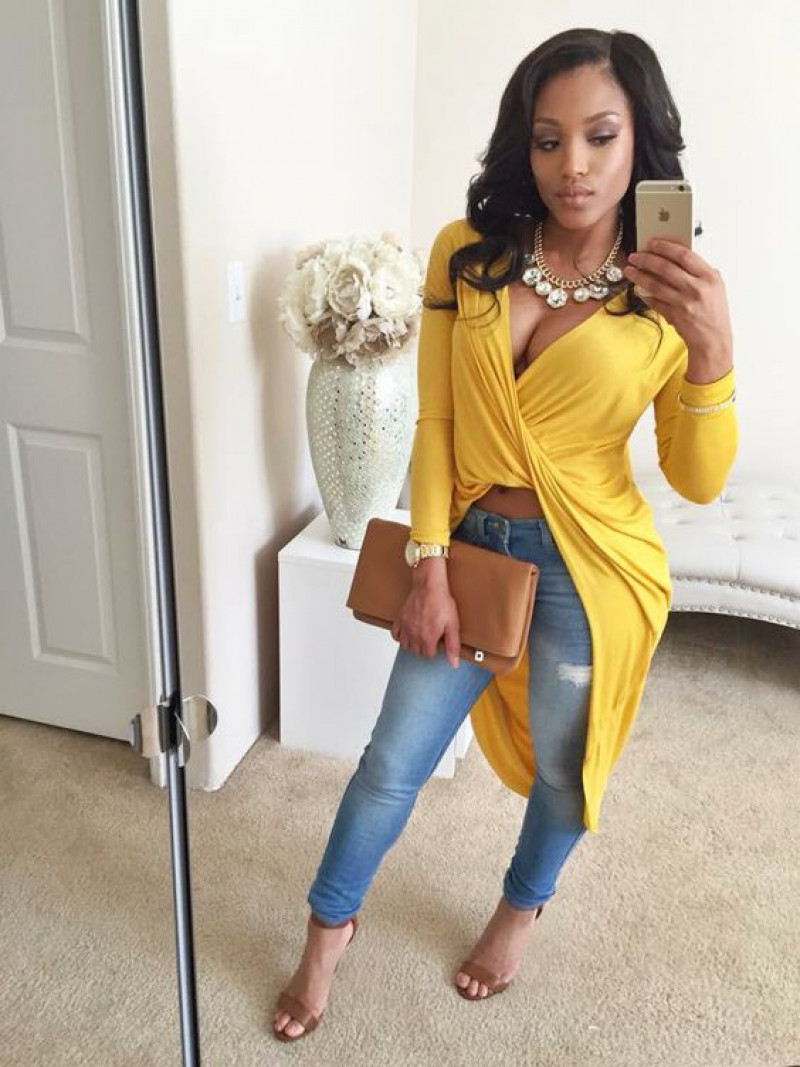 The trousers and overalls have a plain design, while the totes and shopper bags also feature a simple, plain design. The watch has a Roman numerals dial and the necklaces are made up of half gemstones, adding a subtle pattern to the overall look.
Yellow Off Shoulder Bardot Top with Long Sleeves and White Jeans!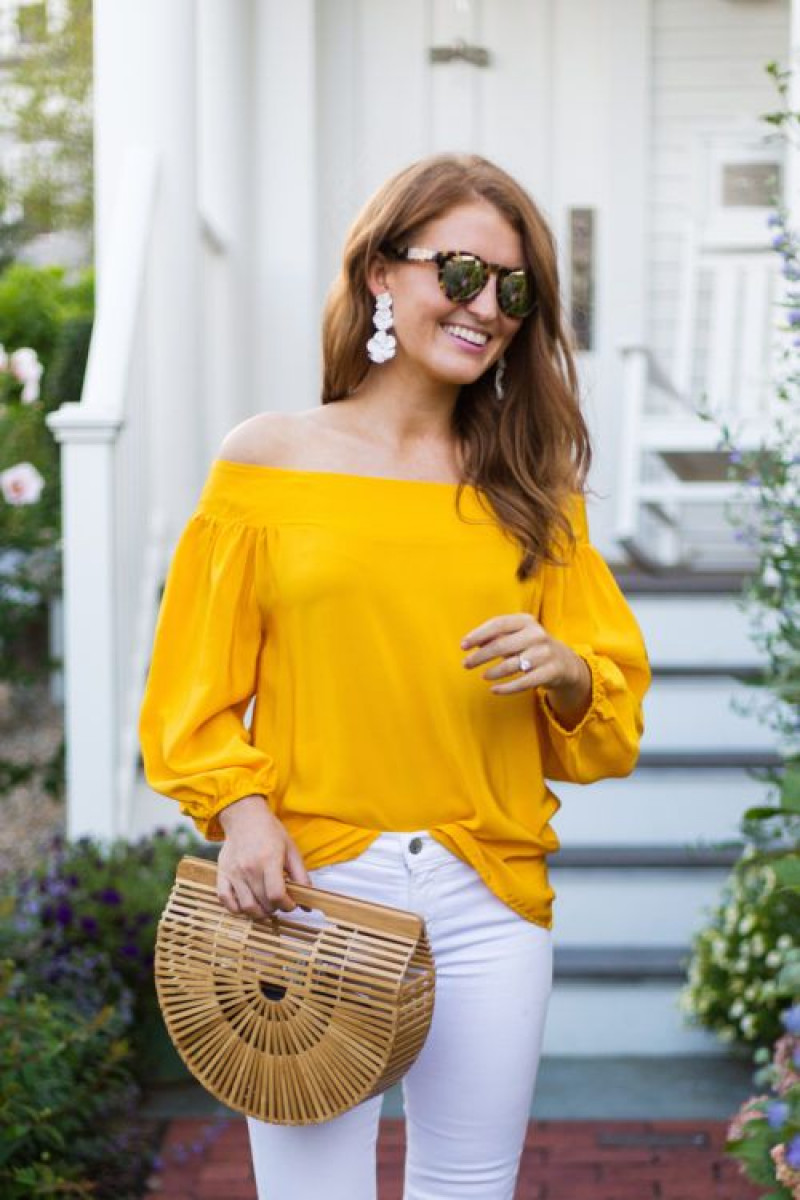 This yellow bardot top with long sleeves and off shoulder neckline matches best with white striped jeans for a gorgeous look. Add a beige patterned top handle bag and silver gemstone earrings for some extra flair. End up the outfit with some stylish sunglasses.
Get the Perfect Look with Light Blue Jeans and Yellow Wrap Top!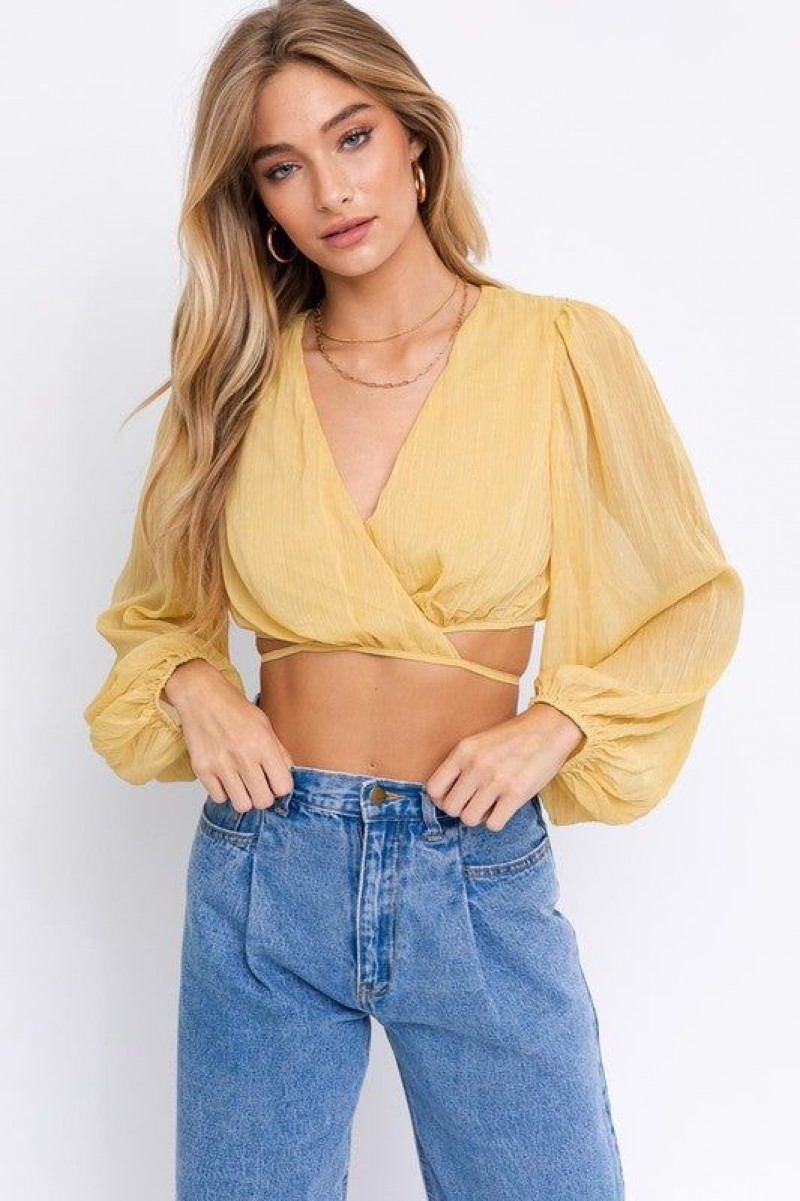 For a elegant look, go with light blue denim jeans with a yellow linen wrap top featuring long sleeves and a wrap neckline. Try the outfit with metal earrings and a necklace without gemstones. Go Out for low rise jeans and no belt for added comfort.
Light Blue Denim Jeans and Yellow Suit Jackets!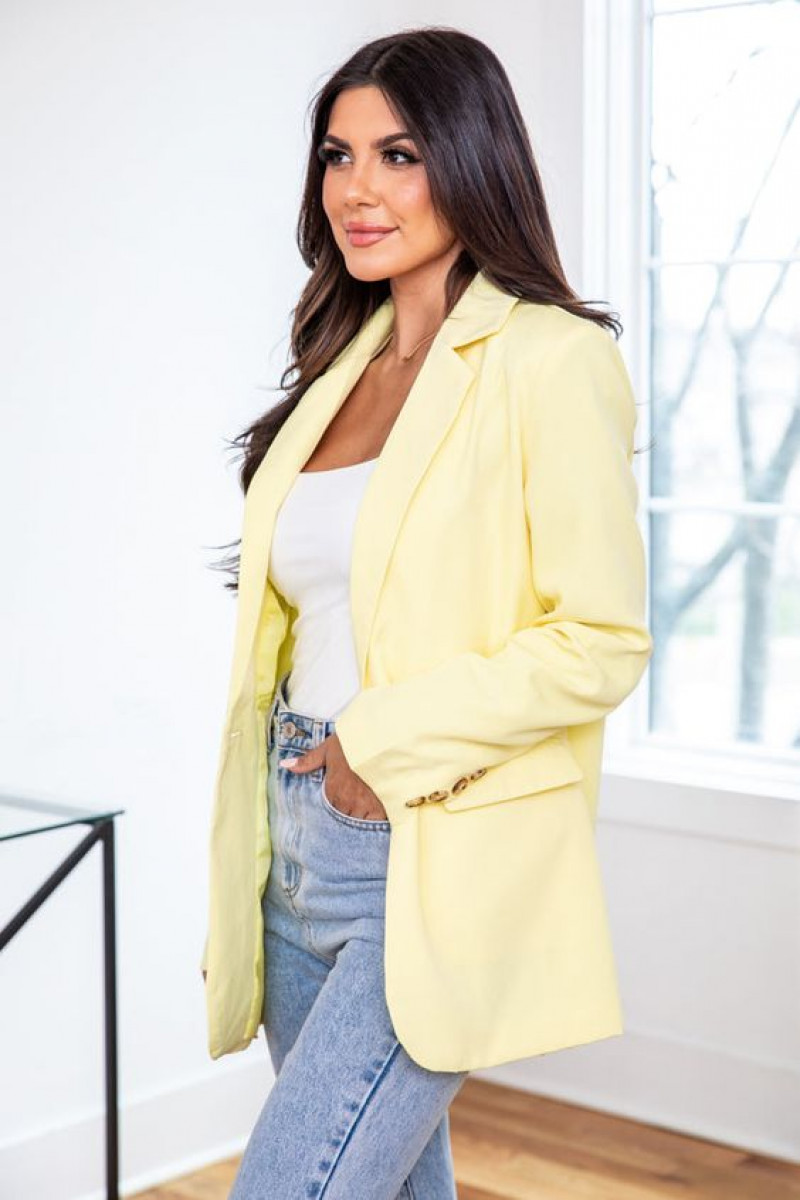 The plain design of the light blue denim jeans and the elegant yellow suit jackets and tuxedos with a full closure and single breasted lining make them perfect for adult wearers who prefer simplicity over pattern.
Light Blue Denim Trousers with White Vans and Yellow Turtleneck Long Sleeve Tee

Check out this dope outfit light blue denim straight fit trousers with some fresh white low top leather trainers. Keepin' it with a yellow turtleneck long sleeve denim shirt, buttoned up for the full closure vibe. No belt needed, just chillin'.
Try up Dark Blue Jeans and Yellow Crop Top & Perfect Accessories!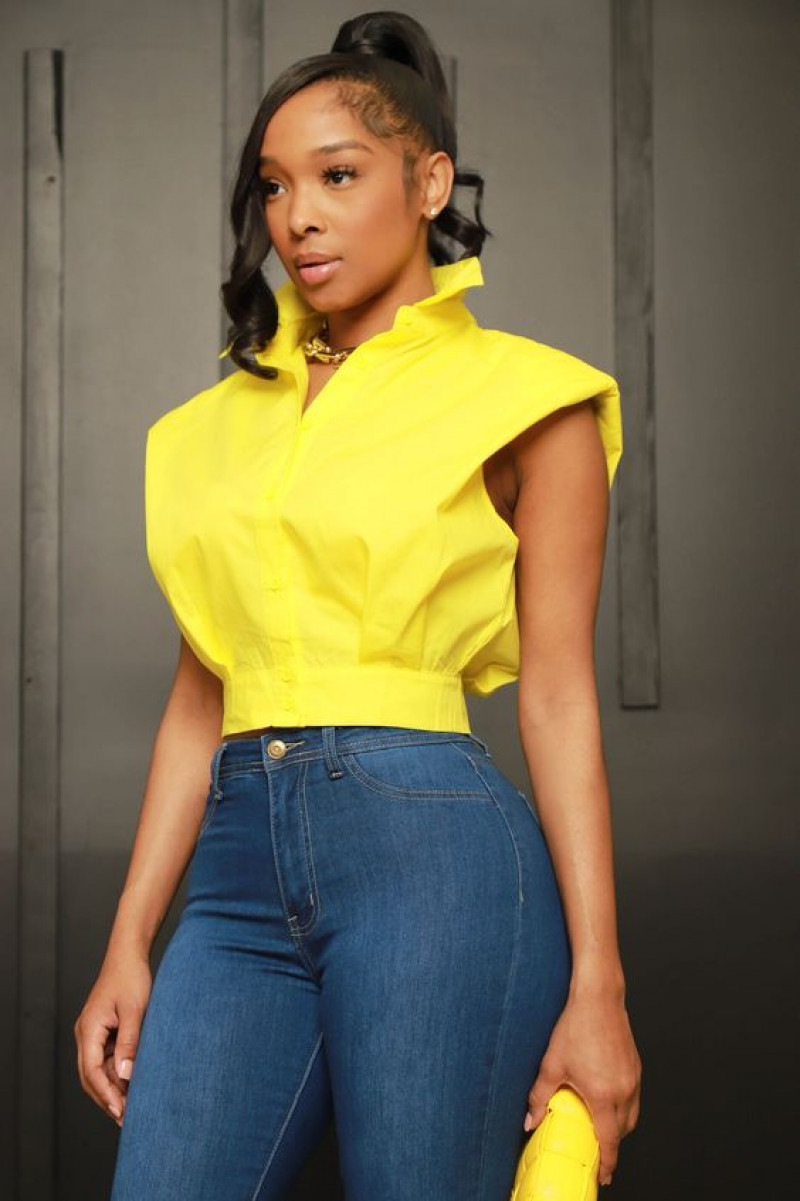 Style dark blue jeans with a plain yellow crop top. The mid rise jeans are made of durable denim material and have a comfortable fit. The short sleeved cotton top has a collar neckline and full zipper closure. Add some sparkle to your outfit with a metal ring without any gemstones. This smart outfit is perfect for an adult who wants to look chic and fashionable without sacrificing comfort.
Metal Necklaces with Dark Blue Jeans and Yellow Crop Top!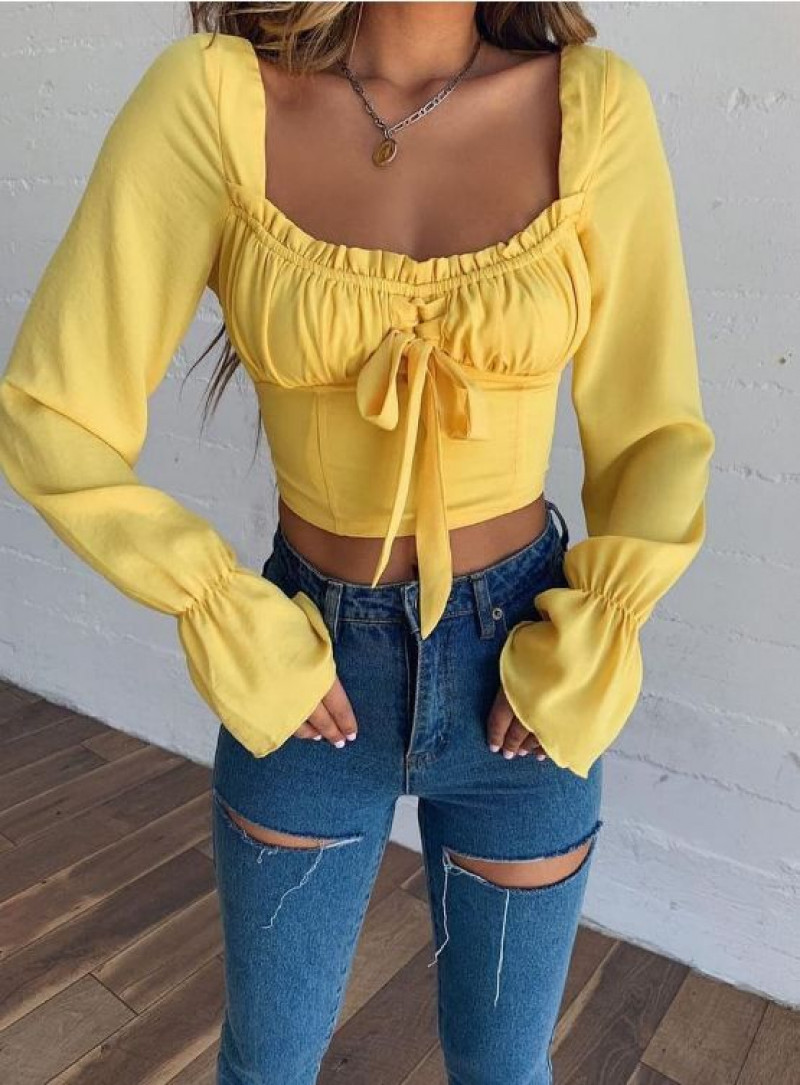 To look hot, try styling a silver metal necklace without gemstones with navy denim jeans. Opt for a low rise and cropped style with an elegant one shoulder yellow crop top featuring long sleeves and drawstrings for fastening. No belt needed!