Checkout our another collection of some stunning outfits with matches perfect with Red Pants. When it comes to adding a pop of color and a touch of vibrancy to your wardrobe, outfits with red pants are a fantastic choice. Red is a bold and captivating hue that instantly grabs attention, making it an excellent option for those who want to make a stylish statement. Whether you're going for a casual look or aiming for something more sophisticated, red pants can effortlessly elevate your outfit. In this article, we will explore different ways to style and incorporate red pants into your fashion repertoire, helping you create striking and fashionable ensembles that leave a lasting impression.
Lovely! Grey Knitwear Cowl Neck Sweater-Attires with bold red jeans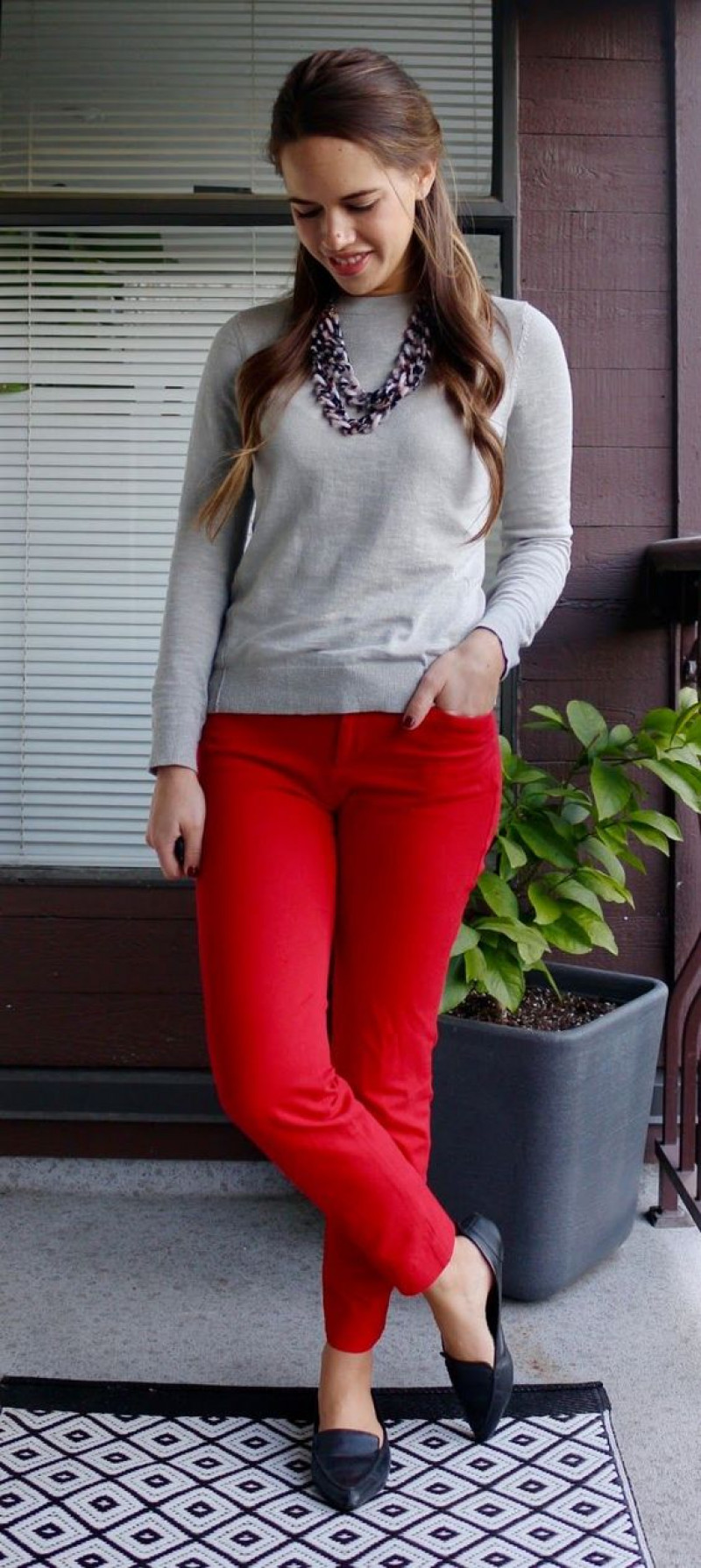 Rock a grey cowl-neck sweater with long sleeves, paired with red slim-fit trousers. Finish the look with black leather stilettos and a silver metal necklace. Effortlessly chic for adults who want to slay!
Stylish Red Trousers with Beige Fit Top for Women - Perfect for a Day Look!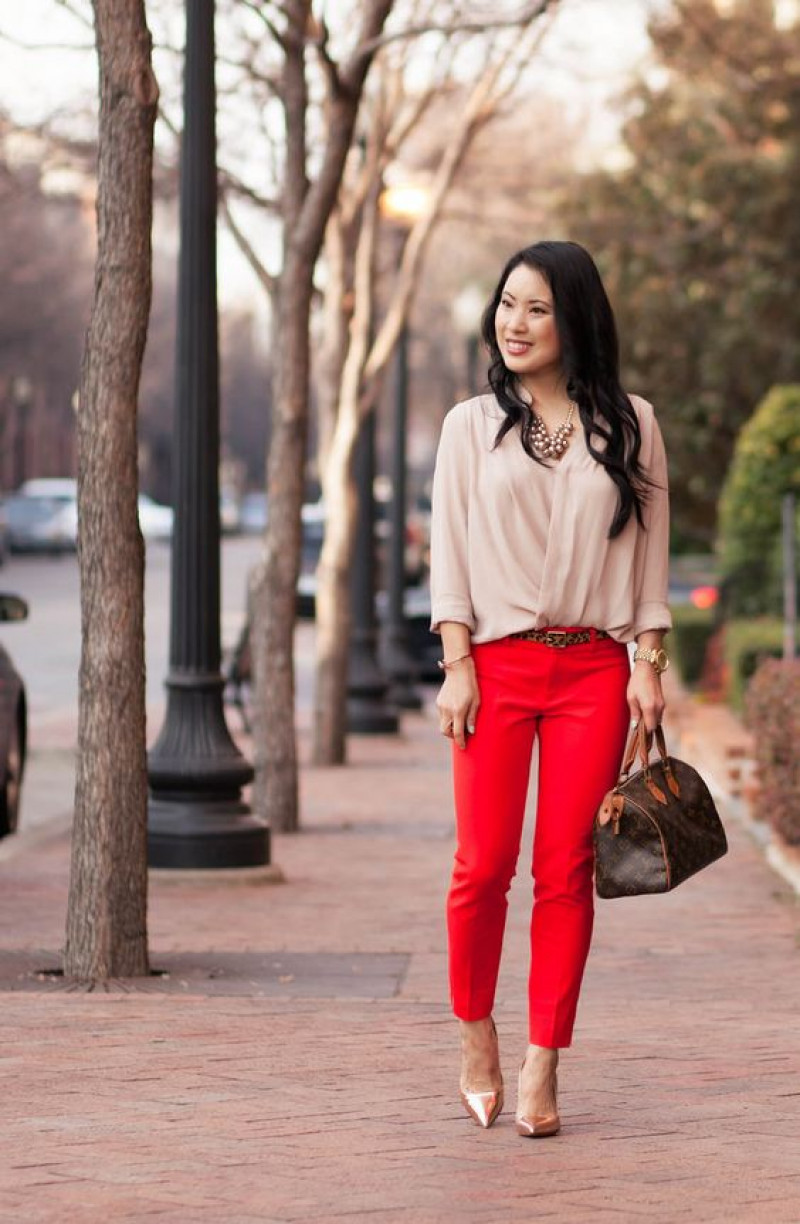 Try out this red silk length slim fit trousers with a beige lace crop Top. Add a brown leather duffle bag, a black metal necklace, beige leather pumps with a wedge heel shape and an elegant golden watch with a white Roman numerals dial.
Black Biker Jacket with Red Jeans and stylish Sunglasses!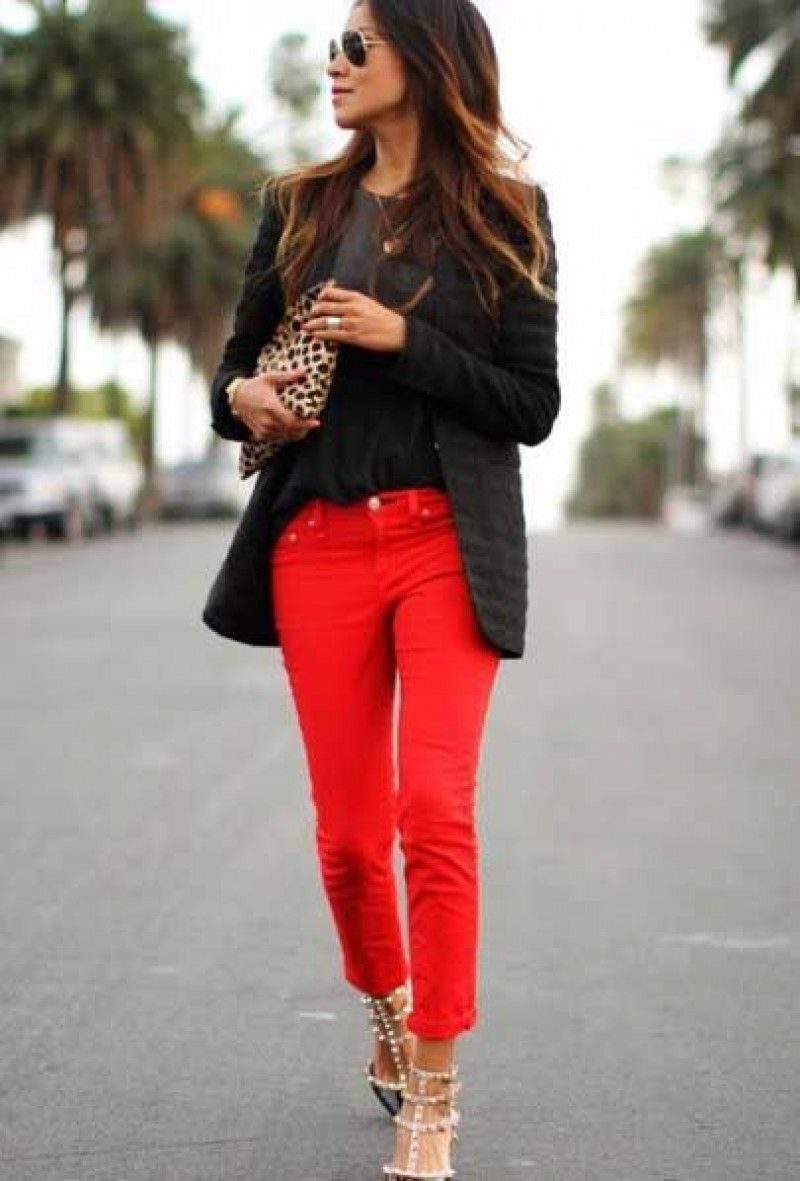 Rock the streets with a badass black biker jacket, matched with red slim-fit trousers. Style the look with a patterned animalistic clutch and elegant beige formal sandals. Add some bling with golden pumps and a yellow gold metal necklace. Don't forget your shades, babe!
Red Trousers, Pink short shrug, Leather Briefcase, Beige Formal Sandals and Elegant Pumps - Complete Outfit!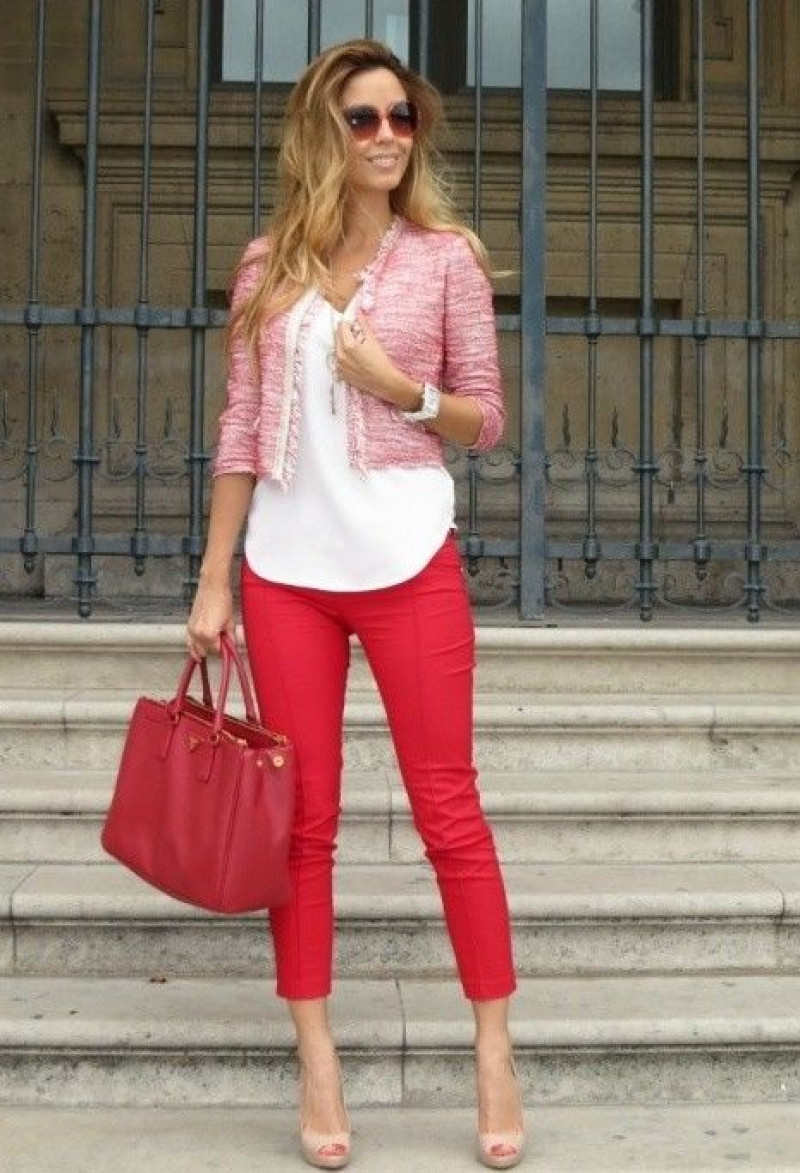 To get a sexy look, try red slim-fit suit trousers with a pink patterned v-neck shirt. Complete the Outfit with a red leather briefcase and beige leather formal sandals. Add a touch of sophistication with beige peep-toe pumps and accessorize with sunglasses. Finish off the ensemble with a silver watch featuring a white Roman numerals dial and a brown metal strap for a stylish vibe.
Black Polka dot Top styled with shrug- Styles best with the Red-colored jeans outfits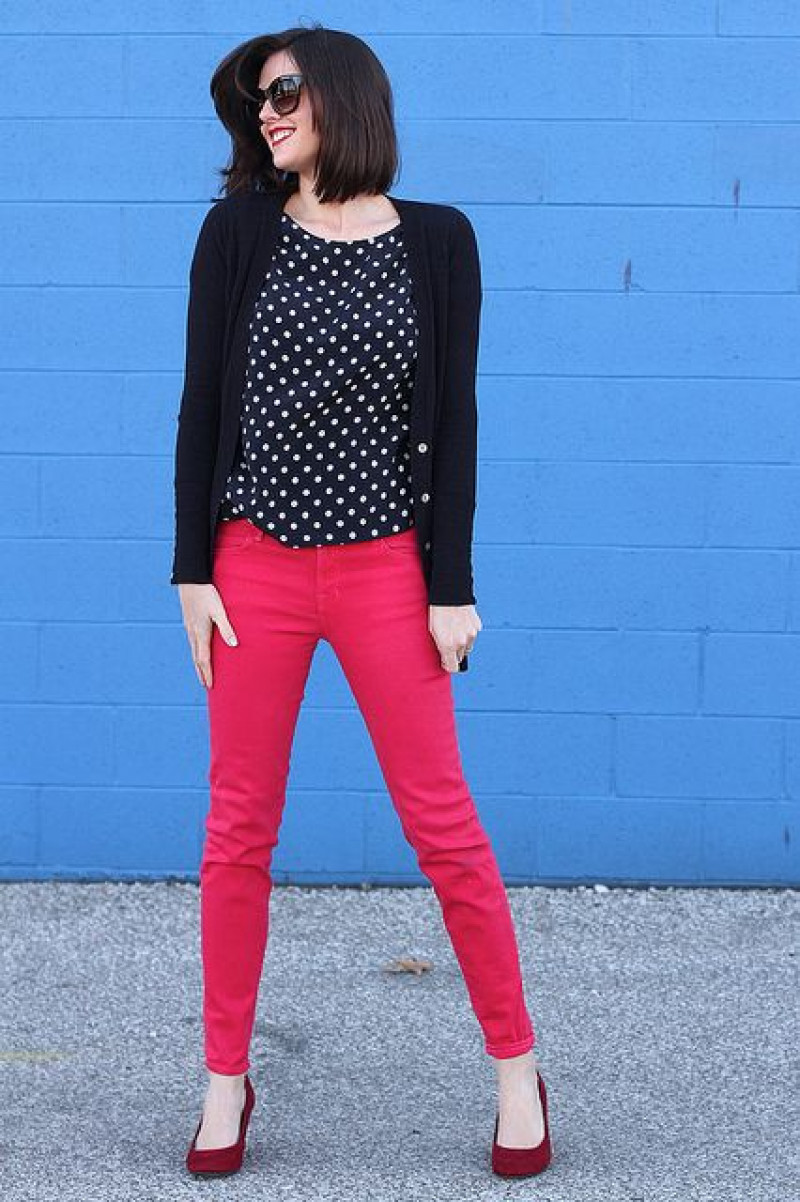 Get this Lovely! Red trousers with a black square-neck cardigan.Match the outfit with elegant red suede pumps and trendy sunglasses.
Red Pant with Grey Sweater - Look amazing with this stylish sunglass!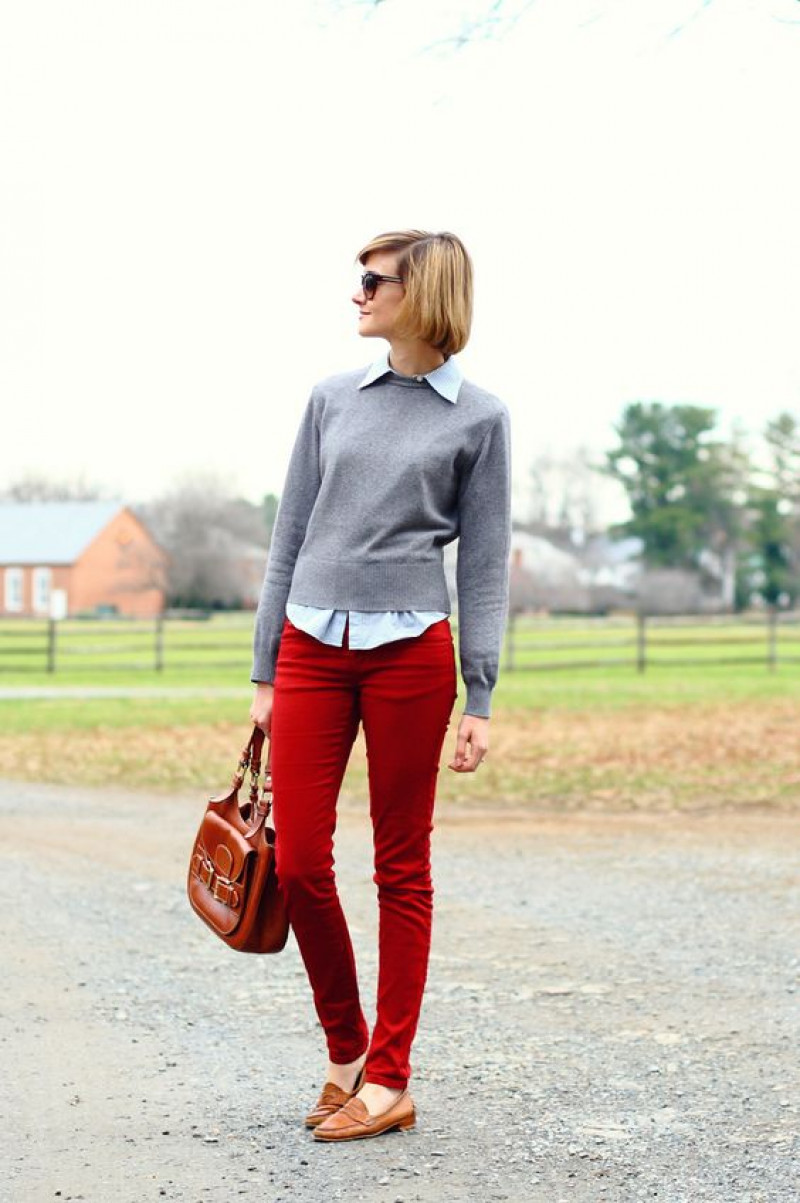 To Get a sexy look, go for a grey shorted collar shirt with red slim jeans. Complete the outfit with a brown leather top handle bag and sunglasses. Perfect for outdoor gatherings outings.
Red Jeans with black top is amazing - Style it with Grey Coat and stylish sunglass!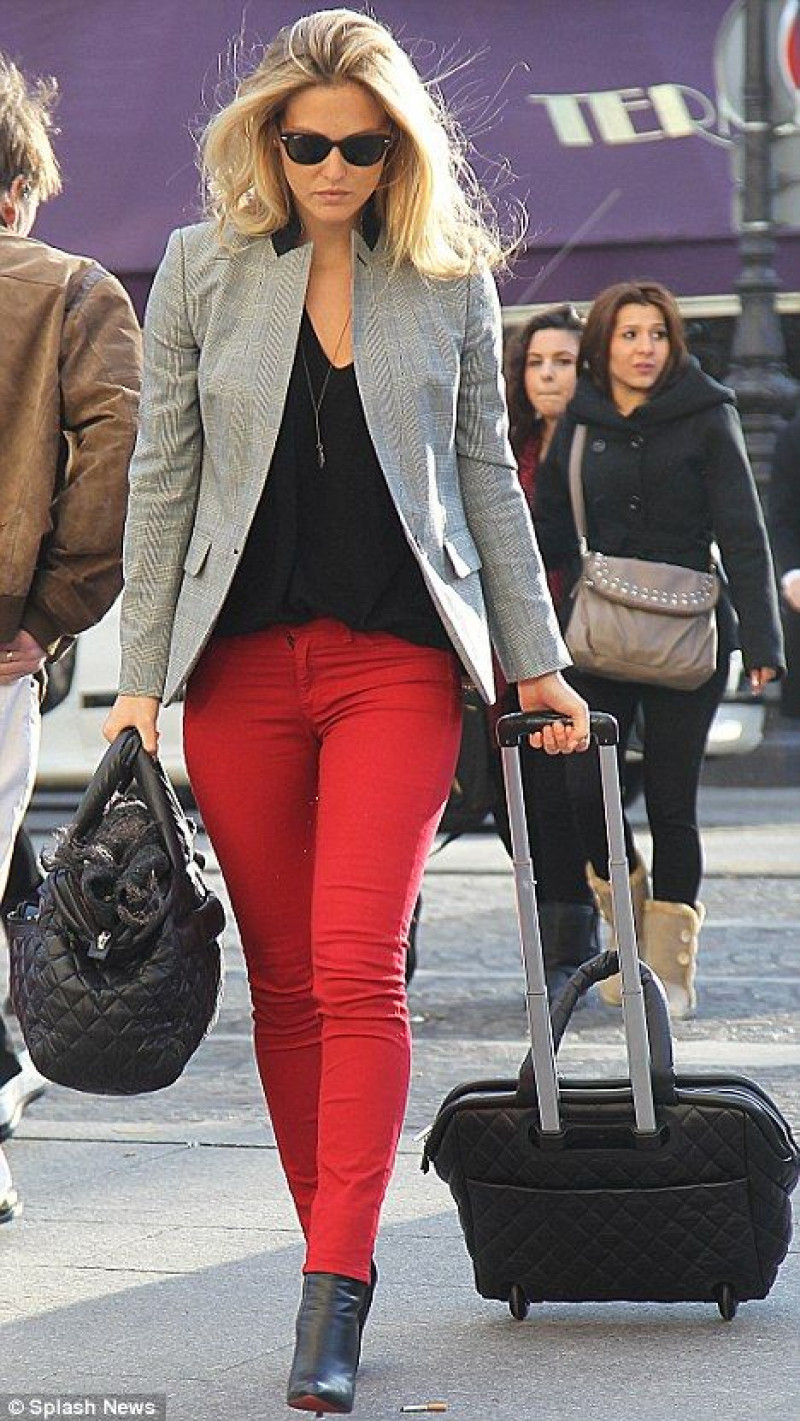 The suitcases are made of black plastic and vinyl material, while the wool coats are made of black wool. The suit trousers are made of red cotton material and the crossbody bags are made of black textile material. The boots are made of black leather and the necklaces, pendants and chains are made of yellow gold metal.
Pretty in Red: Trousers with Black Jacket Jacket, Pink Sandals, Sunglasses and Gold Bracelets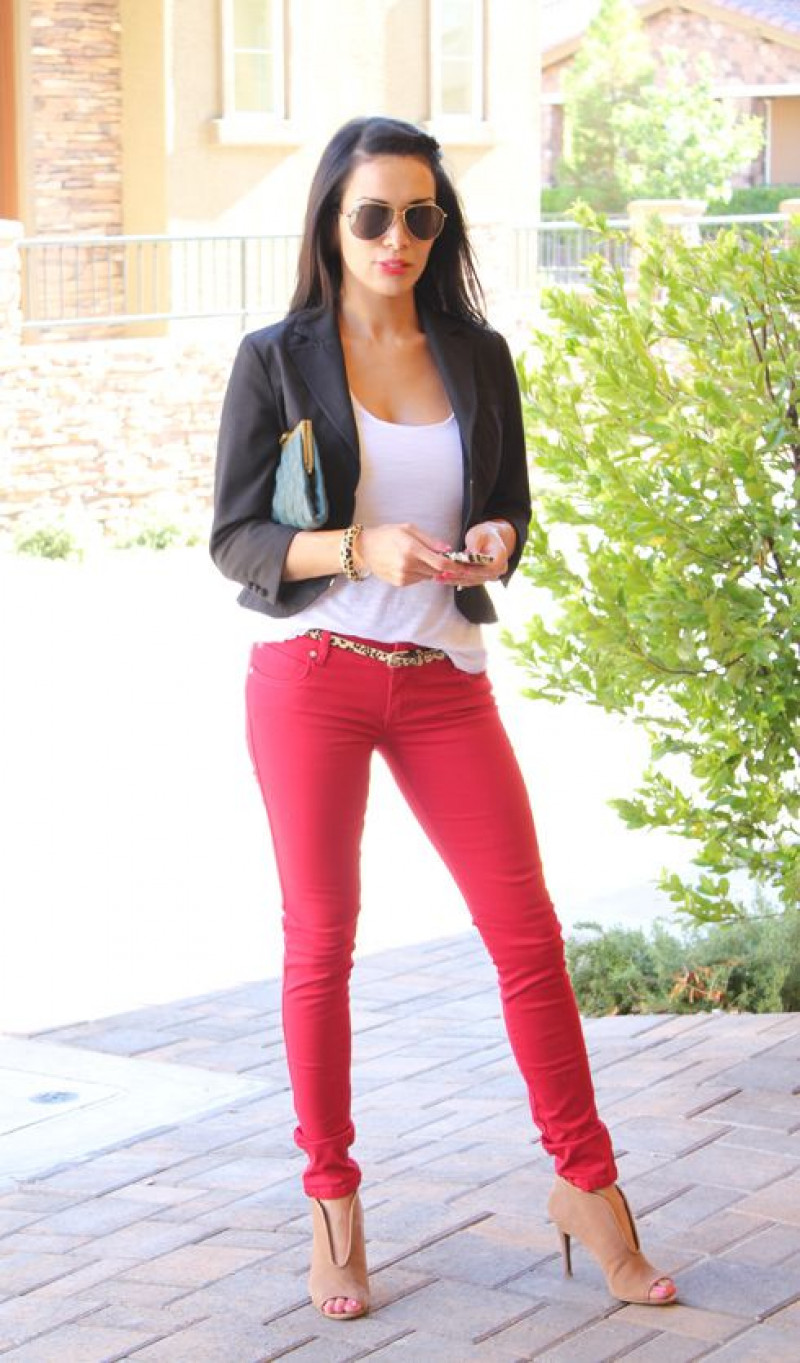 Try this stunning outfit! With Red trousers with a grey biker jacket. Finish the outfit with pink sandals, sunglasses and a yellow gold metal bracelet. Perfect for outdoor events or weekend outings.
Red trousers with polka dot top and black leather long strap bag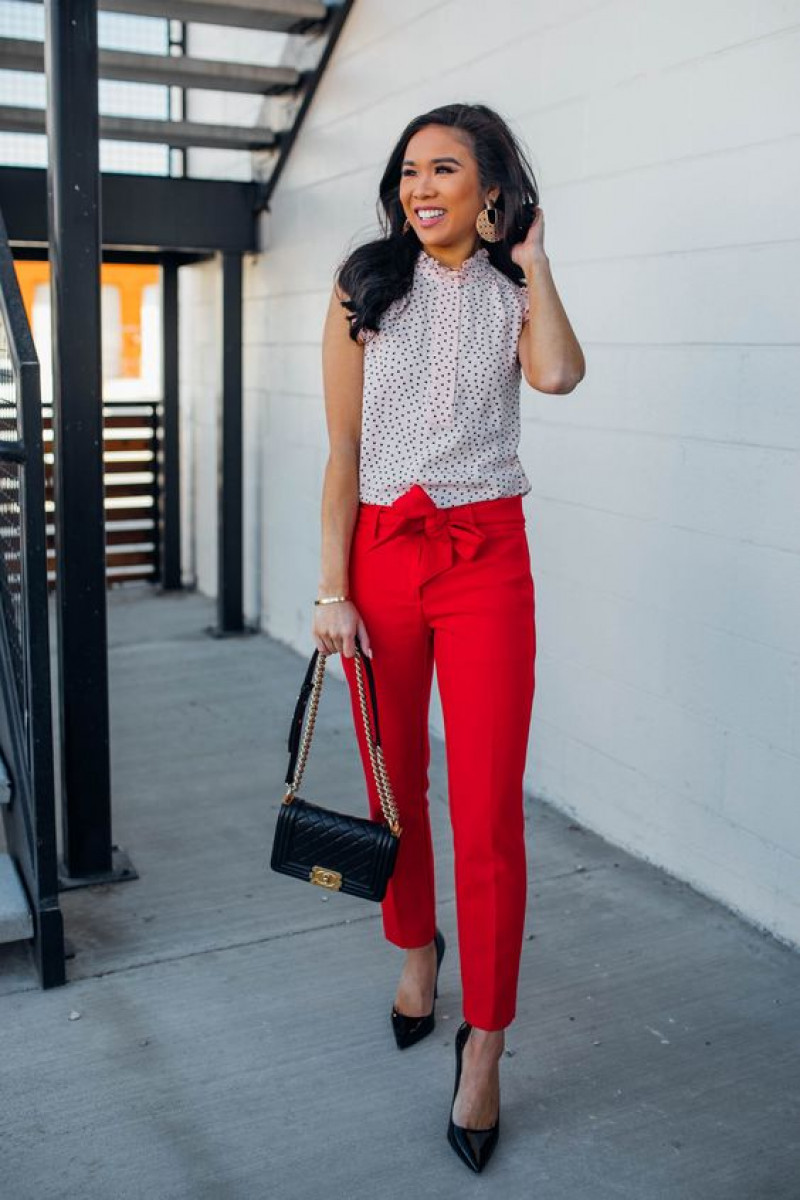 The red trousers in the pants are made of cotton. They are straight fit and suitable for adults. The upper, which is in the color white, has a collar neckline and short sleeves. It is made of elegant patterned cotton fabric with polka dot design and has no closure or belt. The long strap bag in black leather has a geometric and abstract pattern. The pumps are black leather shoes with a low height stiletto heel and closed toe. The bracelets are yellow gold metal, while the earrings and earcuffs are silver metal.
Get the Perfect Look with Red Trousers, Beige Shrug and Yellow Necklace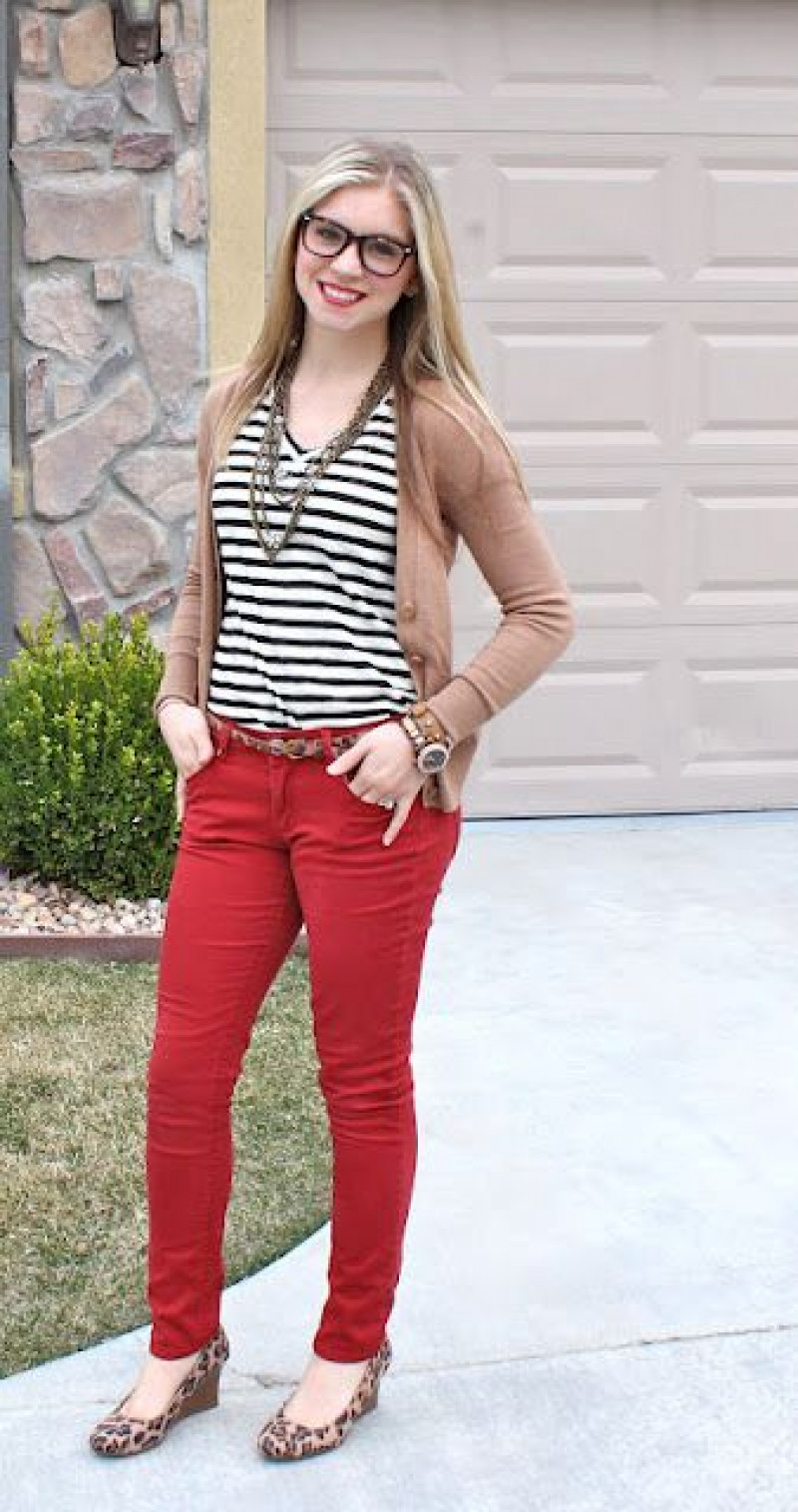 For a stylish look, go for these red slim-fit trousers with a beige striped v-neck t-shirt. Complete the outfit with yellow gold metal necklace and a silver watch with a black dial. Finish off the look with red leather pumps for an elegant touch.
Stylish Red Trousers, Polka Dot Shirt and Black Pumps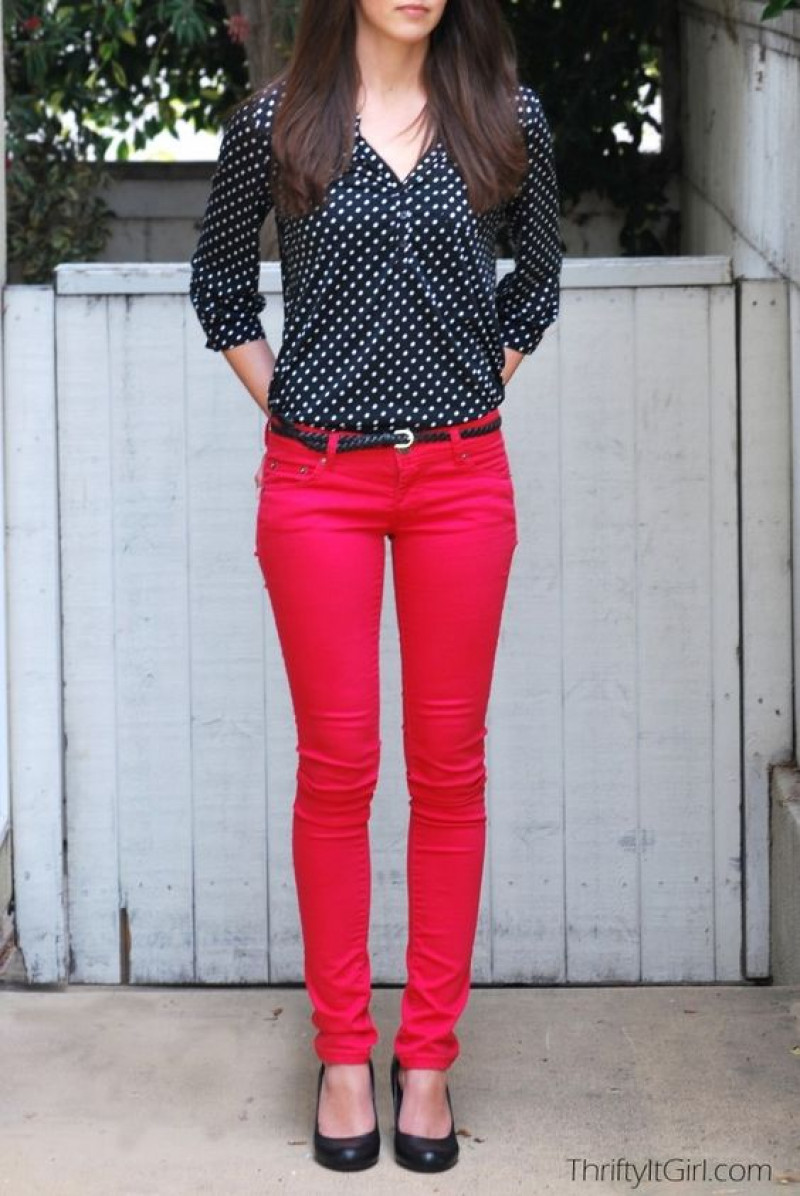 The red trousers in the pants are made of cotton and have a long length and skinny fit. The shirts in the upper have a multicolor patterned design with a v-neck . The pumps in the pumps are elegant black leather shoes with a closed toe.
Sporty red beach pants with a wide leg with a white crop top- Styled with golden earrings!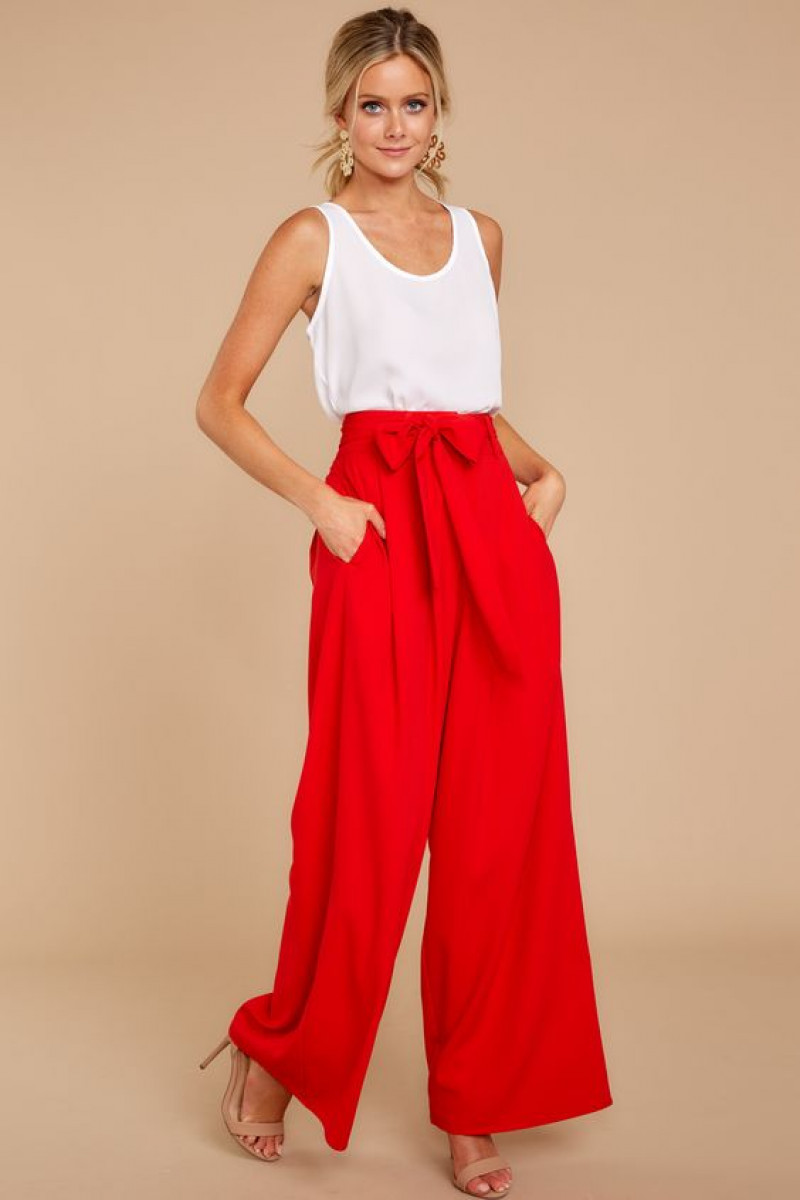 Rock with a pair of long, wide leg red beach pants with a high rise and a plain design. Paired it with a shorted white crop top featuring a logo design and a round neckline. Completed the look with pink stiletto sandals for some extra flair. Added some yellow gold metal earrings to amp up the style.
Black and White striped Top matches with the Red Pant!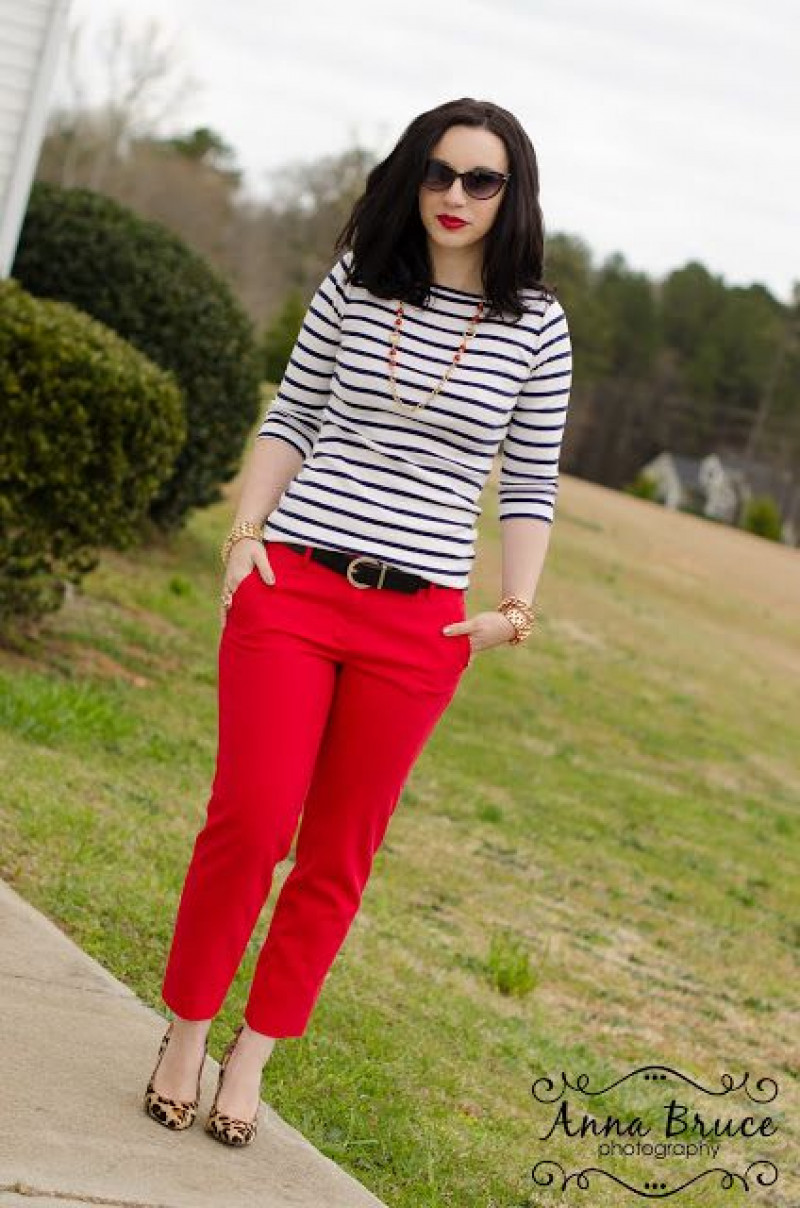 The suit trousers, made of cotton material. And the t-shirts are made of cotton material. Black and White striped Top matches with the Red Pant!
Red Jeans, Dark Blue Top and Beige Pumps!- Perfect for the Daily look!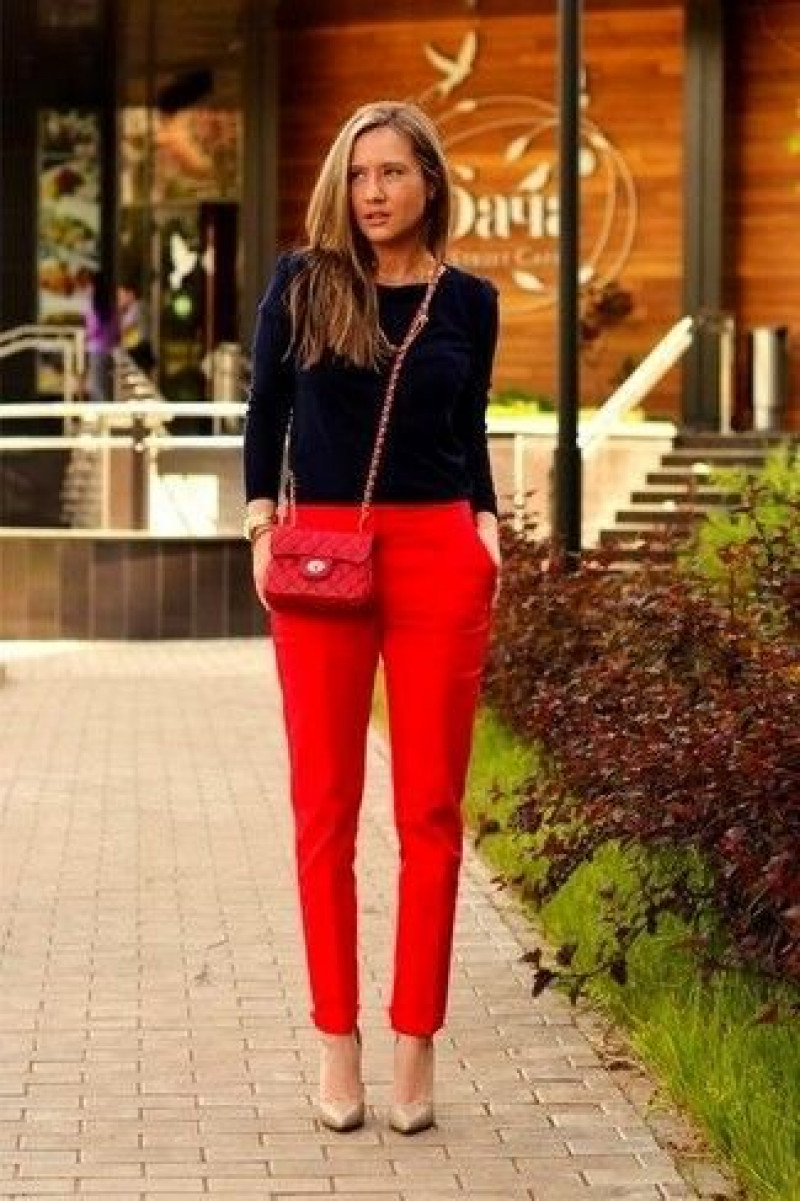 Must Try out this red slim-fit jeans with a dark blue leather jacket. Add a geometric patterned long strap bag and beige closed-toe pumps for a chic look.
White Crop Top with the Red Pant matches the best!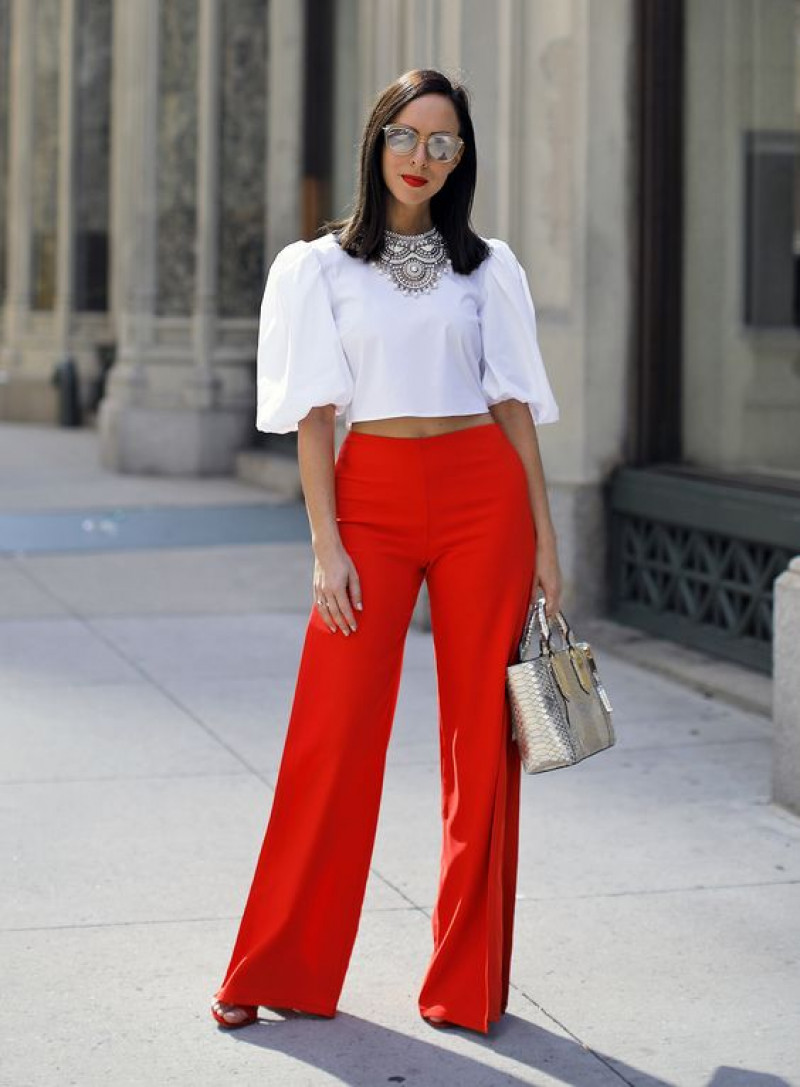 The formal trousers in an elegant orange silk material have a long length and wide leg fit, perfect for adult wear. The plain design with low rise and cropped blouse in white cotton adds an elegant touch. The top handle bag in beige leather with a shiny design complements the outfit. Complete the look with silver metal necklaces, pendants and chains. Don't forget to protect your eyes with stylish sunglasses.
Red Trousers, Black Suit Jackets, Leather Clutches & Wristlets and More!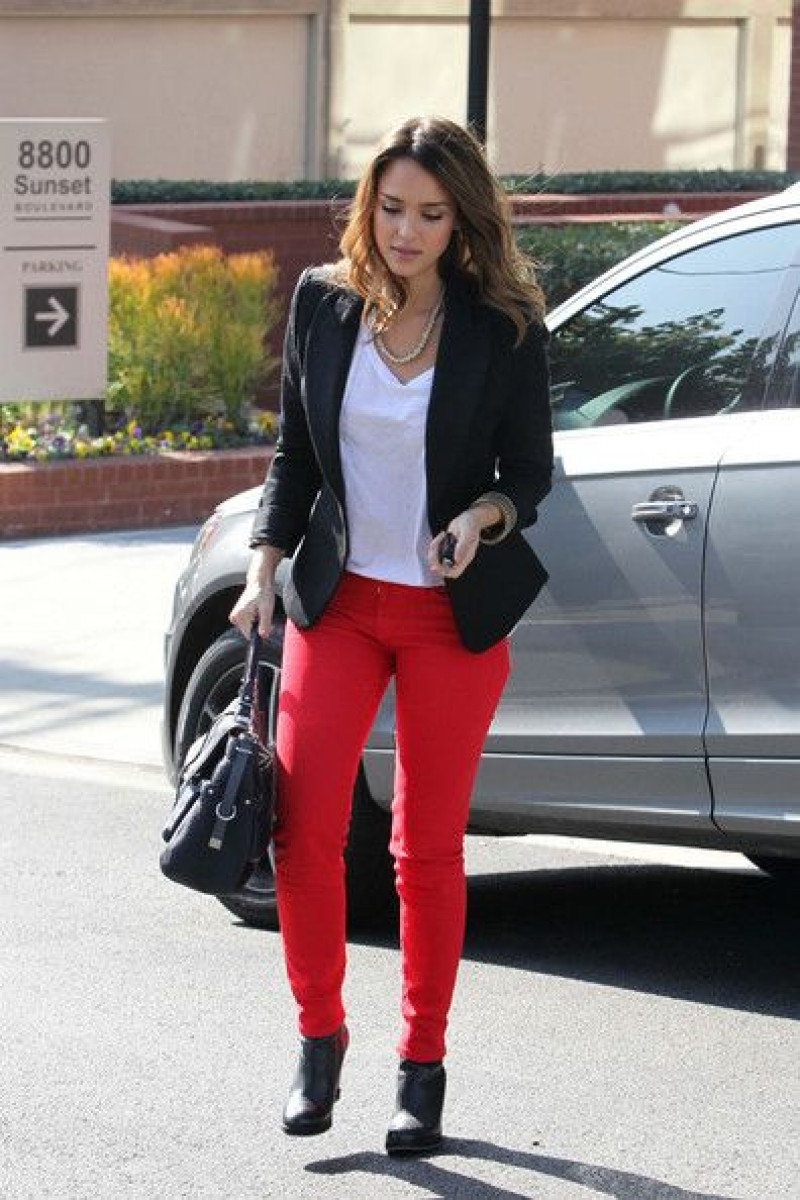 Get this lovely red trousers, made of cotton and have a long length. Style it with Black Suit Jacket . You may try this outfit for office wear.
White Plain Top styled with red skinny jeans, a small red messenger bag, white sport sneakers and black sunglasses!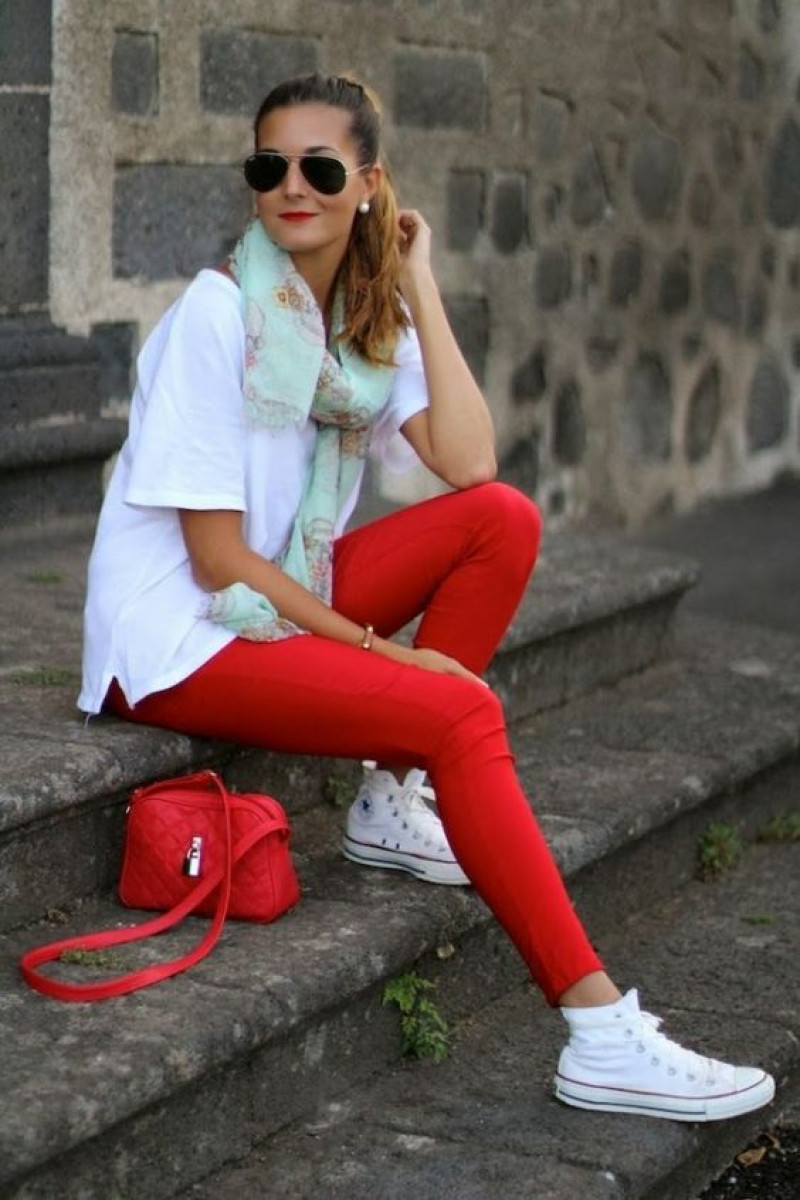 Stunning white Plain Top features a collar neckline, short sleeves and a partial button closure. The design is complemented by the wrap skirt.
Red Jeans with Black Top styled with black Jacket and stylish sunglass!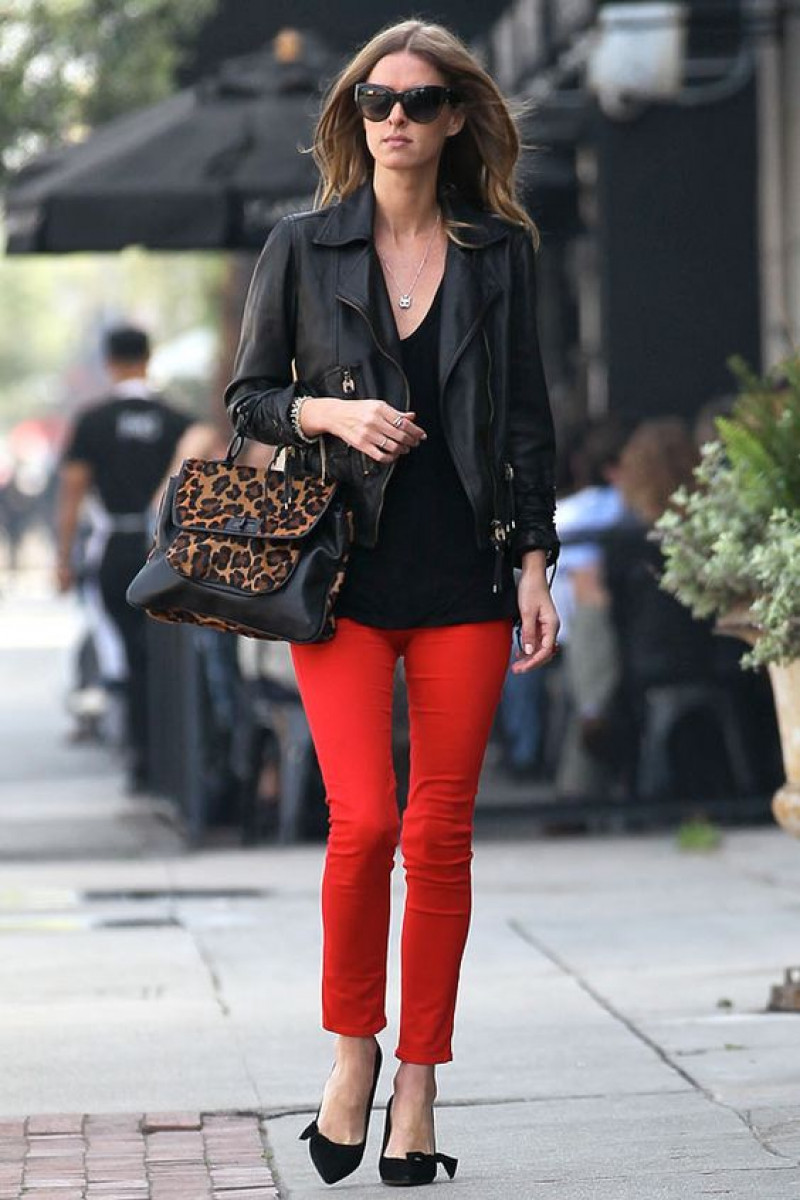 The black biker jacket is a short, style made of leather and suede. It features a full closure with a zipper fastening. For additional colors, consider pairing it with white or burgundy outfits.
Light Blue Denim Shirt with Red Trousers and a watch!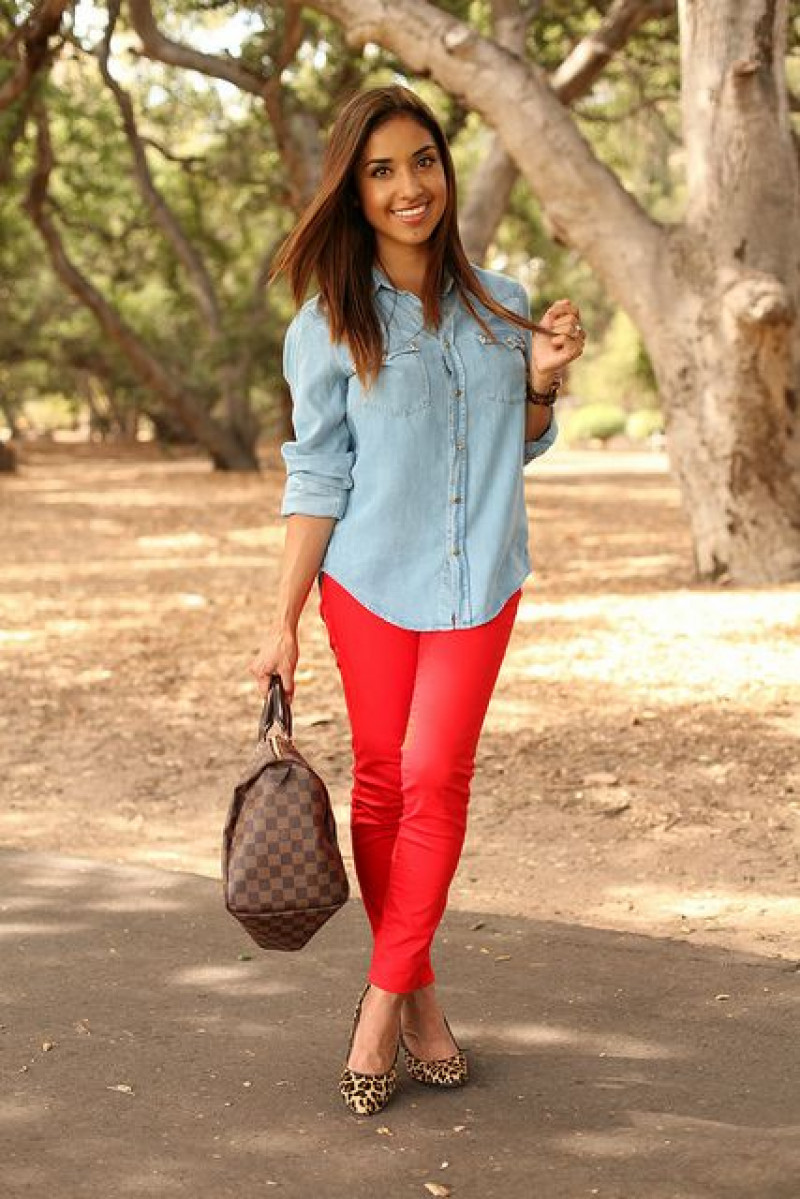 I'm loving the light blue denim shirt with a shortened cut and collar neckline, perfect for a women look. Style it with red cotton slim-fit trousers for an effortlessly stylish outfit. Complete the ensemble with a small brown straw messenger bag and beige leather pumps for a chic touch.
Hope you Loved it!