Step into the world of fashion with checkered Vans outfits. Known for their iconic checkerboard pattern, Vans shoes have become a timeless staple in streetwear culture. The different checkered design adds a touch of retro cool to any outfit, making it a versatile choice for both casual and trendy ensembles. In this article, we'll explore a some of the latest outfit ideas and styling tips to help you incorporate checkered Vans into your wardrobe. From classic black and white combinations to colorful variations, these outfits offer a bold and playful statement. Get ready to checkout some of the trendy outfits for styling checkered Vans. I personally tried the tenth and eleventh outfit and believe me the result was outstanding !
Get Ready for Out day with our Black Cotton Crew Neck T-Shirt and a Light Blue Denim Mini Skirt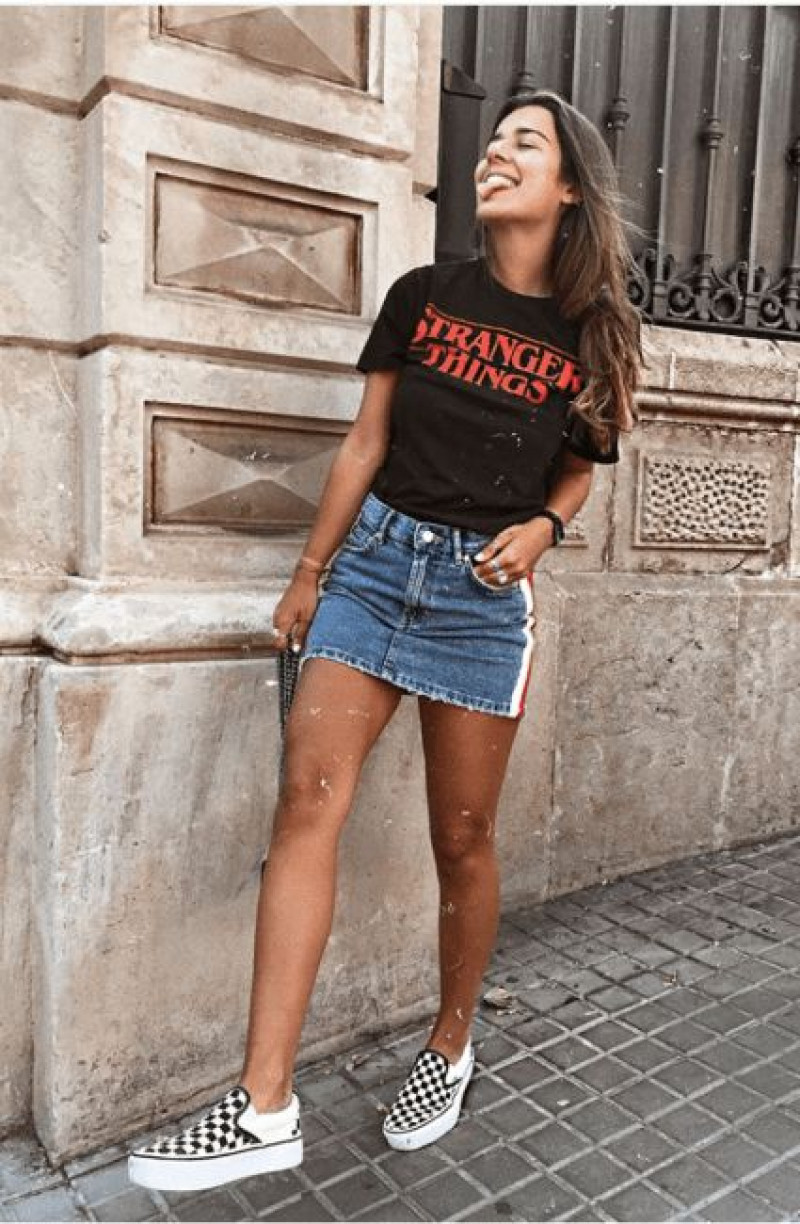 Try pairing a black cotton t-shirt with a light blue denim skirt and white and black checkered vans shoes. Boost your style with a golden watch featuring a white dial and black leather strap. Perfect for outdoor concerts or weekend brunches!
Be Cool and Comfortable with Short Green Melange Jackets, Dark Blue Denim Shorts, Brown Leather Totes, Checkered Vans and a Smart Sunglass!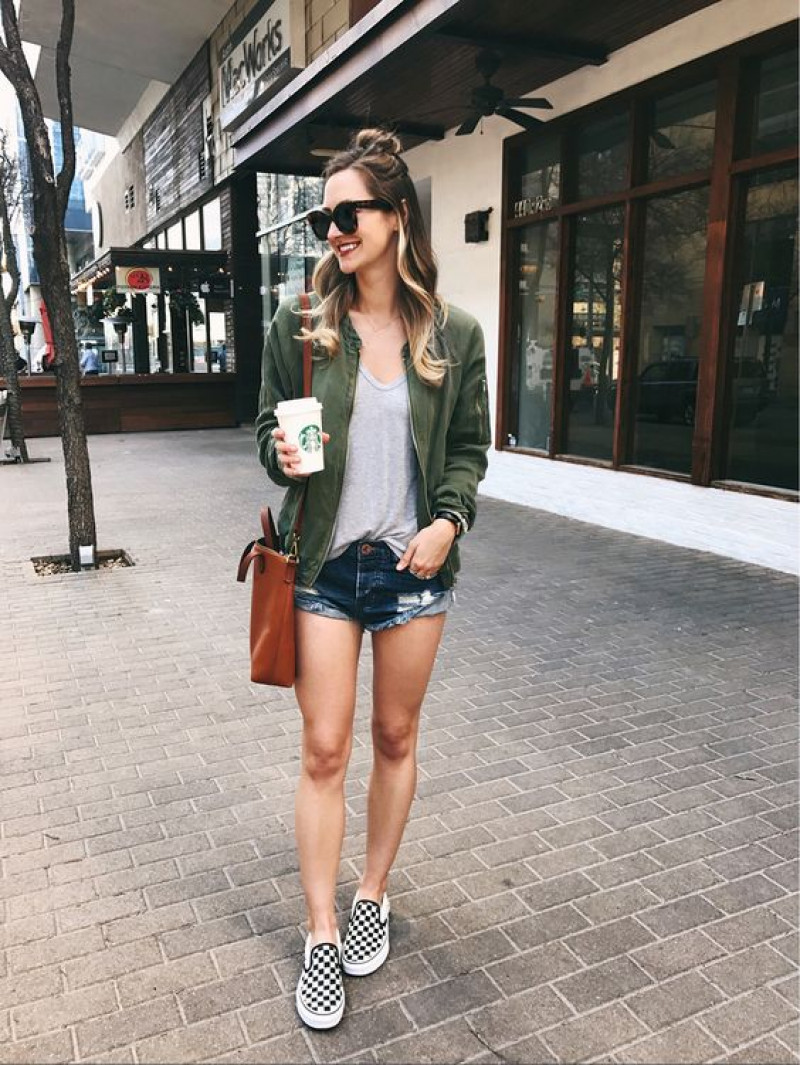 "Stay cool and comfortable with this short, green melange jacket featuring a full zipper closure, paired perfectly with dark blue denim shorts. Wear a brown leather tote and white and black checkered vans shoes which looks amazing. Don't forget to protect your eyes with dashing sunglasses."
White Crew Neck T-Shirts, Skinny Black Sportswear Leggings -Styling with Checkered vans Shoes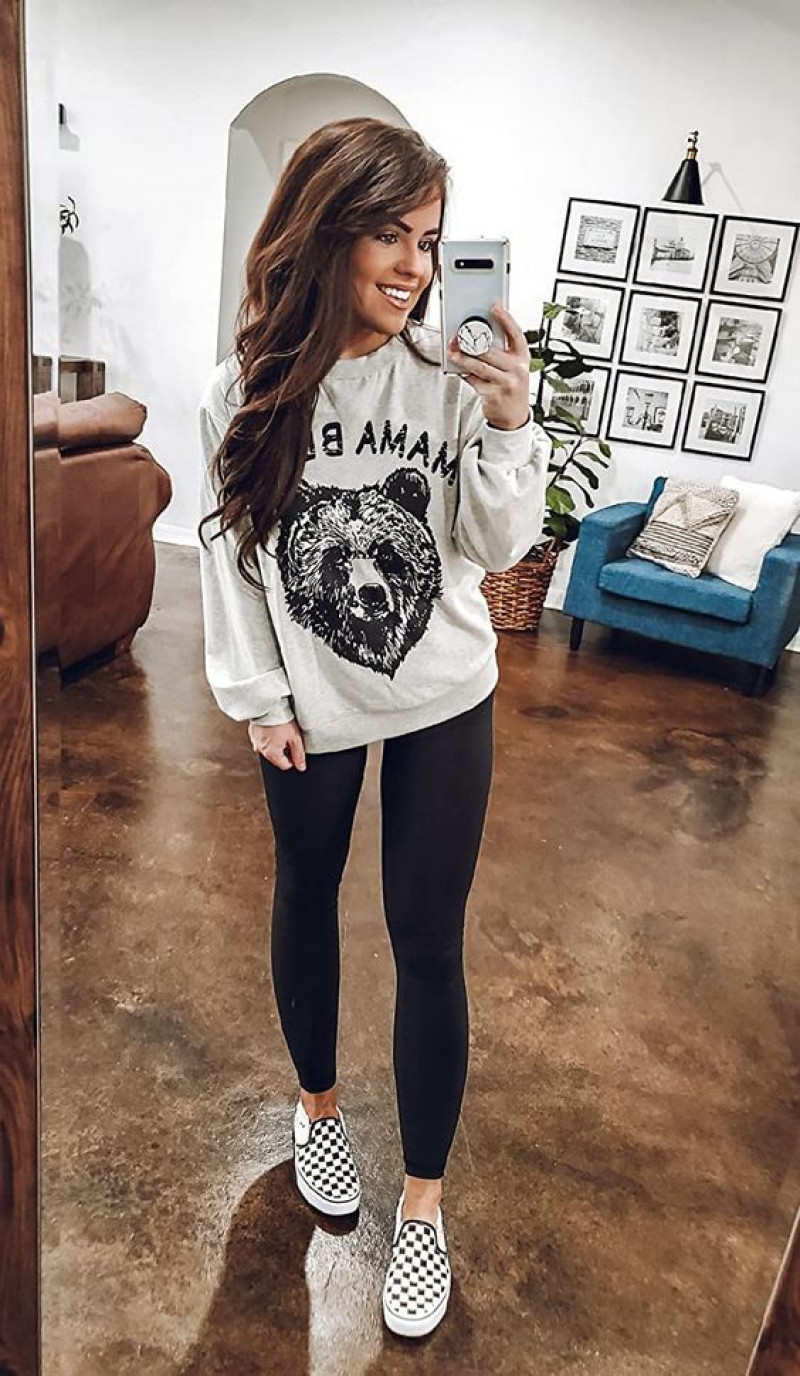 Match white and black cotton t-shirts with black sportswear leggings for a day look, with some comfortable checkered vans shoes, which make you stunning and boost confidence.
Light Blue Denim Jackets with Black Jeans & Checkered Vans Shoes: A Perfect Free Time Look!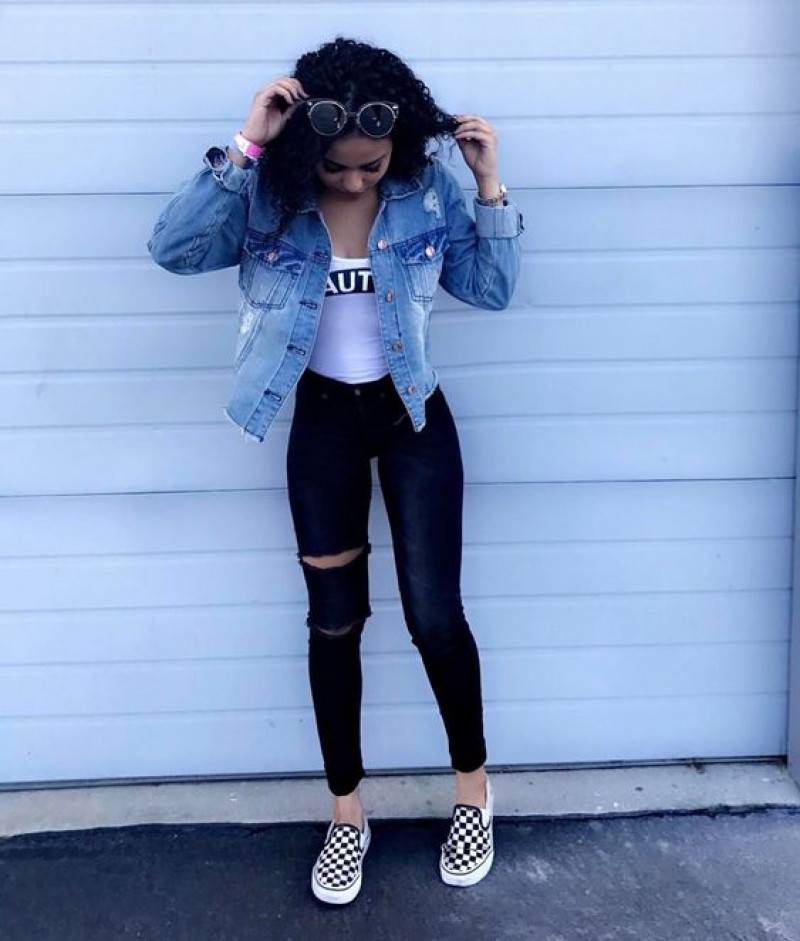 A light blue denim jacket with full button closure and a plain design paired with dark blue skinny full-ankle denim trousers is always a beautiful match. The low-rise trousers are perfect for showing off the checkered vans shoes. The silver watch with blue Roman numerals dial and brown leather strap adds a touch of sophistication, while the glasses enhance the look for any adult who wants to keep it stylish.
Get ready for a day out with dark blue Jeans- Style it with our comfy black off-shoulder top and checkered vans shoes for a perfect look!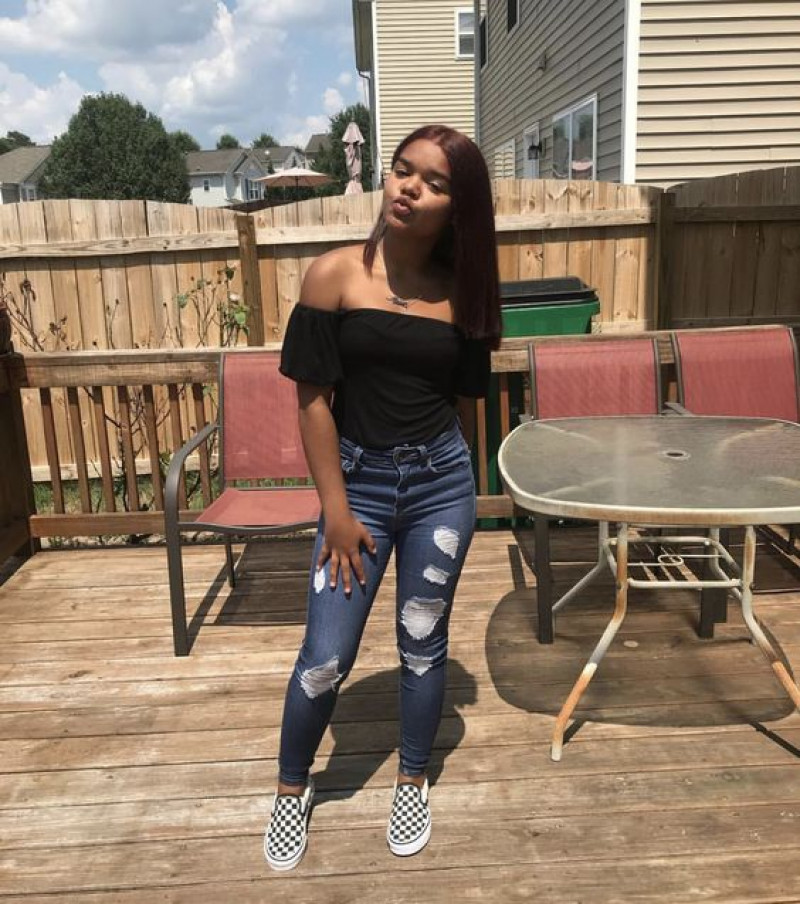 Combine dark blue denim full-length leggings with a black off-shoulder Bardot top made of cotton for dashing look. The checkered vans of white and black color give the final touch to your fashion. Key elements include the leggings' skinny fit, the top's strapless cut and the low rise of the leggings.
Get Ready with yellow melange full-length sweatpants and a white logo t-shirt with checkered vans shoes - Perfect for daily wear.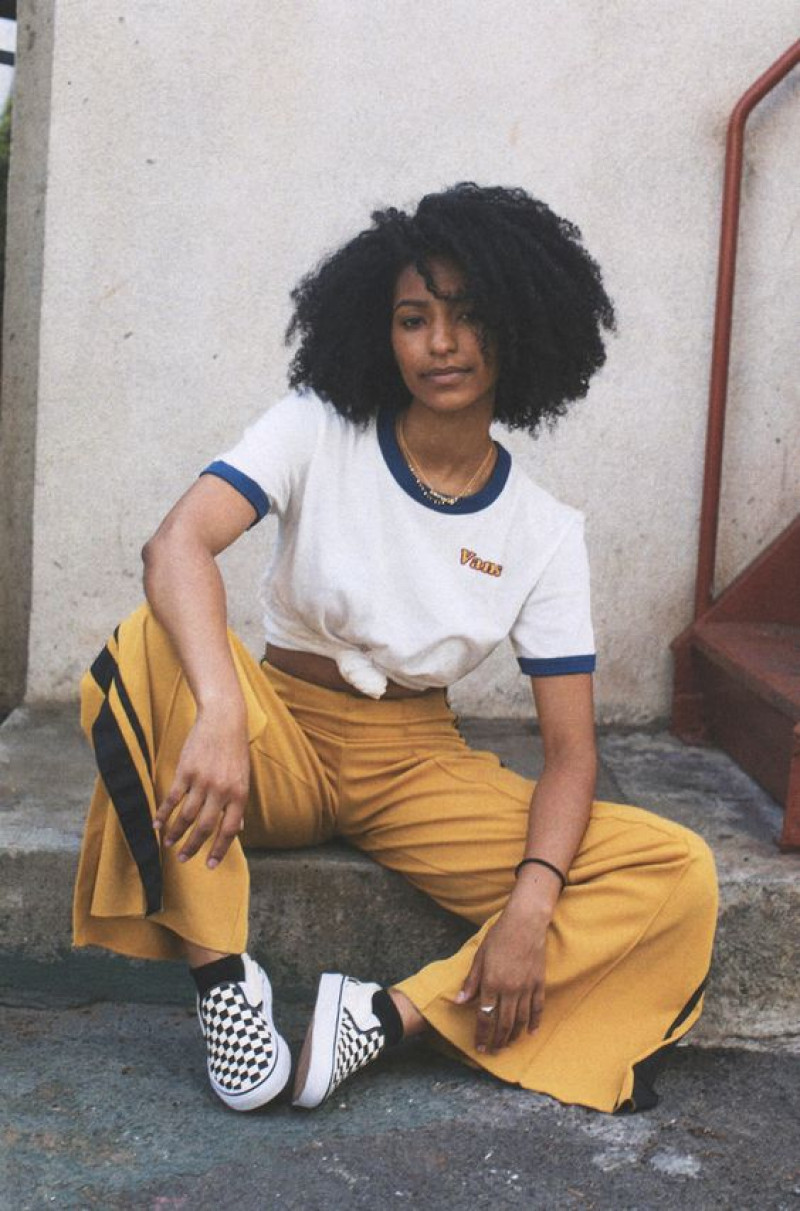 Check out this smart and stylish outfit. Pairing yellow melange sweat pants with a white logo t-shirt and checkered vans shoes. Perfect for outings, running errands, or lounging at home.
Beige Crop Top styled with Black Denim Jeans and Checkered Vans Shoes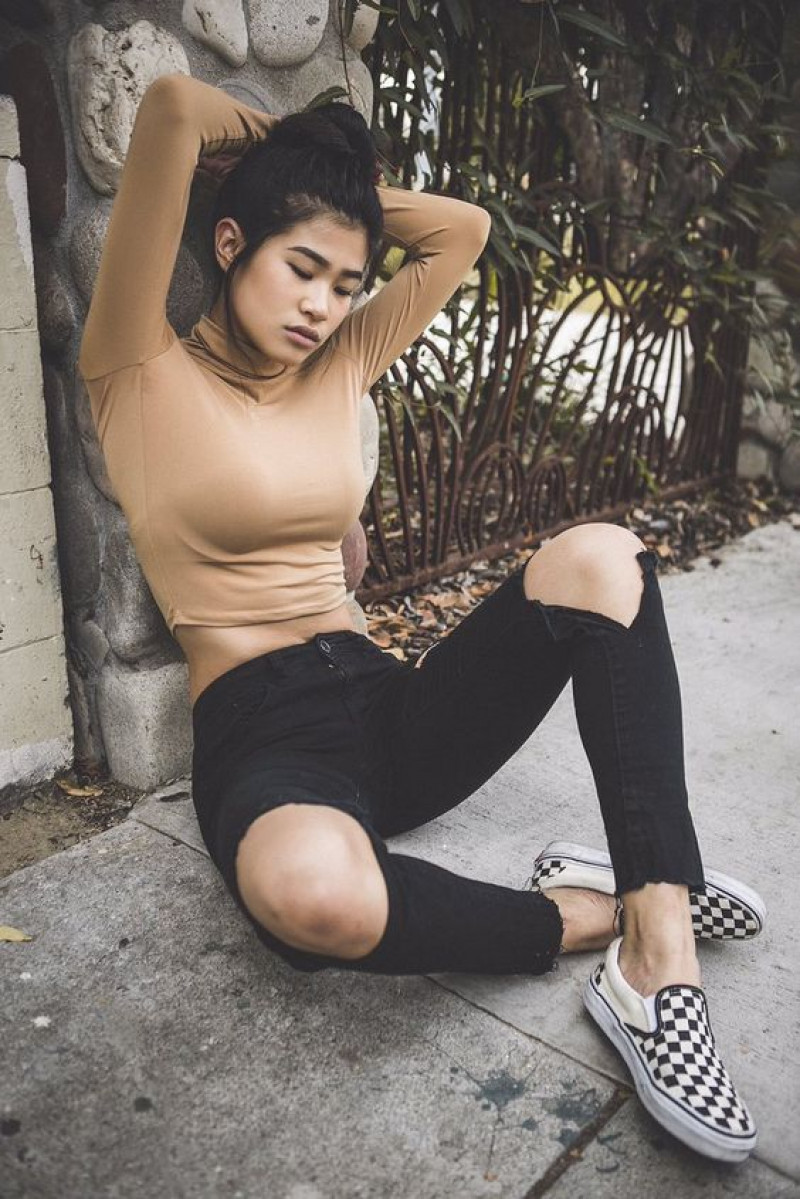 Pair beige lace formal trousers with black knitwear full-length leggings for a smart look. For more comfort and style, wear checkered vans with low flatform shoes. This simple design gives an attractive look.
Rock your look with this short black biker jacket with light blue skinny denim Jeans-Checkered vans shoes, sunglasses and a gold ring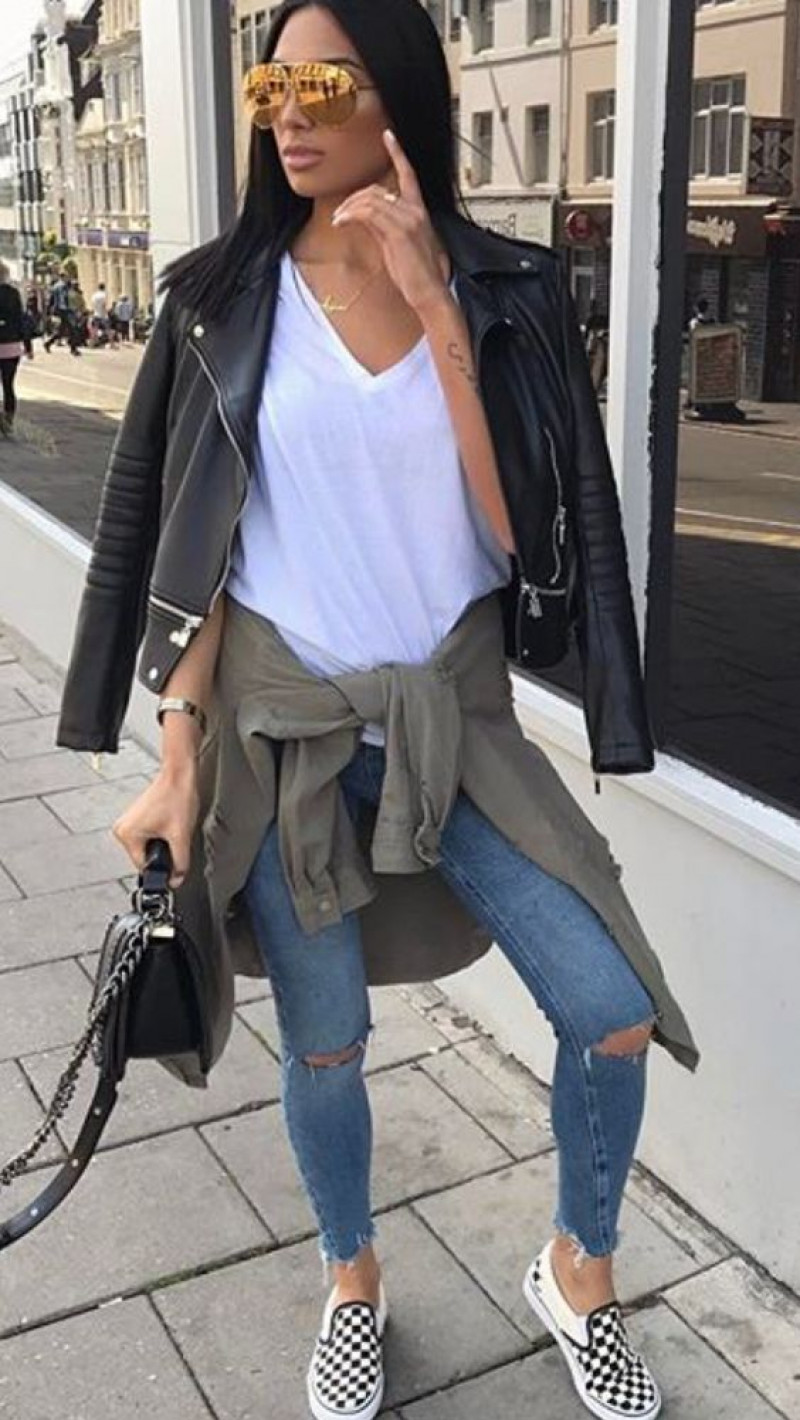 Black leather biker jacket paired with light blue skinny jeans and checkered van shoes is perfect for a day out. Add accessories like a plain black leather top handle bag, yellow gold ring and silver metal bracelet for the final touch.
Denim Jeans and a Crop Black Top with a silver necklace-With Checkered Vans Free Time Shoes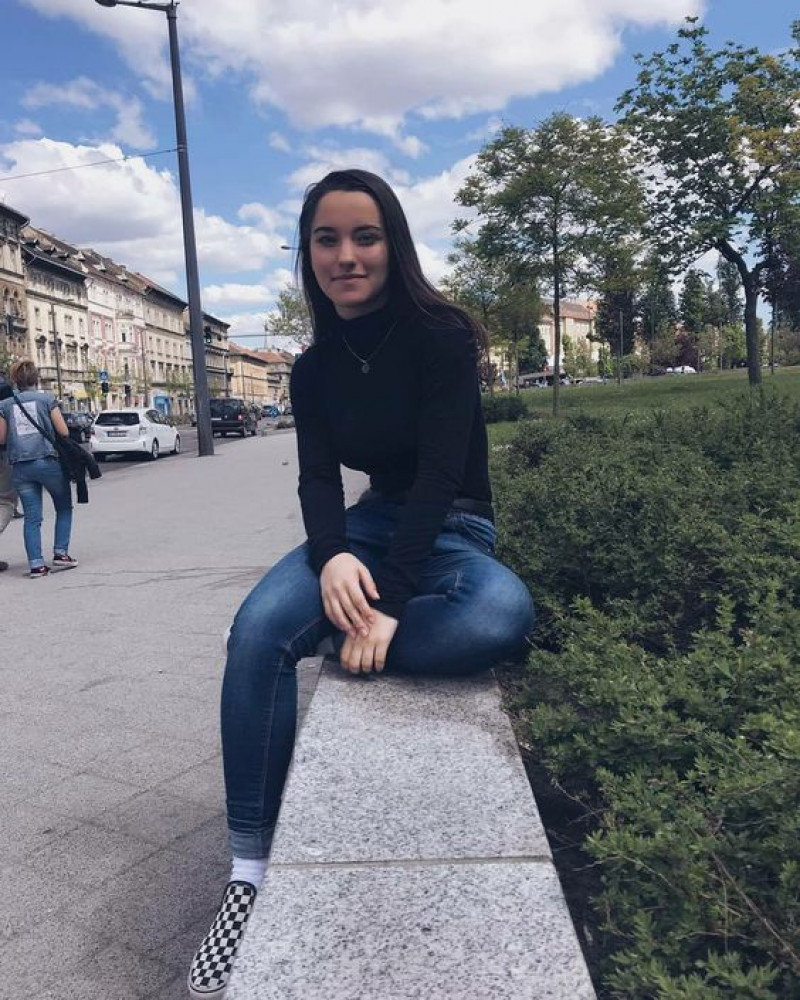 Dark blue denim skinny trousers with a plain, high-rise design perfect for a sporty formal look. Style with a black turtleneck sweater featuring long sleeves and no closure and enhance the outfit with white and black checkered vans shoes. Add a silver metal necklace without gemstones as an accessory.
Stay stylish with our beige cowl neck shorted knitwear sweater and a white jeans styled with Checkered flatform shoes-Boost this style with trendy sunglasses!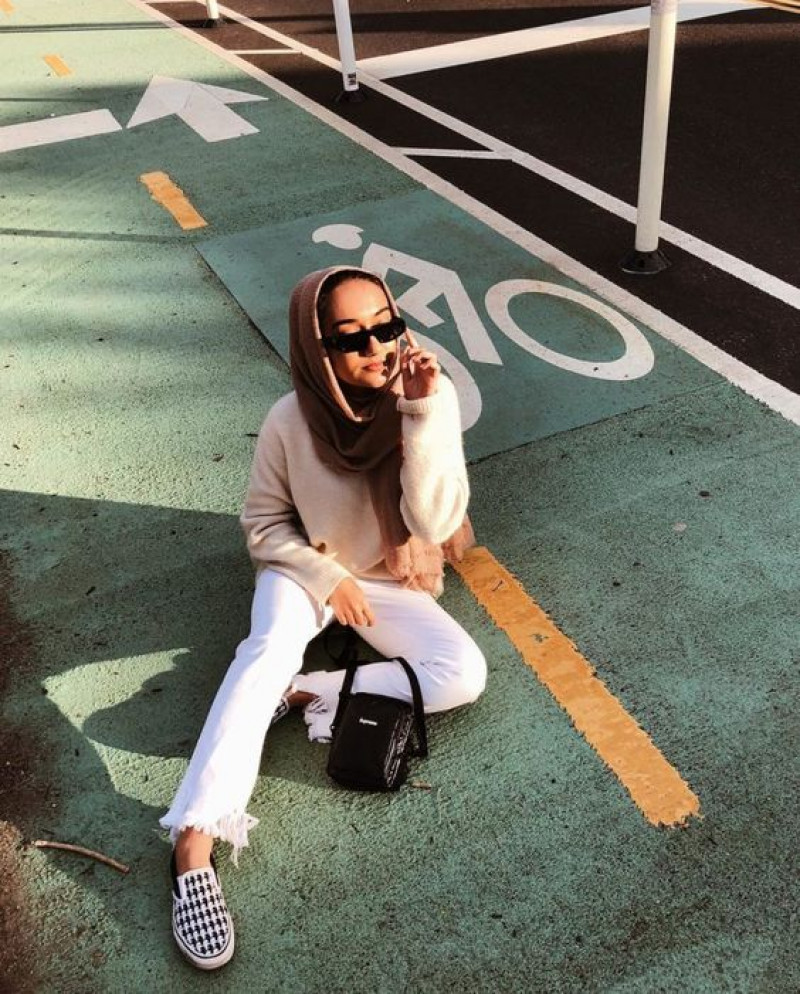 Beige shorted sweater with a cowl neckline and long sleeves made of knitwear is perfect for wear. It has a hood and plain design. The black top handle bag made of textile material with a plain design complements the sweater well. For shoes, opt for white and black checkered vans that are perfect for leisure activities. Wearing sunglasses will give you a stunning look.
Embrace fashion without sacrificing comfort with Light Blue Lace Denim Jeans, Brown Long Strap Bags and Checkered Vans Free Time Shoes!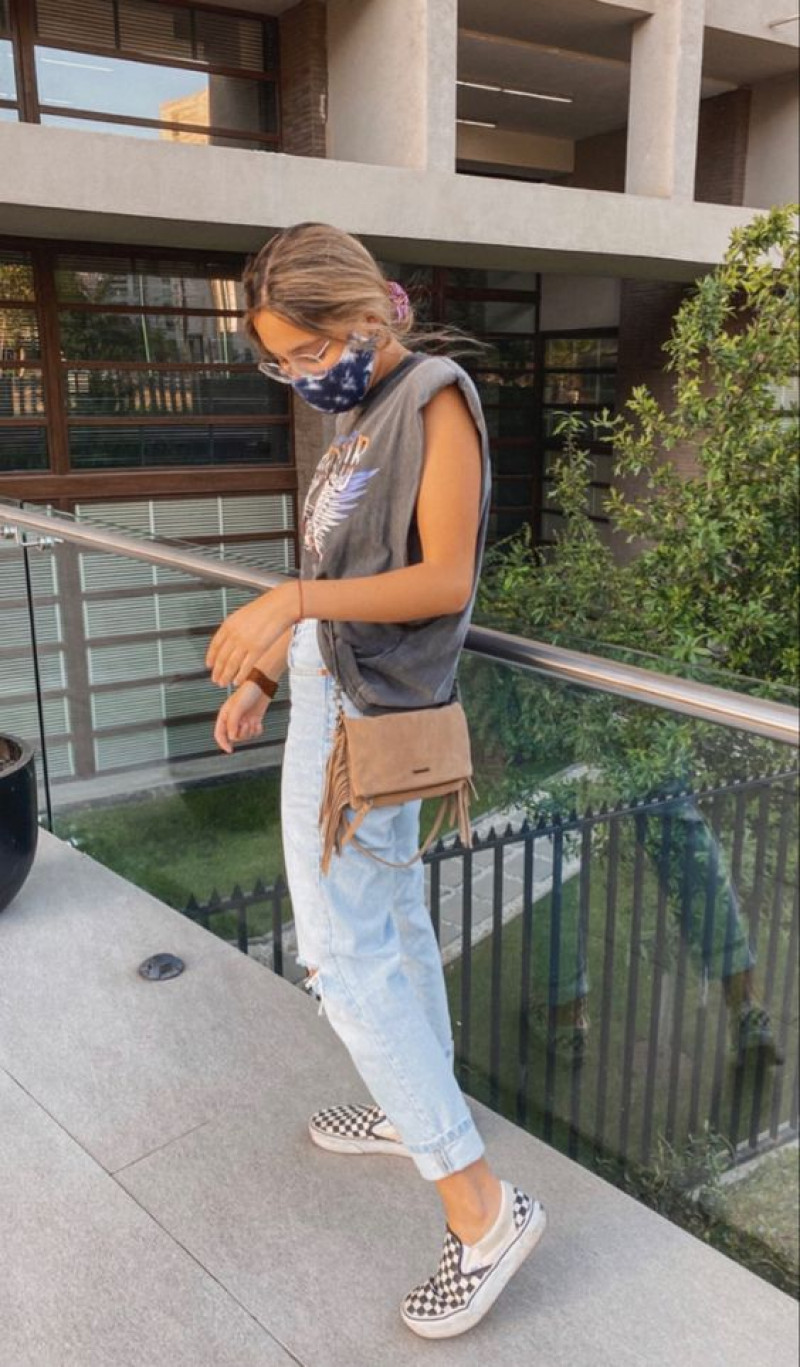 Searching for a comfortable yet fashionable outfit for your next event? Try light blue denim trousers with a lace design is the best combination and Finish the look with Brown leather long strap bags and white and black check flatform shoes. Perfect for outdoor picnics, weekend outings, or brunch with friends.
Grey collar sweatshirt with light blue denim jeans and Checkered Vans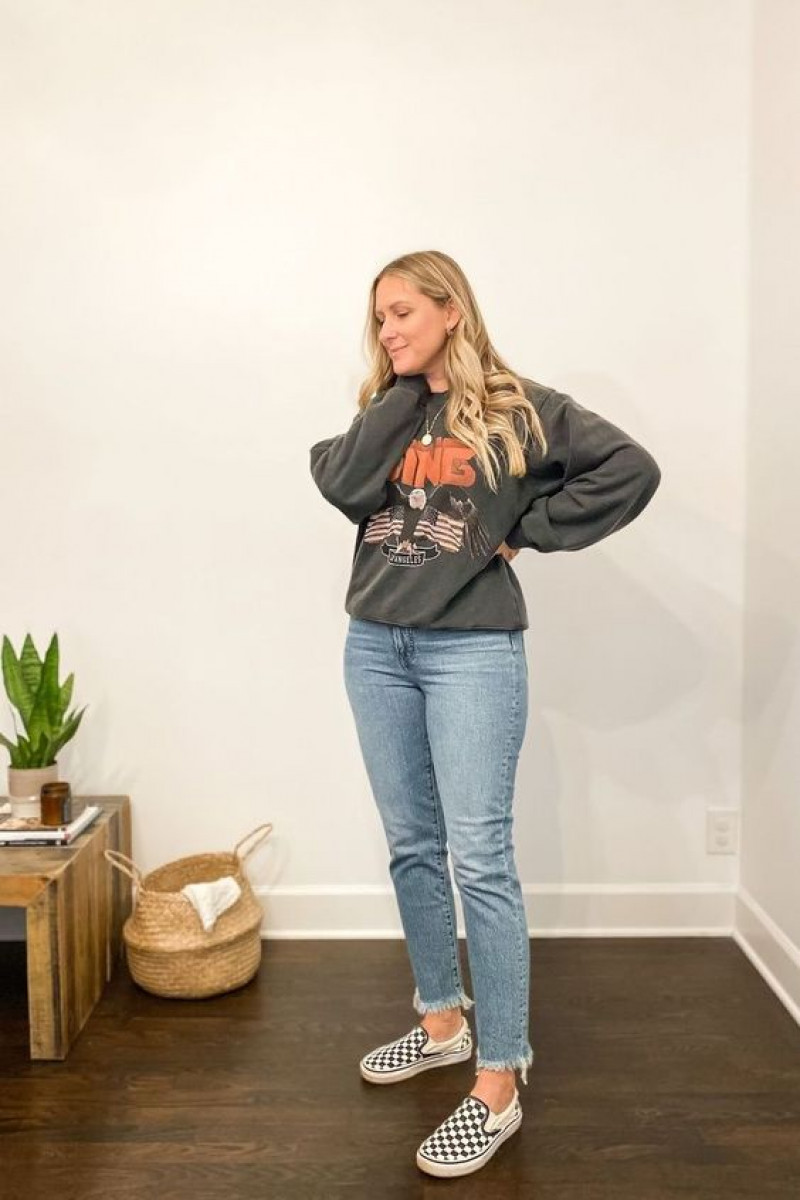 Grey cotton sweatshirt with a collar neckline and full zipper closure pairs perfectly suited with light blue denim trousers. Adding white and black check vans shoes with low flatform gives a comfortable yet stylish look that is suitable for any occasion.
Black Top with Red Jacket styled with checkered vans and a gold metal necklace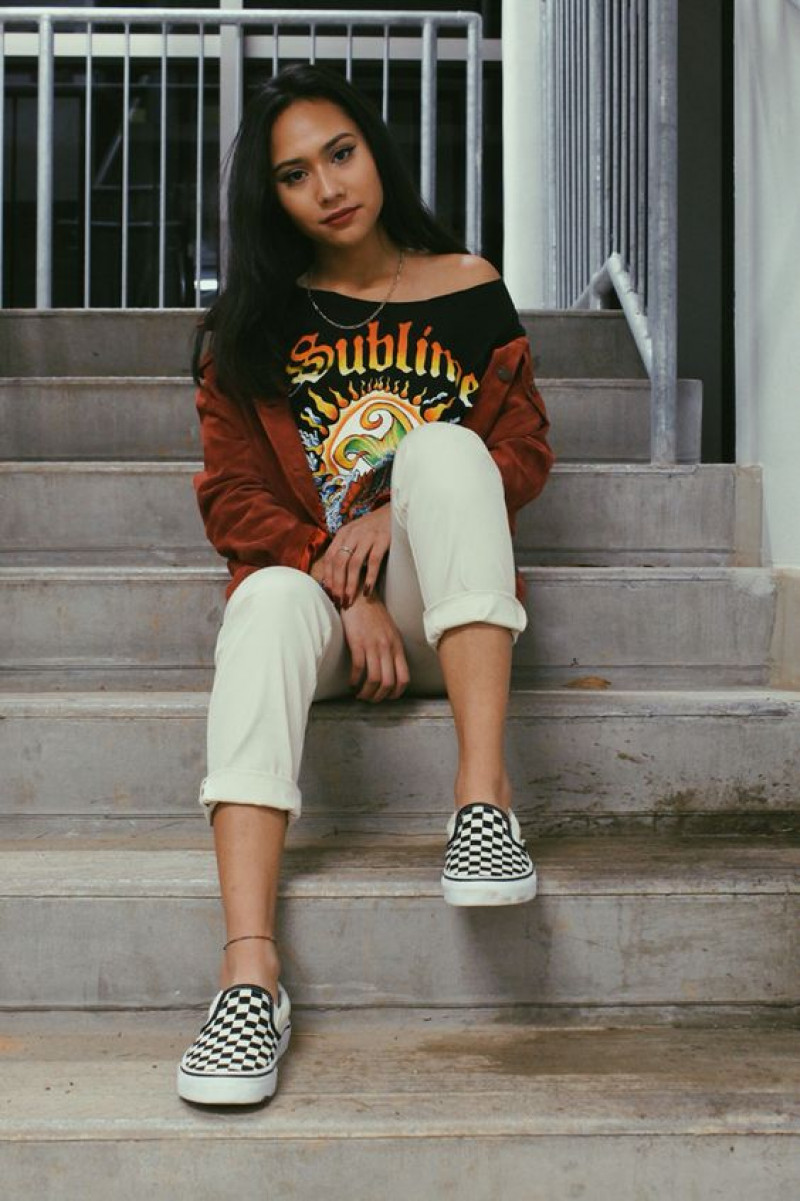 Experience the best of both worlds with comfort and style; try pairing an orange short-length suit jacket with textile material and no closure with checkered van low-flatform shoes made of textile. Put the finishing touches on a yellow gold metal necklace without gemstones. This ensemble is perfect for adults who want to add a pop of color to their wardrobe while maintaining comfort and style. Add a white T-shirt and black jeans for a complete look.
Stay fashionable in a beige melange jacket with light blue denim and a black leather handle bag!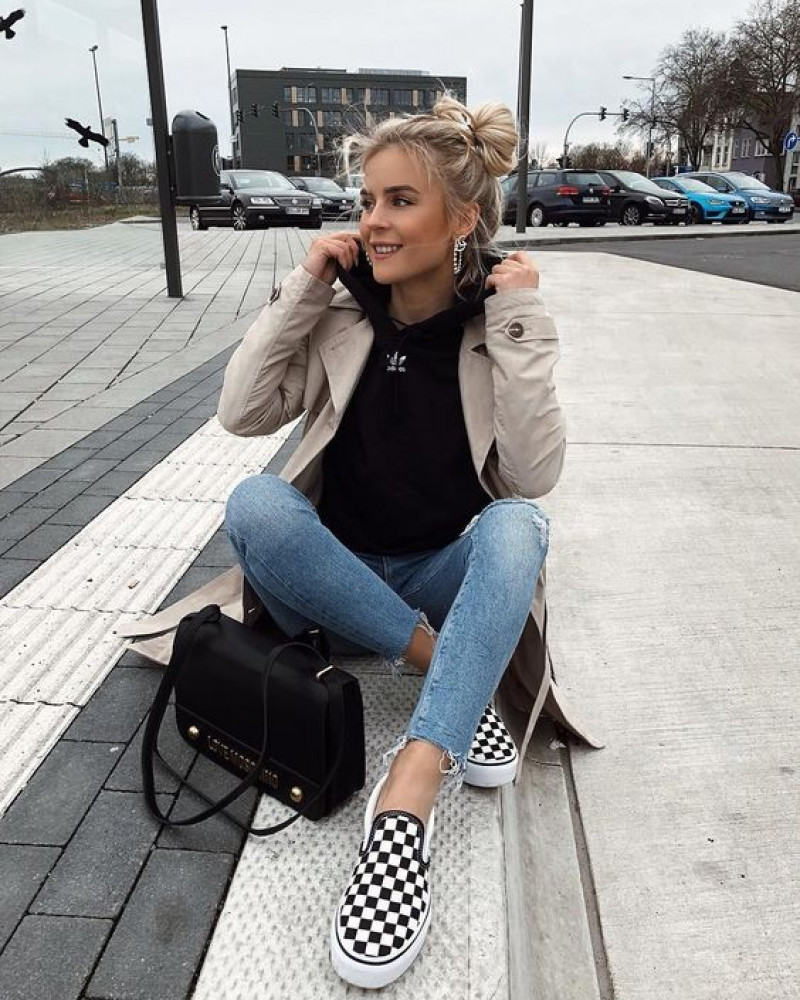 Rock a fashionable and comfortable ensemble with ease with the beige short jacket in melange design is made of textile material. At the same time, the light blue denim jeans with straight fit are also made of denim material. The top handle bag is made of black leather and the Free Time Shoes in white and black checkered vans are made of textile material. Embrace a chic and cozy aesthetic look with the silver earrings and ear cuffs are made of metal material and have no gemstones.
Short Green Denim Jacket with Light Blue Jeans and Checkered Vans for Adults!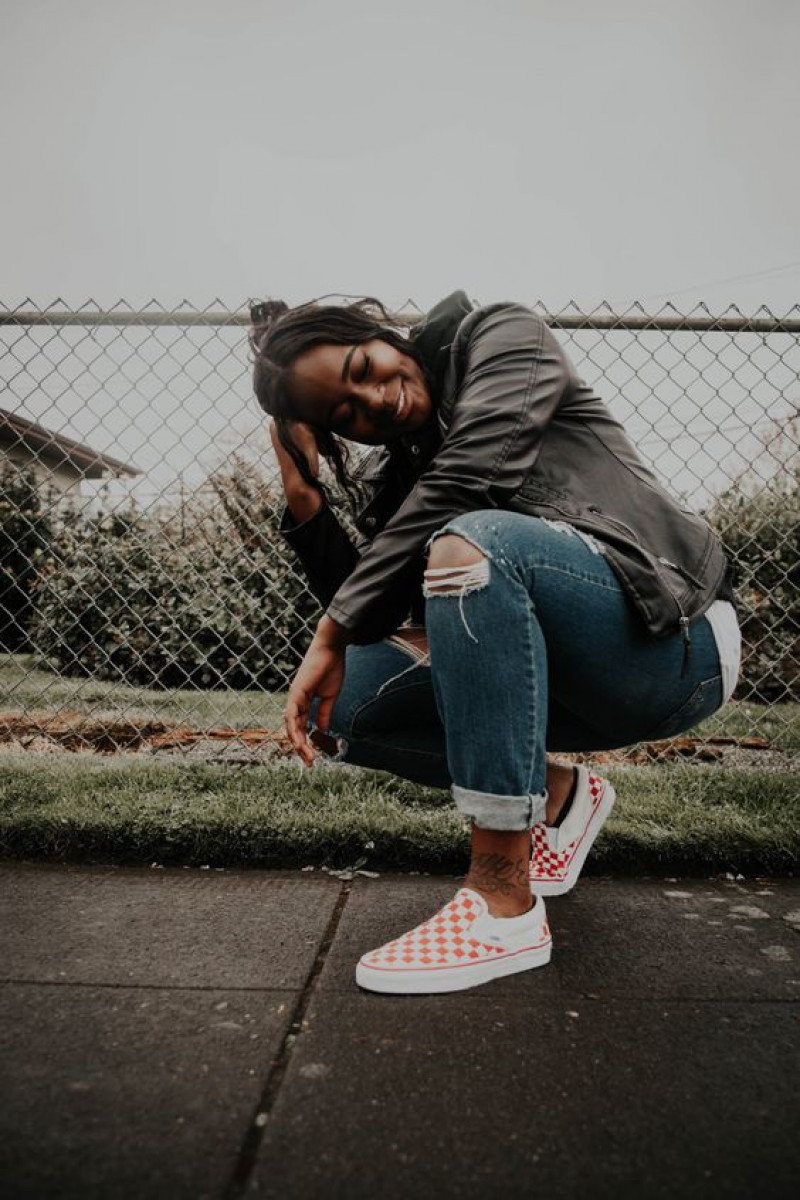 Unleash your inner fashionista while staying cozy and stylish with this short brown wool coat with full closure and a zipper fastening is perfect for adult wear. The light blue denim ankle length pants are slim fit, while the white textile low sneakers with flatform heel shape provide comfort for free time activities.
Infuse your Wardrobe with Dark Blue Denim Jeans and Black Top with checkered Vans!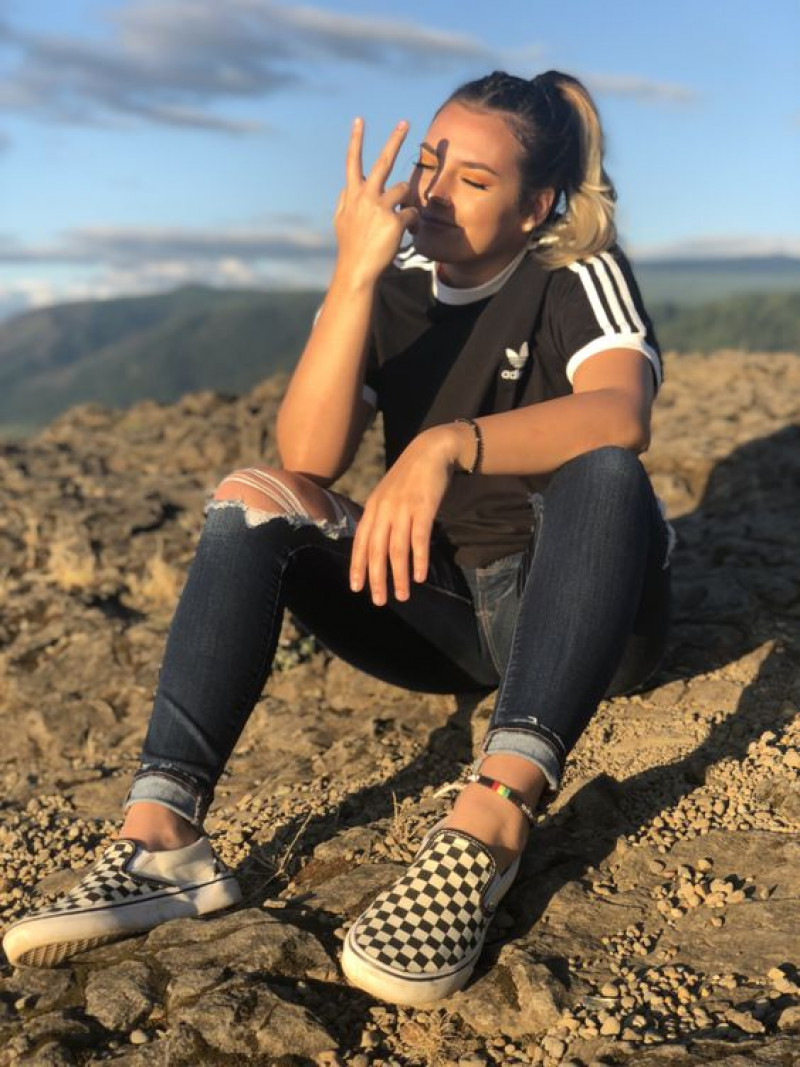 Style dark blue denim trousers with white and black checkered van low flatform leather shoes. Add a black leather bracelet to give complement the outfit. Perfect for adults who want a plain and comfortable yet fashionable style.
Stay Cool and Smart with Light Blue Denim Jackets styled with White and black Checkered Vans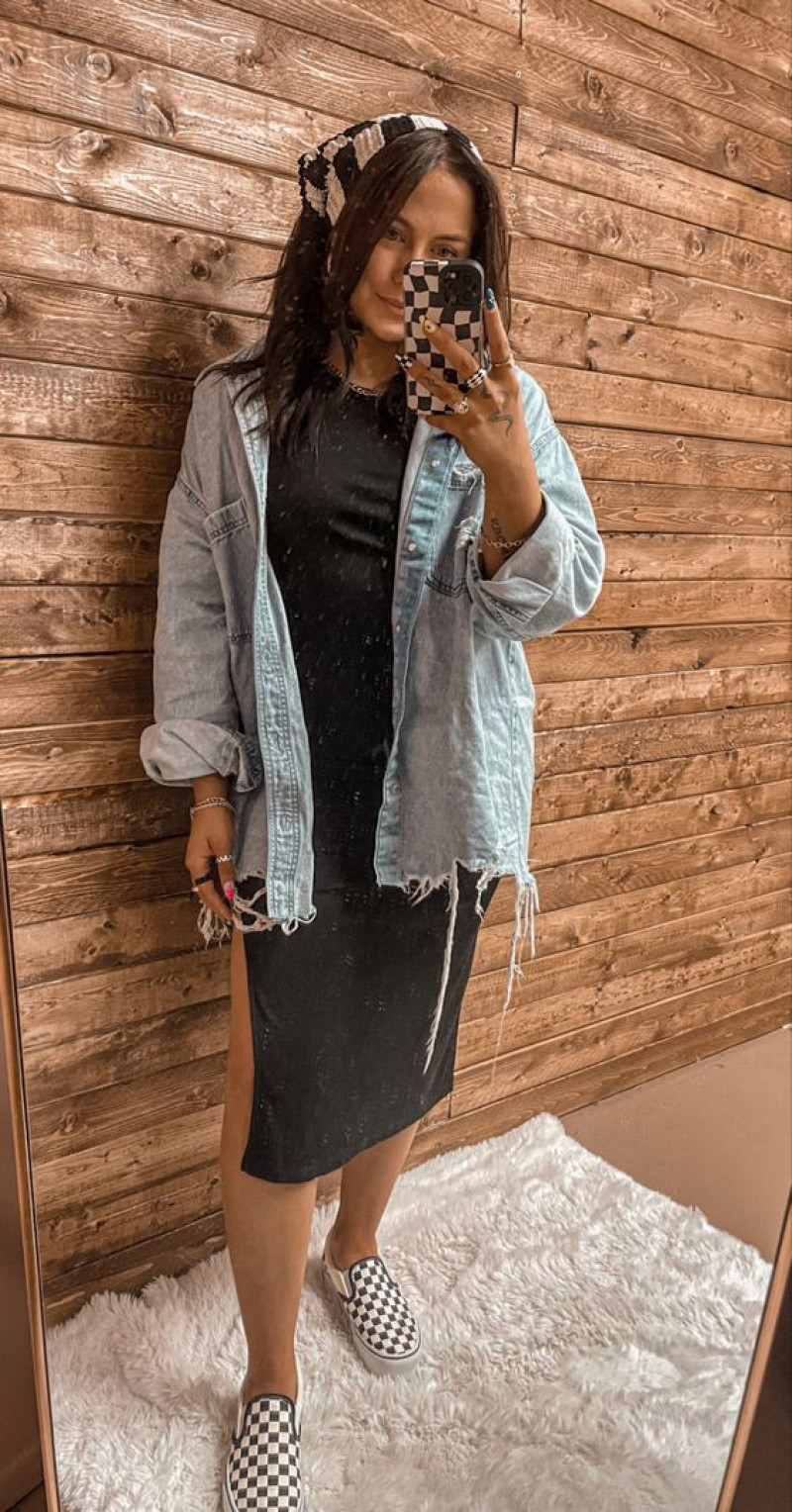 The light blue denim jacket features a full button closure for a modern and fashionable look. Perfect for adults, it's plain design and single-breasted lining make it a versatile addition to any wardrobe. Styled with these white and black checkered vans textile shoes, you'll be ready for any occasion. Don't forget to accessorize with these sunglasses!
Radiate comfort with Checkered Vans Outfits in White Crop Top with Checkered Vans and Sunglasses!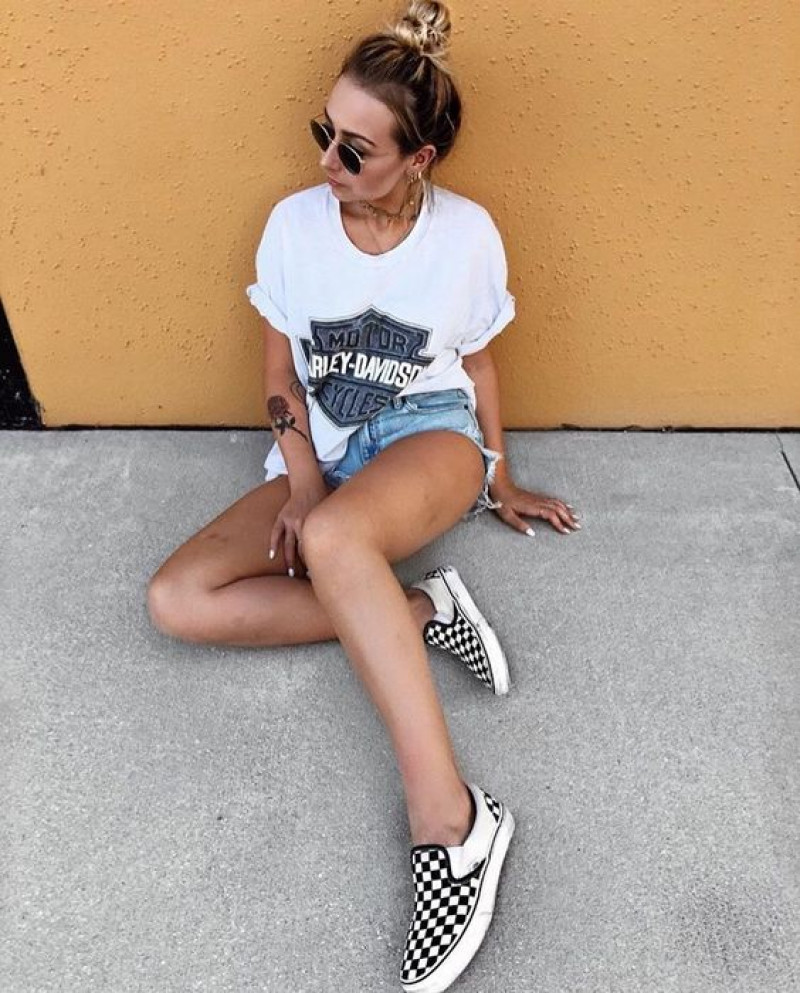 White shorted crop top with a text design with some checkered vans textile shoes and closed-toe mules. To feel more stylish, wear some trendy sunglasses for a cool vibe. Perfect for any adult looking to add some fun to their wardrobe!
Army design Jackets, Denim Shorts, Sneakers, Free Time checkered vans Shoes and Silver Earrings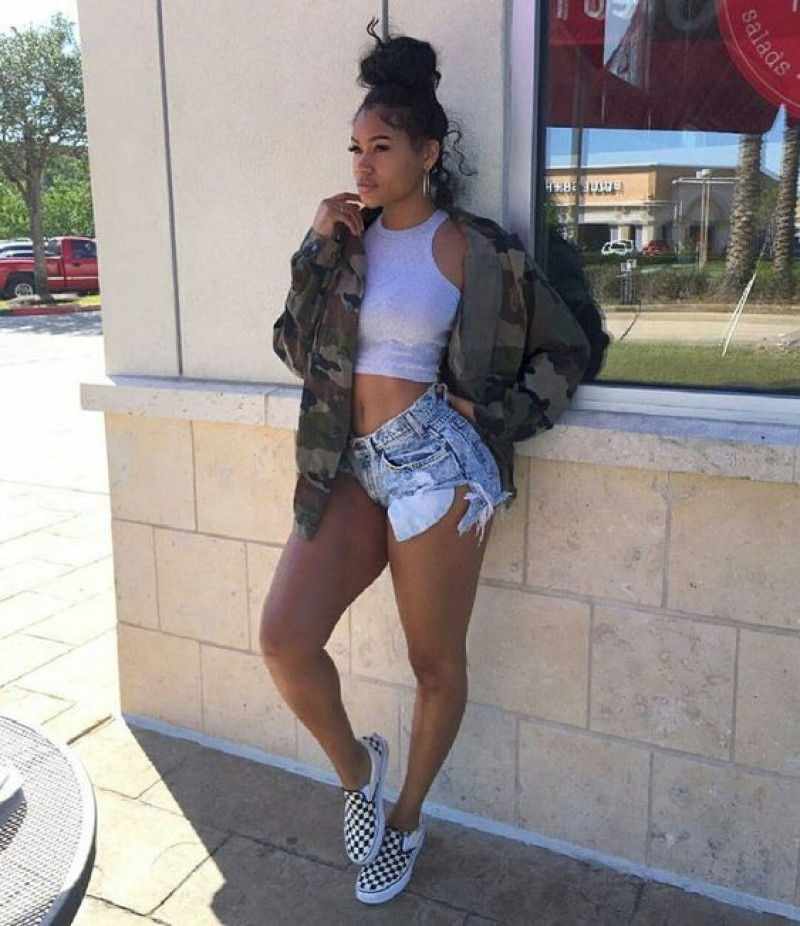 Experience the ultimate blend of coziness and style; try pairing an army patterned denim jacket with light blue denim shorts. Refine your look with checkered vans textile flatform shoes. Add some sparkle with silver metal earrings or ear cuffs.
Light Blue Denim Jackets with Black Skinny Jeans and Checkered Vans Textile Shoes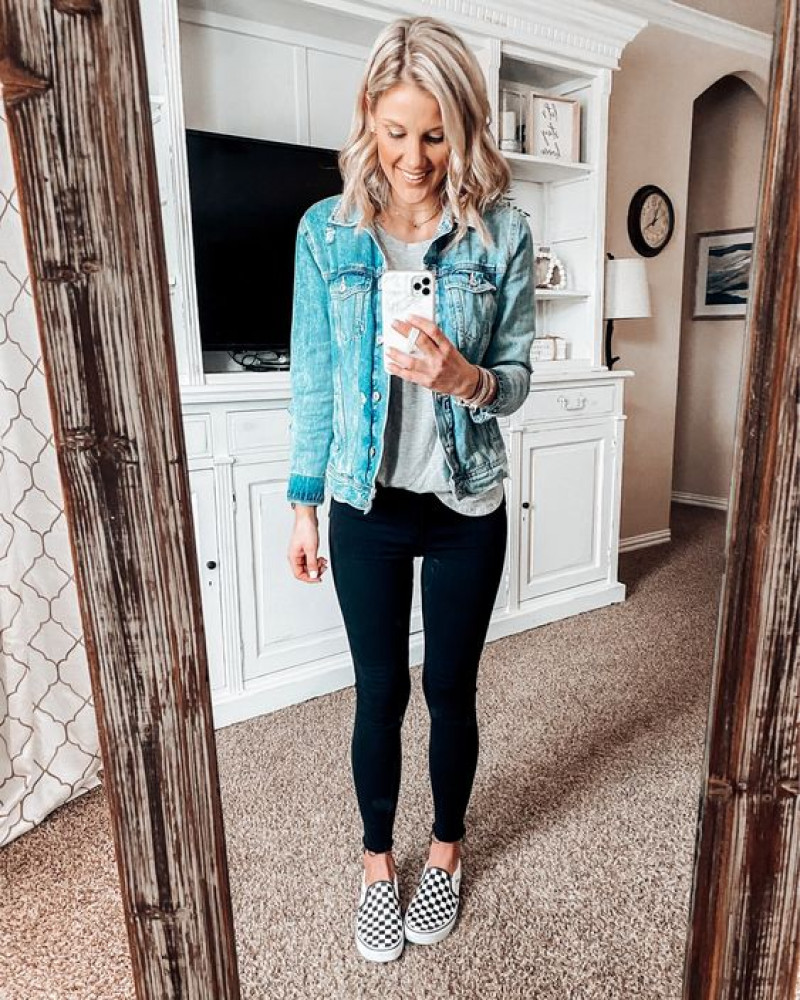 If we talk about trendy outfits, the light blue denim jacket with full button closure paired with long black skinny jeans. The white and black checkered van shoes complete the Trendy look.
Black Denim Skinny Trousers with Grey Melange Crew Neck T-Shirt and Checkered vans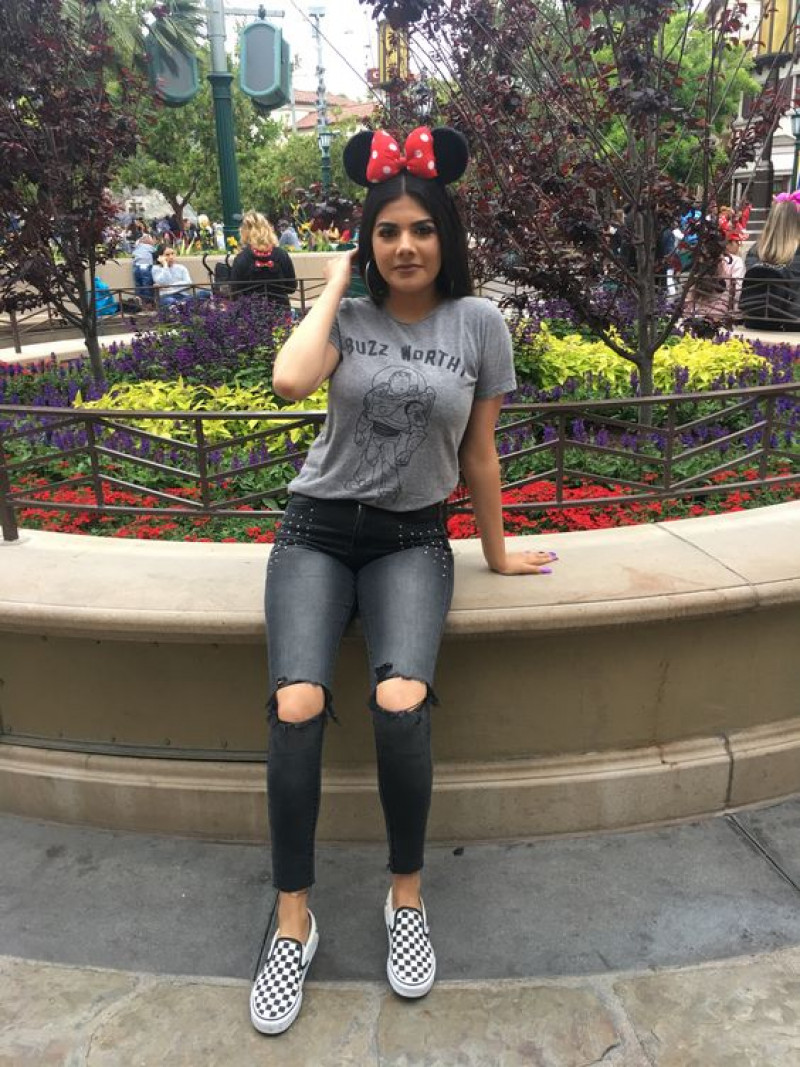 Dark blue skinny denim trousers, a grey melange t-shirt with a crew neckline and short sleeves and checkered vans textile shoes with platform heels is perfect for all occasions. Enhance your look with a polka dot bowtie and a leather belt.
Red Floral Knitwear Spaghetti Strap Sweatshirts with Elegant Lace Design and Black Ankle length Straight Sweatpants are ideally suited with Checkered Vans Outfits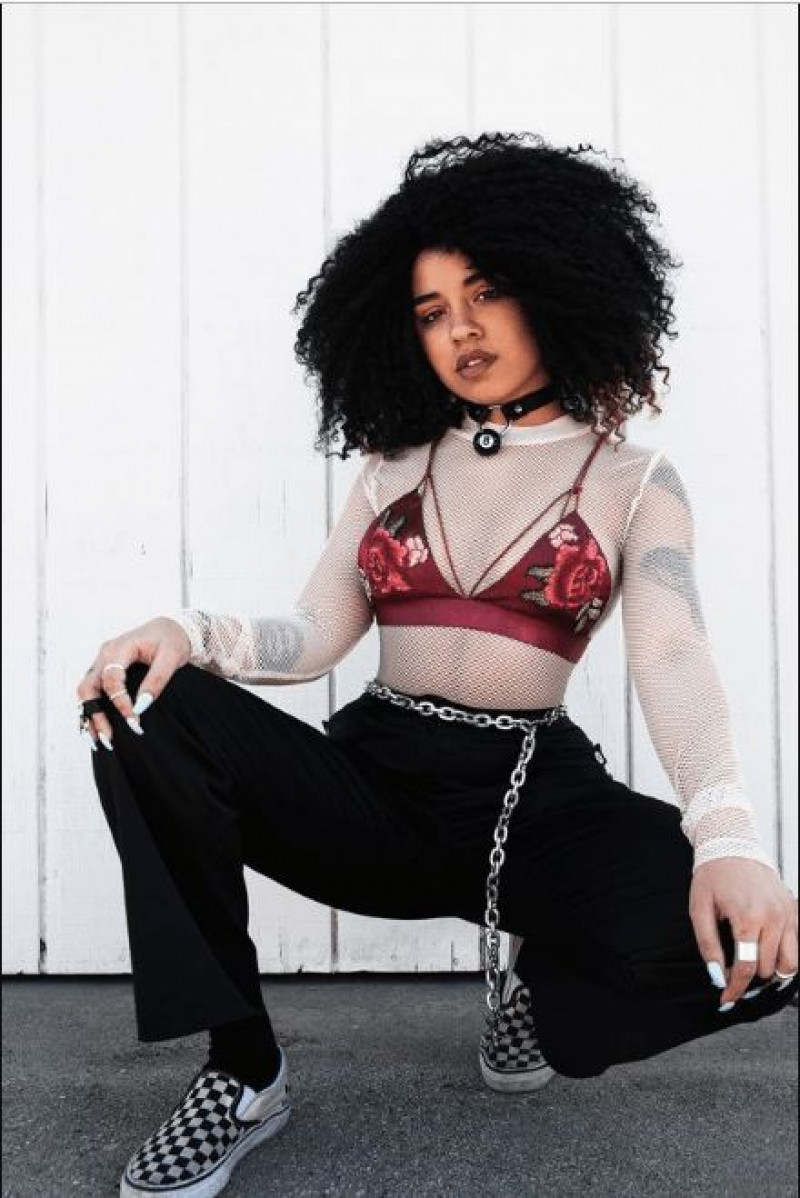 Red floral knitwear sweatshirt with transparent spaghetti straps and lace design is perfect for an elegant look. Pair it with black full sweatpants for a sporty touch. Elevate your attire with low-flatform checkered vans, shoes and a leather necklace for a trendy vibe.
Refine your look with our Beige Buttoned Jackets, Light Blue Denim Trousers and white and black Checkered Vans: A Complete Fashionable Look!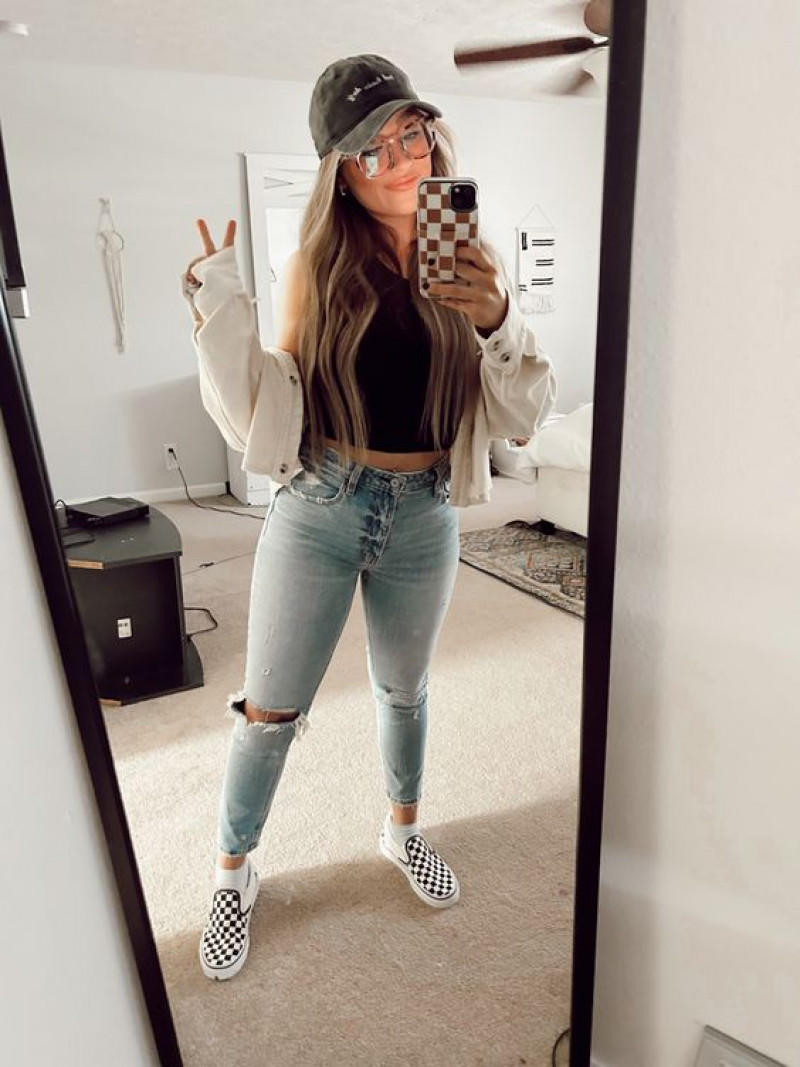 Beige short jacket with full button closure and single-breasted lining, paired with light blue denim slim-fit trousers are featuring a fashionable look. Finish with white and black checkered vans and a plain baseball cap. Add some glasses for a trendy touch.